The best paints for kitchen cabinets - the expert guide to getting it right
When choosing the best paints for kitchen cabinets we've edited colors, the finishes and even the best paint brushes to use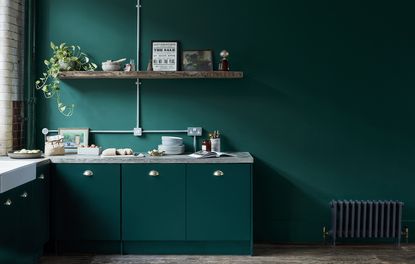 (Image credit: Crown)
The Livingetc Newsletter
For style leaders and design lovers.
Thank you for signing up to LivingEtc. You will receive a verification email shortly.
There was a problem. Please refresh the page and try again.
Are you tired of your kitchen but can't bear the upheaval – and cost – of replacing it? Are the cabinets in good condition but you just don't like the color or the dull wood shade? Then why not overhaul them with one of the best paints for kitchen cabinets? It's one of the easiest modern kitchen cabinet ideas to do, and with the right preparation could make you fall in love with your kitchen all over again. Here is what the professionals say to get the best results.
The Best Colors for Kitchen Cabinets
Although whites and grays are still the go-to for most kitchens, there is huge interest in green as one of the best paints for kitchen cabinets this year with search increases up by more than 250% for sage green kitchen ideas and 300% for forest green kitchens.

This is borne out by architect, interior designer and founder of designer cabinet handle company, Buster + Punch, Massimo Buster Minale, who says "You are going to be living with your kitchen for a long time, so opt for timeless colors such as mid-greens, dark blues, light grays and off-blacks. I usually lean towards either a 'high-contrast' kitchen where darker cabinets are next to light walls with contrasting hardware, or a 'no-contrast' look where I would paint cabinets a similar colour to the walls and then complete the look with metal hardware in the same palette i.e steel handles on light grey walls."
But blue is still a popular choice, particularly Hague Blue and Stiffkey Blue from Farrow & Ball. Interior designer Benji Lewis, founder of virtual interior design advisory service, Zoom That Room says, "If you are going for this 'blanket' color it's best to choose a soft blue rather than one on the chilly side, Indigo by Edward Bulmer is a good choice, but leave the ceiling white and choose a lighter timber floor."
Or why not have a complete revamp and go for one of the best paints for kitchen cabinets in a bold statement color? Marianne Shillingford, Creative Director of Dulux says "The kitchen is the beating heart of any home, so why not wear it on your sleeve rather than hiding it away? A bold, juicy splash of colour on the base units can work wonders at transforming a tired kitchen into the centrepiece. Try layers of your favourite strong colour for a unified look, which means picking the boldest shade for the base units and different tones and shades from the same colour family for other units, walls and accessories."
The best paint finishes for kitchen cabinets
General advice for choosing the best paints for kitchen cabinets is to use eggshell, which has 10 - 25% sheen so it's not too shiny and is easy to clean, although matt finishes have improved enormously in recent years and give a lovely finish. Ruth Mottershead, Creative Director at Little Greene explains "Choosing a durable finish is key to getting the look you want. Our water-based Intelligent Satinwood is ideal for kitchen cabinets. It's extremely hard-wearing with a scrubbable finish and able to withstand the many knocks and scuffs a kitchen is prone to. It dries to a beautiful mid-sheen, so it's not too glossy and is dry within four hours. However, if you want a glossier finish, choose Intelligent Gloss which has a sheen of 85% and is also quick drying and easy to clean."
Some of the innovations are multi-purpose paints such as Crown's new Kitchen Paint with easyclean technology, from £20.50 for 2.5L, which can be used on walls, ceilings, wood and metal, so you only need one paint to do everything, it's a budget-friendly way to transform your existing kitchen and is designed to resist grease and allow everyday cooking stains to simply be wiped clean. Meanwhille, Dulux Easycare Kitchen paint is an exceptionally tough grease resistant paint. Its Grease Proof formulation resists everyday cooking stains, and is washable without the colour fading, so even the busiest kitchens will look great for longer.
We can't talk about the best paints for kitchen cabinets and paint finishes without mentioning Annie Sloan's Chalk Paint, which has revolutionised painting furniture in the last few years. It's appeal is that there is little prep, just use soapy water and a wire brush, then you simply paint it onto any surface, including laminate. Once you are satisfied, finish with Chalk Paint Wax, or Lacquer in gloss or matt for a hardwearing finish. .
The Best white paint for kitchen cabinets
Many people opt for making their kitchen the brightest, lightest place in the home, but this doesn't mean there isn't a choice of subtle whites each offering a different atmosphere. Joa Studholme, Farrow & Ball Colour Curator says "If you are looking for a timeless look then try School House White on the walls and Drop Cloth on the cabinets, while Wevet walls and Ammonite cabinetry is perfect for those who want a classic grey look. Both of these schemes can be used in reverse too, with the stronger colour on the walls and the lighter shade on the units."
Choosing a white paint for your kitchen should be simple, but whites can look very different, dependant on which shade you choose and the available light in the room. Helen Shaw, Creative Director of Benjamin Moore UK says "Some whites will have a pinky undertone, some will have yellow/green, so it's essential to try different shades in the room." The easiest way to do this is by painting a large block on a piece of A4 paper and moving it around the room at different parts of the day. Helen says "As a rule of thumb, remember that reds and yellows harmonize with warmer whites, while greens, greys and blues synch with cooler white colors."
Benji Lewis Interior Designer and founder of virtual interior design advisory service, Zoom That Room favours contrasting walls and cabinets. "I'm a big fan of using a darker shade on the walls and bringing lightness to the room by using a gentle white on the units, this is All White Modern Eggshell from Farrow & Ball which has a 40% sheen for a slightly glossy finish, with Mylands Hoxton Grey on the walls "
Mark Nash, a Master painter and decorator says: "I find Tikkurila is the benchmark for durable kitchen paint with a range of primers and oil and solvent-based top coats." Available from Holman Paints
What is the best degreaser for kitchen cabinets before painting?
Because of all the cooking that goes on in the kitchen, it's inevitable that units and walls get greasy. So, you will need to remove all the grease and dirt before painting.
If you don't clean the cabinets properly, the dirt will be embedded in the wood which will cause problems in the future. The best way to do it is by sanding. It's laborious, but will give you the best base to start from. If you can't face that, many professionals use HG Intensive Cleaner for Painting Without Sanding, £4.89 for 1 ltr, Amazon, or Fluxaf Pro-Clean available from raymunnpaintsandinteriors.co.uk which is also biodegradeable, both can be used on all paints, varnish, lacquer and polyurethane. It will remove dirt, grease, grime, smoke, mildew and also wax from unpainted wood. Make sure you always use gloves if using these products.
What is the best paint brush for kitchen cabinets?
According to traditionalpainter.com "You may need 2 or 3 brushes for painting kitchen cabinets. To apply primer, I recommend using Zinsser Cover Stain or BIN, both available at screwfix.com - and apply it with a Purdy Pro-Extra brush, it's stiff, cuts in nicely and applies paint evenly. Then for the top coat, I use Purdy Sprig for water-based paints and Purdy Pro Extra Monarch for oil-based paints. All purdy.co.uk" But our members also recommend Fox brushes, available from mypaintbrush.co.uk and Royal and Langnickel from amazon.co.uk brushes too.
Anna Hill, Creative Director and Colour Consultant of paint brand, Tilbrook & Fenwick advises "Some people like their kitchen cabinets to be sprayed but for those who prefer the hand-painted look we would say the best technique is to roll the paint on with a foam roller and then lay off with a brush. We sell Purdy handmade synthetic brushes and think they are brilliant quality.
What is the best paint sprayer for kitchen cabinets?
Traditionalpainter.com says that most professionals wouldn't recommend spraying, unless it's a quick fix, as it all depends on the paint's viscosity, room temperature and practice. If you do want to go down this route though, remove the cabinet doors and use an HVLP sprayer. The Apollo Spraymate sprayer kit is suitable for home use, £74.99 hvlp.co.uk
Top Tips For Painting Your Kitchen Cabinets
Ensure all surfaces are sound, clean and dry and free from dirt, grease and other contaminants before painting
Lightly sand the surface to improve the paint's adhesion.
Use a Resin Blocking Primer to patch-prime any knotty or resinous areas.
Strip and sand any areas of paint that have peeled or blistered.
Blend the edges of any old paint patches to smooth out the surface.


FOR MDF
Depending on how tightly bound the fibres of your MDF surface are, you may need to take extra precautions when painting. If the fibres start to become raised as you apply your paint, lightly sand the surface in between coats for a smooth finish
For style leaders and design lovers.
Alison Davidson is well-respected British interiors journalist, who has been the Homes Editor of Woman and Home magazine, and the Interiors Editor for House Beautiful. She regularly contributes to Livingetc, and many other titles, and often writes about kitchens, extensions, and decor ideas. She is the go-to for information about green energy, sustainable home improvement and eco design ideas.