Peonies care - everything you need to know about growing and looking after this perfect flower
From us to you - a masterclass in peonies care. Utterly romantic with their big ruffled blooms, once you learn to love them there's no looking back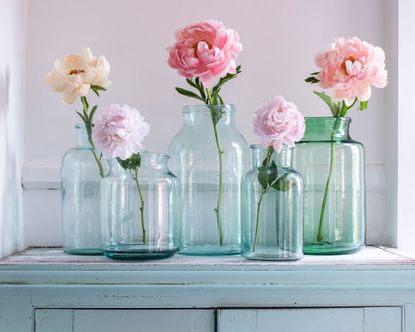 (Image credit: Getty Images)
The Livingetc Newsletter
For style leaders and design lovers.
Thank you for signing up to LivingEtc. You will receive a verification email shortly.
There was a problem. Please refresh the page and try again.
This classic garden flower never goes out of style, so get the intel on peonies care and get in on the trend. Peonies are the botanical stars of Instagram, upping the glamour stakes with their ruffles of satin petals, a mainstay of flower bed ideas. In shades of bubblegum pink, hot magenta and deep crimson, these blowsy beauties are in demand like never before.
'The flowers are so breathtakingly beautiful you simply want to rub your nose in the large, soft-petalled, often fragrant blooms,' says expert Claire Austin, who's just written a book called Peonies. 'The whole plant is handsome from the minute the thick red shoots emerge in early spring until the leaves start to die back as the summer evenings get shorter.'
These glamorous and long living plants are easy to grow, adding opulence, colour and fragrance to your flower garden. They even surpass roses in terms of the size and multi-petalled spendour of their blooms.
There's a sense of anticipation too, if you join 'peony watch', the very grammable countdown to their dramatic unfurling every year.
What you need to know before planting peonies
Some people are put off growing peonies because of their relatively short flowering season but the thing to remember is that peonies care is easy and they are simply unrivalled when in flower, making it no surprise they've become one of the biggest flower trends.
Peonies are perfect for beginners and experienced gardeners alike. They are low maintenance and reliable performers in the garden. 'Long-lived and hardy, peonies have been admired and grown by gardeners for centuries. They thrive almost anywhere and need almost no attention once established,' says Claire Austin.
They need plenty of space to flower well and generally do best in a sunny spot. if your peony is planted in the shade it will be reluctant to flower. Choose a sheltered position too and avoid exposing your precious blooms to the wind as you don't want them to shatter at their peak.
In general, they do not suffer from pests and diseases, requiring little care or attention once established.
What's the best way to buy peony plants?
When it comes to buying peonies, there are two options. You can either buy a bare-rooted plant or a container-grown one.
Bare-rooted plants are widely available. These have been lifted from the ground when the peony is dormant in autumn and are available from late October until just before the leaves emerge in early spring.
Just like dahlias, potted plants are fine too. Choose a well-established one and you'll find it will flower much more quickly than a smaller plant.
What are the different types of peony?
There are two main types of peony and both are easy to grow.
Herbaceous peonies are the ones with the flamboyant blooms that pop up in your garden every spring and grow to around 1 metre high, then die back at the end of summer.
Within this group there are two types: lactiflora have large, opulent flowers that bloom from early to late June in colours ranging from white and cerise-pink to dark crimson. Hybrid peonies are the other type and their flower colour can range from white and the whole spectrum of pinks to shades of apricot or deep red. They often bloom earlier too, from late April onwards, making them ideal modern front garden ideas, a nice early welcome every time you come home.
Tree peonies are a shrubby type with woody stems that don't die back. Despite the name they're not a tree but grow bigger than herbaceous peonies and, when established, can produce hundreds of blooms throughout the season. Plant a tree peony if you have lots of space. They are organised into four groups: Japanese, Chinese, lutea and rockii hybrids, each creating a different shrubby shape.
What is an intersectional peony?
There is also another much rarer variety called an intersectional peony (also known as Itoh hybrids after the Japanese breeder who first developed them). These have flowers the size of dinner plates in a range of colors and flower varieties (peony flowers can be single, semi-double, double, Japanese or anemone). Intersectionals are the result of crossing a woody tree peony with a herbaceous type of peony.
How do you grow herbaceous peonies?
So, peonies care for the herbaceous variety is easy. Plant them in spring. Just as in sunflowers care, it's best to plant them in full sun, although they will grow in semi-shade too. Prepare your flower bed and dig in some fertiliser.
Peonies like fertile, free-draining soil and won't thrive in waterlogged soil in winter. Dig a good sized hole and plant your peony with the 'eyes' (where the buds form on the plant crown) roughly 2cm below the soil surface.
Expect your herbaceous peonies to flower every year from late spring to early summer.
If they're planted too deep, the flowering tips will struggle to push up through the soil and flowering will be delayed. If you find your peony isn't flowering at all, it's probably been planted too deeply. Lift in autumn and replant at the right depth.
Give the soil a boost with a general fertiliser in spring.
Peonies will also live happily in a decent sized container for several years but ultimately they are much happier planted in the ground.
How do you grow tree peonies?

Plant tree peonies in autumn and you'll give them a better chance to get established during the winter months. Like herbaceous peonies they prefer full sun, and will do best in rich, free-draining soil.
Plant your tree peony much deeper than you would a herbaceous variety, at least 10-15cm below the soil surface. The reverse happens with tree peonies in that if they are planted too shallow, flowering will be delayed.
Tree peonies flower from mid-spring through to mid-summer, and deadheading regularly will encourage more flowers. Essentially peonies care is straightforward for tree peony varieties if you follow these easy tips.
How do you take care of a peony plant?
'Peonies need soil that does not become waterlogged at any time during the year,' says Claire Austin. 'A good well-drained loam is ideal, but they are just as happy in clay soil provided it does not stay wet. Being plants of the open ground they prefer full sun, but they are able to tolerate a light shady site. They can take up to three years to flower, but once established can live for more than 50 years.'
Peonies will grow in any soil that's not too soggy, so keep them away from damp areas. They love sun, so put them in a bright spot. Think carefully about where you plant your peony, as once they're established they don't like being moved.
Sometimes peonies are reluctant to flower. This is usually because they have been planted too shallow if they're the shrubby type, so dig them up and plant them deeper. Conversely, planting too deeply can stop the herbaceous types flowering.
Water regularly in dry spells during the first year after planting to help them get established. To promote growth and flowers, apply a general-purpose fertiliser in spring. That's all you need to do when it comes to peonies care.
How do you keep peonies healthy?
Peonies are generally sturdy and are not prone to diseases.
Peony wilt is a fungal disease that can sometimes occur if the weather is wet and warm. The stem and flower buds turn brown and mouldy. Remove and destroy the entire stem, then spray the whole plant with a fungicide that's suitable for roses.
Leaf blotch appears after the plant has bloomed, with reddish-brown marks on the leaves. These don't cause any harm to the plant, but you can always snip them off if you don't like the look of them.
Frost can occasionally damage early shoots. This causes no permanent damage and your plant will go on to produce further shoots.
Do you need to stake peonies?
Supporting your plants is an essential part of peonies care although there are a few varieties that don't need staking. Some peonies have flowers as big as tea plates so you'll need to put some type of support in place to hold their heavy heads and stop them flopping over.
The best way is with an elegant metal support, which also looks great. Position them before the peony starts to bush out and becomes too tall. Woven willow supports also add an attractive ornamental feature in addition to support.
When should peonies be cut back?
Cutting back herbaceous peonies is easy and a straightforward part of peonies care. When the plant starts to look tatty, the leaves and the old flower stems should be cut down and removed. Simply cut everything back to about 2cm in autumn or wait until the following spring when the new shoots start to show.
Tree peonies require very little pruning. You can strip out any old foliage in autumn. However, it's generally easier to wait and tidy up your tree peony in spring. Pull off any old foliage when the new leaf shoots start to show. Spring is also the time to reshape a tree peony that needs controlling. Use secateurs to cut stems to just above leaf buds.
Don't prune your plant until it's firmly established, which takes roughly two to three years.
Do peonies make good vase flowers?
Peonies make wonderful cut flowers arranged loosely in a vase. Simply cut the stems with sharp secateurs just as the buds begin to open and put them straight into a vase of clean water, removing any foliage below the water level.
As well as favourites like 'Sarah Bernhardt, for other varieties with long lasting cut flowers try 'Myrtle Gentry', a fabulous sugar pink variety with rose-like flowers and a lovely scent, and 'Coral Charm' with rich deep pink flowers.
9 of the best types of peony
There are so many gorgeous peony varieties to choose from that it's hard to narrow it down to just a few but here are some of our absolute favourites.
The good news is that as well as looking good there's very little you need to do in the way of peonies care with these too.
1. 'Claire du Lune'
Consistently one of the first peonies to bloom in the garden, this herbaceous variety has lovely big, round, soft-lemon petals and a dramatic golden centre. Flower stems are red and leaves are a lovely deep green that's a feature in itself.
It has the bonus that it won't need staking even though it grows to around 90cm tall, and it also makes an excellent cut flower.
2. 'Sarah Bernhardt'
Sweetly scented with pale-pink flowers, this is a very productive and reliable peony with a good vase life. It's a variety that's often grown by the cut flower industry, and has won RHS awards too.
It's an elegant and eye-catching herbaceous variety with enormous (up to 20cm across) silky ruffled blooms. It flowers slightly later than other peonies, from June to July, so is a great choice for an opulent midsummer display.
3. 'Duchesse de Nemours'
A favourite peony for many, this herbaceous variety has large (up to 20cm across) ivory double white flowers in early summer and a sensational scent that's reminiscent of Lily of the Valley. It will grow to around 80cm tall.
This classic peony dates back to the mid-nineteenth century and is another favourite of the cut flower trade so will look luxurious arranged in vases too.
4. 'Myrtle Gentry'
The perfectly rose-shaped flowers of this prolific grower open blush pink and fade to nearly white. When mature, the flowers resemble large white cabbage roses and the plants have masses of attractive dark green foliage that contribute to its good looks.
The upright, self-supporting stems (no need to stake!) have multiple branches. This variety is heavily scented too with a lovely tea rose fragrance.
5. 'Duchess of Kent'
This sturdy tree peony eventually reaches a size of up to 1.2 metres. It has large double rose red ruffled blooms with a slight hint of violet to them. They are long lasting and prolific.
Another plus is that this shrub will provide nectar and pollen for the bees, who love to hover over its rich blooms.
6. 'Shima-Nishiki'
If you have room to try only one tree peony make sure it's this one. The gigantic dinner plate-sized flowers combine eye-catching red-purple and white stripes for a real conversation piece.
This vibrant Japanese tree peony produces lots of huge ruffled satin-like blooms, and forms a neat shrubby habit. It adds a shimmering touch of the exotic to your garden.
7. 'Bowl of Love'
This is a shorter version of the much loved 'Bowl of Beauty' variety with lush carmine pink outer petals and a pale cream centre. With an exquisite fragrance, this herbacious variety will form free flowering clumps and its smaller size means staking is rarely necessary.
If space is tight choose 'Bowl of Love' for either a container or in the border as it's so compact it's a good choice for smaller gardens.
8. 'Coral Charm'
The big, scalloped flowers of this semi-double peony are bowl shaped and fragrant. The coral blooms open into shallow goblets, with an eye catching centre of loose, golden stamens. The flowers eventually fade to a beautiful soft peach.
The long lasting flowers sit atop long, red stems and this variety is an excellent cut flower for indoor displays too.
9. 'Rubra Plena'
This traditional red cottage garden peony has enormous double, ball shaped deep crimson flowers with little rosettes of frilled petals.
It's a hardy variety that holds an RHS award for its reliable performance, stability of colour and form. The highly scented flowers reach up to 90cm and are surrounded by lush emerald green foliage. They also make excellent cut flower displays indoors where you can enjoy their fragrance and silky flower heads up close.
For style leaders and design lovers.
Lifestyle journalist Sarah Wilson has been writing about gardens since 2015. She's written for Gardeningetc.com, Livingetc, Homes & Gardens, Easy Gardens and Modern Gardens magazines. Her first job on glossy magazines was at Elle, during which time a visit to the legendary La Colombe d'Or in St-Paul-de-Vence led to an interest in all things gardening. Later as lifestyle editor at Country Homes & Interiors magazine the real pull was the run of captivating country gardens that were featured. Having studied introductory garden and landscape design as well as a course in floristry she is currently putting the skills learned to good use in her own garden where the dream is establishing a cutting garden.