Garden flower trends - 10 key looks to create a little piece of floral heaven
Get ahead of the curve with the latest garden flower trends and your garden will be blooming with the most fashionable florals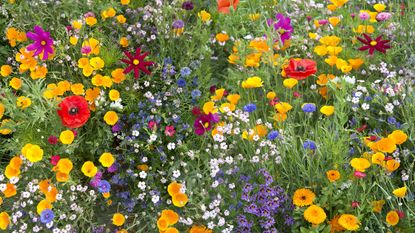 (Image credit: Flowercard)
The Livingetc Newsletter
For style leaders and design lovers.
Thank you for signing up to LivingEtc. You will receive a verification email shortly.
There was a problem. Please refresh the page and try again.
Is it just us or are flower trends everywhere this year? From a riot of blooms on wallpaper and fabric to artisan gin bottles etched with botanical prints and edible flower petals bringing a delicate touch to canapés, it seems that now is the season to celebrate flowers like never before.
Most important of all, naturally, is how flowers look in the garden. They can transform your outdoor space like nothing else, adding colour, structure, texture and loveliness to lift your patch from the ordinary to the sublime. It also helps if you choose varieties that look good arranged in a vase indoors too.
Whether you're interested in how to use color or how to grow your own flowers to bring indoors for lovely displays, to bringing your flower bed ideas up to date, we've got all the trends covered.
1. Create a kaleidoscope of color
Go for a bold mix of hues in your garden and you'll be bang on trend. The most prominent floral fashion for 2021 is brightly coloured flowers, pushing the café au lait, nude and blush petal fashions of recent years firmly to one side.
'Don't worry about clashing. Just pick what brings you joy and have some fun,' says Alan Williams, one of the designers at this year's Chelsea Flower Show. 'My favourites are gorgeous dahlias, the rich hues of salvia caradonna, echinacea in tones from peach through to deep pink, and of course roses.'
Flower expert Sarah Raven agrees. 'Bright and bold colours are one of the emerging trends of the season,' Sarah says. 'After the tough 18 months everyone has had, colors that brighten your garden are the most popular option.'
2. Plant a cutting garden
Growing your own cut flowers is a huge trend, especially If you're eco conscious. The fashion for grow your own flowers has accelerated lately with increasing concerns about climate change. Factor in the higher prices on imported flowers post Brexit and it just makes sense to have a go yourself.
The key to a productive cut flower garden is to choose flowers that bloom for a long period of time. 'My favourites are sweet peas, dahlias, Mexican sunflowers and cosmos," says stylist Selina Lake, whose new book Shed Style is out now. 'These are great choices as picking the flowers regularly encourages more flowers to bloom, giving you a constant supply for cutting.'
Choose plants in colour combinations you find appealing. 'I like to mix vibrant pink cosmos and dahlias, and dusky pink zinnias with pops of orange from Mexican sunflowers and crocosmia for colourful late summer arrangements,' says Selina. Knowing all about sunflowers care will put you in good stead.
3. Embrace the wild
Wildflowers are a trend sweeping gardens everywhere this year, according to The Greenhouse People. 'As well as being stylish, it's a sustainable choice too. By planting wildflowers, we are creating micro ecosystems in our gardens, inviting wildlife to live in our precious patches.'
Blue flax is one of the easiest wildflowers to grow. All you need is a packet of seeds. Water regularly and your wild garden will begin to flourish. Other varieties to consider include echinacea, shasta daisies, poppies, marigolds and black eyed Susan.
Liam Lapping of Edinburgh-based flower experts Flowercard is another fan of wild flowers. 'They have become so popular in recent years. Letting our gardens grow wild is better for the environment and makes them more bee friendly, plus wild flowers are so bright and vibrant they make your garden look fantastic. Wild flowers are generally very low maintenance too which is great for anyone new to gardening.'
4. Grow flowers for drying
The dried flower trend shows no sign of letting up. Even better if you can grow your own flowers for drying. Plan for a mix of seasonal colour and materials such as flowers, grasses and seed heads. Larkspur, cornflowers, statice and eryngium (sea holly) flowers in shades of faded blue look fabulous.
'Dried flowers have made their way into interiors everywhere thanks to the seventies trend that's blended across fashion and home in the last couple of years,' says Katherine Whitchurch (Shida.Florist).
'The key to styling dried flowers in a modern way is to keep it simple,' says Cut & Dry author Carolyn Dunster. 'Consider texture, shape and colour: choose textures and shapes that contrast and colours in the same hue, or mix up your colours and stick with flowers of similar shapes and textures. Don't combine too many different elements – less is definitely more when it comes to contemporary arrangements.'
5. Opt for the trend that never fades
Every garden needs a good rose or two. They're a constant in garden design that never goes out of fashion and they always get the most hashtags on Instagram. Plus there's the bonus of bringing their gorgeousness indoors too, as they look stunning arranged in bowls. Choose fragranced varieties that are good for picking.
'I find that 'Gertrude Jekyll' and 'Constance Spry', with their hugely scented pink rosettes, work well with a few stems of nigella,' says Jane Cumberbatch, author of the new book Pure Style in the Garden. 'I don't usually go for elaborate vases and containers. A simple, utilitarian look tends to be my choice: glass jam jars, rounded pudding basins or enamelled jugs.'
For a regular supply of blooms, dead head repeat-flowering shrub roses throughout the season. Pinch off the finished flower, just below where the base of the flower joins the stem and you'll soon be rewarded when the next flush comes along.
6. Drift into prairie style
This natural look uses a mix of ornamental grasses and late summer perennials to create colour, texture and easy movement. Piet Oudolf is the go-to designer when it comes to prairie and you can achieve this style easily too.
Opt for a blend of blue and purple perennials combined with silvery foliage, planted in groups of three. This is the formula for prairie style, which gets its rhythm from repeat planting.
Punctuate the planting with bursts of bold orange or bright yellow to tap into the colour wheel aesthetic. Bright flowers like kniphofia, rudbeckia and helenium work well. Add ornamental structure with stunning flowerheads like fennel, achillia and sea hollies. Finally grasses such as panicum and stipa give feathery detail and texture for the finishing touch.
7. Try colour blocking
When thinking about what flowers to plant in the garden decide if you want to choose several different plants in one colour or opt for complementary shades to create an eye-catching effect. This is known as colour blocking.
'Think about if you want the feel to be vibrant and energising using bright and contrasting colours, or would prefer a relaxing feel with a pastel-based colour palette,' says Sue Townsend (suetownsendgardendesign.co.uk). Create a mood board of flowers you like and note what colours they come in. This allows you to see the effect before you take the plunge.'
'Drama can be ramped up in a garden when you put plants together that have close colour associations,' says designer Jane Brockbank (janebrockbank.com). 'Thinking more in terms of "pools" of warm or cool colours, put hot pinks/reds/magentas together or combine a palette of lilacs/blues/deep purples. There's no such thing as clashing in my book!'
8. Mix graceful grasses with perennials
Handsome architectural grasses add a mixture of structure, form and texture to the garden for a naturalistic effect. Graceful and elegant, they combine with colourful flowering plants for a painterly effect.
Flowering perennials and ornamental grasses share a versatile and informal style, with similar growth habits making them perfect planting companions. 'When combined successfully they evoke an emotional response similar to seeing a wild meadow: thinly veiled views, pointillist colours and swaying movement in the wind,' says landscape designer Sarah Morgan (sarahmorgangardens.co.uk).
Grasses look fabulous dried too, taking centre stage in late summer in a blaze of bright foliage, plumed flowers and interesting seed heads that glow in the golden light. Add flowers like verbena, phlox, allium, fennel and poppies for an effortlessly beautiful mix.
9. Go for tall and airy
If you're limited by the size of your patch, as is the case in most city gardens, think creatively to squeeze in more blooms to your existing borders and pots. Add height as it's amazing what you can achieve if you utilise space carefully.
Tall flowers are great fillers for the back of borders. Amelia Bouquet (ameliabouquetgardendesign.com) won silver at this year's Hampton Court flower show. Here are some of her favourite tall flowers for maxing up your available space.
'Try tall and airy verbena bonariensis to add graceful structure. Easy to grow and long flowering coreopsis adds a bold and punchy pop of sunshine colour, while phlox paniculata has clusters of gorgeous fragrant flowers. Floaty silk-petalled cosmos add an ethereal touch, and the tall spires of erysimum bring masses of mauve flowers to the mix.'
10. Tap into the seed head trend
These days no self-respecting bouquet is without some stunning sead heads to add a wild and wonderful sculptural element. And they come into their own in the garden too, with decorative seed heads adding much-needed form and texture as other flowers fade. They look great arranged indoors too.
'Alliums are more popular than ever,' says Sarah Raven. 'They're perfect for adding pizzazz to garden borders, excellent for cutting as flowers and seed heads, and brilliant for bringing pollinating insects into your garden. There is an allium for everyone, from statuesque ones with giant pompoms heads to more delicate varieties suitable for naturalising in grass or growing in pots.'
In addition to alliums, try growing any of these flowers which all come with spectacular seed heads: silky-tasselled clematis, globe thistles, eryngium (sea holly), poppies and echinacea. All perfect for floral faffery!
For style leaders and design lovers.
Lifestyle journalist Sarah Wilson has been writing about gardens since 2015. She's written for Gardeningetc.com, Livingetc, Homes & Gardens, Easy Gardens and Modern Gardens magazines. Her first job on glossy magazines was at Elle, during which time a visit to the legendary La Colombe d'Or in St-Paul-de-Vence led to an interest in all things gardening. Later as lifestyle editor at Country Homes & Interiors magazine the real pull was the run of captivating country gardens that were featured. Having studied introductory garden and landscape design as well as a course in floristry she is currently putting the skills learned to good use in her own garden where the dream is establishing a cutting garden.