Sunflowers care - a guide to the most beautiful types to grow and how to get them to bloom
Getting sunflowers care right means you'll have bold, splashy bloom, the stars of the summer garden. But, with over 70 varieties to choose from, where to start?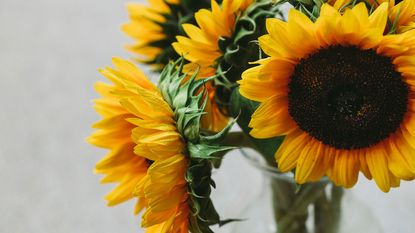 (Image credit: Alamy)
Getting sunflowers care right result in sensational blooms. They are super easy to grow and shoot up fast, adding a touch of razzle dazzle colour that's guaranteed to up the feel good factor in your outside space. A few stems look great in indoor arrangments too. And what's more there's a huge selection of different types to choose from, which is why they're one of the most popular modern flower bed ideas.
As well as the supersized variety in fluro yellow try the dainty ones that have numerous flowers instead of just the one dinnerplate. The more petite variety also come in a palette of late summer shades featuring fiery russet, ruby red, burnt orange and gold hues. They make good cut flowers too as they're less likely to topple vases and you can fill the house with them from July onwards.
The proper name for sunflowers is 'helianthus', so look out for this on seed packets. Sunflowers care is simple - apart from staking them when they start to grow tall and remembering to keep watering there's not much else to do in terms of plant maintenance. It's time to get on to it right now!
Sunflowers care - how to plant them
Sow the seeds in pots from the end of March onwards. They'll take about 7-10 days to germinate. Plant them out once there's no danger of overnight frosts. From the middle of April you can sow sunflower seeds directly in the ground, the easier option if you don't want to rock a market garden vibe indoors.
Try successional sowing every few weeks or so if you want to keep your garden filled with colour and your vases filled with freshly picked blooms.
As you would expect, they grow best in a spot where they get full sun. They also prefer a sheltered position so an ideal place is against a wall or fence. They're pretty easy going and will grow in any kind of soil as long as it's not waterlogged but the more fertile the soil the more they will thrive - they work well as roof garden ideas for flowers, too.
Make sure you push seeds firmly into the soil when you plant them. They will need watering in well too. Feed with all-purpose fertiliser once a month. Then all you have to do is wait for stunning blooms from July onwards.
What other plants work well with sunflowers?
Sunflowers are good companion plants as they provide shelter and shade. They also attract pollinators, which is always a good thing especially if you're into modern vegetable garden ideas like growing salads and herbs.
If you're big on grow your own, try mixing sunflowers in among salad crops like lettuce and tomatoes, and herbs such as chives and basil, as well as kale, peas and beans.
When it comes to other types of flowers to grow with them, sunflowers love to be among marigolds, nasturtium, snapdragons and daisies (sunflowers are part of the daisy family).
Love the idea of a cutting garden?
If you want to pick your sunflowers to arrange indoors, pinch out the growing tips when the plants are about 20cm tall. That way within a week you'll see lots of buds and rather than one large flower topping the stem, you'll end up with four or five slightly smaller sunflowers that are perfect for picking and displaying indoors.
How to care for sunflowers
Once established they will grow fast. Keep them watered, especially during dry spells, and nourish weekly with a liquid feed as soon as you see the flower buds appear. Don't allow plants to dry out.
You may need to support some of the taller varieties by tying them with twine to garden canes, but choosing a sheltered spot for them should help protect them too as they won't be at as much risk from high winds.
Problems that can affect sunflowers
Sunflowers are generally trouble free but young seedlings are susceptible to slugs and snails eating the new shoots. Try protecting them using a cover, such as a cloche made from the top part of a plastic bottle cut in half. You could also use wildlife-friendly slug pellets or copper tape as a deterrent.
Give your plants the best chance by making sure they're tall and sturdy before planting them out. Sunflowers can be affected by mildew if it's damp and humid but this affects the look of them only.
If your plants are drooping give them a drink and see if they pick up. They can also wilt in scorching weather but they should perk up as it cools down in the evening.
The 10 most beautiful types of sunflower
There are so many different types of sunflower to choose from, both in terms of colour and height. Here is our selection of some of the standout ones.
1. 'Lemon Queen'
With masses of large, lemon-yellow, daisy-like flowers this type of sunflower is ideal for adding a splash of colour towards the back of a sunny border.
It's a perennial so dies back to ground level each year in autumn, then fresh new growth appears again in spring. It flowers from July to September.
Great for cutting for the house. Grows up to 2 metres tall.
2. 'ProCut Plum'
An elegant variety with petals that are a mix of dusky plum and pale café-au-lait that's perfect for late summer and autumn borders and pots.
It looks good in both bright or muted colour schemes, adding beautiful contrasting tones that look stunning in flower arrangements.
It has tall, strong stems and large blooms up to 10-15cm across. Grows up to 1.5 metres tall.
3. 'Ruby Sunset'
This stunning burnished orange-red variety produces 5-15 medium-sized blooms per stem if you pinch out the growing tip.
A medium variety, it's ideal for planting in borders (prefers full sun), and perfect for picking to arrange in the house. Butterflies love it too.
This type of sunflower will flower reliable from July to September. Grows up to 1.5 metres tall.
4. 'Red Sun'
With velvet flowers in the deepest crimson that gradually turn bronze, 'Red Sun' is a spectacular easy-to-grow sunflower that adds a touch of drama.
This variety is brilliant for the back of borders and makes a beautiful cut flower for the house too.
The stunning flowers can reach a diameter of up to 10cm. Grows up to 1.5 metres tall.
5. 'Valentine'
A lovely primrose yellow variety with a dark and chocolatey disc at the centre that flowers from June to October with successional sowing to keep them coming.
Cut flowers when they're coming into bud and they will open in the house and last over 2 weeks.
This ones is a fast-growing, well-branched variety that produces large, single flowers, up to 17cm. Grows up to 1.5 metres tall.
6. 'Velvet Queen'
One of the darkest sunflowers with freely flowering, branching plants bearing multiple blooms.
The opulent, deep velvety claret-bronze flowers have an even darker chocolate centre. Perfect for adding a unique look, as flowers often have different tones.
This is a great variety of sunflower to add a touch of dark drama to the garden. Grows up to 1.5 metres tall.

7. 'Helios Flame'
We love a bicoloured sunflower and none more than this one. Each large golden bloom is enhanced by a dark mahogany ring at its centre that makes it a real eye catcher in the summer garden.
The tall, sturdy stems each support a single bloom, which is perfect for bringing height to the back of borders.
Makes a superb cut flower variety too with a good vase life. Grows up to 1.8 metres tall.
8. 'Russian Giant'
It's all there in the name - if you want a towering variety this is the one to choose as it reaches skyscraping heights if you give it plenty of room. The huge yellow flowers often reach 30cm in diameter too.
It's ideal for growing at the back of borders, and makes a dramatic cut flower. Try growing it against walls or fences to screen views.
Birds love the seeds so grow a few plants close to the house and watch them feed in the autumn. Grows up to 2.5 metres tall.
9. 'Ms Mars'
This is a really pretty type of sunflower with a modern feel. The rosy face and petals are darker in the centre and fade out to a blush tinge.
Ideal for borders and pots, 'Ms Mars' wins awards and flowers reliably until the end of October.
It's a shorter type of sunflower that's ideal for smaller gardens and really rocks a vase too. Grows up to 1 metre tall.
10. Sunflower laetiflorus
This perennial sunflower is cut back at the end of summer and will pop up again next year.
It adds height and colour to borders. A long flowering variety, it lasts from summer right through to late autumn. It will also quickly spread to form large natural looking drifts of sunny yellow.
Stunning bright yellow blooms grow to 10-12cm in diameter with deep yellow centres, and birds and butterflies love them. Grows up to 1.8 metres tall.
When are sunflowers in season?
Sunflowers are in season from July to September. Get your sunflowers care right and you'll find that they tend to bloom from the middle of summer all the way through to September, when the weather starts to get more autumal. Look out for cut sunflowers in flower markets, which you ought to be able to find from May to October, though are hard to buy during any other months.
Lifestyle journalist Sarah Wilson has been writing about gardens since 2015. She's written for Gardeningetc.com, Livingetc, Homes & Gardens, Easy Gardens and Modern Gardens magazines. Her first job on glossy magazines was at Elle, during which time a visit to the legendary La Colombe d'Or in St-Paul-de-Vence led to an interest in all things gardening. Later as lifestyle editor at Country Homes & Interiors magazine the real pull was the run of captivating country gardens that were featured. Having studied introductory garden and landscape design as well as a course in floristry she is currently putting the skills learned to good use in her own garden where the dream is establishing a cutting garden.