These 4 outdoor furniture colors are probably a bad idea, say experts – here's what to choose instead
Landscape designers give us the low down on the outdoor furniture colors to avoid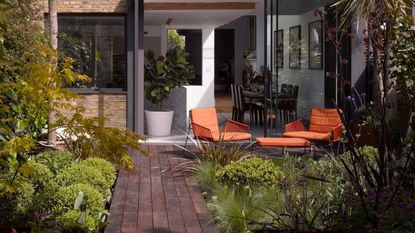 (Image credit: Will Pryce. Design: Concept Linear)
When it comes to kitting out your backyard with outdoor furniture, color plays a big role. Just as you prioritize color with those big-ticket furniture items for your interiors, the same considered process needs to be applied to your outdoor pieces.
Questions like, whether the color of your furniture matches other pieces in the backyard, whether it work alongside the colors you've selected for flowers and plants, and whether the color matches your interiors and helps lead the visitor from the home to your backyard space with ease all need to be considered.
'An outdoor area is really an extension of our living spaces, and with so many options of performance fabrics there's no reason that the color palette can't extend further out,' adds Jenn Feldmann of Jenn Feldmann Designs. 'We always design the indoor/outdoor spaces to feel cohesive to a home's palette, especially when an outdoor seating area is off of a family or kitchen space.'
All these considerations are key before landing at the perfect furniture colors for your outdoor space. In general, there's no color for outdoor furniture that should be avoided across the board. It depends on your landscape design and the climate. We speak to landscape designers and interior designers to find out the best outdoor furniture colors to pick for your own backyard and those to avoid.
1. White
If you're looking for a more minimalist backyard with a contemporary feel, or are designing an outdoor space in a sunny climate, white might be your go-to choice. It reflects the sunshine and keeps things looking pristine and bright. However, tread carefully with white - it can prove more problematic in colder countries that are more susceptible to rainfall, or dustier areas of your backyard.
'White works as it's a neutral,' says Oonagh Ryan, founding principal of ORA, 'but it does show up dust and dirt more, which in a dry, dusty climate like LA means it always looks dirty.'
2. Brights
Going bold and embracing color is an outdoor furniture trend that can look beautiful when paired with jungle-like foliage. Think how striking and vibrant a bright orange or pop of pink looks against green. But stay clear of too many energetic colors. Your backyard is should be a place for relaxation and to turn your backyard into a haven, you want to keep the color choices calmer.
'When you are furnishing an area outside, you run the risk of competing with the beauty of a natural landscape,' says creative director of outdoor furniture brand, DEDEON, Julia Shapovalov. Subtle, small pops of color really go a long way to support personal taste or expression, a particular style, or emotion.'
Another factor to consider with bright colors is that when it comes to paintwork or upholstery, they are likely to fade in the sunlight after time. Darker colors last longer because they have more UV protection from the sun. The sunlight will penetrate through a lighter color then a dark color. 'Vibrant colors like bright red, oranges, and yellows tend to fade more quickly in the sun, so you may have to replace them sooner or be ok with the faded look,' says says Kristin Marino of KozyKasa. 'Consider fade-resistant fabrics if you're going for a brighter look or opt for lighter shades that are less prone to fading.'
If you are looking to bring some color, allow one color to take a dominant role - like a set of playful red chairs to bring some drama. Make sure it echoes a color from the garden - think about purple from irises, orange calendula or red tropical flowers.
'If our clients want color, we suggest that they add some fun throw pillows or seat pads in vibrant colors or patterns, which can easily be changed out every few years to give their space a quick refresh,' says Oonagh. Alternatively, tone the color down a few shades for something a bit more subtle.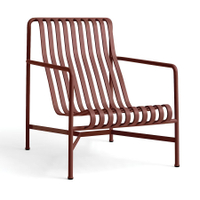 For a subtle splash of color that isn't too overwhelming, this durable powder-coated steel chair is elegant yet sturdy.
3. Dark colors
In a lush, verdant backyard, darker colors like dark browns and blacks can disappear into the background, and won't show off your furniture. This might be exactly what you want if you're planning a minimalist design, but while this might means it's in harmony with the surrounding landscape, it might be an outdoor furniture mistake that doesn't let the color of your furniture really shine.
'I like to create a color contrast in the backyard,' explains Agatha Carolina, architect and designer at Bitte Design Studio, 'especially for outdoor furniture. I don't like using dark color for the outdoor, like black, dark grey, dark brown for this reason, I'd rather play with lighter color like green, blue, yellow, orange etc to create contrast and accent.'
There are also practical reasons why darker colors such as these don't work for outdoor furniture. 'Dark colors like black or dark brown tend to absorb more heat so it's a good idea to avoid them - especially in warmer climates,' says Kristin.
4. Clashing colors
Another factor to consider is the style and color of your home's exterior and whether the palette of your outdoor furniture works with the brickwork or garden wall color.
'I recommend choosing outdoor furniture colors that complement the color and style of your home's exterior,' says Emma Putrimas, vice president of project and design for outdoor furniture brand, Teak Warehouse.
'For example, if you have a red brick house, you may want to choose outdoor furniture in a neutral color like beige or grey, rather than a bold color like bright blue or green.' If you have a white outdoor wall, this might be your cue to bring in a bit more color, but remember that too much color can lead to overload.
What color is best for outdoor furniture?
So what is the optimum color for your modern outdoor furniture? It's best to go a few shades darker than white, like beige or grey. This way, you don't get the dirt and grime issue that crops up when using white, but you still get that bright reflection to bring a crisp modern look to your backyard.
Similarly, just how dark furniture absorbs the heat and leads to furniture that is too hot, the reflection of the sunlight helps keep beige-colored furniture stay cooler for longer. Perfect for those long, balmy summer evenings.
'Earthy neutral colors like greens, tans, and even blues can blend in with your surroundings,' says Kristin. 'They require the least amount of upkeep, and also help reflect sunlight keeping your area cooler.'
'In general, you may want to avoid colors that are too bold or trendy, as these may go out of style quickly and make your outdoor space feel dated. Instead, colors like beige or grey are versatile and easy to incorporate into any outdoor design scheme,' adds Emma.
The perfect shade for upholstery, earth tones also work for the actual material of your furniture too. Go for wooden material like teak, this can create a solid foundation that can be updated with accessories. Teak furniture has a classic look that never goes out of style, and the natural color is a beautiful reflection of the surrounding nature, celebrating your garden in full.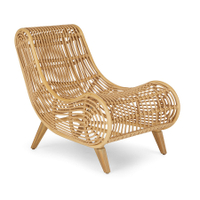 Get the look with this statement lounge chair with solid acacia legs and synthetic rattan. The light coloring and material gives it a boho look to help you relax in style and calls to nature.
The Livingetc newsletter is your shortcut to the now and the next in home design. Subscribe today to receive a stunning free 200-page book of the best homes from around the world.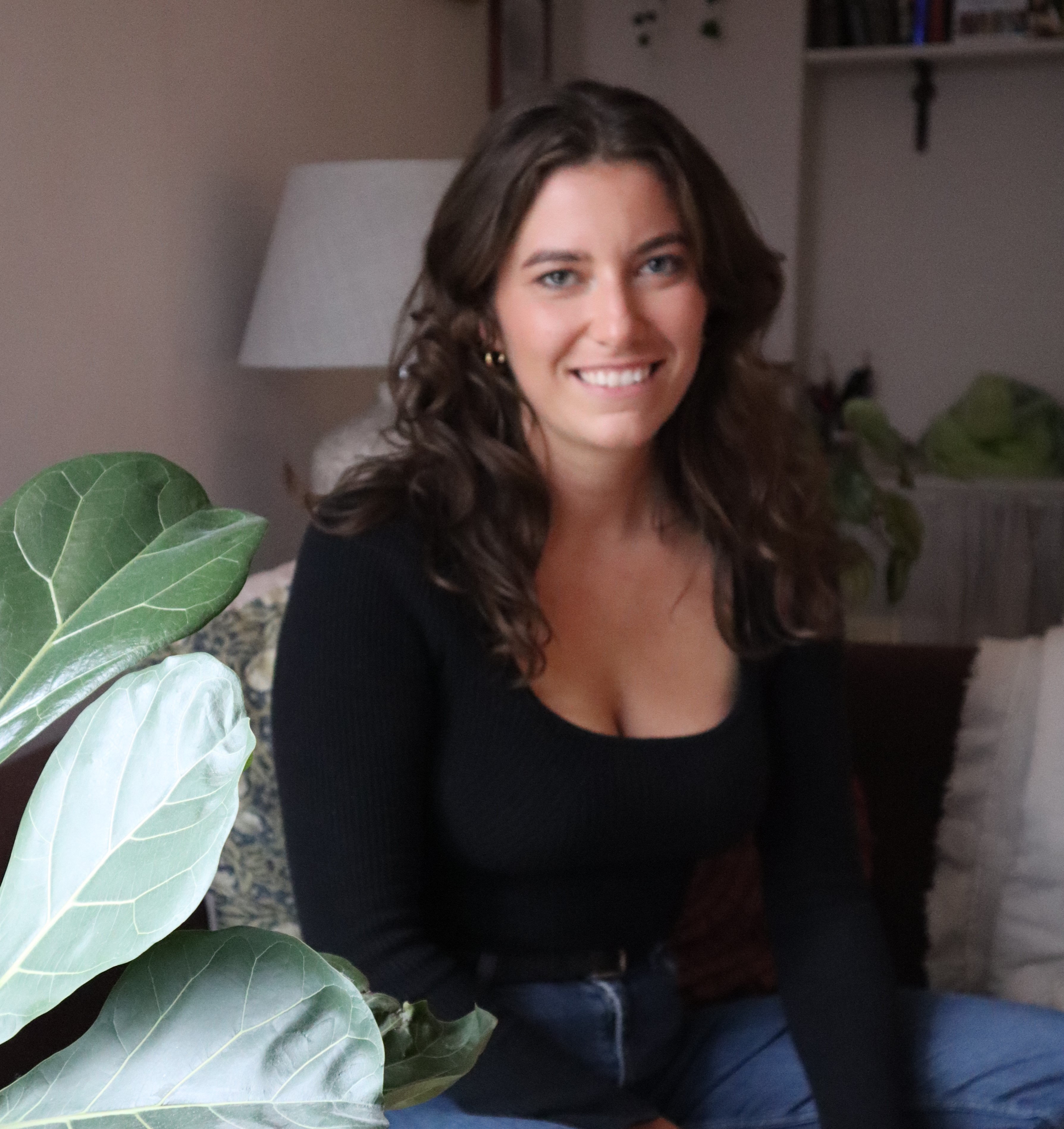 Livingetc content editor and design expert
Oonagh is a content editor at Livingetc.com and an expert at spotting the interior trends that are making waves in the design world. Writing a mix of everything and everything from home tours to news, long-form features to design idea pieces on the website, as well as frequently featured in the monthly print magazine, she's the go-to for design advice in the home. Previously, she worked on a London property title, producing long-read interiors features, style pages and conducting interviews with a range of famous faces from the UK interiors scene, from Kit Kemp to Robert Kime. In doing so, she has developed a keen interest in London's historical architecture and the city's distinct tastemakers paving the way in the world of interiors.