5 simple ways to organize your cookbooks – no matter how many you have
Turn your never-ending collection of cookbooks into an organized, aesthetically pleasing display with these easy tips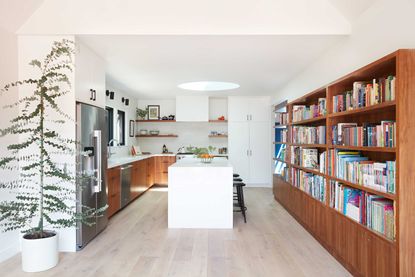 (Image credit: Mariko Reed. Design: Medium Plenty)
The Livingetc Newsletter
For style leaders and design lovers.
Thank you for signing up to LivingEtc. You will receive a verification email shortly.
There was a problem. Please refresh the page and try again.
I have always had the more the merrier approach to cookbooks. For me, they don't only provide guidance to my cooking endeavors, but they also double up as decor in my kitchen – a room that's really tricky to get any actual decor into because they are obviously such practical rooms. But cookbooks add color, and texture, and personality to this space.
But my collection has now got so vast that the shelving that they were once home to is struggling, and as a result of the precariously balanced set-up going on up there, I am also not reaching for my cookbooks very often. I need to get my cookbooks organized, get a new system that allows for them to be both usable and look lovely.
I asked experts in kitchen organization, kitchen designers, and home cooks for their top tips on how to organize cookbooks so that they are easy to get to, and displayed and stored in my kitchen in a way that makes sense.
1. Have a cull of your cookbooks
Before you start organizing your cookbooks, have a cull. It's got to be done. Get out all your books and see if there are any you just don't reach for anymore that are just taking up space. If you haven't cooked a recipe from it in the last five years it's time to let them go.
Also use this time to go through your cookbooks, get inspired by the ones you haven't used in a while. Any you are unsure about keeping, leave them out on your kitchen countertop, see if you reach for them when they are easily accessible. Or set yourself a target of cooking from a new cookbook every weekend, and see if you can get more use of them that way. But if you know you won't use anything other than your tried and tested collection, it's time to ditch the rest.
2. Keep them accessible and close to hand
This is the first step of the organizing, decide where you are going to keep your cookbooks. The kitchen seems like an obvious choice. But where in the kitchen makes sense for you? And do you have room to keep them all in there?
'In terms of where to store, the rule of 'store it where you use it' applies' says Kate Ibbotson, founder of A Tidy Mind. 'Consider using kitchen shelving for really accessible storage. They also work well stored on kitchen island units or behind glass cabinets or in wire containers on kitchen countertops.'
'I'm a fan of storing cookbooks where you would need or use them - in the kitchen. Depending on your kitchen layout and the number of books you have, you can either go out on display or organized into cupboards,' suggests professional organizer, Raychel Klein.
'If you prefer your cookbooks hidden from sight, carve out space in a kitchen cabinet to store them. To really keep things organized, have them in order by author. This way, they are accessible when you need them and neatly tucked away when they aren't in use. Another option is to find space in the pantry. This is a great solution if you have a large collection and a walk-in pantry,' she adds.
'As a hybrid option of the two, you can find a decorative basket to place on the countertop or shelf to hold your cookbooks. They are contained and partially hidden, while still accessible, and have a decorative element,' adds Racychel.
3. Prioritize your most used cookbooks
'Always store your cookbooks in or as close to the kitchen as possible,' says Laura Price founder of The Home Organisation. 'They don't have to be out on display (even though they do make great display pieces), but having a few in the cupboard or on a shelf will save you having to trek to the opposite end of the house every time you need inspiration or want to check a recipe.'
'You might not have space in your kitchen for every cookbook you own, especially if you're a foodie so it's important to prioritize. Choose four or five cookbooks that you are currently using to be stored in a cupboard or shelf in the kitchen. Then store the rest in a bookshelf elsewhere in the home. Swap them out every few weeks to mix up your cooking and keep it fresh, fun and varied.' she adds.
'If you fancy yourself something of a cookbook collector, I would recommend only keeping the books that are in current rotation in your kitchen,' agrees Amanda Wiss is the founder of Urban Clarity. 'Kitchen storage tends to be at a premium and unless your kitchen is very large with a lot of bookshelf storage, it is not necessary nor feasible to keep every single cookbook in the room. Appoint a specific place in another room of the house for the overflow cookbooks to live, perhaps the living room bookshelf or dining room credenza.'
4. Create categories that make sense to you
When organizing a kitchen you want to categorize things in a way that makes sense for you and how you use the space. The same goes for how you organize your cookbooks. You might want to organize them based on menu or meals, by cuisine, by author, by diet or by food types. Think about how you decide what to cook, that will help give you an idea of how your cookbooks should be arranged.
'Organizing by author is the classic way that you often see at the library and at bookstores within certain genres. This makes it extremely easy and helpful when you know what you are looking for,' suggests organizer, Amy Vance. 'You could also organize by cuisine, which is ideal if you are the kind of person that chooses what to cook based on what you're are craving at the time.'
And then of course you might want to go purely for aesthetics and choose book organization by color or by height (not personally a fan of the latter and it's nice to have some variation but I see the appeal if you keep a very neat kitchen). ' It can make a lot of sense to organize cookbooks by color. Not just because it looks lovely but people are stimulated by color and can often remember the color of something so it makes them happy to see it on the shelf and they can often quickly find what they need,' adds Amy.
5. Curate organized displays
I'm of the opinion that no matter how you choose to categorize your cookbooks you should always have at least a small collection on display. As I mentioned earlier, it makes sense as you can see what you are working with and can easily grab what you need. Plus, I find I am more inspired to use a cookbook when I can actually see them.
So organize your cookbooks in a way that creates a display in your kitchen – not only will they add a splash of color, but cookbooks make a kitchen feel more relaxing, more lived in, and less of such a practical space.
'The great thing about cookbooks is that they are not only practical but can make a great display to add texture and warmth to any kitchen,' agrees Laura. 'Install a few floating shelves to a free wall in your kitchen to store your cookbooks and a few decorative pieces to create an attractive focal point of the kitchen. Play around with how you order the books, for example, either by color or by size, and what decorations you use until you create a design you love.'
'Cooking books are a charming way of adding character to a kitchen,' adds Will Eaves, design director at British Standard. 'Whether brand new or passed down through generations they instantly add a sense of nostalgia and comfort - with this in mind, we recommend reserving sections in the kitchen to display them. Built-in shelving above cupboards keeps the books organized, and accessible whilst also avoiding cluttered surfaces. Stacking them on top of one another is also an option for a really aesthetic, coffee table sort of look.'
For style leaders and design lovers.
Hebe is the Digital Editor of Livingetc; she has a background in lifestyle and interior journalism and a passion for renovating small spaces. You'll usually find her attempting DIY, whether it's spray painting her whole kitchen, don't try that at home, or ever changing the wallpaper in her hallway. Livingetc has been such a huge inspiration and has influenced Hebe's style since she moved into her first rental and finally had a small amount of control over the decor and now loves being able to help others make decisions when decorating their own homes. Last year she moved from renting to owning her first teeny tiny Edwardian flat in London with her whippet Willow (who yes she chose to match her interiors...) and is already on the lookout for her next project.