How can I make my kitchen more relaxing? 5 ways designers add heart, soul and calm
From natural materials to tonal color palettes, design experts reveal how to make your kitchen more relaxing in 5 easy steps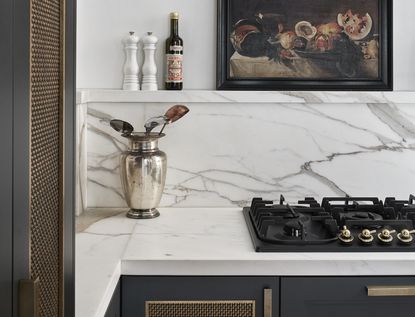 (Image credit: Future)
The Livingetc Newsletter
For style leaders and design lovers.
Thank you for signing up to LivingEtc. You will receive a verification email shortly.
There was a problem. Please refresh the page and try again.
The kitchen has become our go-to spot for everything from cooking for the family to working, socializing and enjoying that much-needed quiet coffee break while soaking up the views through the window. So, it follows that a relaxing aesthetic is key to enjoy such a multifunctional space.
But how can you inject a feeling of peace and tranquility into a modern kitchen that's first and foremost a functional one? We asked a host of designers to answer that question and offer their top tips on how you can make your kitchen more relaxing.
After all, you'll need a splash of serenity when the heat gets a little too high during your attempt to be the ultimate host. Or perhaps you simply want to feel ultra-comfortable in a space you spend so much time in.
Either way, keep reading for these designer-approved ways to make your kitchen more relaxing, calm and serene.
How to make your kitchen more relaxing
1. Keep counters free of clutter
If there's one thing that can create a feeling of chaos, it's clutter. Learning how to organize a kitchen and keep your surfaces clean will instantly make the space more relaxed.
It's always important to have a place for everything to keep counters free of clutter,' says Interior designer Esther Dormer of Dormer Design. 'Anything not used weekly should be stored out of sight. Keep a drawer for papers, pens, and other loose items to keep the mess to a minimum.'
When you've nailed down how to organize your kitchen drawers, you'll never have to see countertop clutter again.
Sarah Rosenhaus, Owner and Principal of Sarah Rosenhaus Interior Design, agrees that keeping organized is an important step to a calm kitchen, adding: 'Keep your counters free of clutter and appliances. We love to hide a microwave in a pantry if given the opportunity.'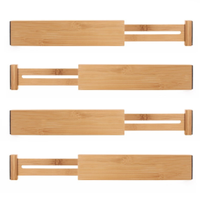 Utoplike extendable drawer dividers, Amazon
If you are going to designate a drawer to papers, pens and odds and end then keeping it tidy is the only way to prevent it overflowing. These nifty bamboo drawer dividers are a kitchen design lifesaver. Adjustable from 13.86" to 18.9" length, 2.36" height, they should fit in almost any drawer and change pretty much everything.
2. Choose integrated appliances
Create a consistent and streamlined look across the kitchen by installing panel-ready appliances. This sees appliances like the fridge or dishwasher hide behind a custom panel that matches the rest of your kitchen cabinets.
Sarah Rosenhaus says: 'Use panel-ready appliances - fridge, dishwasher, etc. - to create a more seamless or integrated look. Appliances break up a space, creating more places for the eye to land. When appliances are integrated, it creates continuity lending to a sense of calm.' This approach is also used for minimalist kitchens, which come with a feeling of serenity guaranteed.
3. Opt for tonal colors
It's well known that color theory can affect us psychologically, and can work to give you a mood boost or a calming moment of quiet.
By keeping the components of your kitchen tonal in color, you can create a tranquil atmosphere that works to keep you calm, even when you're cooking for a large group, whether that's hungry kids or a dinner party. This means taking one color and using only variations of it in your decor - such as white with off whites and creams. Blends of tonal greens are always soothing, too.
'Keep materials and colors for your cabinets, kitchen countertops and kitchen backsplash tonal,' says Sarah Rosenhaus. 'Contrast is stimulating, while a soft tonal shift is easy on the eyes.'
4. Bring the outside in
Use natural materials to create a calming space to work or relax in. This can apply to bigger kitchen design decisions, like marble worktops or wood kitchen cabinets, but it can also be introduced through smaller pieces.
The rattan chairs in the beautiful space above by Lindye Galloway work to add texture and warmth to the white kitchen while also channeling biophilic design, which increases connectivity to the natural environment with the effect of creating a calming atmosphere.
'I suggest bringing in as much natural light as possible, and using natural materials to create a calm kitchen,' says interior designer Esther Dormer.
Other easy natural additions include wooden open shelving, terracotta pots, pretty ceramics and potted plants.
'Create a moment of zen by adding a statement potted plant to your countertop,' says Sarah Rosenhaus.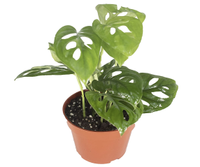 The great thing about monstera plants is that they are easy to care for, have leaves that are interestingly shaped and can be grown up not out. This makes them ideal for a kitchen counter, as they look impressive while remaining relatively compact.
5. Layer the lighting
Modern kitchens are increasingly multifunctional, often being used for socializing, working and downtime, as well as cooking and eating. This means that different levels of lighting are essential to creating a relaxing space.
'Strategic kitchen lighting with the use of dimmers helps to balance light,' says Sarah. 'Dimmers are a must to avoid harsh lighting. Spotlights, while useful and functional, are certainly not relaxing, for example.'
As well as your practical ceiling lights, try layering your lighting by adding pendants over a kitchen island or dining table, as well as wall sconces under-cabinet lighting for a soft glow.
Katie Hodge, of Katie Hodge Design, says: 'In the rush of renovating, lighting design is often an afterthought and canned lights are slapped last minute.
'Considering that the kitchen is often the heart of the home, it serves far more functions than just a place to cook. For example, while entertaining you may want to set the mood with dimmed sconces and pendants, which feel less utilitarian and more cozy than a fully lit room.'
How can I make my kitchen more welcoming?
Yes a kitchen is primarily a functional space, but there are plenty of ways you can make your kitchen more welcoming.
As we spend more time in the space, it needs to be pretty as well as practical. You can make it more inviting by setting a cozy scene like you might do in a living room. Add potted plants, pretty vases, and even a snug rug for comfort underfoot.
It's also a good idea to layer your lighting - think wall sconces and pendant lighting as well as canned lights - so you have the option to create a cozier atmosphere when you're relaxing or entertaining.
Another way to make your kitchen more welcoming is to introduce artwork into the space.
Not only is this a stylish and easy way to bring color to a space, it also works to breathe life into the room and make it more inviting to spend extended amounts of time in.
For style leaders and design lovers.
Ruth Doherty is a lifestyle journalist based in London. An experienced freelance digital writer and editor, she is known for covering everything from travel and interiors to fashion and beauty. She regularly contributes to Livingetc, Ideal Home and Homes & Gardens, as well as titles like Prima and Red. Outside of work, her biggest loves are endless cups of tea, almond croissants, shopping for clothes she doesn't need, and booking holidays she does.