'It's total escapism' – 7 design tricks that will make your deck feel like a tropical paradise
These clever ideas will make your backyard deck look and feel tropical, no matter where you live in the world, with the right plants furnishings and decking materials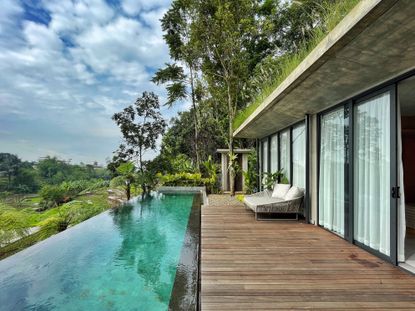 (Image credit: Bayu Ariyanto. Studio credit Basio)
Nothing says laid-back luxury better than a tropical destination, so it's no surprise that many people try to channel this vibe into the design of their deck.
Whether it's in the landscaping, embracing palm trees, shrubs and exotic flowers, or just in the choice of materials and furniture, this space can become the ultimate relaxation hub with a few tropical touches; a space that transports you to somewhere where everyday is like a vacation.
But, how do you get the tropical look even if you don't live in paradise? Here's how landscape designers approach giving backyard decks a tropical twist.
1. Bring in large-leaf tropical plants
The easiest shortcut to channelling tropical garden vibes is to embrace typically tropical plants, especially big-leafed palms like the the banana leaf plants or elephant's ear. You don't have to completely change your planting scheme, either. This backyard created by landscape architects AKAS in collaboration with Green Sheep Collective places a single banana leaf palm in a focal point that exudes a tropical feel to the rest of the space.
Landscaping around a deck with tall palm trees arching overhead can create shade for your deck, while smaller shrubs bring that tropical quality to smaller vignettes. The tropical look is all about lushness and abundance, so add vines to grow along a wall or a fence to contribute to the effect, and consider ferns as fillers that not only add both structure and softness to the space but also make the outdoor space feel as though nature has reclaimed it.
Of course, if you're not in a tropical climate, you'll have to consider the extra care that goes into looking after these tropical-style plants, but it's a cause that's worthwhile for total escapism during the summer months.
2. Choose exotic wood decking materials
When choosing decking materials, look to exotic woods for a deck that feels inherently tropical. However, while there are plenty of these woods to choose from, it's best to do your research and find the most sustainable options.
'Ipe and sapele are the most common tropical hardwood decking materials, but the way they're harvested is controversial for a variety of reasons,' says Joseph Richardson, founder of Richardson & Associates Landscape Architecture. 'Some sustainable alternatives are Sassafras and Black Locust,' he suggests.
'Sassafras has wonderful grain detailing and its low movement stats make it a wonderful option for areas with extreme moisture changes through the year,' Joseph explains. 'Black Locust is extremely durable, as well as water-resistant, rot-resistant, and fire-resistant, and requires little maintenance. Projects that use Black Locust wood enjoy long life spans comparable to projects that use ipe hardwood.'
'Man-made composites are also a great alternative to natural wood, but can retain more heat than natural options,' says Joseph. You'll be able to find some styles in composite decking that achieve the same exotic wood look as these natural materials.
3. Create a deck around a tree
If you have a tree growing where you want your deck to be, consider including them as part of the design for a space that feels like it's been created alongside nature, rather than despite it.
The deck for this contemporary home is a perfect example of how it can work. 'This deck was designed as the visual 'payoff' at the end of a circulation spine that runs from the parking area at the front of the house, through the carport to the front door, and out the back of the house to a bluff overlooking a creek and nature preserve,' says architect Ignacio Salas-Humara.
'The deck is cantilevered over the bluff so you feel as if you're floating among the treetops,' he adds, 'and we took advantage of an existing tree by adding it through the deck for shade.'
4. Include a body of water in the design
Every tropical garden or deck needs to be complemented by a body of water, be it a fountain, a pond, a meandering river, or even a pool. To create a tropical resort-like vibe, a small backyard pool or a pool cabana is a must, not just for recreational uses but also as a foil to the foliage and flowers that surround it.
If your space is limited, a plunge pool or even a pond could work, surrounded by plenty of greenery. Place lounge chairs around the area, and create the most indulgent outdoor spot.
5. Add tropical furnishings and prints to the deck
For the most lively, easy-going, and relaxing space that is also full of personality, choose splashy, exuberant patterns for your outdoor living room. Think large-scale motifs with strong, graphic lines, all complemented with palm fronds, plumeria, and banana leaves. Ikat and batik are great prints that summon the tropics.
You don't need to overdo the colors. Even washed-out corals, blues, and greens can make a perfect foil for printed pillows for a breezy, relaxed air. And don't mix too many big prints in one room, or they'll fight for attention in the peace.
'Calming colors and great textures and materials enhance any outdoor piece,' says Amy Kalikow, founder of Amy Kalikow Design. 'Durable yet comfortable fabrics that are chic and feel like the inside outside is now not a challenge. Schumacher, Holly Hunt, and Perennials to name a few, have come out with beautiful, creative fabrics that make outdoor designing so much easier.'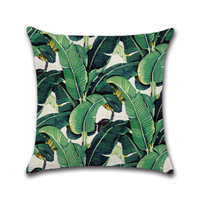 6. Grow colorful exotic flowers
Tropical flowers like bird-of-paradise, hibiscus, to heliconia, and passion flowers invite you to take a second look and are ideal for big to small garden decks. Canna, with its huge range of colorful flowers and leaves, is a great addition and is readily available. Some common garden plants, such as impatiens and nasturtiums, are tropical plants at heart.
'Add some color and a tropical touch by using annuals like geraniums and petunias to help break up all the surrounding greenery,' says landscape designer Amber Freda. 'For year-round lush greenery includes boxwoods, white hydrangeas, creeping Jenny, hostas, Mexican feather grasses, and mini petunias.'
Passionflower is another great choice for tropical-inspired planting. This colorful, alien-like bloom feels like it's straight from the rainforest, and it's a flower that is surprisingly drought-tolerant, too.
7. Include an outdoor shower
There's nothing quite like an outdoor shower that has an inherent tropical vibe to it, bestowing a feeling of being one with nature.
For forest bathing or a tropical-style shower deck, consider wedging the bathing area between two slabs of rock. Install a stone-pebbled floor, a wooden platform, and an array of luscious ferns and plants around it. Even ivy-covered walls, a stone plinth, and rock formations around the shower area will give it an authentic vibe.
The Livingetc newsletter is your shortcut to the now and the next in home design. Subscribe today to receive a stunning free 200-page book of the best homes from around the world.
Aditi Sharma Maheshwari is an architecture and design journalist with over 10 years of experience. She's worked at some of the leading media houses in India such as Elle Decor, Houzz and Architectural Digest (Condé Nast). Till recently, she was a freelance writer for publications such as Architectural Digest US, House Beautiful, Stir World, Beautiful Homes India among others. In her spare time, she volunteers at animal shelters and other rescue organizations.