I refuse to use the big light, and this Philips smart lamp is the perfect substitute
The Philips Hue Gradient Signe Floor Lamp will switch up your ambiance in seconds, and controls are as seamless as they are speedy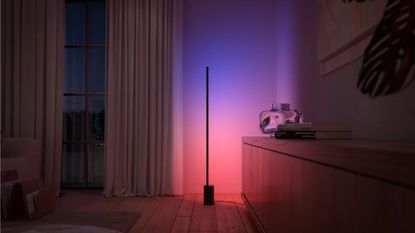 (Image credit: Philips Hue)
The Philips Hue Gradient Signe Floor Lamp is one of the best products for those who want to switch up their space with minimal effort. That is, so long as you have your smartphone handy.
Reasons to buy
+

Connects instantly

+

Changes in seconds

+

Plenty of pre-set options

+

Fully adjustable
Reasons to avoid
-

An expensive option

-

Without the app, you can't control it
I am proudly and unashamedly anti-Big Light. Those lights in the center of the ceiling? In my house, they're purely decorative. Having recently moved into a west-facing house, though, I do need some help when creating a little evening ambiance. Enter the Philips Hue Gradient Signe Floor Lamp. This Light has had the single greatest impact in transforming my slightly gloomy living room into an enticing space.
I can lean into the moody evening light with a dim purple or brighten up a morning at my desk with a warm Light setting. Of course, if you've got other Philips Hue products (they make some of the best smart Light bulbs on the market), you can pair them using your Philips Hue Bridge for added synchronicity in your home, too.
I've been testing this lamp for a few months now, and while initially, I was wary about having to control my Light from an app on my smartphone, I'm now a complete convert to the Philips Signe. My one gripe is that I don't like whipping out my phone to control my lights. There's not so much as a switch on the lamp, so it's entirely dependent on my phone being in the room with me – not always a guarantee if I'm charging it upstairs.
That said, this slimline Light's seamless range is beyond impressive. Admittedly, it's an expensive choice, but it makes a phenomenal impact.
Philips Hue Gradient Signe Floor Lamp: Key info
Colors: White, black, oak
Controls: Bluetooth, via app, voice control using smart speakers
Dimensions: H57" x L4.3" x 4.3"
Weight: 5lbs
Bulb: LED
Philips Hue Gradient Signe: Getting set up
The Philips Hue Gradient Signe Floor Lamp is ready to go straight out of the box. It comes in a tall and narrow package that protects the lamp very well in transit. I was concerned that the light would feel flimsy and breakable, especially as there was seemingly nowhere to hold it but the base, but I was actually able to carry using the light itself between rooms.
It's tall – over 4ft 7" – with a very simple design. The base comes in oak, white, and black (I opted for oak), and there is a gradient strip light on one side of the bulb itself. This can be placed for direct and indirect light, but I found that I much preferred using it for casting indirect light across a section of the wall.
As for controls, you really do just plug it in and go. It couldn't be easier. When you first plug it in, the light defaults to a bright white light, and this can't be altered until you connect to your app.
Using the app
So, there are no onboard controls, so how do you control the Philips Hue Gradient Signe Floor Lamp? The app walks you through the whole thing. It connects to your lamp via Bluetooth and can also pair with smart speakers to use voice control. That's handy if you leave the app controls to one person in your house because other users can still toggle with light settings using our dear friend Alexa.
Pairing with the app was easy. You simply search on your Bluetooth settings, and then you're connected. One thing I really liked is that even after moving the lamp around, unplugging, and switching between walls and rooms, I never had to set this up again. I was able to go straight to the app and connect to the Signe lamp in seconds.
Options
There are heaps of options for this lamp. The Hue Scene gallery has sections for different moods (refreshing, cozy, peaceful, and party vibes, to name but a few), and switching between pre-sets to find one you like is instantaneous. You can save your favorite presets to your Saved Scenes section, and you can also toggle the finer details, such as the speed at which your light cycles through the color gradient, by editing in the app.
Another useful adjustment is the brightness of your lamp, which can go from rather subdued to a full 2,550 lm at 4000K. This is fully adjustable using a sliding dimmer on the app, too.
Design-wise, I found the lamp works best in the bedroom or living room. It doesn't quite offer the focused light I'd want for my desk (although I'm very keen to try one of their table lamps for this). While it can do direct, it's so targeted that I don't think I'd like it in a kitchen environment – the one room where I'll allow the big light because chopping an onion in the dark is never a good idea.
Philips Hue Gradient Signe: Design
In the past, I've bought lamps for design features or even because I like the pattern on a lampshade. Aside from bringing light to your space, they're design features in themselves. It's safe to say you won't get many compliments on the look of the Philips Hue Gradient Signe Floor Lamp. Not because it's an eyesore – I don't think it is – but because it's indiscreet. The narrow design was clearly made to minimize the space that the lamp itself takes up, letting the bright and vibrant light options, well, shine.
As for that bulb, you won't be able to find replacements in your local store. This is a lamp with a lifespan. It's a 25,000-hour lifespan, but still, once your light stops working, you'll need to get a professional in to replace it.
Philips Hue Gradient Signe Floor Lamp: Our verdict
Overall the Philips Hue Gradient Signe Floor Lamp is a pricey option, and I wish it had at least an on-switch to allow you to use it when you've not got your phone handy. But let's be honest, most of us have our phones handy most of the time, and the responsiveness of the app makes controlling the lamp feel less of a chore.
I'd display this lamp in corners and against walls. It's not ugly, but you're not buying it for the style. It's the ambiance you're after, and it delivers that in spades. I don't have a Bridge system or any other Philips bulb products in my home (save for some Christmas lights, which I'm breaking out as soon as it's appropriate), but app controls were easy enough to make you feel like you can get the most out of this product without buying into the Hue ecosystem, which I really like.
Despite its small frame, the Philips Hue Gradient Signe Floor Lamp packs a real punch in terms of vibrant, smart lighting. I was impressed with how well it slotted into my life as someone who's far from tech-savvy.
About this review
Millie Fender is Head of Reviews at Future Homes. Formerly our head of all things kitchens, she's tested everything from coffee makers to cookware, and loves finding the best products to make an impact in a small space.
Millie tested the Philips Hue Gradient Signe Floor Lamp for three months in her own home, and it now lives in her lounge where it's used most evenings.
All reviews on Livingetc are based on real-life experience with the products, and testing is always done in the writer's own home to mimic best the experience our readers would have. These reviews are then used to build comprehensive buying guides that list the best of the best across a range of budgets and use cases.
As Head of Reviews, the Philips Hue Gradient Signe Floor Lamp was expertly tested by Millie Fender. She tested it in her North London maisonette for a number of months before writing her review. To learn more about our process across reviews and buying guides, you can take a look at our explanation of how we test.
The Livingetc newsletter is your shortcut to the now and the next in home design. Subscribe today to receive a stunning free 200-page book of the best homes from around the world.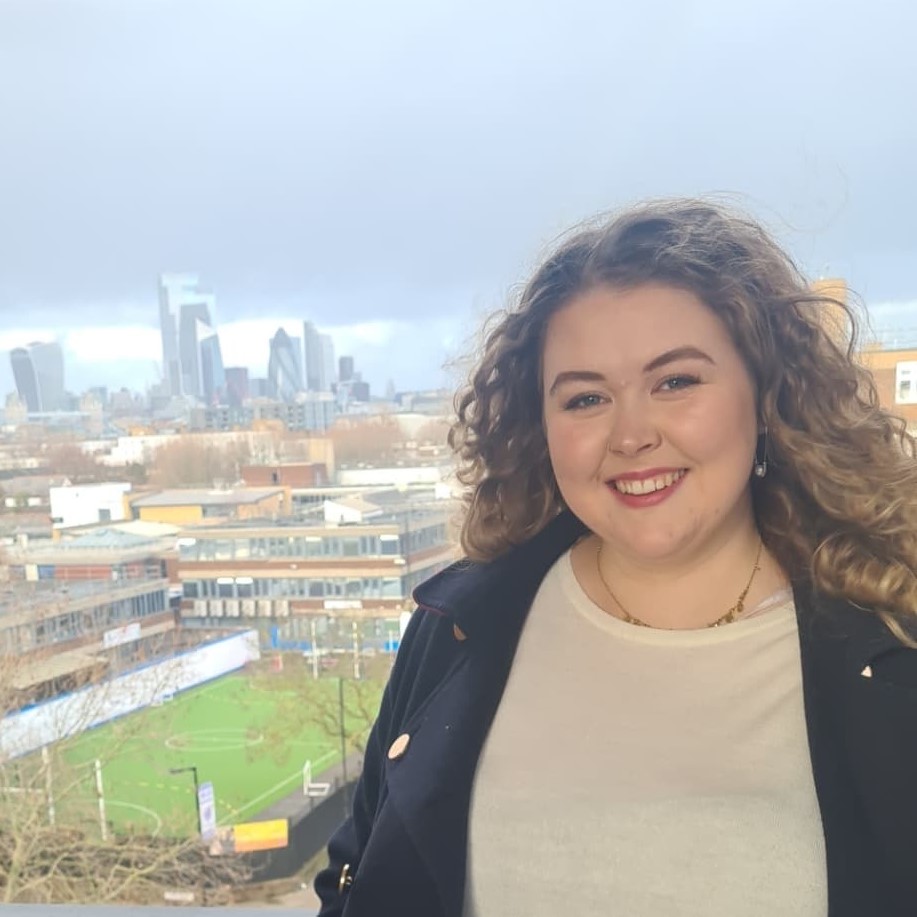 Millie is the Head of Reviews on the Homes Ecommerce team at Future. She started writing for Livingetc in 2021 after working as a staff writer for another Future brand. Specialising in indoor and outdoor cooking, Millie is always testing kitchen appliances like juicers, stand mixers, and pizza ovens. She loves finding renter-friendly ways of adding her own touch to living spaces, and browsing the property market for houses with larger kitchens.