15 Valentine's Day gifts for your loved one — to show you care
We've collected 15 luxurious, stylish Valentine's Day gifts in one place, so you can pick the one that suits your sweetheart best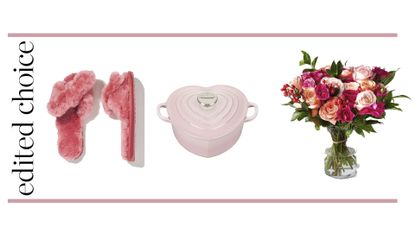 (Image credit: Future)
February has finally arrived and with it the most romantic holiday of the year: Valentine's Day. Pinning down exactly what to buy for your loved one, or your new beau in time for the 14th can be tough, especially if you want to get more inventive than flowers and chocolates. And with February already counting down, you might be feeling like you have a little less time than you might like to pick out a delightful gift.
That's why we've put together the best Valentine's Day gifts around that go the extra mile, to show that you're thinking of someone on this especially romantic day. Some are even more long-term investments that you can add to your home so that your thoughtful gift sticks around for the foreseeable. These are the real crème de la crème of gifts, and you can still pick them up last-minute, so it's a win all around.
From coffee makers to beautiful stoneware, there are so many amazing picks to choose from, so all you have to do is choose the gift that suits your loved one best.
---
The best Valentine's Day gifts to give in 2022
1. A love-themed pot they'll treasure forever
A Le Creuset pot is an excellent gift idea any time, but this soup pot with hand-applied hearts couldn't be more perfect for Valentine's Day. The light gold knob is another romantic touch to make this gift the ultimate pick to give to your loved one for making warming soups and stews.
2. A piece of art to remind them of you
3. A modern floral scent in a beautiful glass tumbler
4. This massage therapy tool is the ultimate gift for skincare lovers
5. Show your love with this incredible red velvet cheescake
6. The perfect pyjamas for lounging
7. These incredibly fluffy slippers are the perfect gift for wearing at home
8. Have this picturesque bouquet delivered on the day
9. Treat a coffee lover to this coffee maker we love for smaller spaces
Apartment dweller or just have a small kitchen? This Nespresso machine is made for you. At just 5.5 inches wide, the Nespresso Vertuo Next is ideal for both tiny kitchens or coffee carts, without sacrificing quality. It's also sustainably made with 54 percent recycled plastic body in a number of color options to suit your kitchen design. It's only compatible with Nespresso's proprietary Vertuo line pods, so you best get them a pack to go with their new machine. Rated our top coffee maker for small spaces, and what this machine lacks in size it certainly makes up for in features.
10. These gorgeous coupes are a unique gift to show you care
11. This phone case is an ideal smaller gift
12. This plaid blanket is perfect for cozying up on the couch
13. Celebrate with a charcuterie tray this Valentine's Day
14. Dish up with this beautiful heart cocotte
15. A top-rated smart speaker that's aesthetically pleasing, too
Marshall Stanmore II Voice
One of the best smart speakers if you're looking for something that doubles as a stylish addition to your home decor, this Marshall speaker even comes in several colorways. The Marshall Stanmore II Voice is nothing short of stunning, with its bulkiness adding to the quality feel. It looks fantastic on a bookshelf or side table and, as most people drawn to it will be so because of its classic aesthetic, that's a massive point in its favor. It has your choice of Alexa or Google Assistant built inside, for ease of use, while the physical dials on top also allow you to customize bass, treble, and volume.
---
Still, want more? If you're on the lookout for the perfect gift for the one you love, check out additional Valentine's Day gift edits below:
Molly is the Ecommerce Writer for Livingetc and spends her time searching the internet for the next best thing for your home as an expert in lifestyle shopping and consumer trends. When she's not writing, she would most like to be swimming in the nearest sea/ocean or getting through her never-ending pile of novels.