David Adjaye's Lost House has sold for almost £6.5 million – take a look inside this unique ultra-modern home
David Adjaye's Lost House is a home unlike any other in the world, blending visionary design with luxury living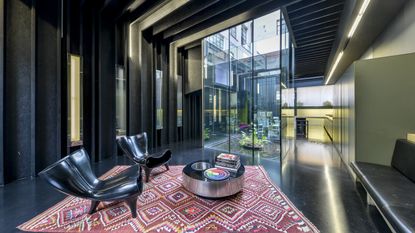 (Image credit: UK Sotheby's International Realty)
Is David Adjaye's Lost House the quintessential modern home? It's certainly a serious contender. A house like no other, it was named one of the 'most important architecturally designed homes in the world' by Architectural Digest in 2020, and is the recipient of the prestigious Royal Gold Medal.
The house is located in London's King's Cross, inside a former delivery yard adjacent to the Alaska Building. If you regularly use King's Cross railway station, you probably have passed it by without even realising it – the property gives away very little of its stunning design from the outside.
The 3,600-square-feet property offers a unique combination of multi-level spaces, with sunken courtyards, a water garden, home cinema, and a 60-foot open plant living area and kitchen that epitomize contemporary, streamlined design.
The house was originally designed in 2004 for fashion designer Roksanda Ilincic and her husband, Philip Bueno de Mesquita. The interior playfully combines the use of austere materials such as concrete with outbursts of bright color, including neon accents on bedroom walls.
The iconic home's current owners have moved to New York City, and the current owner couldn't have picked a better time to move into this endlessly fascinating property. Guy Bradshaw, head of residential at seller UK Sotheby's International Realty, said: 'The UK buyer will undoubtedly have years of fun living in what can only be described as one of London's most iconic homes. The house offers a true sense of escapism and as we emerge from the restrictions of the past 12 months, will also provide the perfect setting for entertaining at home.'
Indeed, this is also the perfect home for a staycation, offering private spaces for relaxation right in the heart of the city. The exquisite swimming pool adds an extra sensorial dimension to the house, a spa-like sanctuary beneath the main living area.
David Adjaye (opens in new tab) is one of Britain's most celebrated contemporary designers, famous for work that takes inspiration from contemporary art, music, science, and African art.
The Lost House has sold for nearly £6.5 million by UK Sotheby's International Realty (opens in new tab).
Anna is Consumer Editor across Future home titles. She contributes to Livingetc, Homes & Gardens, Ideal Home and Real Homes, and she has a background in academic research. She is the author of London Writing of the 1930s. Not just an expert in consumer shopping trends, she has also written about literature, architecture, and photography, and has a special interest in high-end interior design.