Architects are bringing back a retro design trend - which happens to be perfect for decluttering
Built-in wardrobes are the new walk-in closets - and architects are loving the space-saving flexibility this design trend can create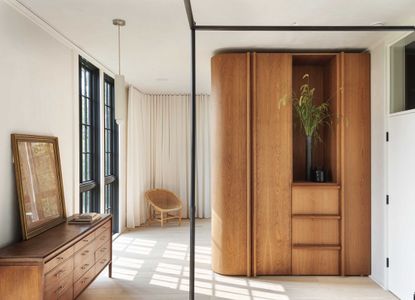 (Image credit: Matthew Williams. Project by Workstead)
Walk-in closets may always be the more aspirational storage goals for homeowners, but some of the latest built-in wardrobe designs are making a case for pulling closets out into the open.
Often fitted directly across a wall (unlike moveable armoires, an age-old precursor to closets), built-in wardrobes can be made-to-measure, designed as custom storage solutions for awkward and unusable wall space, or bedrooms that lack proper space for a walk-in closet. Upping the ante, architects even pull them away from the wall entirely, creating wardrobes akin to floating closets anywhere throughout the home.
'Built-in wardrobes have many advantages: They help to store many things in a space-saving way, and help to create a tidy and reduced feeling of space – the architecture comes into its own better,' says Mark Neuner, architect at Vienna's Mostlikely Architecture. 'But it is also possible to create special solutions: Wardrobes as room dividers or even as a design piece with great shapes and materials.'
Similar to planting a tall bookshelf or partition wall, built-in wardrobes can behave like room dividers, demarcating different zones within open floor plans while bridging the gap between architecture and floating furniture. Installed this way (often perpendicular to existing walls), they go beyond simple storage, fundamentally altering the flow of your space – an architectural feature with form and function.
And, naturally, any standout architectural feature has an opportunity to add flair to your interiors – fixed wardrobes can be fabricated with a variety of materials, finishes, and trims that bring character to your space, while the wardrobe's cavity can be personalized with endless variations of shelving, drawers, and racks.
1. Create a corridor-like path
'Why does a closet always need its own space and a wall to lean against?' asks designer Gisbert Pöppler. Proving that closets need not be sealed off behind closed doors, the wardrobe area in this open-plan Berlin apartment creates a porous layout between the dining and living room areas. A central and fixed unit creates a corridor-like path from room to room, bringing another layer of function to an architectural feature that easily could have been a simple partition wall.
To marry this floating zone with the adjacent kitchen, Gisbert tailored the wardrobes with clever design details. "As a material we used woven rattan to give the furniture a soft and warm look that corresponds with the kitchen and dining area," he adds, noting that dark green paint also drew parallels between both spaces. "The lamp, placed on the side of the entrance, looks almost like a piece of jewelry and gives the cabinet a restrained elegance."
2. Set a room divider
Creating a custom wardrobe from scratch is a costly endeavor that requires skilled carpenters, but there are ways to cut corners. While the design above is tailor-fit through and through (it divides the room while also creating a hallway to the door), you can get a similar look with savvy furniture hacking. 'A tip to do it yourself would be to customize existing products,' says Mark Neuner from Mostlikely, who created the space above. 'You can order only the carcass and design the fronts yourself – this would be a financial and time efficient approach.'
And luckily, there is an industry built around the idea of adapting furniture. 'For some bigger brands, there are already a lot of smaller companies that specialize in customizing and hacking,' adds Mark.
3. Build in more than just storage
In the Swiss Army Knife wardrobe above (which doubles as a sleeping pod, with a proper bed tucked behind sliding doors), designers pulled out all the stops. 'To maximise storage use, we always consider how best to use vertical and horizontal storage space,' says Jack Mama of London's Studiomama of the unit's many compartments. 'We like to combine open and closed storage with shelves for either clothes or other kinds of objects – design elements like pull-out shelves and drawers, allowing you to access even those items that tend to get buried at the back.'
For Studiomama, the very concept of the wardrobe is designed to fill space purposefully. "We approach projects of all scales with a holistic mindset, considering how objects, spaces, and landscapes relate and are used," adds Jack. "This includes larger storage pieces and furniture where you can make them an architectural feature of a space."
4. Save floor space
Building wardrobes directly into the wall can save space compared with having floating furniture in your bedroom layout – and in doing so, you might just create a seamless storage solution like this custom design. 'Initially, this bedroom had no closets, so we built them in and added architectural trims around the room,' explains interior designer Ghislaine Viñas. 'We wanted the room to feel seamless and not interrupted by closet doors, so we carried our trim throughout the bottom of the space and added wallpaper above it. It's a sneaky way of hiding the closet and providing uniformity to a small room.'
That doesn't mean there aren't plenty of opportunities to make your hidden wardrobes stand out. "It's always lovely to add some extra details in usually forgotten spaces, like the inside of a closet," adds Ghislaine. "Painting the interior of a closet a fun, fresh color adds a little extra flair and happiness to a room. If there's no wallpaper in a room, you can even wallpaper inside a closet to create a fun effect."
5. Echo your home's character
Inspired by her upbringing in Switzerland, where wardrobes of all shapes and sizes were common in lieu of closets – all while enhancing the interior style – designer Stefanie Brechbuehler outfitted this modern bedroom with a show-stopping design echoing exterior architecture featured in the home's new extension. 'In this case it pays homage to the new addition with its unusual rounded corners and also becomes a beautiful focal point in the room,' explains Stefanie, nodding to the project's inside-and-out approach. 'The interior was customized to the needs of our clients which is a great benefit of custom work.'
And while this unit is built into the new addition, you can achieve a similar look with floating furniture that alters your room's layout. "I think it can also be fun for people to go antiquing to find a beautiful piece and to have the interior updated with shelving or rods for hanging clothes," adds Stefanie. "You can add a piece like this to an entryway for coat storage or to a bedroom for additional clothes. It's a very flexible approach."
6. House a whole utility room in a small space
Perfect for open-plan spaces, fixed yet floating wardrobes can establish different zones without putting up floor-to-ceiling walls. In this Krakow apartment, a hulking mirrored design serves multiple functions. 'The first and most important thing was to separate the bedroom area from the living area,' explains designer Marcin Czopek, noting that a partition wall would just waste space. But in addition to an enclosed wardrobe, it also pockets a utility room complete with a washing machine – one unit, double duties.
While the clever mirror cladding helps distort the space, making the small interior seem larger while also reflecting daylight, the architectural function works to trick the eye. "Here we tried to match the height of the wardrobe to the height of the door to maintain a consistent line," adds Marcin. "I think that each zone can be separated with a wardrobe: you can hide there, for example, a work space or even a small kitchenette."
The Livingetc newsletter is your shortcut to the now and the next in home design. Subscribe today to receive a stunning free 200-page book of the best homes from around the world.
Keith Flanagan is a New York based journalist specialising in design, food and travel. He has been an editor at Time Out New York, and has written for such publications as Architectural Digest, Conde Nast Traveller, Food 52 and USA Today. He regularly contributes to Livingetc, reporting on design trends and offering insight from the biggest names in the US. His intelligent approach to interiors also sees him as an expert in explaining the different disciplines in design.