5 things to do in the garden now, and 5 things that can wait until later
It's time to get your garden in shape. Here's what to do now to plan, plant and maintain your garden so it looks good all summer long (and what can wait a while)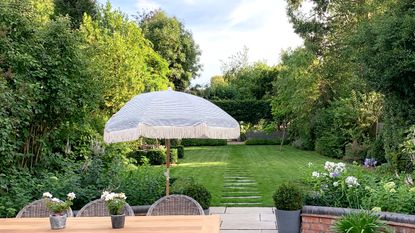 (Image credit: Claire Wainwright)
The sun's out and you want to spend every last waking moment outside. You take a wander to see what needs doing out there and suddenly the list you imagined in your head got a lot longer. Perhaps you plan to start your no dig gardening veg patch or are wondering how to make a small garden into a flower haven. The trick is to pace yourself, so here's what you need to act on now, and what you can get away with doing a couple of months down the line.
Here are 5 jobs to do now:
1. Plant flowers for butterflies
Help butterfly conservation by choosing nectar-rich plants they love. Bright and beautiful peacock butterflies are found most often in gardens (who knew) and it's easy to tempt them in to yours. Buy a buddleia (butterfly bush) now and it will bloom right through July and August. If you already have one in your garden now's the time to prune it to get more flowers come summer.
Other easy to grow butterfly-friendly varieties to plant now include tall and airy lilac-purple Verbena bonariensis, aromatic lavender and sweet-scented Bowles Mauve perennial wallflowers. Butterflies just love purple! They also like warmth so choose a sunny sheltered spot for your plants and mix them up. Try to keep the flowers coming right through the butterfly season, and don't use pesticides either as they kill them.
For more ideas and inspiration, Butterfly Conservation has everything you need to know.
2. Sow exotic seeds for drama
Sometimes your patch needs just a little bit of spice. Add something upliftingly flouncy with a touch of the exotic about it and you will transform the space.
With their fancy rippled blooms and eye-drenching brilliant colour, there's something quite magical about celosia. These sturdy flowers grow to around a metre tall and don't flop, so they won't need staking. A cutting garden classic, the crested blooms rock a vase too.
Crested Celosia 'Fandance Purple' thrives in hot and dry conditions, making it a great choice for sheltered urban gardens. Sow seeds now (and right up until May) in a sunny spot for vigorous, free-flowering plants from June to September.
3. Fill that salad bowl
'Cut and come again' salad leaves are a cinch to grow and are one of the best modern vegetable garden ideas as they give you a constant supply all summer long, which means you can finally wave goodbye to the bagged stuff.
'Over the years certain varieties have emerged as front runners in the time/reward ratio,' says plant expert Sarah Raven. 'They're the ones that are quick and easy to grow, so they will do well even if you don't have much gardening experience. Whenever I'm asked by new grow-your-owners which plants to go for I say cut-and-come-again leaves every time.'
Mix things up with different varieties like spicy Japanese mizuna with its serrated green and purple leaves, red-veined sorrel, mild-flavoured mustard greens and crinkly rocket. Sow now and in summer every few weeks to keep leaves coming for months on end. Just remember to keep picking them and they'll keep on giving.
4. Join #peonywatch
We can't get enough of peonies. This month award-winning nurserywoman and peony expert Claire Austin's new book Peonies is out. And as holder of the National Collection of Hybrid Herbaceous Peonies, Claire really knows her stuff.
'Long-lived and hardy, peonies thrive anywhere and need almost no attention once established,' she explains. 'The flowers are so breathtakingly beautiful you simply want to rub your nose in the large, soft-petalled, often fragrant blooms. The whole plant is handsome from the minute the thick red shoots emerge in early spring until the leaves start to die back as the summer evenings get shorter.'
One of Claire's favourites is powder scented 'Pillow Talk'. This lovely soft-pink peony opens into a pure rose-pink ball then, as the flower gets bigger, the petals loosen slightly and soften to pale-pink, becoming more fringed with age. Plant one now and come June you too can join in the #peonywatch frenzy on Instagram, as everyone waits for theirs to unfurl.
5. Start a herb garden
A successful herb garden will thrive in even the smallest space – try a hanging basket, window box or pot or they're great as balcony decorating ideas. If you have more space to play with you can design one in a raised bed or even a smart symmetrical parterre using bricks to map it out. Alternatively mass up loads of pots together with individual herbs, which looks just as good.
For an easy place to start first choose easily neglected herbs like rosemary, thyme, sage and oregano that like the same dry Mediterranean conditions to grow in so you can mix them in together. Plant out ones in ready-grown pots now.
There's still plenty of time to grow herbs from seed too. Use small pots filled with seed growing compost and place in a propagator to germinate. Transfer to individual pots once the seedlings are large enough to handle.
And here are 5 jobs that can wait until later:
1. Wait to plant a tree
Choose the right tree and put it in the right position and it will make a beautiful focal point and provide interest throughout the year, whatever the size of your garden. But whether you desire an ornamental flame-red acer, a tropical Dicksonia tree fern or a row of neat pleached trees to offer airy screening if you're overlooked, you need to be patient as now's not the time to do it.
Planting trees is best done in autumn, from October onwards. Even container grown trees, which can generally be planted at any time of year, are easier to care for if you plant them in autumn or winter.
Plant then and your new tree will be in its dormant phase, which means it will get established before summer arrives. And remember that bare-root and rootballed trees are only available in autumn and winter anyway.
2. Leave that lawn alone
It's tempting to fire up the mower once the grass on the lawn starts brushing against your ankles. But it could be time for a rethink as one of the best ways to attract pollinators to your garden is to do some rewilding and leave some (or all!) of your lawn to grow until the end of the summer. You'll be amazed at how many wildflowers pop up in your new meadow.
Alternatively consider waiting longer in between times before getting out the mower. Dandelions provide pollen, while white clover is always a big hit with honeybees, and red clover is top pick for bumbles.
A few simple changes like this can make a big difference to your garden's impact on the environment. Plus, just think - no more unsightly bald patches in August either.
3. Hold off on the pruning
That favourite pretty shrub or ornamental tree might be looking a little straggly and in need of a good snip but it's best to leave tidying it up until autumn. The correct time of year to prune varies from plant to plant but going in hard with the secateurs at the wrong time might weaken or damage it.
In general, the worst time to prune is immediately after new shoots appear in early spring. Snipping these off will limit the amount of energy the plant can generate to produce more growth.
Remember too that birds may have already built their nests in there and you don't want to disturb them. So park those secateurs.
4. Plan now how to max up your space later
If space is tight, think about what will work together in mixed beds and containers as summer progresses, and your seeds and plantlings come to fruition. Vegetables that are easy to grow plus look good get a double tick, as you can plant them in among flowers and the whole look will segue together beautifully.
The ruby red, gold and purple stems of Swiss chard look so pretty that it's often grown as an ornamental plant and it's the best variety for taste too as well as giving you a steady supply of leaves all year round. Beetroot is another good looking plant with similar pretty red-veined leaves (which you can also eat in addition to the purple stuff), and takes very little effort to grow.
Wigwams of beans and peas or an obelisk with tumbling tomatoes in among your flowers adds a pretty punctuation mark. Or if you want something more exotic try New Zealand yam (oca). It has a long growing season with lush lime green foliage.
5. Sow seeds straight into the ground
Wait until May to plant seeds, then you can sow them straight into the ground. Try showy and ornamental 'Ms Mars' sunflowers, with their gorgeous dark-red-to purple petals fading to coral at the edges. This isn't a Jack and the Beanstalk type as it only reaches about 60cm so there's no need to stake, and they will flower from June to October. You can also grow them in containers.
Place two seeds either side of a planting stick 10cm apart, then repeat to make a row with sticks at 45cm intervals. If both grow, transplant one of the seedlings to another spot. Pinch out the tips to encourage strong bushy growth.
These look good snipped and arranged indoors and have a long vase life too. Or let them go to seed in the garden for the birds to snack on later in the year.
The Livingetc newsletter is your shortcut to the now and the next in home design. Subscribe today to receive a stunning free 200-page book of the best homes from around the world.
Lifestyle journalist Sarah Wilson has been writing about flowers, plants, and garden design and trends since 2015. Having already studied introductory garden and landscape design as well as a course in floristry she is currently adding to her list of qualifications with an RHS Level 2 course in the Principles of Plant Growth and Development. In addition to livingetc.com, she's also written for homesandgardens.com, gardeningetc.com, Modern Gardens and Country Homes & Interiors magazines.