What are the latest couch pillow trends? The 10 styles, colors and ideas making sofas stand out in 2023
Looking for new couch pillows? These are the latest trends to know about to keep your sofa ahead of the curve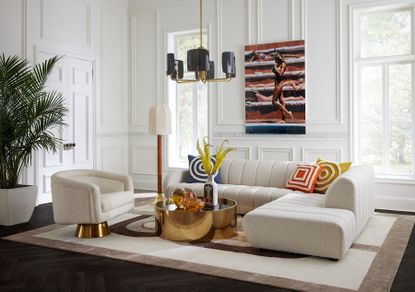 (Image credit: Jonathan Adler)
Many interior designers will tell you to avoid following trends, but if there's anywhere you can embrace trends in your home it's with smaller decorative elements like your couch pillows. Changing up your sofa is the perfect way to give it a new lease of life, and make it feel brand new, even if it's a few years old by this point.
Pillows are brought in to introduce color, texture, and form in a living room but it doesn't just stop there. Pillows also add warmth, movement, and layering to a room, so it's no surprise that changing them up can have a real effect on a space.
These days we are bombarded with all kinds of styles and shapes of pillows but there are a few styles and designs that are on every designer and homeowner's checklist. If you want to give your living room a new and on-trend look, then take a look at thes trends designers are loving right now.
10 couch pillow trends for 2023
If you're wondering how to design a modern living room, while lights and furniture do make up the heart of the space, don't forget that the best-finishing touches are from pillows. These add that much-needed layering, texture, and depth to the space. Use these little tools to add a pop of hue to the space, or even change up the room's look but in a non-permanent way.
1. Mix and match
Add to the living room colors with pillows that showcase a wide spectrum of hues. Want a floral-themed living room? Use the power of natural hues to create a bouquet on the sofa. In decorating, as in nature, flowers work together when they share a similar palette. Throw in a few solid tones and you have a lovely visual.
'Patterns and colors are in and I love these bright floral pillows, mixed with a few solids,' says Barbra Bright, founder of Barbra Bright Design. 'Flower power provides an ironic, yet complimentary contrast to the Muhammad Ali wallpaper. Also, if you're someone whose pets are considered family, I use washable fabric for all my pillows.'
'Don't be afraid of a bit of color when selecting throw pillows,' says Sarah Rosenhaus, owner, and principal of Sarah Rosenhaus Interior Design. 'The key is to choose a color palette, then pick a good variety of textures and patterns within that palette. Be sure to mix in with some neutrals to keep the look feeling light. Consider the mood of the room and the intention for the space. If you are not feeling patterns, color blocking is a great way to introduce dimension to your space. Consider mixing in a variety of warm and cool tones to create interest.'
2. Round pillows
Round and curved shapes have an inherent softness to them. For a cozy living room, a small, round pillow can do wonders to soften a space to break up a straight-lined sofa.
These little pieces are great for adding a little pop of color to a room that already has other furnishings such as a throw or large square pillows. If the shape entices you, consider long, rounded bolsters. These can be used across the seating or even along the handrest for a super comfortable feeling.
'When layering throw and accent pillows onto your sofa, the round shape is in,' says Jane Lockhart, founder of Jane Lockhart Design. 'Fully rounded, 3D spheres add a whimsy and dimension.'
'It's always good to consider the room as a whole and the sofa's color and style before adding pillows,' agrees Susan Spath, principal designer of Kern & Co. 'It is always nice to mix the sizes of the pillows using rounds and kidney pillows. Right now a lot of modern sofas are shown with round 'ball' pillows. They add a fun touch to the sofa.'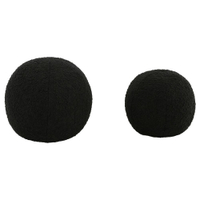 3. Motifs
Usually, to design an elegant living room, homeowners tend to settle for solids and subtle patterns for pillows. But a great way to elevate the room, and even the small yet significant pillows, a good dose of print can do the work. This is an easy and relatively inexpensive way to give the room a big boost of personality.
The trick is to approach patterns as the professionals do, by picking a common theme. If your room is united by a color or theme, chances are the pillows can contribute to the story.
'Motif prints never go out of style, because they allow you to emulate things you love,' says Jane.
4. Oversized pillows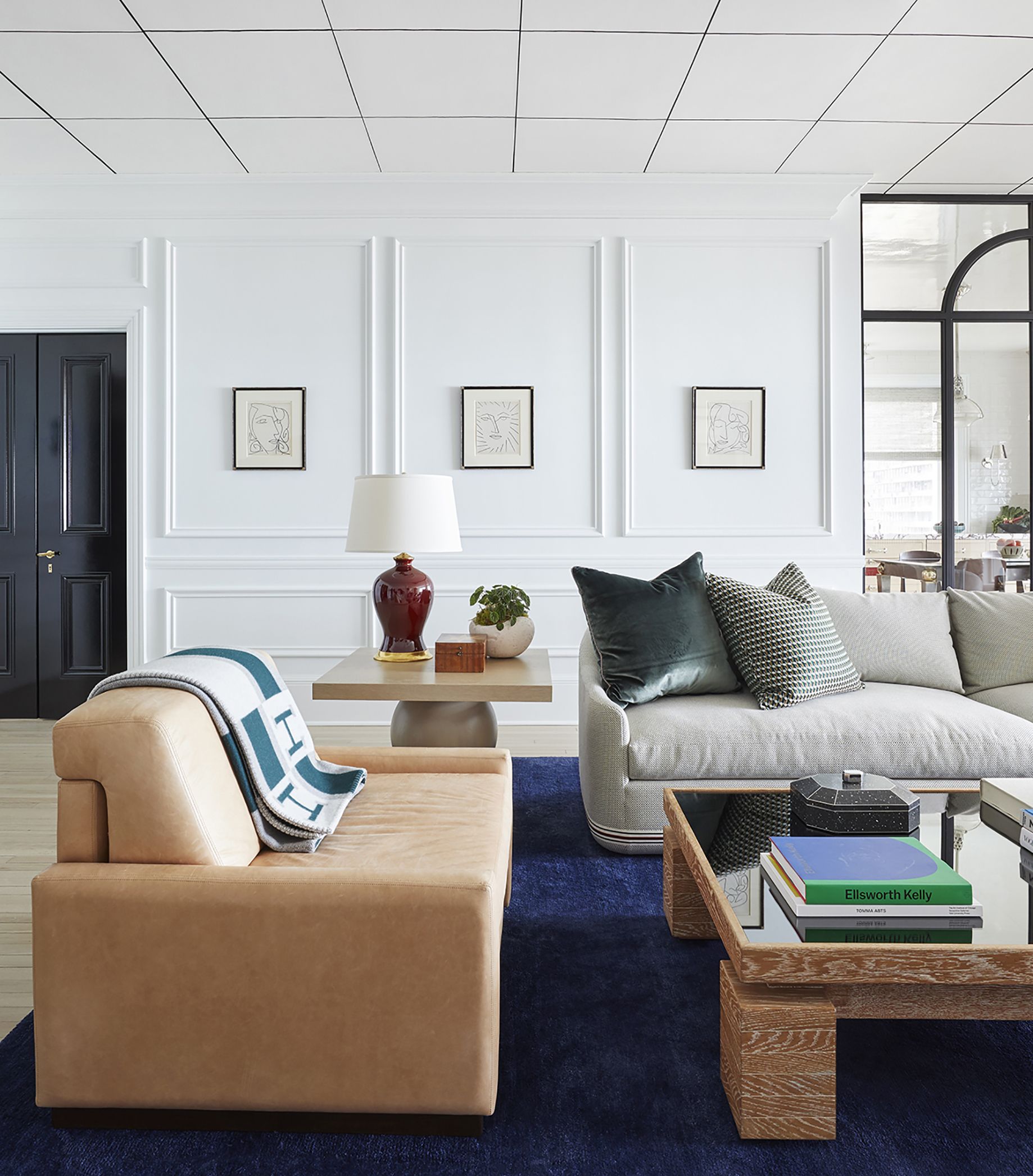 Oversized pillows can make styling the couch easy, as when placed among smaller varieties, the large sizes finish the look. Inversely, living room furniture with just two oversized pillows too can do the deed.
The larger the pillow, the cushier it can make seating. Plus, these can be used to sleep on when you want to lounge, and because of their statement-style look, can be used in other places around the home as well, like on the bed, or used as a floor pillow to sit on. You could even place these around a low coffee table for occasions like game nights with friends, and opt for bold accent colors to liven up the aesthetic.
'I prefer to incorporate throw pillows that look best aesthetically and functionally with a particular sofa and overall living room design,' says Molly Torres Portnof, founder of DATE Interiors. 'Generally, mixing and matching pillows in different sizes and shapes feels most natural and interesting.'
5. Solids
Color-blocking walls is not the only surprising way to play with color. Sofa pillows can do the same but in a more subtle and non-permanent way. On a plain, muted, or solid-toned couch, these can provide a refreshing contrast, and uplift the room's mood. Alternatively, you could create a color block with just pillows, all drenched in different colors, adding to the color layering of the room.
'In this room, the cushions add a casualness to the seriousness of the dark walls and sophistication of the pieces,' says Tamara Magel, founder of Tamara Magel Interiors & Buildings. 'This iconic Mario Bellini tufted velvet sectional creates an intense statement in a simple hanging-out room. Cushion selections should be thoughtful and indicative of the vibe in the room you are looking to create.'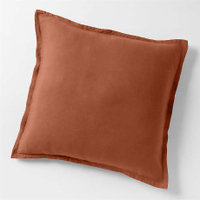 Orange Euro pillow cover, Crate & Barrel
Choose this deep-toned, linen pillow with two-inch flange tailoring to add a pop of hue to the living room. This tone will work especially well on a muted couch and can be used to mix and match with other pillow tones.
6. Tactile textures
Sure, velvet and woven textures have been a modern living room trend for a while but these will never go out of style.
A velvet pillow when placed on an inexpensive couch or accent chair will instantly give the piece a luxe look, while textures like knits or weaves on pillows add dimension to a living room that may feel too one-dimensional or flat, especially if everything is solid-toned. 'Textural pillows with embroidery or self-pattern can add a cozy and soft touch to the interiors, and, are always on trend,' says designer Molly Torres Portnof.
7. Formal pillows
'When it comes to sofa cushions, there are a few different types that are forever on-trend,' says Jane. 'You can have a knife point or welt. French seams are a flatter option, and are trending right now, which provides a look similar to a baseball stitch.'
Seams and embroidery sometimes feel like underrated additions but can instantly add a 'wow' factor to your pillows. Want to add more for a luxury living room look? Choose bold and patterned pillows and attach tassels or contrast piping to them. This will instantly add flair to the room, and fun details in the most cost-effective way. Plus, added layering with extra texture.
8. Artisan techniques
Whether you want a modern, stylish space or a boho living room, bring in throw pillows or small ones that showcase interesting artisan techniques. One great craft technique is block-printed fabrics. This is not only on-trend, but block-printed pillows have a timeless quality that will never go out of style. Plus, with each purchase, you will be able to support the work of a skilled artisan.
That apart, consider Mother of Peal embroidery on pillows, as these give the piece a special, hand-crafted look that can uplift the vibe of the entire room. Hand-woven pillows using flat weave techniques look great as well.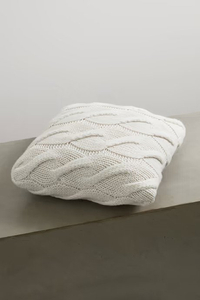 Brunello Cucinelli, Net-A-Porter
Consider this knitted, cashmere pillow for a sumptuously soft living room vibe. The warm white shade will complement a home of any style.
9. Flange
If you're redesigning a modern living room, and want to give the space a more considered touch, add in flange pillows, which are a lovely change from the standard knife-edge cushion and give the pillow a more pronounced and decorative look. It is a piece of fabric that extends beyond the seam, giving the cushion an elongated look.
'Consider a pillow with flange (the flaps of fabric you'll see around the stitching), for a timeless and also decorated look,' says Jane. 'Choose bold colors and interesting prints for the same'
Flange can be made with the same fabric as the cover itself or with a contrasting cloth in a different color. It is a great way to add more pattern and texture to a room. Because of their statement look, flange pillows help make the couch the focal point of the room. Styles like scalloped flanges, like these linen scallop pillowcases from BedThreads, are particularly on trend right now, too.
10. Pattern drenching
Much has been said within this article on how to make the pillows contrast and stand out in a room or against a couch. But one important trend that cannot be missed is pattern drenching pillows. This is especially effective in small living rooms, where creating a seamless visual will not only make a space feel open and airy but also hide its small square footage.
Inside a room that is dipped in a single solid tone, it may be prudent to use pillows that showcase the same hue. But to add a little dimension to the seating, you could consider adding a touch of pattern or print to the pillow so while it doesn't jump out visually, but does hold its own in the room.
The Livingetc newsletter is your shortcut to the now and the next in home design. Subscribe today to receive a stunning free 200-page book of the best homes from around the world.
Aditi Sharma Maheshwari is an architecture and design journalist with over 10 years of experience. She's worked at some of the leading media houses in India such as Elle Decor, Houzz and Architectural Digest (Condé Nast). Till recently, she was a freelance writer for publications such as Architectural Digest US, House Beautiful, Stir World, Beautiful Homes India among others. In her spare time, she volunteers at animal shelters and other rescue organizations.