10 ways to make your kitchen look more expensive while barely having to spend a cent
From hardware updates to color choice, top designers explain the affordable hacks for how to make your kitchen look more expensive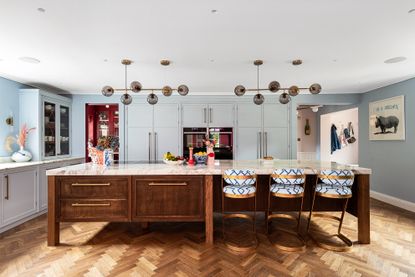 (Image credit: Herringbone Kitchens)
The Livingetc Newsletter
For style leaders and design lovers.
Thank you for signing up to LivingEtc. You will receive a verification email shortly.
There was a problem. Please refresh the page and try again.
How can you make your kitchen look more expensive than it really is? According to interior designers, it's easy to create a kitchen that feels and looks luxe regardless of your budget or square footage. The trick? It's all about paying attention to the design details that make a big impact, like the cabinet coloring, your choice of countertop and the small-but-significant finishing touches, like your hardware.
If you've just moved into a new home and dream of creating a modern kitchen for less or if you're planning on retrofitting some small design elements because your current kitchen is looking more 'lackluster' than 'luxurious', these suggestions will help. With a little know-how, it's easy to turn your kitchen into a space that's both fancy and functional.
Stuck on where to start? We spoke to a range of experts to find out how to make your kitchen look more expensive than it really is.
1. Choose stylish functional pieces
'There are very easy ways to add beauty to your space with a few styling hacks,' Texas-based interior designer Marie Flanigan says.
Lover of plants? 'Incorporate beautiful foliage or greenery into your space which will instantly brighten the room,' Marie suggests.
Or if you've got shelves or empty countertop space, 'Style your sink area, coffee bar or island with beautiful objects that add function like uniform soap dispensers, salt cellars, butter bells, cookbook stands, creamer sets and more,' Marie adds.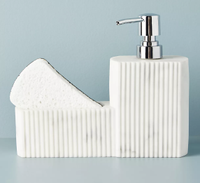 Casa soap dispenser, Anthropologie
This $28 soap dispenser and scourer holder is worth its weight in gold. It not only means you lose the unsightly branded bottle of soap but also allows you to keep the sink area tidy of damp cloths. Instant luxury that makes everything feel more expensive.
2. Switch up your hardware
Hinges, handles and pulls might be one of the last design choices you make in your kitchen. But hardware can change the whole look and feel of your space. And, if you get it right, it can make your cooking zone look a lot more expensive than it really is. And as we've seen in current kitchen hardware trends, this isn't an area you need to spend money on necessarily.
'Changing out hardware or plumbing fixtures is a great way to update and add some beauty to a kitchen,' Marie tells us. 'I consider hardware to be the jewelry of a room and it's often an easy change to make.'
The most affordable place to shop for kitchen handles is Amazon - it's the best kept stylist's secret as to where to go. Finger pulls for less than $2 each, brass handles for less than $10, and if you choose wisely they'll look straight from a designer store. Browse Amazon's handle offering here.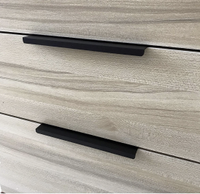 3. Add in some natural elements
A little flash of stone will go a long way to upping your kitchen's luxe factor. So even if you're not spending out on a whole new kitchen countertop you can still evoke the sense of one with some well chosen marble - or marble-esque - coasters, bowls or objects.
'Choose materials that have an air of timelessness to them,' Marie adds, counting marble, or granite among them.
This piece of design advice is something that Raili Clasen, a Newport Beach-based interior designer, agrees with. Raili says, 'Natural stones such as marbles, limestones, and leathered granite are all great options. We love using natural stones.'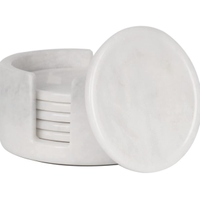 4. Be considerate with color choice
Choosing the right paint color for your home can be a bit of a minefield. But it's a design decision which can have a massive impact on the look and feel of your kitchen. But don't just take our word for it. Lauren Caron, principal designer and founder of Seattle-based interior agency, Studio Laloc, says, 'Colors with a bit of complexity that subtly change with the light and almost act as chameleon colors tend to feel more luxurious.'
She suggests a classic Livingetc favorits. 'A few good examples are colors like French Gray from Farrow & Ball. It looks green in some light but changes to more gray in others. Certain types of pinks can do the same thing, they'll go from being very warm and almost peachy to cooler in tone and closer to a cool pink.'
In addition to the color, also be sure to give some consideration to how the paint is applied. 'Painting tone on tone, like the same color for the trim as the walls can look more elevated,' Lauren adds. 'Especially when you mix and match the sheens.'
5. Focus on finishing touches
While the functionality and practicality of your kitchen should always be at the forefront of your mind, the nitty gritty design details shouldn't be an afterthought.
'Adding design details and layers to a kitchen beyond the necessary elements will always make a kitchen look more expensive,' Lauren says. 'This means adding window treatments, considering a more interesting countertop edge like an ogee or double bullnose, hanging pots and pans or dish cloths from brass rails and S-hooks, or crown moldings to upper cabinets.'
In need of some more inspo? The latest kitchen trends will give you endless inspiration if you have plans to retrofit your space.
6. Add or replace lights
Lighting is one of the most important aspects of any room — and when it comes to your kitchen, it's no different.
'Lighting is often the most underrated but most important element in the kitchen,' William Durrant, owner of bespoke kitchen company, Herringbone Kitchens, which ships to the US, says. 'Pendant light over an island or lights inside upper glass cabinets looks great, as well as up lights under units which create a lovely atmosphere. Try to get the separation between your ceiling lights (your working lights) and ambiance lighting (social lights).'
Interior designer Michael Del Piero concurs. She says, 'Lighting changes everything. Using architectural lighting in combination with decorative lighting is a must in creating an elevated look.
'Thinking through how the cabinetry and lighting work together is more important than selecting the fixture because "you're in love with it". It's all about the combination of items and how they play together as opposed to a focus on each individual item.'
7. Declutter to instantly make the space feel better
Fan of a minimalist kitchen? Calm and carefully considered kitchens will forever have a place in our hearts (and homes). And as Michael explains, it's for good reason.
'High end contemporary kitchens have fewer obvious details and finishes,' she says. 'Keeping the countertop and backsplash in a single material maintains the simplicity seen in this type of kitchen. One or two materials for cabinetry maintains the look.'
But even painting your kitchen cabinets and island the same hues can help to create this seamless look and feel. So in this example, when it comes to adding a luxe look, it's definitely a case of less is more.
8. Clear the surfaces
Speaking of minimalism in interior design, another way to make sure your kitchen looks more luxe, is to keep clutter to a minimum.
Pack away your microwave, say goodbye (for now) to your knife block and see you later to piles and piles of paperwork. Instead of having these necessities on your kitchen countertops, is there a designated space you could place them? Like a cupboard, drawer or small pantry?
9. Opt for an all white kitchen
While introducing color into your kitchen can create an elegant feel, not all of us want to splash out on the trendy colors of the moment. One way to ensure your kitchen looks every bit as luxurious as it does timeless? Make it white.
'White has been a preferred kitchen color for a very long time and its popularity goes in and out of favor often, Michael says. White wouldn't necessarily be a luxury color and in fact, it's rather utilitarian yet white kitchens can be and have been very luxurious.'
Need some more convincing? One quick look at these white kitchen ideas will have you sold.
10. Balance the details
So, as we've seen: when it comes to the best ways to make your kitchen look more expensive, there are a range of ways to make your kitchen ooze splendor. But, as Michael highlights, it's important to get the balance right.
'Too much crème in the coffee is not the route to a more expensive look,' Michael explains. Sometimes, a simple cabinet with an exciting fixture creates a fantastic and luxurious look. Vice versa is an elaborate cabinet with a simple fixture creating the same level of luxury.'
How can you make basic cabinets look more expensive?
Working with the cabinets you have got already got is one of the most cost-effective and eco-friendly ways to give your kitchen a fancy glow up.
'It's often possible to have trim added to basic cabinetry to give it a more custom look,' Marie highlights. 'Talk to your cabinet maker or contractor about how this could be achieved. When possible, opt for inset cabinetry to achieve a bit of luxury. Further, beautiful hardware goes a long way in making a cabinet look more expensive.'
For style leaders and design lovers.
Becks is a freelance lifestyle writer who works across a number of Future's titles. This includes Real Homes, Top Ten Reviews, Tom's Guide, TechRadar and more. She started her career in print journalism at a local newspaper more than 8 years ago and has since then worked across digital and social media for food, fashion and fitness titles, along with home interior magazines. Her own interior style? She's big on creating mindful spaces in every corner of her home. If it doesn't spark joy or happiness, it has no place here. When she's not writing, she's reading and when she's not reading, she's writing.