'You want soft and warm!' 11 designer secrets - and 1 magic trick - for perfect backyard ambience you can relax in
To tradition your alfresco entertaining area from day to night, the right outdoor dining lighting ideas are a must. Designers explain how to get them right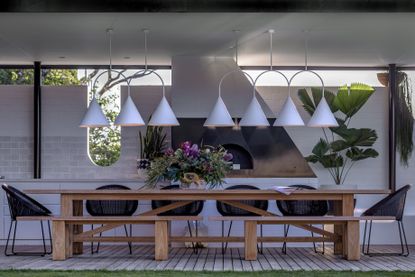 (Image credit: Ben Guthrie)
The Livingetc Newsletter
For style leaders and design lovers.
Thank you for signing up to LivingEtc. You will receive a verification email shortly.
There was a problem. Please refresh the page and try again.
Nothing beats a meal alfresco. Maybe it's because it can be such a novelty for those of us in the Northern Hemisphere, but even if you get the benefit of good weather all year round, eating and drinking and hosting outdoors is such a joy. If you want to make the most of it, you want to have a setup that's suitable for both daytime and evening entertainment. The best outdoor spaces have that seamless flow from BBQ in the sun to drinks in the twilight. And the key to this transition is lighting.
Whether you already have outdoor dining spaces in your backyard or are looking to add one in, lighting should always be considered. And there are loads of options to suit whatever style of setup you are after from subtle built-in lights and cool outdoor pendants (a huge trend right now) to moveable lanterns and of course the classic string lights.
15 outdoor dining lighting ideas
We spoke with designers about what lighting they have used, and favor, for an outdoor dining spot so you can get inspired.
1. Consider the practicalities of your outdoor lighting
Before we get into all the beautiful outdoor dining lighting solutions let's first talk about practicalities and what needs to be considered when choosing your lighting types and styles. Firstly where is your outdoor dining space located? That will narrow down the types of lighting options. Do you want your lighting to be built-in or is a moveable, freestanding option going to suit better? Look to the style of your home as inspiration too, both inside and out, having that continuity of style will add to the seamless flow between outdoors and in.
'Hanging lights are best used in covered patios, as they usually hang from the ceiling. They can take the form of singular lights for a subtle look or you can opt for string lights to give the area a truly cozy feel. String lights can be hung up anywhere around the outdoor space, allowing you to truly make the area your own. And these LED lights are one of the most affordable ways to spruce up your outdoor dining space,' recommends outdoor lighting specialists, CGC Interiors.
'Solar lights are the best eco-friendly option. They can be left in your garden all year round and can be attached either to your property or to the ground. Solar lights are available in several different options, including stake lights, fairy lights and spotlights.'
'Lights with motion sensors are a great choice that you'll never forget to switch off. These lights will switch on whenever they sense movement, thanks to their efficient sensors. Lights with motion sensors can also help keep your home protected, as the first signs of a burglar or intruder will switch them on, thus notifying you of movement.'
'You also have the option of built-in decking lights. Unlike the other types of lights mentioned above, decking lights are inserted into the actual decking on the floor, providing a source of light from the ground up. They illuminate the edges of the area, to reduce any tripping incidents and show people the way to walk. Decking lights are commonly used to add intrigue to outdoor areas and are an especially great choice for illuminating an outdoor dining area.'
2. Create a laid back vibe
This whole outdoor setup design by Carter Williamson is a dream. Pizza oven, outdoor fireplace, living room, the works. It really is like a totally alfresco living area. And it's the lighting that really ups that indoor/outdoor look. The sleek contemporary pendants would look just as at home above a kitchen island indoors and we love the permanence they give – this is true of using any pendant lighting outdoors, it takes what could just be an outdoor dining table and turns it into an outdoor dining room.
'Our clients came to us with a vision of an outdoor living space they could use all year round and would accommodate their growing family needs,' explains designer director Ben Peake. 'They wanted a warm, generous space for family gatherings and new memories which spoke to everyone; parents, kids, and grandkids. Our solution; an outdoor pavilion, lawn, and pool designed for gracious living through all seasons. Fitted with a fireplace, kitchen amenities, and a woodfire pizza oven, it was vital to our clients to be able to use the outdoor living space all year round, rather than it be relegated purely for use during the summer months. These amenities allow the space to be used throughout the year, be it for dining, entertaining, or simply relaxing.'
3. Create an indoor/outdoor feel
Outdoor living has become a huge garden trend in recent years. A table and a couple of garden chairs will no longer cut it – we all want to recreate our indoor rooms outdoors using rugs, cushions, and of course lighting. Nothing makes an outdoor dining space feel more like a room in your home than incorporating some oversized, statement pendant lighting.
'This is an outdoor patio for a young family in Beverly Hills. They love to entertain and of course, living LA we're blessed with such wonderful weather most of the year, so they really wanted to take advantage of this,' explains designer Gianpiero Gaglione. 'With regards to the lighting, I love an intimate dining experience and a crucial ingredient to creating that vibe is lighting. These pendants are very large and that volume creates so much drama over the table, you're really pulled into it and once the lights are dimmed low, it creates a wonderfully warm and inviting vibe.'
'The best kind of outdoor lighting really depends on the look you're going for. I'm flexible when it comes to lighting, in the sense that if a client is more on the bohemian side, then we can make that happen, whereas if a client prefers a sleeker more contemporary vibe that's also a fine solution. At the end of the day, the critical point with any lighting scheme is to have varied and layered lighting. So that means working with various lighting sources and types that blend together to create a warm glow all over. For example, wall lights, pendants, floor lamps, table lamps and candles. You can never have too many lights, just make sure that they're all dimmable,' adds Gianpiero.
4. Go for a beachy vibe with rattan shades
And for that beachy, relaxed vibe choose what you would go for indoors – rattan, seagrass, wicker. These materials all work beautifully as outdoor pendant lighting as they will fit seamlessly in with the natural surroundings. This space designed by Raili Ca has such a gorgeous, chilled vibe, and opting for this very organic-looking cluster of lights makes far more of an impact than hanging single lights the width of the table. Plus, the lighting doubles as decor when not in use.
'We like to use larger scale pendants or clusters of lighting in most of our dining spaces, the kitchen and outdoor dining area alike. In our outdoor spaces, we incorporate natural woods and more neutral performance fabrics so statement lighting brings the wow factor!' explains founder Raili Clasen.
Do consider the practicalities of using natural materials for your outdoor lighting. If you have fine weather throughout the year, great, however, if the weather is... unreliable and your outdoor dining space is not well covered, either choose a design that is removable and you can bring inside when needs be (you can get some stunning wireless designs) or opt for something more weather resistant.
5. Contrast natural textures with a contemporary statement
Another gorgeous outdoor dining space designed by Raili Ca. What we are quickly noticing, is the way to outdoor dining lighting is to take indoor lighting outdoors. Lanterns and string lights are ideal for a temporary setup or if your dining space is a distance from your house, but if it's on your back porch and you can therefore use your internal electricity choose a design that's wired in.
A lot of outdoor lighting is chosen to blend in with the natural surrounding of a yard, but what we love about this design it is a total contrast – super modern and sleek. It's a statement as it's unexpected, but also because of the minimal design it doesn't dominate the space.
'Good exterior lighting has the power to transform an outdoor dining space, as well as creating a polished indoor-outdoor look that offers a visual introduction to the interior within,' says Charlie Bowles, director at Original BTC. 'To add some luxurious personality to an outdoor dining space, an oversized pendant light positioned centrally over a table will throw down a large pool of light and a decorative flourish. To create a layered look, carefully placed wall lights will provide practical task and accent lighting for a more intimate, cozy feeling during summer evenings.'
6. Work with the natural surroundings
Hanging pendant lighting from a tree is a lovely, organic-feeling way to light up your outdoor dining space. Again, wireless options work wonders here as you don't have to worry about running cables across the yard or picking a design that's going to withstand all weather.
'Ensure your lighting selection complements the respective outdoor spaces and the nature that surrounds them. The hanging rattan orbs are the perfect complement to this cliffside California-cool home,' suggests designer Marie Flanigan.
'The first thing to consider when choosing lighting is how and where will the fixture hang. When possible, I love hanging lighting from a tree branch; it sets a stunning, ethereal al fresco scene. And have fun with your lighting selections. Your outdoor space should be an extension of your home, but you can also take fun design liberties. One important thing to determine is whether the light fixture gives off the appropriate amount of light, especially at nighttime. Lastly, while it may sound light a no-brainer, not all lights are made for outdoors! Make sure to select a light that can withstand the elements.'
7. Layer lighting as you would indoors
Whenever we give advice on lighting any indoor room, this is always the top tip. Don't rely on one light source, layer your lighting to create that lovely all-over glow. And the same goes for your outdoor lighting. Have your bolder, brighter overhead lighting, but scatter around more ambient lighting too, even if it's just some lanterns around the edge of the table.
'It's all about layers of lighting. You'll want to incorporate different lighting elements to add depth and visual interest. Think about using ambient lighting, task lighting, and accent lighting. This way, you can adjust the lighting based on the mood or specific activities,' says designer Shanade McAllister-Fisher. 'Creating a warm and inviting atmosphere is key! You want soft, warm lighting that sets a cosy mood. Consider using string lights, lanterns, or even candles to achieve that inviting ambiance.'
'Like your interiors, you want to create a layered lighting scheme with multiple light sources in various areas and at different heights. This will help create ambience whilst ensuring there's ample lighting however you're using the space, be it casual evenings in the garden with family and friends, alfresco feasts or relaxing with a drink and a good book,' adds Reilly Gray, co-founder of Suns Lifestyle.
'If you opt for wired lighting, pick options that can be hung from a structure or at height in the garden. Festoon lights or an outdoor chandelier will add brightness from above, lighting the space with good, general lighting, especially above a dining table. You then want to supplement this light source with others such as uplighters, floor lamps, and lanterns. Not only will this brighten up darker corners and allow you to highlight certain elements such as your favorite plants, furniture and ornaments, but it will also add warmth, drama and help create that all-important atmosphere. '
8. Hang sconces to avoid harsh down lighting
If there are walls surrounding your outdoor dining area, sconces are a great option and perfect if you don't have an overhead structure to hang lighting from. They add a lovely ambiance, and create a glow around the table rather than above it so you avoid any potential for harsh overhead light.
You can choose a really subtle, barely noticeable design if you don't want to make a feature of the lighting, or use wall lights to add to the style of the space. These lantern-style sconces work with the classic, traditional feel of the area and match the style of the home too.
9. String up bistro lights
'This is the patio outside of our dining room. It's our primary outdoor living/dining space. There is a lot of tree coverage which is nice, but outdoor lighting is a must so we used simple outdoor-rated string lights with LED bulbs,' explains Jessica Davis of Atelier Davis. We like that it gives a casual effect and they can be on a timer, so they turn on at dusk and remain on for a few hours each night.
'For an outdoor space, you want to think about how you use it and make sure you have lighting that goes above the table so you have functional lighting.' And here's the magic styling trick: 'With backyard string lights specifically, you want to string them onto a taut cord versus just hanging up the lights from one hook to another - otherwise they will sag and look amateur,' Jessica says. 'There are lots of string light hanging kits out there that are easy to install and use.'
10. Create the softest glow with lanterns
'Lanterns are a great addition to outdoor spaces. Just because you're not inside, it doesn't mean you don't need to accessorize your space. Cozy it up with lots of lanterns and decorative pieces to create a zoned space that feels intimate and welcoming. Scatter lanterns around the space to light up areas such as steps which need to be seen, or group them together to create a focal point,' suggests designer Juliette Thomas.
And the big pro of lanterns is that they don't have to be wired in and they are portable, so ideal if you only use your outdoor dining space for a couple of months a year so just need a short-term lighting solution. You could go traditional with glass lanterns, or for a more modern (and practical) solution pick portable LED lights like the ones used in this space.
11. Add a touch of opulence with a chandelier
Dining rooms are spaces you can be a bit more extravagant with decor since they are rooms for hosting and entertaining, so take some of that extravagance to your outside dining space and use a chandelier as your lighting.
'Much like an interior dining room, an outdoor dining space should have multiple lighting sources including a chandelier or pendant, sconces, or lamps. In this indoor/outdoor dining space in Lake Tahoe, CA, we used a cluster pendant chandelier.' explains designer Kristen Pena.
'You may need to consider the elements – hanging glass bulbs may break in the wind, for example. Luckily, this space is typically shielded from the weather. In other outdoor spaces, you may pair a metal pendant with metal sconces that will hold up better in extreme weather.'
One bonus trick you need to know
It may sound obvious, but if you're sitting around outdoors at night then it's quite likely at some point you'll get cold. 'Lighting is so important to the ambience of an alfresco dining table, but if people are feeling the chill then it'll be game over,' says Livingetc editor Pip Rich.
'So as well as setting the table with plates, glasses and so on, drape a blanket over the back of each chair. It really does make everything so much more inviting. And the more colorful and joyful it is, the better.'
For style leaders and design lovers.
Hebe is the Digital Editor of Livingetc; she has a background in lifestyle and interior journalism and a passion for renovating small spaces. You'll usually find her attempting DIY, whether it's spray painting her whole kitchen, don't try that at home, or ever changing the wallpaper in her hallway. Livingetc has been such a huge inspiration and has influenced Hebe's style since she moved into her first rental and finally had a small amount of control over the decor and now loves being able to help others make decisions when decorating their own homes. Last year she moved from renting to owning her first teeny tiny Edwardian flat in London with her whippet Willow (who yes she chose to match her interiors...) and is already on the lookout for her next project.