11 micro apartments with genius ideas to steal if you live in any kind of small home
The secret to small space living might just be found in these pioneering micro apartments that put tiny floorplans to good use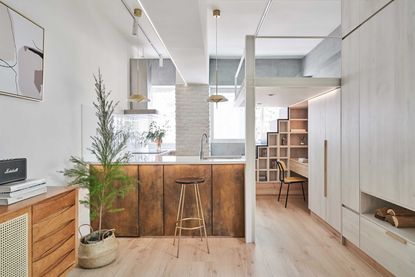 (Image credit: Hey!Cheese. Design: Nestspace Design)
Living in a small space might mean making compromises, but living in a micro apartment means adjusting to a whole different lifestyle. These apartments, often studios with the tiniest of floorplans, require some clever interventions to make sure they contain all the amenities you'd expect to live comfortably. All that means that you might have to pull out things and fold them away, or just make use of the space in a slightly different way, all of which affects the way you inhabit the space.
However, while decorating an apartment that's as tiny as this is something many of us won't have to deal with in our lives, what the architects of these spaces do best is distill the essence of what it means to live in a small home to make sure everything you need is included.
With this in mind, we've rounded up 11 of the very best micro apartments, and asked their designers what the key takeaway from each space is, creating a lesson that you can apply to your own small, if not micro, home.
Hugh is Livingetc.com's deputy editor, an experienced homes and property journalist with a passion for interesting, intelligent architecture. Here, he's pulled together a list of his favorite micro-apartments, while asking each architect behind them what they learned about small space living from the project.
1. Room dividers aren't the only way to create areas
Creating physical divides in a small apartment will undoubtedly make a small space feel smaller, but in this micro apartment, architect Ben Edwards of Studio Edwards created the feel of separate spaces by using simple angled furniture. 'The angles add a dynamic and idea that space is continuous or implied,' he explains. 'Rather than partitions or walls, spaces can be suggested through changes in volume or overlapping surfaces.'
In this instance, the architect used angled built-in furniture for the kitchen table and countertops, as well as a piece made from OSB board in the living 'area'. The result? A space that feels like it has distinct zones within it, without having physical room dividers that chop up the floorplan into less flexible, usable chunks.
2. Re-imagine what lighting looks like
A traditional lighting scheme often doesn't do a micro apartment justice. Fixed, single-point lighting lacks the adaptability of strip LED lighting, and might just get in the way of making a small space that's as easy to change up as you need it to be.
For small homes lacking natural light, it can be used to bring a sense of brightness in, too. In this small, dark Manhattan apartment, for example, architect Martin Hopp (opens in new tab) took a different approach in creating an artificial lighting scheme that feels like daylight creeping in. 'Lighting is hidden within the built-in elements and used to reinforce the feeling of natural light. Lighting has such a strong impact on wellbeing that we really emphasized its integration.'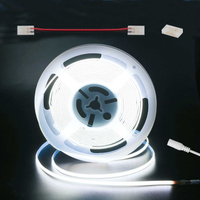 (opens in new tab)
LED strip lighting, Amazon (opens in new tab)
LED lighting strips can be professionally commissioned, or installed on a DIY basis with batteries or into an outlet. Get the look with this DIY lighting strip from Amazon.
3. Blur boundaries with one material
Reducing the materials in a tiny space can help blur solid lines and help a small apartment feel bigger. In some instances, this can be just a simple choice like painting the walls, ceiling and trim the same color, as well as opting for built-ins in the same shade that fade into the background, but it's possible to go for a bolder choice and still enlarge the sense of space.
'Having to deal with an extremely narrow space, I was looking for an effective-cost material capable of enlarging the living area without showing any additional lines,' explains architect Francesca Perani (opens in new tab). Her solution? Textured OSB panels, finished with varnish, for the floors, walls, ceiling and kitchen. 'The OSB panels add warmth through their mesmerizing and continuous texturized pattern,' the architect explains.
4. Slide to hide