11 micro apartments with genius ideas to steal if you live in any kind of small home
The secret to small space living might just be found in these pioneering micro apartments that put tiny floorplans to good use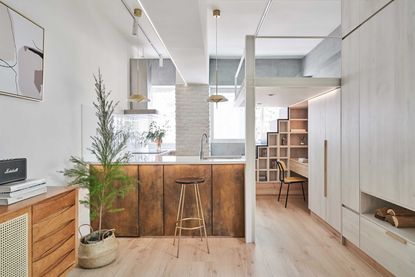 (Image credit: Hey!Cheese. Design: Nestspace Design)
Living in a small space might mean making compromises, but living in a micro apartment means adjusting to a whole different lifestyle. These apartments, often studios with the tiniest of floorplans, require some clever interventions to make sure they contain all the amenities you'd expect to live comfortably. All that means that you might have to pull out things and fold them away, or just make use of the space in a slightly different way, all of which affects the way you inhabit the space.
However, while decorating an apartment that's as tiny as this is something many of us won't have to deal with in our lives, what the architects of these spaces do best is distill the essence of what it means to live in a small home to make sure everything you need is included.
With this in mind, we've rounded up 11 of the very best micro apartments, and asked their designers what the key takeaway from each space is, creating a lesson that you can apply to your own small, if not micro, home.
Hugh is Livingetc.com's deputy editor, an experienced homes and property journalist with a passion for interesting, intelligent architecture. Here, he's pulled together a list of his favorite micro-apartments, while asking each architect behind them what they learned about small space living from the project.
1. Room dividers aren't the only way to create areas
Creating physical divides in a small apartment will undoubtedly make a small space feel smaller, but in this micro apartment, architect Ben Edwards of Studio Edwards created the feel of separate spaces by using simple angled furniture. 'The angles add a dynamic and idea that space is continuous or implied,' he explains. 'Rather than partitions or walls, spaces can be suggested through changes in volume or overlapping surfaces.'
In this instance, the architect used angled built-in furniture for the kitchen table and countertops, as well as a piece made from OSB board in the living 'area'. The result? A space that feels like it has distinct zones within it, without having physical room dividers that chop up the floorplan into less flexible, usable chunks.
2. Re-imagine what lighting looks like
A traditional lighting scheme often doesn't do a micro apartment justice. Fixed, single-point lighting lacks the adaptability of strip LED lighting, and might just get in the way of making a small space that's as easy to change up as you need it to be.
For small homes lacking natural light, it can be used to bring a sense of brightness in, too. In this small, dark Manhattan apartment, for example, architect Martin Hopp took a different approach in creating an artificial lighting scheme that feels like daylight creeping in. 'Lighting is hidden within the built-in elements and used to reinforce the feeling of natural light. Lighting has such a strong impact on wellbeing that we really emphasized its integration.'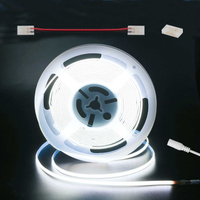 LED lighting strips can be professionally commissioned, or installed on a DIY basis with batteries or into an outlet. Get the look with this DIY lighting strip from Amazon.
3. Blur boundaries with one material
Reducing the materials in a tiny space can help blur solid lines and help a small apartment feel bigger. In some instances, this can be just a simple choice like painting the walls, ceiling and trim the same color, as well as opting for built-ins in the same shade that fade into the background, but it's possible to go for a bolder choice and still enlarge the sense of space.
'Having to deal with an extremely narrow space, I was looking for an effective-cost material capable of enlarging the living area without showing any additional lines,' explains architect Francesca Perani. Her solution? Textured OSB panels, finished with varnish, for the floors, walls, ceiling and kitchen. 'The OSB panels add warmth through their mesmerizing and continuous texturized pattern,' the architect explains.
4. Slide to hide
Image 1 of 2
In a Sydney studio apartment, Brad Swartz used a sliding panel to conceal the kitchen or bedroom, depending on position. In the daytime, it means that the inhabitant can even have friends in the space, without their private bedroom space on show, while at night, the functional kitchen area can be hidden for a more restful space.
'For me it's about trying to create a divide between public and private spaces, similar to what you would find in a larger apartment,' Brad, founder of Brad Swartz Architects, tells us. 'That might be a big sliding door that hides the bed or a tiny room designed around the size of a bed.'
5. Don't make it tricky if you can't live with it
Micro apartments can rely on gadgets more than simple design. Plenty of these apartments have fold-out beds, tables and more, but if you don't think living this sort of life is practical for you, a more streamlined approach is recommended.
'I don't think I'd have the discipline to fold up the murphy bed every day and then move furniture around in the morning so there isn't empty space where the bed was, or hang five chairs on the wall that are disguised as artwork,' says architect Douglas Wan, co-founder at WHDA. For his micro apartment, the architect created it around a simple platform that acts as a bed, table, chair and more for the space.
Nothing has to fold away, yet the apartment still retains a streamlined, minimalist feel that helps it feel more spacious than its actual square footage.
6. Or embrace a clever hidden design
Image 1 of 3
On the other hand, sometimes it's the cleverest ideas that can really transform a space, and help create a home that feels like it has separate rooms, even when it doesn't.
'I approached the seemingly absurd notion of adding rooms to the tiny plan,' says architect Nic Agius, co-founder of Agius Scorpio Architects, of this genius studio apartment layout with a fold-out kitchen. 'Reconsidering the task of walls and doors permitted these additions,' he adds.
The kitchen is embedded into one such wall, hidden behind a large swinging door that transforms into a two-wall kitchen, while beyond a bedroom with raised platform bed makes extra use of the space.
7. Don't neglect a dining table
Image 1 of 2
In a small apartment, a dining table is often the first piece of furniture to be sacrificed, but this can bring a level of comfort to a small home that shouldn't be overlooked, even if space is extremely tight.
When designing micro 60-square-foot apartments, design studio INSADA integrated a foldaway dining table. 'Tucking features into the built-in furniture such as a dining table, ironing board, movable TV panel, means you can do the most basic daily activities in such a tight space,' says Dhira Pardi, architect at INSADA Integrated Design Team.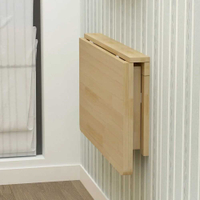 Wall mounted folding table, Amazon
For a similar fold out table on a small scale, try this clever design from Amazon. It could also be placed in a laundry room to create space for folding clothes.
8. Put value in circulation space
Image 1 of 2
Traditional layouts don't work for a micro apartment, so consider a design that allows all your furniture to be at the peripheries of the room, leaving floorspace to circulate, as architect Elie Metni did with this tiny studio.
To ensure the design felt spacious, architect Elie configured all the furniture, from bed to sofa to the apartment's kitchen, into a single connected volume. 'Having all these different uses connected on one side would lead the user to experiment with different views of the space, have a fully functional micro living space while conserving more than 60% of the total area for circulation,' Elie explains.
9. Stack up different functions
In designing a micro apartment with clever storage concepts built into a single module, including a pull-out wardrobe and a murphy bed, architects Juan Alberto Andrade and María José Váscones, layered functions where possible to get the most from every element.
The pull-out Murphy bed, for example, has a built-in desk that folds out from the base and slots together, so that it can be set up quickly and easily when the bed is lifted. In the same built-in volume, more storage is included, along with a door to the studio's bathroom.
10. Use the vertical space, too
Faced with a limited 75 square foot floor plan, Taiwan-based architects NestSpace Design looked upwards to make the most of the space. 'The layout developed from horizontal and ended up vertical,' explains Jun-Cheng Yeh, architect at NestSpace Design. 'The bedroom is on the mezzanine level, while a study recessed beneath it. The staircase was also integrated with a storage role to showcase the owners' CD collection.'
11. Or consider a gradient
A loft bed is a common feature of studio apartments, making use of both the vertical height, and creating space for storage. However, this design by Metre Architects elevates the concept for a micro apartment by building extra functions into the gradient used to raise the loft bed.
'Instead of relying on the conventional means of partitions to accommodate the multi-functional nature of the apartment, this design sculpts a spatial gradient along which life ascends,' explains architect Woon Chung Yen. That is, the top of this bedroom built-in is the private, secluded space, while the lower levels are for daytime living and socializing.
The Livingetc newsletter is your shortcut to the now and the next in home design. Subscribe today to receive a stunning free 200-page book of the best homes from around the world.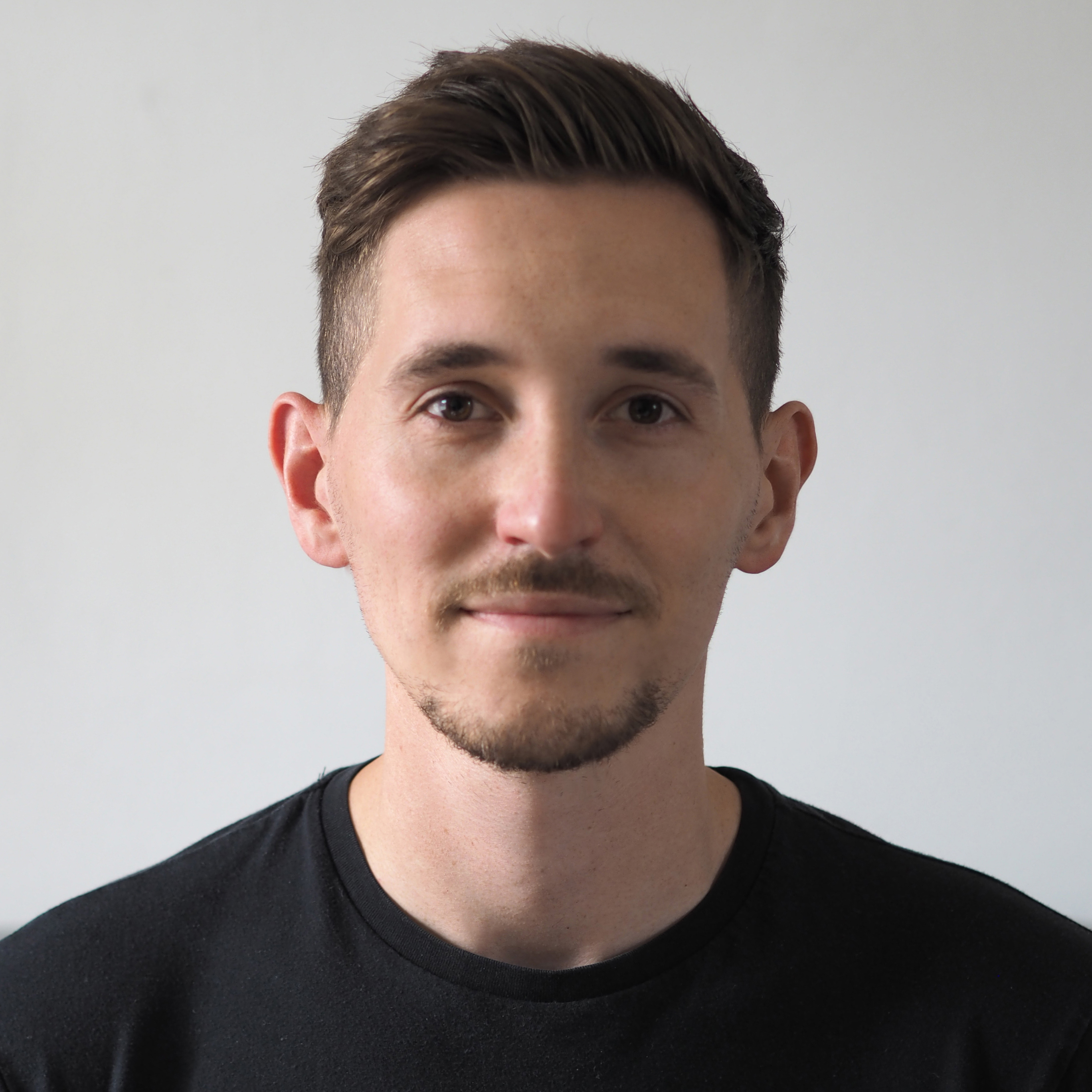 Hugh is the Editor of Livingetc.com. From working on a number of home, design and property publications and websites, including Grand Designs, ICON and specialist kitchen and bathroom magazines, Hugh has developed a passion for modern architecture, impactful interiors and green homes. Whether moonlighting as an interior decorator for private clients or renovating the Victorian terrace in Essex where he lives (DIYing as much of the work as possible), you'll find that Hugh has an overarching fondness for luxurious minimalism, abstract shapes and all things beige. He's just finished a kitchen and garden renovation, and has eyes set on a bathroom makeover for 2023.