Interior design ideas that won't cost the earth from the best in the business
Interior design ideas from top interior designers for achieving beautiful looks within budget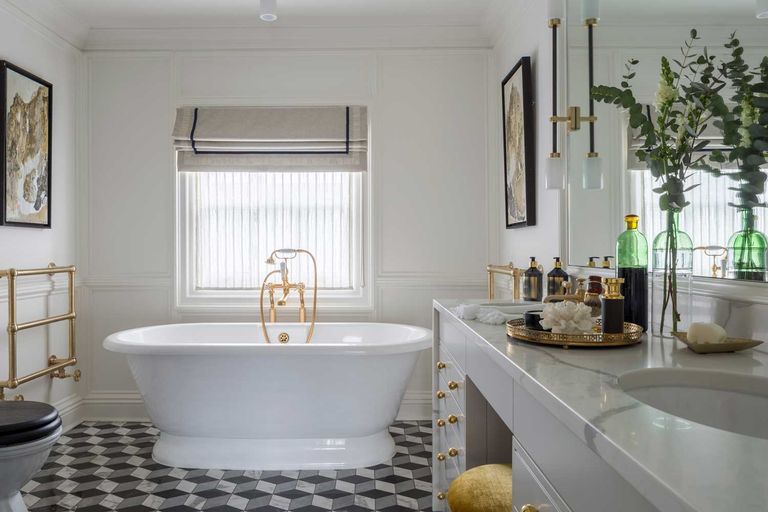 (Image credit: Gunter & Co)
With so many interior design ideas and beautiful furniture, fixtures and fittings available, it's easy to go overboard and bust the budget when redesigning your home.
When thinking about modern interior design, bills can escalate and what started as an exciting dream can become a huge and stressful expense.
Interior designers are worth their weight in gold. Appointing one may seem like an extravagance but they are adept at staying within a budget, whilst creating a beautiful abode.
They not only have a mine of amazing contacts, they have clever tips and tricks that will keep a project on track both financially and aesthetically.
We've plundered our little black book of top interior designers, to ask them how they achieve beautiful looks within budget.
Pens at the ready...
Go vintage
'We often source and collaborate with Studio27, One Brick Lane and The Restoration. All three specialise in upscaling mid-century pieces to add warmth, colour and individuality while respecting the design and watching the budget.'
Caz Myers, cazmyers.com (opens in new tab)
Head off the beaten track
For affordable yet inspiring fabrics, I recommend The Cloth Shop and Warris Vianni, both in West London.
Georgina Cave, caveinteriors.com (opens in new tab)
Frame with fabric
'A simple trick is a cloth-covered table – be it a console, centre or side table. This can be a traditional treatment with a generous bullion fringe around the bottom or more modern, with a pleated or graphic fabric. A long cover is also really useful for hiding things behind.'
Nicole Salvesen, salvesengraham.com (opens in new tab)
Take a view
'Be canny with window treatments. It's not always necessary to have hefty lined and interlined fabrics. A simple unlined blind can be very effective and much less expensive.'
Emily Todhunter, todhunterearle.com (opens in new tab)
Hide the utilities
'In an open-plan kitchen and living area, hide away as many utilities as possible. I have a wall of built-in cupboards and behind the doors are the fridge freezer, washing machine, tumble dryer and all the cleaning products. I've decorated the fronts with framed botanical prints, which add a sweet focal point to the small kitchen space.'
Martin Brudnizki, mbds.com (opens in new tab)
Be clever with colour
A bold colour choice can really elevate a scheme, especially in a small guest room. Focus it on one area – a headboard or a bed cover – to pack a statement punch.'
Tiffany Duggan, studioduggan.com (opens in new tab)
Streamline your storage
'Being creative with storage can make a room to feel larger and let the finishes come to life. Carve out a small walk-in larder or laundry room: this creates a task-driven area and keeps the kitchen walls free of cupboards. An unexpected benefit is it's less expensive too.'
Philippa Thorp, thorp.co.uk (opens in new tab)
Seasonal updates
'Small changes can have instant impact. Follow the seasons: add cushions and throws, and layer rugs as winter takes hold; in summer, hang vibrant silk and crisp linen at the windows.'
Tricia Guild, designersguild.com (opens in new tab)
Draw on your creativity
'Decorate walls with a stencil. It is an inexpensive but effective way to create a beautiful backdrop, as shown with this neat diamond design in a children's room.'
Katie Glaster and Henry Miller-Robinson, kandhdesign.co.uk (opens in new tab)
Unique investments
'A mix of high-street and statement pieces can be particularly effective to get the most out of your budget – just make sure the investment item is truly a one-off. Edition 94 in South Kensington, London, is a treasure trove of vintage furniture and handcrafted homeware. Its founder, India Whalley, has a great eye for individual designs, which she sources from hidden corners around the world. I love the
vintage side tables that she hand lacquers in bold colours – each piece is unique and can be made in whatever colour you like.'
Beata Heuman, beataheuman.com (opens in new tab)
Shop around
'We trawl flea markets and look to the High Street for hidden gems - and keep an eye out for interesting collaborations. A recent favourite find was Sebastian Cox's bedside table for Made.'
Sophie Coller, kitesgrove.com (opens in new tab)
Shining a spotlight on the now and the next in home design and decor, Livingetc is the UK's best selling high end and contemporary home design magazine. As a brand, Livingetc showcases the world's very best homes, breaks and makes the trends, and has access to leading international designers for insight and ideas. It was first published in 1998, and is currently edited by Pip Rich.