9 indoor plants that make a room look more expensive - designers share their go-to greenery for elevated schemes
These are the indoor plants top designers use to make rooms look more expensive, adding a hit of elegance and refined beauty to your decor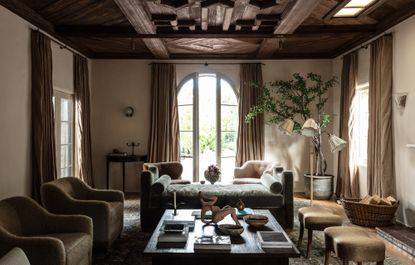 (Image credit: Jake Arnold/Michael Clifford)
Biophilic design - connecting to nature through our decor - has been found to boost our wellbeing. But did you know there are indoor plants that make a room look more expensive, too?
As well as lifting your spirits, indoor gardens and bringing the outdoors in can also lift the luxury levels within a space.
'Interesting plants can add a sculptural, organic quality to a room or tabletop, says Jeff Andrews, of Jeff Andrews Design.
'Having a living element as part of a vignette adds a certain energy to the space and, since they are ever changing, there is an element of evolving surprise.'
9 indoor plants that make a room look more expensive
'In my opinion no room is complete without some kind of plant,' says interior designer Sarah Sherman Samuel. 'And usually the bigger the better.
'They add a rich organic layer that can only come from nature. They elevate a space by literally bringing life to it - the best rooms have movement and personality and plants bring both.'
So which plants do the designers turn to when they want to bring life to space? Discover their favorites below...
1. Umbrella tree
'Every room needs height, a pop of green and something organic to soften and balance the space,' says Anne Pulliam of the Richmond-based Anne Pulliam Interiors. 'Indoor plants check all of those boxes. Adding large plants is my secret to getting that elevated look that always helps complete a room.'
Anne sourced this Schefflera (umbrella tree), from American Plant in Bethesda, Maryland. The umbrella tree (aka the parasol plant or the dwarf umbrella tree) thrives best in indirect light, but will still grow - albeit more slowly - in direct light. It's ideal for indoors, making it one of the best trees to grow in pots.
She adds: 'I always advise my clients to take images of their space throughout the day to study the light. Then head to your favorite nursery to talk with an expert about what species will thrive.'
You can also display smaller umbrella plants in pretty pots on stools or plinths (below right); try varying the height for visual interest and pairing with other plant types, like a ficus (another lovely choice, shown on the left below).
2. Olive tree
The beautiful olive tree is a popular choice among designers and stylists for enhancing any space.
If you have a large room, go gnarly and oversized for an organic-luxe statement. Happily, there a pretty low maintenance plant for indoor gardening.
'Sometimes there's an opportunity to incorporate an indoor tree when space allows,' says Marie Flanigan, of Marie Flanigan Interiors. 'A tree is best situated in a corner to add some depth and interest to an otherwise empty space.
'I love using olive trees because they provide beautiful foliage and texture. The leaves are small and somewhat sparse, which is ideal.
'I don't want the foliage to turn into a large block of color that dominates the space. The eye is still able to travel through the room, past the tree. Further, the tree's beautiful, natural coloring is complementary to almost any interior color palette.'
If you love the look of an olive tree, but don't have the space for a large tree, you can display a smaller version on a console or side table for an elevating effect. Azar Fattahi, Principal at LALA Reimagined, says: 'We love using plants as art. These simple ideas really transform a room without having to spend a lot of money.
'In every project, we put a plant or small tree on a pedestal. An olive tree looks majestic, and turns it into an art installation.'
3. Dracaena Reflexa
'One of my favorite houseplants is the Dracaena Reflexa,' says Jeff Andrews. I have one that I call my 'plantelabra' since it resembles an antique candelabra.'
Display your plant in a beautiful vignette - this is crucially important for elevating a space, says Jeff.
He comments: 'I like to use vintage pottery from my collection for plants. Vases, Interesting pots and even bowls look amazing with cool plants, orchids, or succulents. For me, the vessel is as important as what goes in it.' Our guide to the best trending pots for indoor gardens will help you here.
4. Fiddle leaf fig tree
This statement tree has so much luxury appeal with its large, heavily-veined and glossy deep green leaves.
Its stature - it can commonly grow to between six and 10ft tall - makes it ideal to pot in a floor standing vessel in the corner of the living room.
It's a favorite of designers and celebrities alike - Meghan and Harry have one in their Montecito home - and will always work to elevate any space.
Kate Ballou, of Hendrick Interiors, designed the space above and says: 'Selecting one plant that is large scale and dramatic is going to have a stronger visual impact than a grouping of smaller plants. If you have the space, go tall and wild.
'Always consider the amount and direction of light in your room and how much sunlight or water the plant needs - the main goal is to keep the plant alive and thriving!'
She adds: 'I love a large ceramic pot to anchor a tree. Make sure to choose something with good drainage if the plant is sensitive to wet soil.
'Fiddle leaf figs are gorgeous, and we are also seeing lots of lemon and olive trees being embraced indoors too.'
5. Black olive tree (aka Shady Lady)
This is one of the go-to indoor plants for those in the know, with renowned designer Brigette Romanek showcasing a Shady Lady (aka Bucida buceras or black olive tree) in her own living room, and styling a beautiful black olive for her A-list client Gwyneth Paltrow.
The Romanek Design Studio worked with plant expert Ryan Hroziencik, from The Tropics Inc, to bring Gwyneth Paltrow's Bucida buceras to life.
Designer Athena Calderone also has one displayed in the corner of her Amagansett home.
Speaking to our editor Pip Rich, Brigette says these trees help to create a 'real sense of harmonious warmth'.
It's tall and commanding yet regal and elegant, and will add a sense of luxury to a large bedroom, living room or dining room.
Do remember that a Shady Lady is not actually an olive tree, despite its other moniker.
Andrew Gaumand, editorial director and horticulturist at Petal Republic, says: 'In terms of the olive tree and a Bucida buceras, the primary difference is that Bucida buceras (aka the black olive tree) doesn't actually produce any fruit (compared to the common olive tree), and isn't technically a traditional 'olive tree' by definition.
'Black olive trees do make excellent indoor ornamentals when potted though, and typically are a bit more tolerant of varying light conditions compared to traditional olive trees.'
6. Palm trees
The tropical garden elegance of palm trees creates a calming yet luxurious ambiance, as well as an impactful aesthetic - as seen above in the laidback yet upscale space by Sarah Sherman Samuel.
There are many different types of palms, but when it comes to what plants are best for a lush indoor garden, some favorites that designers lean towards are Kentia palms, majesty palms, and sago palms.
Andrew Gaumand says of Kentia palms: 'A favorite of Queen Victoria, these dramatic palms make stunning ornamental centerpieces in the home and can really elevate a space. They need plenty of bright, indirect light and thrive best in a warm location.'
7. Monstera
A monstera - or cheese plant - is a tried-and-true indoor plant that's on-trend yet timeless.
Monstera plant care is pretty easy - they can be placed in any room and work well as a statement piece (as seen in the master bathroom of a project by Sarah Sherman Samuel above), or mixed with other potted plants.
'Monstera plants are prized for their easy-care nature and rapid growth, producing vibrant, eye-catching leaves coupled with their signature fenestrations,' says Andrew Gaumand, adding: 'These trendy plants are the cornerstone of many a plant enthusiast's collection.'
8. Cactus plants
Transform your living room into an upscale, indoor garden by mixing real and faux plants in pretty planters.
The room above, by BHDM Design, shows how cacti are an excellent choice to bring an expensive look to a space,
Dan Mazzarini, Principal and Creative Director of BHDM Design and ARCHIVE by Dan Mazzarini, says: 'In this family room, we used chic plant stands from Terrain Home to highlight the combination of lush cacti, both real and faux, adding a touch of nature's sophistication.
'It's like bringing the outdoors in while effortlessly elevating the space with a formal yet inviting vibe.
'This fusion of natural beauty and practicality creates an indoor oasis that brings refined elegance.'
Another plus point is that cacti are a sturdy, easy to maintain option for any serial plant killers out there (you know who you are).
9. Money tree
Bring a symbol of prosperity to your space, as well as an inviting tropical feel, with a money tree.
Its large star-shaped leaves and braided trunk are visually appealing, while in Feng Shui practices it's said to bring positive energy to your home.
Azar Fattahi, of LALA Reimagined, used one to elevate an eat-in kitchen space.
She says: 'This is the breakfast nook in a lovely kitchen we designed for a client whose favorite color is green.
'The ceilings are not particularly high compared to the rest of the house, so we decided to add a tree - a money tree to attract abundance - to this corner that goes all the way up to the ceiling. It adds grandeur and the illusion of height to elevate the space.
'It feels unexpected to have a tree as a kitchen idea; it brings the outdoors in and has become the focal point of the space.'
The Livingetc newsletter is your shortcut to the now and the next in home design. Subscribe today to receive a stunning free 200-page book of the best homes from around the world.
Ruth Doherty is a lifestyle journalist based in London. An experienced freelance digital writer and editor, she is known for covering everything from travel and interiors to fashion and beauty. She regularly contributes to Livingetc, Ideal Home and Homes & Gardens, as well as titles like Prima and Red. Outside of work, her biggest loves are endless cups of tea, almond croissants, shopping for clothes she doesn't need, and booking holidays she does.