How can I make my bedroom look more expensive? 5 surprisingly simple changes that will give you the luxe look for less
These tricks designers swear by will help you elevate your bedroom design and make it look far more luxurious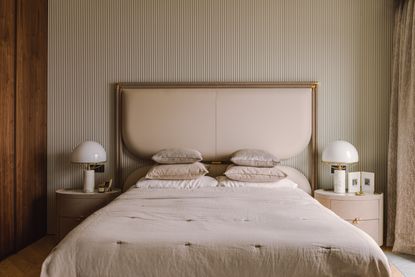 (Image credit: Oni Studio. JT Grupa )
Making your bedroom look more expensive needn't break the bank. In fact, there are small touches you can make that some interior designers rely on to create an air of luxury and good design.
It doesn't always involve buying new things either, it might be about using your creativity to rearrange your space, creating small curated moments, and focusing on how the bedroom ideas that create a strong theme through color and texture.
5 ways to make your bedroom look more expensive
I've spoken to the interior designers to find out how to make your bedroom, no matter the size, achieve a luxury look, whatever size your budget.
1. Arrange your pillows on your bed
Arranging your pillows beautifully is a really simple habit you can take up that will transform your bedroom in mere moments every morning. The bed is so often the focus of the room, and a badly made bed can really cheapen the space, while a well-made bed has the power to create a vision of luxury.
'Dressing the bed is key. There's a psychological association with seeing a big, well-dressed bed with lots of cushions and thinking positively about your sleep,' says Severine Lammoglia, a designer at Soho Home.
But how do you arrange pillows on a bed in a way that looks expensive?
'My formula for a king is a duvet with an accordion fold, three euro shams, two sleeping pillows in front (without shams), and a center bed pillow,' advises Kara Adams of Kara Adams Interiors. 'I prefer a tailored look without extra blankets and layers.'
'Every bedroom throughout the Soho Houses follows the same pillow formation,' says Severine. 'We dress each bed with three medium, square pillows along the back, against the headboard. Then, two large, firm pillows are layered in the middle, with two medium, long pillows at the front.'
Add a few decorative cushions too, maybe with a bit of color pattern, then add a throw for extra texture. Other designers have different ideas on what constitutes a well-made bed, but whatever look you go for, as long as it's neat and consistent, it should help the luxury feel of your space flow.
2. Create a bedside vignette
To give your bedroom that luxury look, try and create a bedside vignette. This doesn't mean buying new decorative pieces and might involve some creative thinking on your part to create a stylized nightstand. Start by removing everything on your bedside table and focus on what is going to give your surface that aesthetic edge. Your bedside table is a hyper-personal space, and a chance to gather and proudly display the items that mean something to you yet are functional to your morning or evening routine. I like basing the look around the bedside lamp, and building on that - taking inspiration of the colors or shapes that might influence your choice in decor.
A candle is a bedside table must. They can bring a sense of calm to your nighttime routine and really add a luxury touch. Britt Design Group have added height with this candle in an elegant candlestick holder, but a grouping of three candles of varying height on a candle plate would also look beautiful. Other ideas might be a small trinket jewelry box or ring bowl to add a nice touch, and I recently found these petrified bookends from McGee & Co that I think make a lovely touch, providing support to display your favorite reads pride of place.
You might want a framed print or two on the wall above, or a nice plant. Think decorative items that calm you and you've created a moment that looks curated and bespoke to you. Of course, there are some items to avoid storing on a nightstand too - think anything electronic, or anything that will make your bedroom feel cluttered and not calm.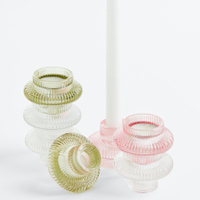 I like the look of this cute glass candle lantern. It's cheap and cheerful and glass always adds a luxurious sheen to the space.
3. It's all in the headboard
Adding an oversized headboard is another simple addition that doesn't need to be costly. It creates luxury in the bedroom in mere moments, emphasizing the key piece of furniture in the room - the bed itself. 'Architectural moments such as built-in headboards add a touch of luxury to any bedroom. In this Primary Suite, the built-in headboard, felt wall covering, merino wool curtains, and textural bedlinens enhance the architecture by adding depth and balance the scale of the furniture to the tall ceilings,' says Erica Volkmer, principal and founder of Evensen Design.
'A statement-making headboard is a small bedroom design change that has a big impact,' agrees San Francisco-based interior designer, Jay Jeffers. 'I often choose custom full-wall upholstered headboards, which are not only visually appealing but appear much more expensive and elevated – making the whole room warm and cozy.'
If you're looking to keep to a budget, you can find some super affordable headboards out there that are durable and will stand the test of time. Another option is to create a DIY headboard at no cost. I use cushions stacked in an ordered way against my chimney breast to create a headboard vibe. You could also use a piece of patterned wallpaper or even created a painted headboard to emphasize the space.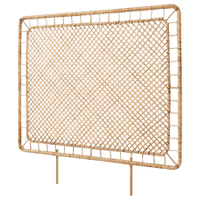 The TOLKNING series is made of natural fibers with a warm look. This free-standing headboard in rattan spreads a calm feel in the bedroom.
4. Try symmetry
Luxury-look interiors often mean a space that is refined, elegant, simple and decluttered. So working out how you can make the space less jarring aesthetically is all about being clever with decluttering a room. 'The easiest way to make your bedroom look more expensive is to declutter and pare back to the basics,' says Bethany Adams of Bethan Adams Interiors.
One simple way to trick the eye into a tidier layout is all about symmetry in interior design. 'Think matching nightstands on either side of the bed,' says Bethany. I'd opt for matching bedside tables too to keep things neat and try and mirror the weighting of decor on each side. One side of your bed with a piece of wall art might a decorative piece on the opposite side of the room to really balance it out.
'Go back to basics - one or two decorative pillows, an elegant throw and some velvet or silk drapery panels up the chic factor,' says Bethany.
Simple and cheap buys can really help you declutter too. My colleague was recently raving about this all-in-one solution to hide an outlet that neatly tidies away all your wires beside your couch or bed. After investing, I'm a convert as it has helped the space feel more tidy, minimalist and by consequence, luxurious.
5. Rearrange your furniture
I was recently at quite a low with my bedroom, fed up with the furniture and layout. To give the space a new lease of life, I planned an impromptu rearrange and within just over half an hour, I had singlehandedly managed to move my standalone wardrobe from one corner to the opposite corner of the room, swapping it with a chest of drawers.
In a couple of small moves, I had given my space a whole new look and feel with a new bedroom layout. The alcoves on either side of the chimney breast now have more space where I can focus on decor, which works as they are the first thing you see when you enter the room. It's paved the way to more ideas to follow too, and I'm getting some shelves installed in my alcove for decorative surfaces and more space for my books. The reshuffle cost me nothing aside from my own time and effort.
I also moved the rug from one side of the bed to under the foot of the bed, inspired by something Mia Jung, director of interiors at Kligerman Architecture & Design told me. 'The layers and the textures in a bedroom is something that makes the bedorom look rich. Even if you have no space, a rug or runner at the end of the bed can look well-thought out and considered,' she said. This simple and subtle change has also helped my room look more luxurious.
The Livingetc newsletter is your shortcut to the now and the next in home design. Subscribe today to receive a stunning free 200-page book of the best homes from around the world.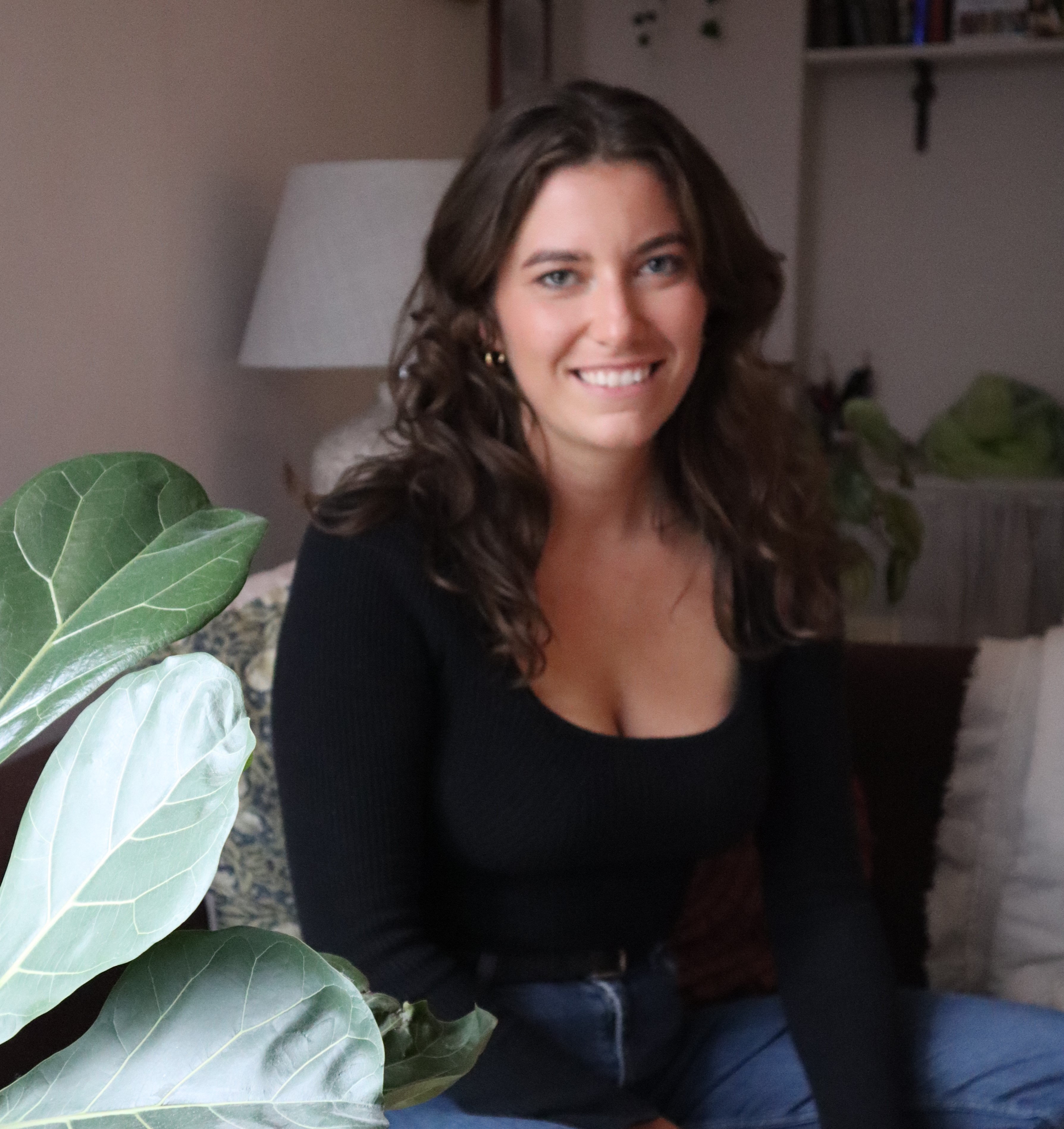 Livingetc content editor and design expert
Oonagh is a content editor at Livingetc.com and an expert at spotting the interior trends that are making waves in the design world. Writing a mix of everything and everything from home tours to news, long-form features to design idea pieces on the website, as well as frequently featured in the monthly print magazine, she's the go-to for design advice in the home. Previously, she worked on a London property title, producing long-read interiors features, style pages and conducting interviews with a range of famous faces from the UK interiors scene, from Kit Kemp to Robert Kime. In doing so, she has developed a keen interest in London's historical architecture and the city's distinct tastemakers paving the way in the world of interiors.