4 items you should never store on - or in - your nightstand if you want a sleep-friendly bedroom
For a peaceful night's rest, a clutter-free nightstand is key. These are the items experts say you should avoid storing on yours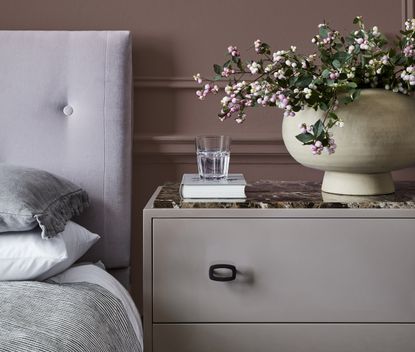 (Image credit: Little Greene )
The Livingetc Newsletter
For style leaders and design lovers.
Thank you for signing up to LivingEtc. You will receive a verification email shortly.
There was a problem. Please refresh the page and try again.
More often than not, your nightstand is an extension of your current state of mind. At best, it serves its purpose as a space for your alarm clock, your lamp, and your bedtime reading material. At worst, it's a chaotic mess of papers, charging cords, and the tell-tale remains of late-night snacks. Unsurprisingly, these are just a few of the items professional organizers warn against for a nightstand that's conducive to stress-free sleep.
When it comes to modern bedroom ideas, your nightstand is probably overdue some proper care and attention. Yes, it primarily serves a functional purpose and, as such, can quickly become a disorganized mess, but it's important to reserve this space for what it was meant for. That means no clutter that can impede on a good night's rest or ruin your serene bedroom.
To reach that goal, we spoke to some home organizing professionals to find out exactly what not to store on - or in - a nightstand for a well-organized space beneficial to your bedtime routine.
Melissa Gugni is a San Francisco-based organizer who pairs her vision for clutter free homes with a clean, fresh aesthetic. As a mom, she recognizes the importance of creating a space that you're proud of but can live in, too. Alongside her work, she's contributed to many decluttering and organization articles sharing her expertise.
What not to store on a nightstand
There are some obvious items that don't belong on a bedside table that aren't even worth a mention, but there are also more common offenders that culminate in clutter that you ought to be aware of. Here are the items you likely have lying around next to your bed that really shouldn't be welcome.
1. Electrical items
Let's be realistic - the vast majority of us charge our phones next to our beds despite warnings that it's bad for our health. We're also encouraged to avoid any screen time before bed since the blue light emitted from screens can hamper sleep by interrupting melatonin production.
If you want to kick the habit for good and adopt a better sleep routine, it's recommended you avoid storing any electrical items on your nightstand whatsoever (except obvious contenders like a lamp, digital alarm clock, and medical equipment).
'I believe that a bed stand should be a calm and happy place, even if everything is tucked away out of sight in a drawer,' says professional organizer Melissa Gugni. 'Electronics give off radiation that can disrupt our sleeping patterns, but I also find that having to walk away from my bedroom to check my phone in the morning starts my day off more peacefully.'
2. Paperwork
You don't need to be a Feng Shui master to know that a nightstand should promote peace and harmony. As such, it should be totally clear of any stressors like work papers or household bills that could be a cause for concern before you hit the hay.
As you switch off your lamp for some well-deserved shut-eye, the last thing you want to be imprinted on your brain is an outstanding invoice that could easily induce a bad night's rest. To make sure your sleep is as restorative as possible, make sure you keep any paperwork away from your nightstand and store it where it belongs, such as in the home office.
3. Food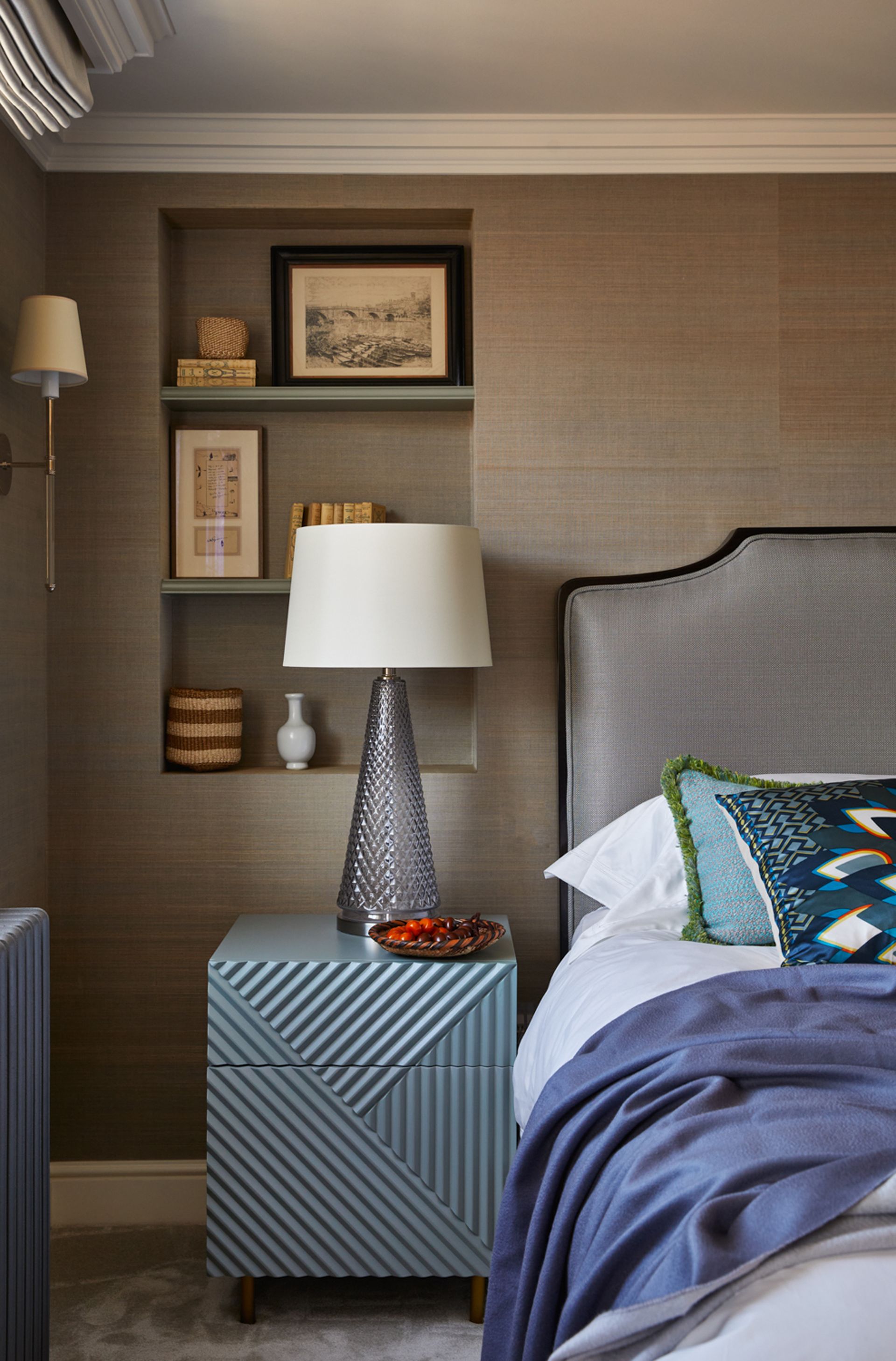 Breakfast in bed sounds idyllic in theory, but in reality, it's just the quickest way to dirty sheets. To prevent the temptation of eating in bed arising, don't store chocolatey treats inside your bedside drawers - or any type of food for that matter.
Crumbs and food particles will easily find their way into the crevices of your bed, no matter how conscious you are about using a napkin. Not only does this mean washing your bedsheets more regularly but, worse still, it can attract pests like bed bugs and dust mites.
4. Pocket contents
As you get undressed and ready for bed, it's habitual to empty your pockets and unload them onto the nearest surface which is often, you guessed it, the nightstand. 'For many folks, the nightstand can become a catch-all for receipts, business cards, transit tickets, loose change, and other things that accumulate at the bottom of a purse or pocket,' says Melissa.
While there's no harm in keeping these items safe next to your bed while you sleep, they're a common cause of clutter that's better kept elsewhere. If you want to keep these valuable items close to your while you sleep, they're better suited to your dressing table on the other side of the room. Better still, keep them in a designated catchall in your entryway (ensuring it's out of sight of any windows, of course).
How to declutter your nightstand
1. Tidy the surface
There's a high chance that after reading through that list, you've realized your nightstand is due a declutter, especially if you have a small bedroom. 'To get our surfaces back, first we want to review our nightstand clutter for trash, items to donate or to move elsewhere,' explains Ben Soreff, professional organizer at House to Home Organizing.
According to Ben, a lot of the items taking up valuable real estate on the actual surface of your nightstand are the sort of thing you think you'll need when in reality, you'll never use them again. 'It might be an alarm clock you no longer use since you use your phone instead or a pile of books you've been meaning to read for years,' he says. The simple act of throwing out these items or moving them to their rightful place will leave you with a much tidier nightstand to then neatly arrange the things you do want to keep on display.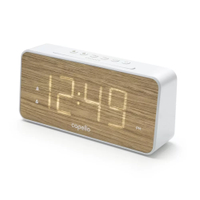 Capello digital alarm clock, Target
Pair style and functionality with this digital alarm clock, from Target. It features a extra large 1.8" time display that makes it easy to read from anywhere in the room. The time shines right through the wood grain finish and brings a unique and modern yet cozy look to your nightstand.
2. Remove anything that doesn't belong in the drawers
'Typically, nightstands have drawers and those tend to also fill with clutter,' says Ben. 'We want to put things where they belong not just where they fit. Since drawers make great "make it go away" areas, we want to take everything out and review them so we use the nightstand drawer as intended.'
All too often, we adopt an 'out of sight, out of mind' approach when it comes to drawers. Ideally though, a nightstand should only be used to store the bedroom-related items you don't want to display on the surface of your nightstand, like sleep masks, reading glasses, or pillow sprays. Follow a decluttering checklist to make sure you anything that doing belong, goes.
'I find decluttering my nightstand drawers a satisfying little organizing project that can be done for a quick jolt of zen,' Melissa says. 'Mine contains my eye shades, ear plugs, a few books, and a nail file.'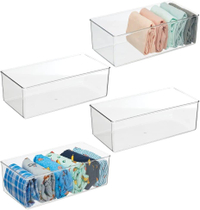 Clear plastic storage bins, Amazon
This set of four long storage bins from Amazon keeps drawer clutter under control by making it easy to store all of your essentials. Measuring 6" x 12" x 4" high, the long shape makes them perfect for sitting inside most drawers, helping you to maximize your space and find everything you need.
3. Use drawer dividers to stay organized
Finally, to stay on top of your drawers and keep everything contained, use drawer dividers, boxes, and other organizers to hold your stuff. Adjustable bamboo dividers, like these ones from Amazon, are a great way to achieve functionality without sacrificing style, or you could use clear shallow bins if you want to see everything easily.
'I love repurposing special dishes, bowls, or baskets for catchalls in a bedside drawer for jewelry or things like hand cream or lip balm,' Melissa explains. 'I use a bit of sticky drawer liner, like this roll from Amazon, to keep them from sliding around when opening and closing.'
Don't forget that you can make the inside of your drawers pretty too. Even if it's only you who sees them, it gives you something to appreciate. Melissa keeps her silk scarves in hers, 'simply because I think it makes the drawer look lovely,' she says. Make small changes like these and I can almost guarantee sleep will come more easily. After all, it's the little things in life that often bring the most joy.
For style leaders and design lovers.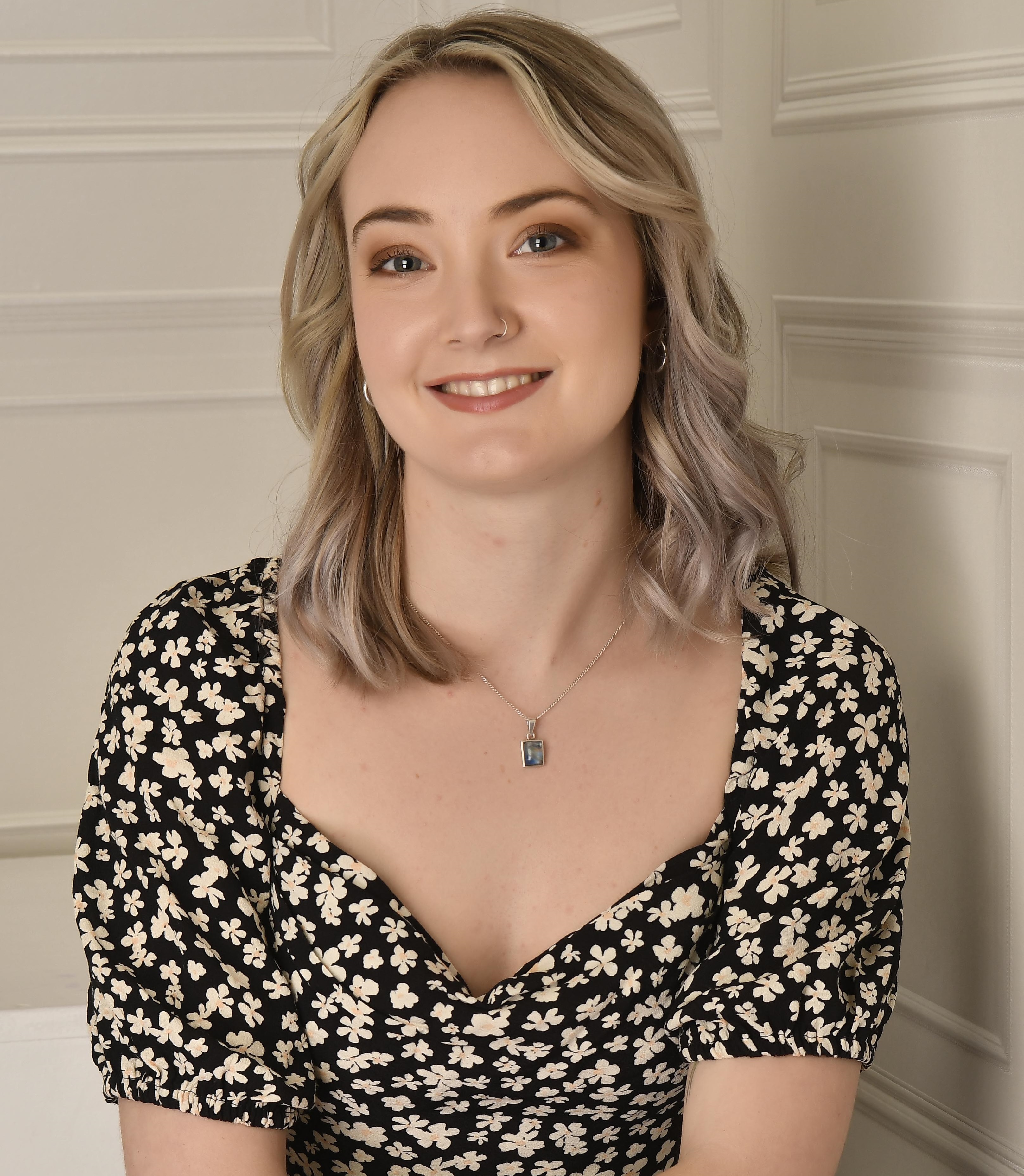 Lilith Hudson is the Staff Writer on Livingetc, and an expert at decoding trends and reporting on them as they happen. Writing news, features, and explainers for our digital platform, she's the go-to person for all the latest micro-trends, interior hacks, and color inspiration you need in your home. Lilith discovered a love for lifestyle journalism during her BA in English and Philosophy at the University of Nottingham where she spent more time writing for her student magazine than she did studying. After graduating, she decided to take things a step further and now holds an MA in Magazine Journalism from City, University of London, with previous experience at the Saturday Times Magazine, Evening Standard, DJ Mag, and The Simple Things Magazine. At weekends you'll find her renovating a tiny one-up, one-down annex next to her Dad's holiday cottage in the Derbyshire dales where she applies all the latest design ideas she's picked up through the week.