How to make a small garden look bigger – 12 beautiful ways to maximize space
Small garden, big plans? We have plenty of inspiring ideas and expert tips to make a small garden look bigger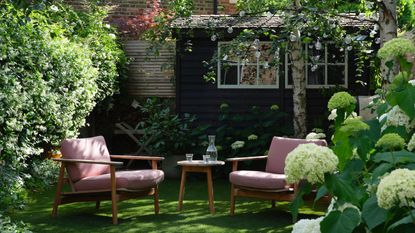 (Image credit: Future)
We all dream of owning large, luscious gardens, sprawling lawns with overflowing beautiful big borders, areas for dining, lounging, maybe even a pool... but the reality is if you live in an urban area you are going to be relatively limited when it comes to square footage. So wanting to make your small garden look bigger is something at the top of many homeowners lists, and there are some really simple design ideas that will help make the smallest of gardens feel instantly more spacious.
From something as quick as propping up a mirror and growing plants around it, to reconfiguring your layout to trick the eye into thinking there is more space, let these small garden ideas inspire you to make more of your backyard.
1. Have a realistic plan for a small garden
Before we get into all the lovely ways to make a small garden feel bigger, the best place to start with a realistic plan and a list of what you want your garden to include and be used for. Consider what elements are vital. Maybe you want to use your garden for outdoor entertaining so looking into patio ideas would be an essential, and you could forgo a lawn. Or if you are a keen gardener and want loads of space for plants, ditch the patio and opt for plenty of lovely border ideas or raised beds.
You might find you have to compromise slightly, but don't fall into the trap of trying to create a large garden just in miniature, filling it with scaled-down versions of every garden design element available. This will only make it feel smaller and more cramped, in the long run picking out just elements you really want will create a garden that suits your lifestyle and will feel more spacious. The less is more rule definitely applies here.
2. Create zones to make a small garden look bigger
Then once you have decided what you want to include in your garden you can start planning layouts. Creating zones is a really simple way to make a small garden feel bigger.
'Creating a partition if space allows, to form a secret/partially disguised corner, which will create intrigue and interest, plus an illusion of more space. This could be achieved with a small multi-stemmed tree, taller planting, or a decorative partition.' explains Raine Clarke-Wills of Raine Garden Design.
Rather than use the whole space as one, divide it up into 'rooms'. Have a dining area distinguished by a patio or decking, a box hedge to separate a lawn or trellis to zone between the front section of the garden and the back.
3. Make use of vertical space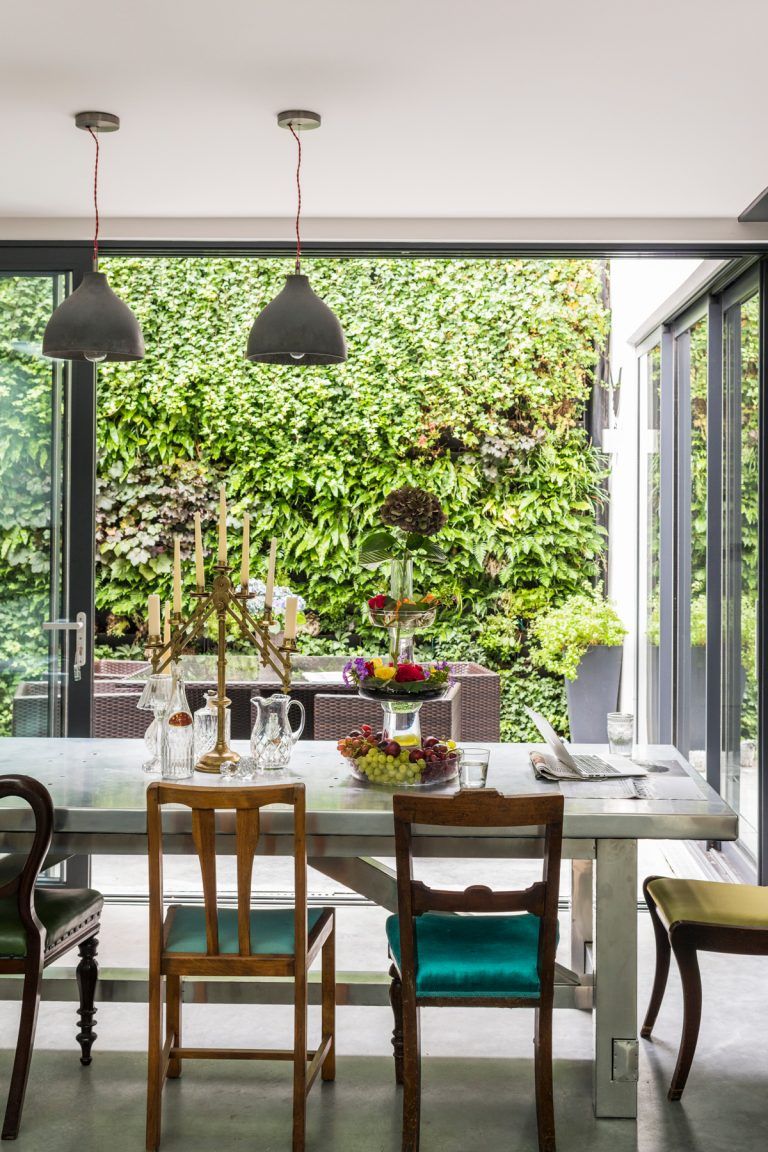 For gardens that are really lacking in floor space, look upwards. Use your garden walls to add greenery, and plant trees at the edges that grow upwards rather than outwards. Filing the edges of your garden with climbers or even planting up a living wall, means you can forgo borders and have more space at ground level to add a lawn of a patio.
4. Opt for bigger plants even in a small garden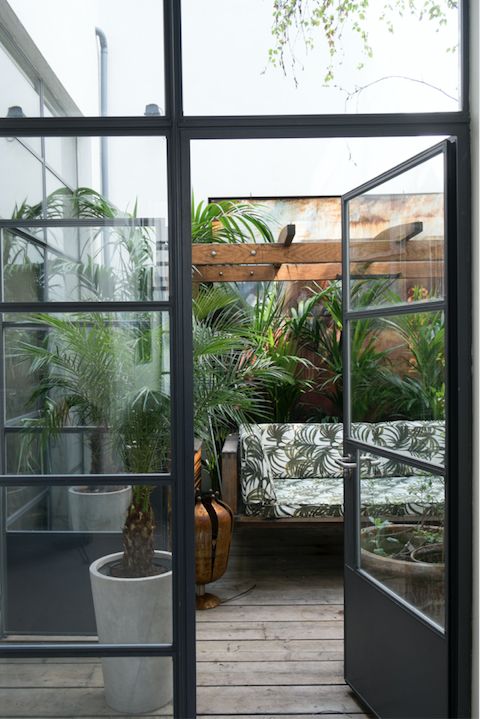 The tendency in a small backyard is for you to automatically think small – small plants, small pots, small borders, small decor, but in fact going big in a small garden can often make it feel much bigger.
'Think big. Small borders in a small garden create the feeling of a small space, whereas being bold and thinking big, has the opposite effect. Plus, include a good proportion of planting. Choose larger sized paving stones, as this creates simplicity and less fuss.' advises Raine Clarke-Wills.
So opt for larger plants in oversized containers, and go bigger with things like your decking or patio paving, larger paving and planks will work better and feel less cluttered than smaller, more detailed designs.
5. Add in different levels
Creating levels in a smaller garden will add instant interest, but having spaces at even just slightly different heights will make it feel bigger too. Add a sunken area to your garden that can be used as relaxed seating space, or add a single step up to a secluded decked area at the end of your garden. It will add depth to your garden and create those all-important zones we talked about earlier.
6. Allude to more space with a pathway
Pathways are often a feature in large gardens, so adding one to a smaller space will instantly create the impression the space is larger than it is. Plus, pathways will draw the eye through the space and make it look longer than it actually is. To further emphasize this, design a path that gets narrower as it leads to the end of the garden, and don't just stop it abruptly, fade it into a border so you can't clearly see where it ends.
7. Trick the eye by playing with perspective
You'd be surprised how much you can trick the eye into making your garden feel bigger. If you are dealing with a long narrow garden, a path might not be right as will only lengthen rather than widen the space.
You want the eye to be drawn across the space rather than just straight down it, so add interest at the edges and opt for curved lines rather than anything too straight and rigid. Even a just narrow border with lots of overflowing plants of varying heights will draw the eye around the space rather than just straight to the end of it.
8. Blur boundaries with green walls
If your garden is really on the tiny side, avoid any solid walls or fences and this is just going to make the space feel claustrophobic. Cover the walls in greenery, whether that be beautiful climbers than billow messily over your fence or something more contained and contemporary like a living wall.
And take note of the hammock too, the ultimate piece of small garden furniture since it takes up zero floor space, can follow the sun and can be easily stored away when you need all the space you can get for guests.
9. Utilize mirrors to make a small garden look bigger
This is a really simple small garden idea on a budget, and as all mirrors magically do to indoor spaces, it will instantly make your outdoor space feel bigger too. Try adding a totally mirrored wall to the back of your garden to 'double' the space or for a more English country garden vibe, pick an oversize antique mirror and allow climbers to grow around it so it becomes part of the garden.
10. Use plenty of different textures to make expand a small garden
As with small rooms inside the home, texture is key to adding interest when space is at a premium. Pick out plants that sit well together in a garden scheme but that also vary in texture, and use containers to add to the look too. See here the mix of greenery, but also the mix of terracotta, wood, and different sized stones all work together to create a beautiful display that could easily fit into a small garden.
Top tip too; you'll want to have a variety of heights as well as textures so use things like wooden trunks, creates or even upside down pots to create those levels.
11. Pick furniture that is to scale
Ideally, you don't want your garden furniture to be the focus of a small space, so switch the cumbersome wooden table for something more slimline. Bistro sets always work well in smaller spaces and can usually be folded away when not in use should you ever need the extra floor space. And low-slung pieces are a good choice too as they won't visually break up the garden.
But you could also consider a more modern outdoor seating idea and design something that is built into the landscape of your garden. That way you can maximize on seating but your furniture will become part of the garden and the planting.
12. Make a small garden look bigger by blending indoors and outdoors
Indoor/outdoor living spaces has been a huge garden trend in recent years, which bodes well for small gardens as you can almost borrow space from indoors to creating the feeling the outdoor space is bigger.
A really easy way to do this is, of course, bi-fold or sliding doors, but if you are looking for something more instant, flowing the same flooring from inside to out has a space expanding effect. Picking a decking in the same tone of wood as the wood used inside your home, or patio tiles that match the indoor floor creates that seamless flow between indoors and out and you won't notice the small proportions of the garden because it feels just like an extension of the room it has led on from.
How do you add depth to a small garden?
If you are looking to add depth to a small garden, the easiest way to do so is by layering your planting. Use larger plants and trees as a starting point, then add a second, shorter layer around them and then fill in any gaps with shrubs or smaller flowering plants. This layering, especially when used around the edges of a garden, will blur to boundaries of the space, making it feel more spacious.
How do you make a small courtyard garden look bigger?
By their very nature, courtyard gardens tend to be on the smaller side, but the key to making them feel bigger is not to fill them with small plants and small pots as this will just make it feel cluttered and cramped. Don't be afraid keep things really simple and just add a few large trees to the space. Olive trees in large terracotta pots always look beautiful and add a Mediterranean feel or chose leafy palms for something even more exotic.
As well as your choice in plants, you can make a small courtyard feel bigger by treating it like an extension of your indoor space, an extra room that still mirrors the decor and design of indoors.
The Livingetc newsletter is your shortcut to the now and the next in home design. Subscribe today to receive a stunning free 200-page book of the best homes from around the world.
Hebe is the Digital Editor of Livingetc; she has a background in lifestyle and interior journalism and a passion for renovating small spaces. You'll usually find her attempting DIY, whether it's spray painting her whole kitchen, don't try that at home, or ever changing the wallpaper in her hallway. Livingetc has been such a huge inspiration and has influenced Hebe's style since she moved into her first rental and finally had a small amount of control over the decor and now loves being able to help others make decisions when decorating their own homes. Last year she moved from renting to owning her first teeny tiny Edwardian flat in London with her whippet Willow (who yes she chose to match her interiors...) and is already on the lookout for her next project.