How to decorate a staircase – from choosing a color scheme to deciding on a runner
Our guide to how to decorate a staircase covers everything you need to know to plan and design perfectly suited to your style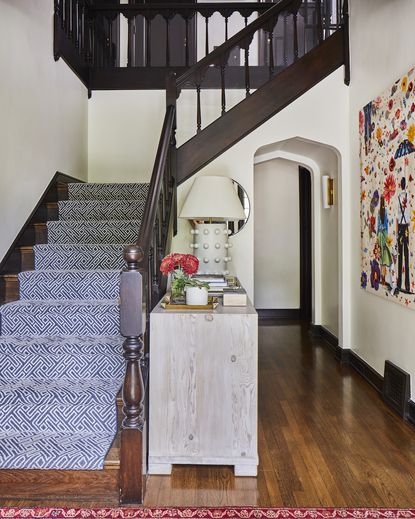 (Image credit: Laurey Glenn)
Looking for tips on how to decorate a staircase? They can be tricky spots to style as they are usually small, awkward, and light-starved and understandably that means staircases are often overlooked when it comes to decor. But actually, staircases are possibly the most used and most seen part of homes, so they deserve the time and attention given to more lived-in rooms.
But where to start when decorating a staircase? What colors work best? How can you light the space effectively? What's the most practical flooring choice? All these questions have to be really carefully considered in order for the space to be both functional and stylish. So we've answered them for you, from choosing a color scheme to deciding on a runner, here's all our advice (and tips from the experts) on how to style a staircase, step by step. Plus plenty of staircase ideas to get you inspired.
1. Decide on an overall style
Where to start when decorating any room can be difficult, but we'd always recommend once you have a vague idea of the overall look and style you want to go for, that will dictate lots of other decisions for you. Katie Thomas, founder of KTM design advises 'Always ensure you determine the overall style before you begin designing and decorating. For a family home, you can make the stairway comfortable and stylish by adding runners and include artwork within the stairwell. Add contrasting textures for a contemporary look, mixing up hardwood stairs with sleek metal banisters. If space allows you can decorate landings with statement furniture pieces that are an appropriate size, or add statement artwork for impact.'
If you are sure where to start when deciding on a style go old school and build some mood boards either physically or on Pinterest and you should start to see some common themes come through. Once you have a vision of how you want the space to end up you can move on to colors, materials, and decor. And if you are in need of a jumping-off point, peruse our hallway ideas gallery to get an idea of what vibe you are drawn to.
2. Pick the best color scheme for the space
The next obvious step when decorating a hallway is to pick a color palette. Of course, the staircase tends to be connected to hallways and landings so don't approach the space in isolation, consider how the colors will work in your hallway too, and the rooms that adjoin the space.
For both staircases and hallways, the go-to shades tend to be soft and light as with most small spaces. Opt for warmer neutrals like off whites and creams rather than cooler tones like greys so the space feels bright but welcoming too but not too harsh. Be sure to order plenty of samples and swatches so you can see what the colors will look like in situ.
And don't be afraid to go dark with staircases either. It might sound like a bold move for a smaller space but going all over with a deep and dramatic hue like an inky blue or charcoal grey, can blue the edges of a room and make the space feel larger. And don't just stick to the walls and floors, take the color over the ceiling and even the staircase itself.
'Staircases and hallways are the busiest thoroughfare of your house with people passing past each other at the busiest time of day like the M25! It needs to be practical and stand the test of time. Dark colors under the dado rail with fresh white woodwork and light colors above, work really well to hide any scuffs and marks.' explains David Harris, Design Director at Andrew Martin.
Paint is the lowest commitment, low-cost way to decorate a space so even if your just experiment with darker or bolder hues, no permanent damage is done and you can go always switch it up every few years.
3. Decide on how the staircase will be lit
Since staircases often don't get much natural light, planning how you will light the space needs to be considered early on in the design process. For these spaces to function properly and of course for safety reasons too they need to be sufficiently lit. But staircases are awkward spaces, and certain types of lighting just won't work with the narrow inclining space.
As with any room, to achieve the most effective light scheme, you'll want to layer your lighting, so don't just stick to a single source. 'Often staircases and hallways are a little neglected, and people just consider the need for practical overhead lighting. Depending on the scale of the space, we try to layer lighting as much as possible with a mixture of overhead lighting (in case you lose your earring), wall lights (this can work very well above a console table to leave it free for day-to-day clutter) and feature table lamps.' explains Irene Gunter of Gunter & Co.
Consider building lighting into the staircase itself at tread level, either recessed within the staircase wall or within the steps. This has a more subtle, clutter-free look than wall lights or a pendent to woodwork if your style is more minimalist or if the space it too small to handle anything too decorative.
If you are dealing with a staircase with a stairwell rather than an enclosed space, consider going for something statement with a pendant that hangs through the stairwell, lighting both the stairs and the hallway below.
4. Pick staircase rails that work with your style
Whether you are designing a staircase from scratch or giving your current one an update, staircase railing ideas are worth consideration. If you are replacing your railings be sure to look to your home's style and era for inspiration. More often than not the best option is to stay in keeping with the original architecture of the house. So in a period property choose more traditional styles and materials like wood and wrought iron and in more contemporary homes look to sleek designs made with steel and glass.
'Pine is commonly used for stair balustrades but oak has become the timber of choice in recent years. A popular option for consumers is to mix and match materials rather than just choose one timber type. For example, painted balusters with a luxurious oak handrail are a great option or an oak handrail with a glass infill or sleek black balusters. Glass can help make a smaller hallway look much bigger by giving the illusion of space.' explains Zoe Goff of Richard Burbidge.
And if you're staircase balustrades are just in need of a revamp rather than replacing, update them with a coat of paint.'It has become increasingly popular to paint just the spindles of a staircase in a dark tone to give a really chic twist to your home. Using a strong color will create a striking spine that runs from the top to the bottom of the house grounding the building.' advises Joa Studholme, Farrow & Ball Color Curator. 'And of course, a darker central element will make everything around it look lighter. There is huge historic precedence for this technique, but it certainly adds a modern touch to the contemporary home as well as introducing some strong color without it being overwhelming. For a more elegant look paint only the spindles, leaving the newel posts and string in the same color as the rest of your woodwork in the hall.'
5. Carpet or runner?
After you've got your color scheme down, consider how you will cover the stairs. Carpets and runners are the most popular options, they look lovely, adding color and texture but are practical too, protecting against everyday wear and tear. Plus, you can find materials to suit every style from simple jute runners that are ideal for minimalists to bold patterned wall-to-wall carpet that's going to add a real statement to your entryway.
When choosing a runner or carpet, of course, color and pattern will be the top of your agenda, but material is really what should be your first consideration. Staircases are the most high traffic areas of the home so choose something that can handle that wear and tear. Natural materials like jute and sisal make for really practical runners as they are hardwearing and despite being on the light side they can cope with the everyday scuffs and stains. Plus, you can find patterns like stripes and herringbone that will further help hide any scuffs and stains.
'Runners made from 100% Sisal are practical flooring solutions as they are hardwearing and stain-resistant; making them perfectly suited to stairs. Runners can be fitted on the stairs either as a standard carpet or attached with stair rods.' says Jenna Kane, Product Developer at Kersaint Cobb . 'Stripes add visual interest to the floor and for those tight on space, it is worth remembering that linear stripes can help to enlarge the appearance of a space, as the stripe draws the eye along the design and therefore appears to elongate the area.'
'When paired with neutral walls and furnishings, a playful runner can be made into an attractive focal point. They are an ideal way to experiment with pattern on a smaller scale. Because they do not cover the entire floor area, you can introduce some vibrant colors and pattern without the result being over-bearing. Striped designs have the added bonus of not showing as much dirt as a plain single-colored alternative, which is important to consider for staircases because they typically have heavy foot traffic. The hallway and staircase is often the first thing seen when entering a home so it is important that your choice of flooring reflects your personal style and taste.'
6. Consider a painted staircase instead
For an on-trend look that you could even DIY yourself in a weekend, forgo the carpet altogether and instead look to painted staircase ideas.
'If you choose to paint your whole staircase, including the spindles, string, and newel posts in one color it will create huge visual interest. By using a strong tone it will become the focus of the space, while some opt to use the color of the walls to make the structure 'disappear'.' says Joa Studholme, Farrow & Ball Colour Curator. 'More excitement can be added by painting only the risers in a darker or more dramatic tone like, which is not only practical in defining the stairs, making them easier to use, but also helps to disguise scuff marks. Alternatively, a stronger color can be used on spindles, handrail, and treads, leaving the rest of the structure in a lighter tone. It is best to use Modern Eggshell on all these surfaces for extra durability.'
And if you like the look of a runner, you can create the same effect using just paint. Joa explains that 'If you want your staircase structure to remain the same neutral as most of your woodwork for a more seamless look, then instead of investing in a carpet, paint a 'runner' directly onto your stairs. This is a great way to introduce stronger color into a scheme without it being overwhelming. This controlled dose of color, which will bring a personal touch to your hall, should be painted down the center of your staircase on both the treads and risers in Modern Eggshell which is designed to be used on floors. For an extra dimension paint a thin borderline in a darker tone up the sides of the runner.'
7. Bring in pattern and texture with wallpaper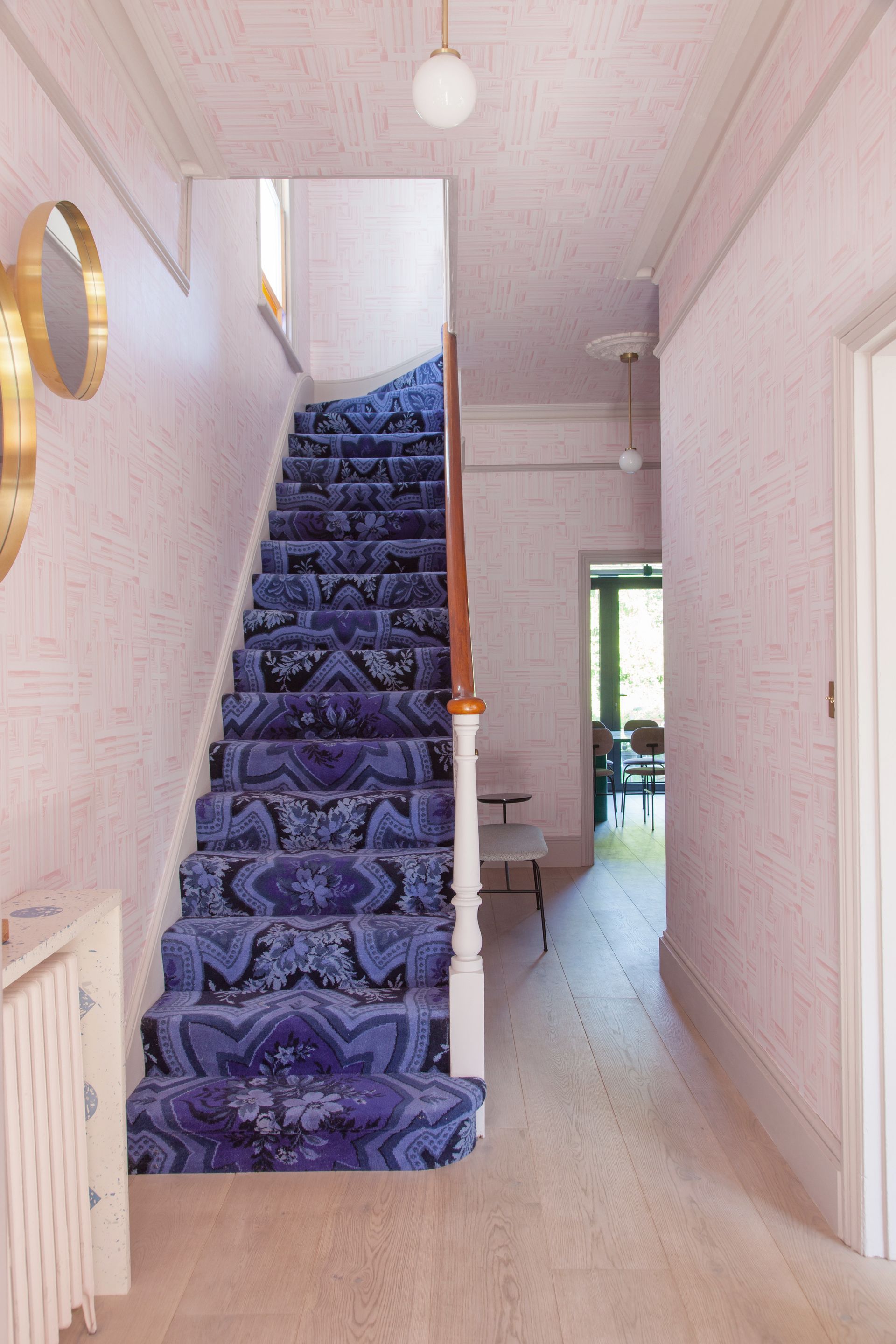 And with the practical elements of decorating a staircase out of the way, it's time to move to the more exciting and creative decisions. How will you decorate the walls? Let's start with hallway wallpaper ideas. Wallpaper is a great choice when decorating staircases and hallways, as these small, often dark spaces can be tricky to get right – adding character without taking up too much square footage has to be a balance and wallpaper is perfect, as it packs a punch but takes up zero floor space.
And since stairwells and staircases tend to be positioned so everyone can see them as they walk into your house, we'd always say go a bit bolder and braver than you would in your more lived-in rooms. After all despite being the most seen space in your home, you don't actually spend any prolonged amount of time on your staircases so you don't have to spend a prolonged amount getting sick of a bold pattern.
'Wallpaper is fabulous for hallways as with usable space often reduced we have to rely on the walls to make an impact.' explains Abigail Ahern 'As counterintiviute as this may sound narrow hallways with little natural light can take a much larger print or darker color than you would think. Going all pale and muted actually emphasizes how small they may be so I say go for some sumptuous texture like grasscloth or phenomenal print or color to distract the eye away from the narrowness of the space.'
And don't just stick to the walls, be inspired by this hallway and staircase designed by 2LG Sudio and take the pattern over the ceiling too which will also distract the eye from the small dimensions.
8. Add personality with wall decor
Staircase wall ideas are the perfect way to add some personal style to the space, however it's a balance, you don't want to overcrowd the space and make it feel cluttered. Even if you want to create a more eclectic, maximalist look still consider how it's going to effect the size of the space – the more you hang on walls the narrower this already narrow space becomes. The key is to just make sure nothing protrudes too far from the walls so stick with slimline frames, fabric wall hanging, and shallow picture ledges.
Gallery walls are an old favorite when it comes to staircase decorating ideas, but rather than fill the walls with lots of smaller frames, create the same effect but in a more streamlined way by hanging a selection of oversized frames – almost floor to ceiling – equally hung up the staircase wall. Or pinch the idea used in the stairwell above and switch a gallery wall for a shallow, wall-mounted unit you can fill up with decor.
9. Hang mirrors to reflect light
It's design 101, using mirrors in small spaces, but it's a long-used trick for a reason. Mirrors bounce even small amounts of light around, allude to more space, and offer unexpected, alternative views of a room. Consider hanging a large mirror on the wall at the top of your staircase – you'll see it instantly draws the eye along the hallway and to the top of the stairs, elongating the space.
How can you decorate an enclosed staircase?
Enclosed staircases are potentially the most awkward spaces to decorate, but don't be deterred by their lack of space and light they can be transformed into something chic and stylish. We'd recommend keeping it simple, stick with lighter hues on the walls and opt for a runner rather than a wall-to-wall carpet as this will help widen the space. It will depend on how narrow the space is, but either keep the walls totally clear and choose a smart, patterned runner to be the focus or if you want to hang prints, pick large matching frames and position them equally ascending up the stairs and mirror that layout on the other side.
Lighting is key too. The lighting used in the above and below landings will provide enough light to use the stairs safely but you still might find the space looks gloomy. Opt for a few recessed lights in the walls at floor level to add a warm glow or if the space is wide enough a couple of simple, almost flush, wall lights would work too.
The Livingetc newsletter is your shortcut to the now and the next in home design. Subscribe today to receive a stunning free 200-page book of the best homes from around the world.
Hebe is the Digital Editor of Livingetc; she has a background in lifestyle and interior journalism and a passion for renovating small spaces. You'll usually find her attempting DIY, whether it's spray painting her whole kitchen, don't try that at home, or ever changing the wallpaper in her hallway. Livingetc has been such a huge inspiration and has influenced Hebe's style since she moved into her first rental and finally had a small amount of control over the decor and now loves being able to help others make decisions when decorating their own homes. Last year she moved from renting to owning her first teeny tiny Edwardian flat in London with her whippet Willow (who yes she chose to match her interiors...) and is already on the lookout for her next project.