8 Feng Shui-approved front door colors that will set the right tone for your home – is yours on the list?
These Feng Shui front door colors will not only boost good energy or qi, but also improve your home's curb appeal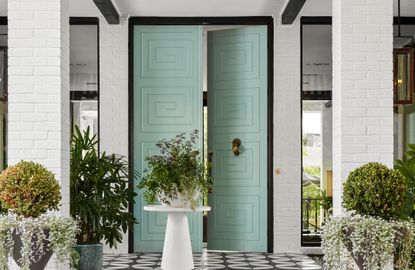 (Image credit: Nathan Schroder. Studio credit Maestri Studio)
The Livingetc Newsletter
For style leaders and design lovers.
Thank you for signing up to LivingEtc. You will receive a verification email shortly.
There was a problem. Please refresh the page and try again.
The best Feng Shui colors for front doors will invite prosperity and happiness into your home, according to experts. These tones not only have practical and aesthetic value but also energetic implications.
According to the ancient Chinese tradition of Feng Shui, you can optimize the positive qi energy flow and good fortune by painting the front door with any of these recommended tones. Plus, these colors will also increase your home's curb appeal and make it stand out.
Whether you buy into Feng Shui or not, there's a lot of takeaways in the advice about setting the right tone for your home. Take a look at these tips and advice offered by top experts in the field and find out what color you should paint your front door.
8 best Feng Shui colors for front door
While choosing a front door color can be a confusing task, Feng Shui dictates that the tone should be chosen keeping in mind the outdoor setting.
'Color is a very effective way to change or shift the energy or qi of a space,' says feng shui expert, Anjie Cho. 'So setting an intention with color can be very powerful. The front door is the first thing you see when you enter and leave the house, and it's also the element that makes an impression on guests and the outside world. While there are some recommended Feng Shui colors, the first thing one should do is look at their home's exterior, and see what would be complementary to the outside of their home, and the neighbors. This will create more harmony in the community, neighborhood, and in one's life. That doesn't mean you paint your front door to disappear – this will indicate that your voice to the world will disappear.'
1. Red
While it might feel a little bold to choose a red front door, according to feng shui, there is no tone better and more positive than red. Plus, design-wise, there are several colors that go with red, meaning, so you can add in some complementary tones to give this tone a lift.
'Red is a bold choice for a front door and if it works well with your home's design and style it can shift the energy very quickly,' says Laura Morris, co-founder of Mindful Design Feng Shui School and co-host of the Holistic Spaces Podcast. 'Red is transformative; it can protect and transform the energy to be positive and vibrant. Paint your door red if you would like more opportunities to be seen and recognized. Note: red is a dynamic color and can bring a lot of new energy – so make sure you are ready for it.'
'This is the most auspicious color and the tone of life's energy,' says Anjie. 'It brings good luck. You don't have to paint the full front door in this tone; it could even be a red wreath, or a knob, etc.'
2. Green
'A green front door represents the wood element and welcomes life and well-being,' says Anjie. 'It also brings in new energy and qi. It helps you connect with nature and life. It also encourages more growth and success.'
'This tone is all about vitality and growth,' says Laura. 'Also, if you aren't quite ready for a red front door – green is the next best thing for revitalizing the energy (qi). It represents the wood element which is the energy of springtime.'
If you want to add a more designer touch to the door, consider pairing it with other colors that go with green. A light green wall with a dark green door will look eye-catching. A door with a combination of green and grey, or green and blue will look fantastic too.
Cooking apple green paint
Recommended Finish: Eggshell
Price: $43 for 0.75 liters
Consider this charming and soft green that creates a fresh and bright vibe to a space. This tone will look especially great when contrasted with a bright white.
3. Purple or lavender
'Purple, violet, or lavender represents abundance and prosperity,' says Anjie. 'It is also the color of the crown chakra, which connects us to our enlightenment and wisdom, and prosperity.'
Consider playing around with the different tones and other colors that go with purple. You could consider shades from the deepest aubergine to even a royal purple. Lavender, mauve, and soft lilac will give your front door a charming look. This is a versatile feng shui front door color that can be used on south-facing front doors. The tone will create a therapeutic visual and evoke a positive vibe at home.
4. White
'White is a great color that represents simplicity, as it is a blank slate,' says Anjie. 'It can bring peace and calmness.'
Since this color is representative of the metal element in feng shui, it can encourage precision, communication, and happiness in a home. It's best to use this tone in a west-facing home. And if you're wondering how to paint the front door white without making it look too plain, you could consider warmer shades of the tone, or mix it up with other pop hues to create a striking entrance.
5. Black
'Black is an understated and classic front door color choice,' says Laura. 'It works well with red brick homes because its energy balances all that fiery brick color. Black represents the water element which is all about wisdom and your path in life.'
'If anyone wants to be seen or create strong connections with friends, family, or neighbors, they should choose black.'
The color is also representative of wisdom, maturity, and healing. It is a classic tone and never goes out of style. In more traditional homes this tone can create a more modern aesthetic. Choose the best exterior paint for doors and windows and consider a semi-gloss finish to make the black pop and avoid it collecting dust from your front yard.
6. Yellow or brown
'Earthy colors like yellow or brown are connected to health so if you like to socialize and want to grow your network, or if you want to create a more nurturing environment, one could try these tones to invite strength, grounding, and support,' says Anjie.
Yellow might not be everyone's cup of tea and understandably so – it's a bold color and immediately makes heads turn. You could consider only painting this color on the trims or the door handle, and leaving the rest of the door a more muted tone.
Given it can be tricky to use brown as a front door color as it may feel a little too bland, but when mixed with colors that go with brown, the front door can be given a dynamic look. Consider a dark wooden door and paint its frame a lovely red or green.
Alternatively, you could go with a fawn instead of a pure brown as it has a blue undertone to it. This more visually appealing shade will look great in an outdoor setting without overwhelming the exteriors.
7. Blue
Blue like green is also representative of the wood element and supports growth and new beginnings. If you've just moved into a new neighborhood and are looking to start new connections and want to do better at work, then this is the color for you. Plus, many colors go with blue, making it a versatile shade to play with.
Deeper shades of blue are also connected to the 'gen' area of the feng shui bagua map, which represents knowledge and self-cultivation. It is a tone that can support an intention to deepen your skills and talent.
Recommended finish: Matt
Price: $70 for 3 litres
Give your front door a showstopping appeal with this bright, bold, cobalt NHS blue, with a matt finish. This will make your door look smooth and blemish-free.
8. Grey
And finally, grey is a color that represents the metal element, and is a tone that can be used to enhance the quality of your life. This tone is associated with the 'qian' area of the feng shui bagua which is all about building strong connections, helping people, and for boosting travel. This is the color to paint your front door in if you want to be a well-known and liked person in your neighborhood and community.
If you have double doors, you could paint one light grey along with colors that go with light grey, like pink or yellow. This will give your entrance a beautiful look, and attract onlookers.
Colors aside, a big ask of feng shui is also to keep your outdoors clean and clutter-free. Ensure your front door isn't chaotic, and filled with too many elements as that will stop the flow of qi.
For style leaders and design lovers.
Aditi Sharma Maheshwari is an architecture and design journalist with over 10 years of experience. She's worked at some of the leading media houses in India such as Elle Decor, Houzz and Architectural Digest (Condé Nast). Till recently, she was a freelance writer for publications such as Architectural Digest US, House Beautiful, Stir World, Beautiful Homes India among others. In her spare time, she volunteers at animal shelters and other rescue organizations.