How to entertain in a small backyard – 8 tips from landscape designers to make alfresco hosting on a tiny scale so easy
Small backyard? No problem – these designer tips will help transform your garden into a space fit for entertaining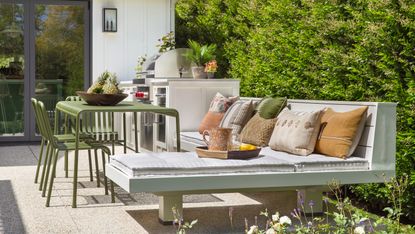 (Image credit: Burnham Design)
The Livingetc Newsletter
For style leaders and design lovers.
Thank you for signing up to LivingEtc. You will receive a verification email shortly.
There was a problem. Please refresh the page and try again.
When the weather's good, there are few things more appealing than sitting in your backyard with your friends and opening a chilled glass or wine or enjoying a freshly prepared meal in the sun. But for those of us with small gardens, finding the space or inclination to entertain outdoors can be easier said than done – meaning our outdoor spaces don't get to live up to their full potential in the spring and summer months.
If you are looking to entertain in a small backyard and don't know where to start, we've rounded up tips from some of our favorite designers to help you out. From zoning your space to adding handy extra seating and creating a makeshift bar area, here's what they had to say.
1. Create zones within your space
As far as modern garden ideas go, zoning isn't really new – but creating gentle splits in a space for different functions can help make a small plot feel larger, and makes guests' interactions with it feel more free-flowing. A pergola, for example, frames the dining and cooking space of the above patio, designed by Joseph Richardson Landscape Architecture, giving it a different function from the lounge space next to it.
'Use rugs, planters, or lights to subtly divide your space into zones,' says Artem Kropovinsky, founder of New York interior design studio Arsight. 'You might have a cozy seating area, a bar zone, and a small dining area. Each zone serves a purpose and the visual division can make the space feel larger and more organized.'
2. Be clever with your seating
In general, small backyards can benefit from more permanent outdoor seating ideas that help free up space elsewhere. 'Built-in seating can work wonders in small gardens,' says Artem Kropovinsky. 'Consider installing a bench around the perimeter or integrating seating into features like a retaining wall or raised garden bed.'
But built-in seating only goes so far when you've got guests over – so to seat those extra people, opt for foldable chairs or ottomans that can be added or removed as needed. 'I recommend the use of garden stools alongside your larger furniture pieces,' says Louisville, Kentucky-based interior designer Bethany Adams. 'They can either be drinks tables or extra seating and can be left outside without worry.'
3. Scale down an outdoor kitchen
Okay, so the luxury of a full-sized outdoor kitchen might not be within your reach if you're spatially challenged – but you can still incorporate a small grill and counter area in the smallest of spaces, especially if you build it in with other elements, like the seating above.
'As long as there's access to the kitchen sink, I think some counter space and a small fridge together with a barbecue is ideal,' says Betsy Burnham, principal designer of Burnham Design. 'A luxe set up would also include an ice maker – these can be pretty narrow and don't take up much space.'
4. Make space for outdoor dining
Outdoor dining can feel like a luxury in a small backyard, but since at least some of your entertaining will likely involve food – and especially if you're also incorporating an outdoor kitchen of some kind – it's a functional addition that can also serve as a spot for your morning coffee, too.
If you can squeeze it in, Artem Kropovinsky recommends opting for one long table to create a communal feeling when you're hosting alfresco dinner parties. 'Enhance the space with ambient lighting and hanging décor to draw the eye upwards, making the area feel larger,' he says. 'Serve dishes family-style to minimize the need for extra table space.'
5. Swap a bar for a mobile drinks station
An outdoor bar is by no means necessary if you're struggling for space – seating and surface space should definitely take priority. However, finding another space-saving way to serve drinks will help zone your space and give guests somewhere to gather that's away from the barbecue. A mobile bar cart is an obvious choice: 'Choose a cart that complements your outdoor décor and use beautiful glassware to serve drinks,' says Artem Kropovinsky. 'Remember, small decorative accents can also enhance the overall experience.'
Alternatively, you can go DIY for your drinks station. 'If you have a small potting station, clean it up for a party and repurpose it for a bar,' says Bethany Adams. 'Sanitize the sink and add ice for an open cooler and put all the tools, drinks, and glassware out so guests can help themselves.'
6. Include plenty of surface space
Like entertaining in a small apartment, having plenty of surface space for guests to set down drinks is crucial to a comfortable set-up. 'Look to multi-functional furniture pieces,' says Artem Kropovinsky. 'A garden stool, for example, can serve as extra seating or as a side table for drinks. Wall-mounted foldable tables can also be used to create a surface area when required.' For example, an ottoman serves as a drinks table and footstool in this space by Arent&Pyke.
'Many companies now offer outdoor furniture lines with all sorts of pieces,' adds Betsy Burnham. 'For smaller spaces, I love a rattan console, located up against the house or at the edge of a flower bed.'
7. Create easy ambiance with lighting
Small backyards need little other decoration than some garden lighting to create a pleasant, cozy atmosphere for parties. 'Outdoor bistro-style string lights are always festive and the bonus is that in a small backyard, they will provide plenty of light,' says Bethany Adams. 'String them along a fence if you have one or invest in string light posts or table trestles to bring the ambiance to your dining table.'
You can also dot lighting around on tables or decking, as long as it's safely out of the way to avoid a tripping hazard. 'Many years ago, I bought boxes of different sized glass canisters from a floral supply company down by the flower mart, and to this day, I use them for indoor and outdoor candlelight,' says Betsy Burnham. 'I treat them like small, mismatched hurricane lamps, adding an Ikea votive (as opposed to a large candle) with a small candle inside each one. These are great for outdoor lighting, as the sides of the glasses are high enough to protect from wind and the effect is glittery and festive.'
8. Heating can become a focal point
Even in summer, you can't scrimp on heating if you're partying outdoors into the night – but doubling up one of the best outdoor heaters as a focal point will help make the piece earn the space it takes up. 'If you have a small covered patio, hardwired radiant heating is a wonderful way to enjoy your space year round,' says Bethany Adams. If you're out in the open, 'a small firepit is fun for keeping cozy and roasting s'mores. If your space is truly tiny, a tabletop firepit or two is elegant and helps keep mosquitos at bay.'
Alternatively, look to vertical space when you're buying outdoor heating. 'Propane heaters are really the way to go,' says Betsy Burnham, principal designer of Burnham Design. 'They heat really effectively and can take a couple of forms, depending on how you want to use them. If you're trying to heat a space for outdoor dining, go with the tall vertical type. The heater won't take up much space, and the high-quality ones (I always read reviews) heat very effectively.'
For style leaders and design lovers.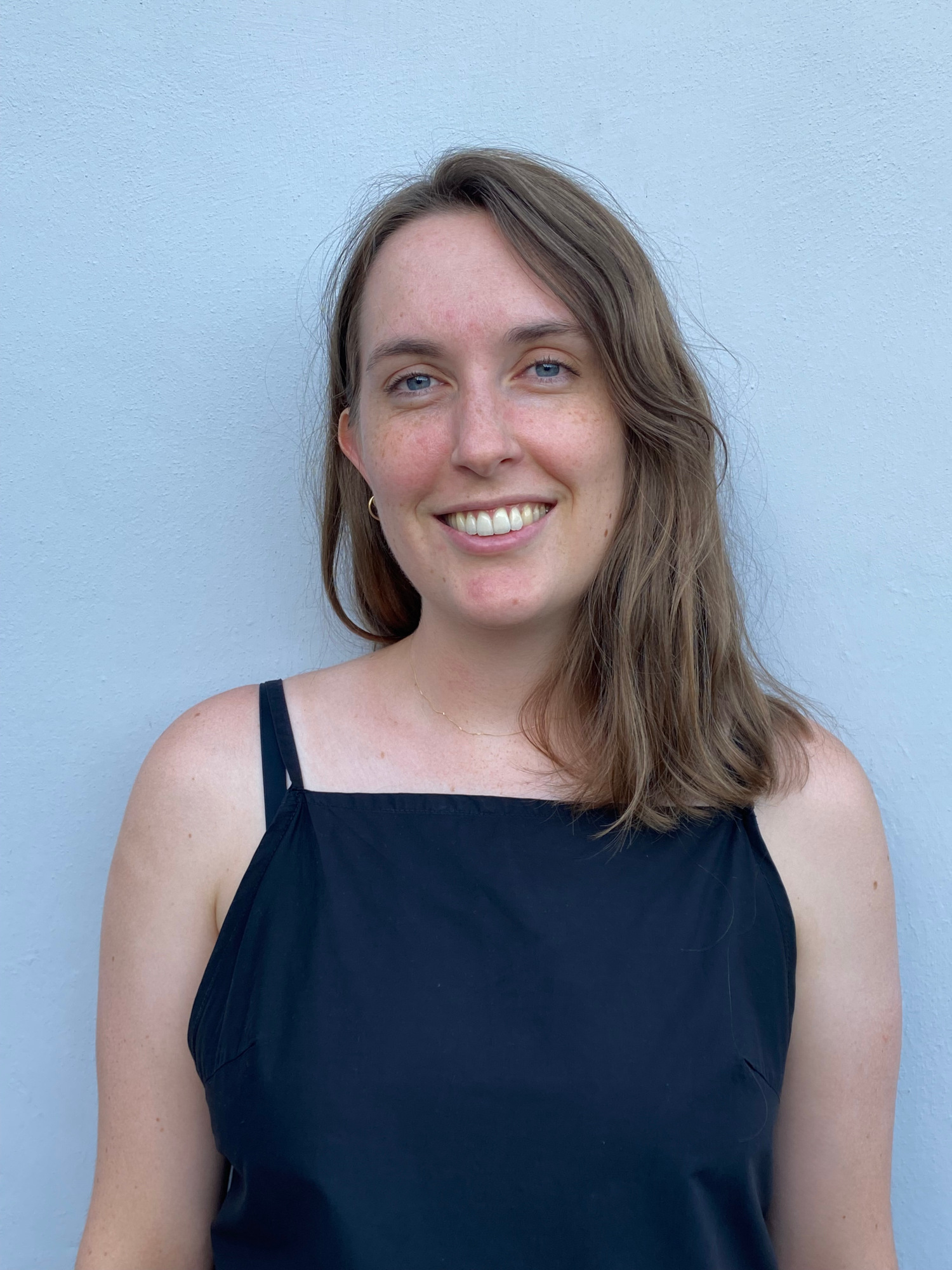 Ellen is deputy editor of Livingetc magazine. She cut her teeth working for sister publication Real Homes, starting as features editor before becoming deputy editor. There, she enjoyed taking a peek inside beautiful homes and discovered a love for design and architecture that eventually led her here. She has also written for other titles including Homes & Gardens and Gardeningetc. While she gets ready to buy a house of her own, she takes inspiration from the works of some of her favourite architects and tastemakers. She has a particular passion for green design and enjoys shopping small, local and second-hand where she can.