5 colors that make living rooms look bigger - how design experts give small spaces an airier feel
White is the obvious space-boosting shade, but what are the other colors that make a living room look bigger, too? Our experts reveal all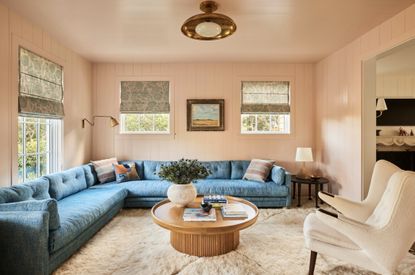 (Image credit: Bunsa Studio/Nicole Franzen)
The Livingetc Newsletter
For style leaders and design lovers.
Thank you for signing up to LivingEtc. You will receive a verification email shortly.
There was a problem. Please refresh the page and try again.
There's an age old question in design - how do you decorate a small living room? Do you embrace its coziness, or do you try to use colors that can make it seem larger? Or, perhaps, can you do both?
Our favorite designers think so. And in fact, they have a few tricks up their sleeve when it comes to how to use color in a small living room.
From blush through to light grey and blue, there's a number of hues that can work to reflect light and make a space feel larger as well as stay cozy at the same.
What 5 colors make a living room look bigger?
These five room-stretching shades are what the experts turn to when they want to make a living room feel bigger while still maintaining a design-forward to aesthetic, atmosphere, mood and ambiance.
1. Off-white
White is the go-to color when looking to make a living room feel bigger thanks to its excellent light-reflecting qualities. But it's important you choose a warm hue and the right accessories so the space doesn't feel stark or sterile.
'When working with a small living room, embracing a clean white color scheme can be an effective way to open up an area,' says Helen Shaw from Benjamin Moore.
'As a rule of thumb, lighter colors tend to make a space feel bigger, while darker colors – although good at helping to create a cozy feel – can give the effect of bringing the walls towards you, consequently making the room feel smaller.'
She continues: 'White, out of all the colors on the spectrum, reflects the most light. In small rooms, therefore, it automatically creates the illusion of greater space, making ceilings look higher.
'To add warmth and personality to what could be a very bland and sterile room, opt for a pastel or subdued hue as an accent wall or to highlight a certain feature in the room such as the sky light.'
You can also choose a warm white living room as opposed to a brilliant white. A favorite of designer Kelly Hopter, of Kelly Hopter Interiors, is Benjamin Moore Swiss Coffee, as seen in the living room above and below.
She says: 'A creamy off-white is a great way to make the room feel airy but still warm and inviting. Benjamin Moore Swiss Coffee OC-45 is a beautiful option - it definitely has more "body" than a pure white and a sophisticated, almost historic feel to it. It works beautifully especially with warm color palettes - browns, beiges, taupes.'
Sloane glazed vase by Marloe + Marloe
Price: $280

It's the texture that elevates this off white vase and lets it bounce light beguilingly around a room - ideal to enhance a small space.
2. Blush pink
A blush pink living room is a soft, warm and elegant choice that some see as more inviting than a white living room.
'The size of your living room should be a consideration, but the mood you are looking to create and the level of light in the space are also important to consider,' says Ruth Mottershead, Creative Director Little Greene.
'Many people opt to use white in small living rooms, with the aim of making them appear larger; however, light, warm neutrals, like blush pink, used in a tonal scheme will make a small living room feel spacious, too.'
The Little Greene Color Scales collection is a wonderfully useful tool for creating a light, harmonious scheme in a small space with each color available in graduated shades within the same family for tonal coordination or balanced contrast.
'Masquerade, for example, works beautifully alongside Masquerade Mid and Masquerade Light to create an elegant and welcoming scheme in a small living room,' says Ruth.
Another beautiful blush option is Farrow & Ball's Setting Plaster (seen below). Patrick O'Donnell, F&B International Brand Ambassador, says: 'For all-round flexibility for a living room you can't go wrong with Setting Plaster, a wonderful grown-up blush.
'In sunny spaces it knocks back almost to a gentle neutral, and it can provide a sophisticated and cozy glow in all aspects to bounce available light and provide the illusion of more space, particularly when color-drenched across walls, ceiling and woodwork.'
Strom earthenware jug by RAAWII
Price: $125

Its chunky shapes makes this jug's elegance more friendly, more understated, and as so many colors go with pink it'll work in most small rooms.
3. Soft grey
A grey living room is always a serene and airy option, particularly in a north facing living room.
Jennifer Verruto, Founder and CEO of Blythe Interiors, says: 'I like using a light grey color for living spaces. Contrary to what we've been told, slightly darker colors don't need to be avoided in smaller spaces. Dark colors bring a rich, moody feel to a space. If you want, you can combat the darker color choice with other tricks to make a space feel larger, like incorporating a large mirror and lighter décor.'
There are also plenty of colors that go with grey, making it the perfect base. She adds: 'We love using Sherwin Williams Steely Grey paint in living spaces because it creates a calming feeling and is a great color foundation to build upon. It's a great choice for traditional and transitional design aesthetics and it looks beautiful paired with deep charcoals and natural stone tones.'
Phoebe fringed jacquard throw by Soho Home
Price: $180
The best thing about small living rooms is how cozy they can be. Lean into this which this throw blanket just made for hunkering into.
4. Light blue
Because it contains a large mix of white, a soft blue has great light-reflecting qualities to help open up a space.
'Try to layer different intensities of the same hue for a minimalist statement that tricks the eye,' says Dan Mazzarini, Principal and Creative Director of BHDM Design and ARCHIVE by Dan Mazzarini.
'Lighter blue walls with a darker ceiling, for instance, create volume. The darker color creates a receding illusion to make the room appear bigger.'
Alternatively, color drenching, a paint technique where walls, woodwork and the ceiling are all painted in the same hue, can work to open up a space, as seen above.
Patrick O'Donnell explains: 'Color drenching will blur the boundaries where the wall meets the ceiling, and create the illusion of more space.'
Delaney candle holder
Price: $18

The glass surface allows light to travel through this sophisticated candle holder, increasing the feeling of space.
5. Beige
'Pale neutrals create an airy, open feeling in any room in the home,' says Neale Whitaker, interior design expert at King Living. And it's not just the color of the walls that can affect the feel of the space. Neale suggests choosing neutral furniture, too, for a cohesive, tranquil space that feels light and airy.
He says: 'We recommend choosing a selection of creams that don't overpower the room – that create the illusion of a larger space as the light reflects around the four walls. 'We'd also suggest utilizing a single tone swathed across the whole room, matching your upholstered seating to the walls and other accessories present for a coherent scheme.'
And Molly Torres Portnof, of Brooklyn-based DATE Interiors, says going two-tone can trick the eye into thinking the room is larger than it is.
She explains: 'Paint is an incredible tool to help a room feel spacious, especially when walls are painted halfway, with a lighter color on the top half. This draws the eye up and makes the ceilings feel taller.
'In the living room above, the warm neutral tone on the bottom half of the wall grounds the space and makes it feel richer and cozier. The brighter cream on the top half of the wall brings the eye up and makes the space feel larger and more open.'
What color makes your living room look bigger?
Pure white is the ideal color to make your living room look bigger as it has the highest level of light reflecting qualities out of all the shades you can choose from.
However, brilliant whites can be a little sterile, so you may want to opt for a warm white instead. 'Super White by Benjamin Moore looks great in a north-facing room, and for a warmer white, I like Chantilly Lace,' says Dan Mazzarini, Creative Director, BHDM Design. 'Good chameleon colors are intense white by Benjamin Moore and Timidity by Sherwin Williams, which have a bit more flexibility in spaces.'
If you're looking to move away from white and add more color to your living room, blush pink, soft blue, and light gray are all great space-stretching options to make your living room look bigger.
For style leaders and design lovers.
Ruth Doherty is a lifestyle journalist based in London. An experienced freelance digital writer and editor, she is known for covering everything from travel and interiors to fashion and beauty. She regularly contributes to Livingetc, Ideal Home and Homes & Gardens, as well as titles like Prima and Red. Outside of work, her biggest loves are endless cups of tea, almond croissants, shopping for clothes she doesn't need, and booking holidays she does.