Designers are loving the new kitchen trend for coffee niches - these 7 show how they can improve your morning routine
The new kitchen trend for coffee niches turns your space into a place that functions exactly in the way you want to use it, making a ritual of your morning routine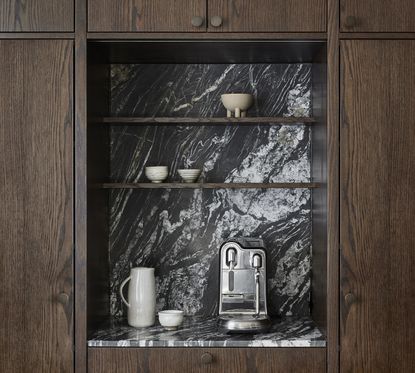 (Image credit: Handcrafted Interiors)
Drip coffee machines are among the most nostalgic kitchen appliances, no doubt. But a new wave of coffee equipment – most prominently home espresso machines, which spiked following the pandemic – has inspired homeowners to carve out entire coffee niches, akin to miniature coffee shops in their kitchen.
'Coffee niches are becoming more popular because many of our clients have invested in larger and better coffee machines to make better coffees at home,' says Megan Blaine, principal architect at California's Blaine Marshall. 'These machines often take up a lot of valuable counter space, so several clients have opted to tuck their coffee machines away to keep countertops clutter-free.'
The latest niches range from standout architectural features (bonafide coffee shrines that are new focal points of the kitchen) to those that emphasize function, with clever hardware and cabinetry to integrate coffee bars into the modern kitchen's footprint. Inside, anything from scales and grinders to mugs and milk frothers (even a stash of sugar, if that's how you take it) all get the space they deserve – it's a celebration of daily ritual.
Designer Amy Clark, of Perth's State of Kin, points to the café sector's recent innovations that helped foster craft culture at home: user-friendly equipment, beans from small vendors, and DIY resources like online classes are now widely available. 'It's made it so much easier for us all to try and be our own barista in the comfort of our homes and elevate the way we do it,' says Clark.
How to create the perfect coffee niche
Certainly, you need not carve out a nook in order to create for your morning ritual – it can be achieved by simply designating a section of counter space as a coffee station, or adding a free-standing counter – but the purpose-built niches shown here have us buzzing for more.
1. Position it out of the way of the main cooking area
When choosing a where to keep your coffee maker, pick carefully – this curved niche stands out from any corner of the kitchen, but doesn't stand in the way. 'The arch shape is a cheeky nod at the idea of a little shrine, an altar to the caffeinated nectar being created within,' says Amy Clark, noting its convenient location along the fridge for easy milk access and zoned plumbing provisions, away from the main cooking area. 'We wanted to pop it a little out of the flow of the kitchen footprint — so that one can pop in and whip up a quick espresso while someone else is on the other side or the island cooking,'
Once you figure out the right zoning, you can get creative with finishes to let the niche reclaim the spotlight. 'We lined the inner faces of the nook with a sweet little chocolate brown mosaic [below] that has a stunning, subtle gradient of color and a glossy lustre that's so rich,' adds Clark. 'There is some indirect strip lighting concealed in the nook which allows the recess to softly glow and provides a warm, beckoning luminance in the centre of the open plan kitchen.'
2. Line the niche with an unexpected material
To make your coffee nook pop, think beyond a snazzy espresso machine with bells and whistles. A buzzy backsplash, particularly with an eye-catching pattern like marble with veining, will call attention to your nook and give it pride of place. 'We choose a dark [wood stain] and an extravagant marble plate to give it a high-end luxurious feel,' says Charlotte Døngart, partner at Copenhagen's Handcrafted Interior, noting how the rich kitchen countertops make a special appearance inside the niche. 'The coffee station gives it the last touch and makes it unique with the beautiful splashboard.'
And don't forget to think through material choices the same way you would for countertops, stressing durability and how easy they are to clean. "In Handcrafted Interior we really love natural stone such as marble," recommends Døngart. "These stones have been used for hundreds of years and they patinize so beautifully. People forget that marble has been used on public restrooms in Italy for many years and it looks amazing with all its scratches and cracks.'
3. Add a pocket door
If you want the option to close up your coffee station, pocket doors give you the best of both worlds, creating an 'appliance garage'. 'Coffee stations with folding appliance doors, that are able to be open or closed, allow clients to have an area that is functional and beautiful, but also when it becomes less tidy (coffee grinds, etc.), the doors can be closed,' recommends David John Dick, co-founder of L.A.'s Disc Interiors. 'Clients are seeking spaces that allow them to have the function they need, but also the look of less appliances on their countertops.'
Disc Interiors was sure to add stylish details inside the niche — like a handsome counter, beautiful wood detailing, and an attractive backsplash — so it can remain open without being an eyesore. "The stone counter is a continuation of the counter material in the rest of the kitchen, thus giving the clients just a bit more perceived counter space," adds Dick. "The backsplash serves as a wonderful detail when the appliance garage is open."
4. Get the wiring right
Most coffee niches require hardwiring. To start, count the number of appliances that need electricity. 'You want to install a sufficient number of power outlets, but not so that you compromise the aesthetics of the space,' says Copenhagen's Nicolaj Bo. 'You will probably need power for a grinder and an espresso machine – but maybe you also need the possibility of connecting a toaster or blender.' Going an extra step, you can also add a set of recessed lights, like Bo's spacious Bo's niche above, for those who love a cup of coffee after dinner (or for those early mornings before sunrise).
For Bo, this kitchen trend is all about making the most of your niche, and shining a spotlight on your favorite indulgences; coffee niches can naturally bring texture to your streamlined kitchen. 'In our designs we have used niches over the years to create a variation in surfaces and materials,' he says. 'A clean minimalistic design benefits from this 'pause' and offers a space where you can frame your favorite objects.'
5. Utilize a tricky corner
If you have space, your coffee station can be front and center — but you can also use crafty cabinetry to stow your niche where you least expect it. 'In this specific project, we tucked the coffee station into an otherwise unusable corner of the kitchen,' says Karina Marshall, director of interiors at California's Blaine Marshall. 'Our cabinet maker created a pull-out shelf that slides the coffee machine out so it is easy to use, is always plugged in, and is hidden from sight when not in use.'
The big idea here is to repurpose tricky spaces that might otherwise go unused. 'You can use a simple drawer hardware attached to a flat panel as a slide-out mechanism to place the coffee maker onto,' says Marshall. By doing so, the espresso machine is always plugged in and ready to go – even when it's tucked away and out of sight.
6. Save room for other coffee essentials
Beyond designated counter space for your coffee machine, make room for other items — think coffee cups, spare beans, spoons and sugar — so all the essentials are within reach. 'We often recommend having open shelving above your workstation because it gives the option of making it more personal,' says Anton Bak, co-founder of Copenhagen's Vermland, who designed this wood-lined niche. 'Also, all coffee niches result in a lot of gear and other 'ugly' things, so we most often install drawers underneath the counter so it's easy to hide away coffee bags etc.'
Once the essentials were in order, Vermland outfitted its nook in style. 'We love having hidden details in our projects that encourage the user to explore all hidden corners,' says Bak. 'We are proud of both the outside and inside finish of our furniture, and for this project, we added an extra feature by placing a marble stone top inside the niche.' The creamy marble counter matches the white painted fronts of the cabinetry, bringing a surprising touch to the niche once you get up close.
7. Go all out
Don't be afraid to go over the top. At Inglis Hall, a bespoke kitchen maker in Sussex, UK, designers brainstorm coffee niches with their clients by asking a simple question: "So how do you make yours?" This gives their team an idea of their clients specific, and sometimes robust needs. 'On occasions this conversation has gone stratospheric!' says managing director Toby Hall. 'When a client's passion for the subject matches ours, or even in rare cases exceeds… the results can lead to the building of a coffee laboratory.'
In the coffee nook in this modern farmhouse kitchen above, Inglis Hall pulled out all the stops, designating ample space for multiple coffee appliances but also adding features like a pitcher rinsing station – which required special plumbing. But at the end of the day, Hall's philosophy is all about enhancing the user experience. "Whether your perfect coffee making set up resembles the Sputnik satellite, or an old school drip filter… the element that should remain constant is the romantic connection to the process,' says Hall. 'A moment in time, a sheltering eddy in your day, from where you can recover and relaunch… as I say, it is the ritual that counts.
The Livingetc newsletter is your shortcut to the now and the next in home design. Subscribe today to receive a stunning free 200-page book of the best homes from around the world.
Keith Flanagan is a New York based journalist specialising in design, food and travel. He has been an editor at Time Out New York, and has written for such publications as Architectural Digest, Conde Nast Traveller, Food 52 and USA Today. He regularly contributes to Livingetc, reporting on design trends and offering insight from the biggest names in the US. His intelligent approach to interiors also sees him as an expert in explaining the different disciplines in design.