Livingetc's 10 favorite backyards ever to inspire and help elevate your own alfresco space
If you're looking at revamping your outdoor space our round-up of the best backyard ideas will help you nail it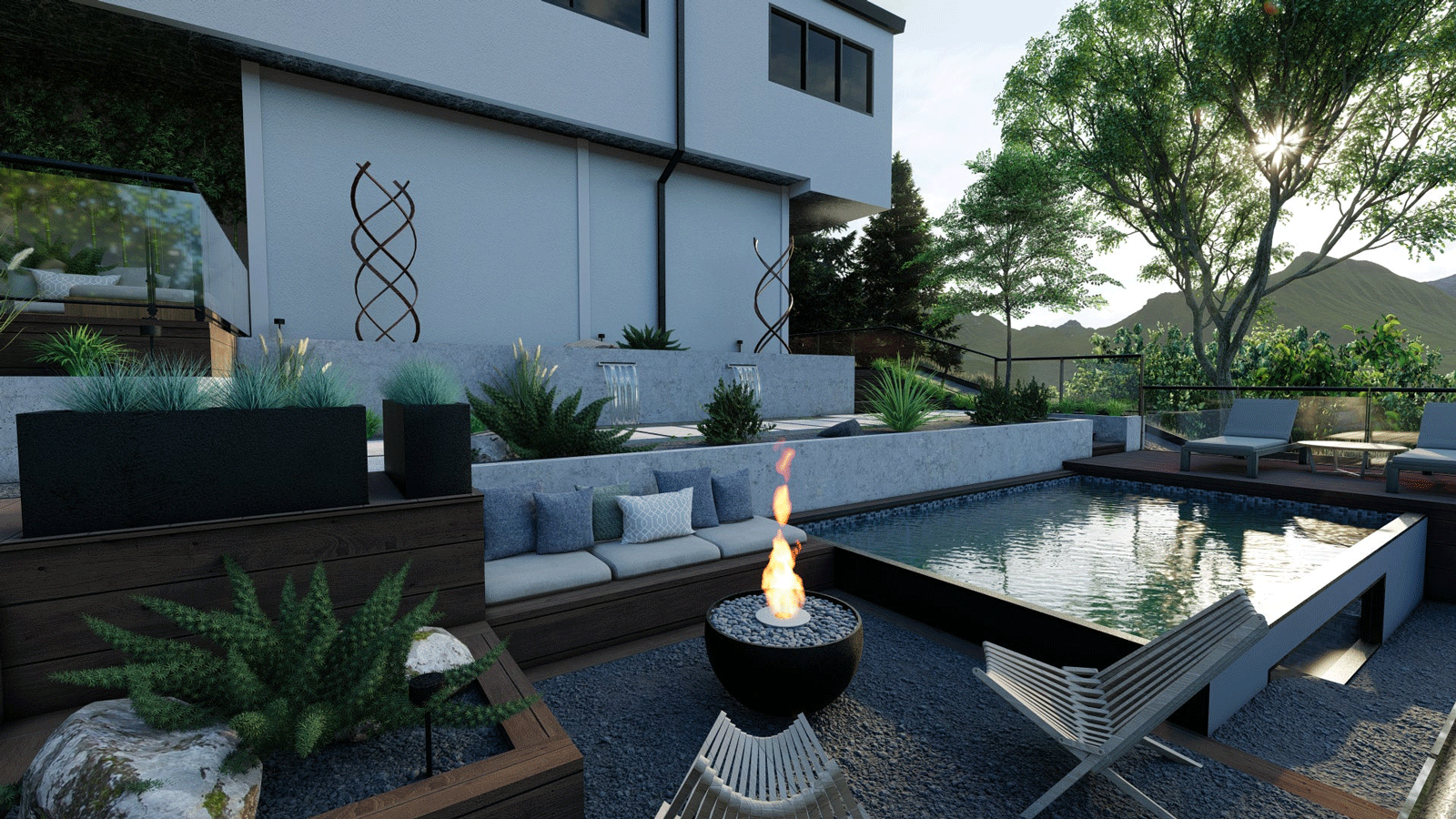 (Image credit: Yardzen)
The Livingetc Newsletter
For style leaders and design lovers.
Thank you for signing up to LivingEtc. You will receive a verification email shortly.
There was a problem. Please refresh the page and try again.
When it comes to attention grabbing looks for your backyard there are many innovative new ideas to choose from. Think smarter use of small spaces like side yards, pocket-sized fire pit areas, in-deck plunge pools, small alfresco dining set-ups and installing a purpose-built garden building such as a creative studio or work-from-home office that's all about functionality.
As the current trends in backyard design show, making a sanctuary where you can connect with nature, garden sustainably and grow your own flowers is big news. As is remodelling your space rather than moving.
'Sky-rocketing interest rates and a stalled housing market are driving homeowners to delay moving and instead invest in their current home, prioritizing renos for comfort and maximizing space,' says Allison Messner, CEO of landscape architects Yardzen.
With this in mind, if you're looking to renovate your space this year here's our pick of dreamy backyard ideas to inspire your outdoor design.
1. An outdoor wellness space in California
There's a real trend for making the most of the space your backyard offers for creating dedicated wellness elements. The desire to capitalize on the health benefits of being outside without having to go to a gym or spa to find them is shaping up nicely in the latest backyard designs.
'We're all seeking out ways to transform our outdoor space into a spa-like environment,' says Allison Messner. 'This trend is growing as more of us work remotely and want to find ways to achieve a "digital detox" in our home space.' Think desirables such as cedar or infrared saunas, plunge pools, and yoga platforms.
The owners of this backyard wanted a tropical garden and bohemian vibe that feels like you're on vacation when you step outside. A top priority was a dedicated wellness/spa space in one corner of the yard, including a Redwood Outdoors plunge pool, hot tub, Almost Heaven barrel sauna, and distinct lounge areas with Serena & Lilly daybeds.
2. Layered native planting in Nebraska
If you love the idea of a wild backyard meadow aim to create a self-sustaining ecosystem that evolves and changes from year to year, developing just as nature intended. There's a big trend for landscaping with flowers using organic shapes and textures, unfussy wildflowers, and meandering gravel garden paths that feel natural and a little whimsical.
Designer Benjamin Vogt of Monarch Gardens, based in Lincoln, Nebraska, is a big proponent of urban greening with native plants: 'Drought tolerant native plants make ideal components to an urban meadow garden. When planted densely their resilience and adaptability can reduce management, while helping to clean the air, reduce stormwater run-off, and provide habitat for pollinators and birds.'
An essential design strategy suggested by Benjamin is using a groundcover of short bunchgrasses, such as blue grama (Bouteloua gracilis) or bluestem (Schizachyrium scoparium) then mass and drift flower species that bloom in various seasons.
3. Urban privacy in Chicago
The quest for privacy is a big issue for city dwellers and never more so than when it comes to how best to use available outdoor space, which is likely to be compact and overlooked. The answer is to think cleverly.
The owners of this Lakeview, Chicago home wanted a strong connection to the outdoors that preserved privacy in their densely urban neighborhood. To balance their objectives of privacy and abundant natural light, landscape architects dSpace Studio designed an L-shaped rear elevation defined by generous window garden walls facing southwest over a landscaped yard.
Indoor-outdoor living is made easy by locating interior and exterior spaces at the same level, and a window wall amplifies the connection to the outdoors. The enclosed courtyard features a dining patio, with a neat gas grill and outdoor kitchen area tucked away into an alcove.
Although this backyard is in the city it feels very private, the sense of seclusion further enhanced by the large existing trees that were kept as part of the redesign.
4. Sunken fire pit in Arizona
We're enjoying the trend for conversation coves, inviting spaces to gather and chat. Even better when paired with a cosy recessed fire pit. Landscape designers are seeing a real uptick in demand for fire pits sunk into decks or the ground.
'A great way to create a conversation cove is to add a sunken fire pit to your yard,' says Allison Messner. 'We've seen a recent bump in requests for sunken conversation coves, a real throwback to 70s interiors, but this time around it's outside. Adding a fire pit is another way to create an outdoor room and it can be designed in the ground or set into a deck.'
This high-desert backyard is designed to be a retreat and prioritizes comfortable gathering spaces. The design centers around a communal, sunken Wayfair propane fire pit that's surrounded by additional seating zones that flow from one area to the next. The long, built-in benches give you plenty of room to lounge and play around with fun decor elements like cushions to add an inviting feel.
Recessed fire pits are practical too, especially if you live in a colder climate. They help to make a toasty space to enjoy that's protected from chill winds and your fire pit will burn more efficiently too as it's sheltered.
5. Indoor-outdoor flow in Chicago
The demand for outdoor rooms that link seamlessly with your interior continues to gather pace in 2023. The brief for this project in Lakeview, Chicago was to create indoor/outdoor flow for optimal entertaining. No detail was spared in the courtyard with a big service outdoor bar, outdoor kitchen and lounging/dining zones. It's a yard that's set up for coming together and making memories.
'It was important to the couple who live here that their outdoor space was multi-use,' says Aimee Wertepny founder of projectinteriors.com. 'Landscape architect Scott Byron & Co came up with a layout that would allow multiple entertaining spaces and an area where the kids could play, part hardscape and part landscape, with killer kitchen and bar components.'
Aimee selected a big, U-shaped sofa by Gloster to hug the firepit and peppered in Smart and Green globe-shaped lawn lights from Lightology to add an air of whimsy. 'We wanted to make the space as comfortable as possible with ease of flow, so we integrated moveable furniture pieces that can be taken out onto the yard if the party grows.'
6. Sustainable design in Chicago
Designing with climate awareness in mind has never been more important. The new thinking involves being conscious of everything you plant in your yard and re-evaluating what plants are appropriate and will thrive in your local terrain.
If you're redesigning your space it also means reconsidering every existing plant and trying to find a place for them in your new scheme rather than simply dumping them in favour of replacements.
The owners of this Chicago backyard made a point of incorporating existing planting into their new design, even moving trees around rather than lose them. They chose drought resistant landscaping to reduce the need for watering, and included a green roof system that mitigates rainwater run-off.
7. Plunge pool in California
The desire to create a 'spa like' space is set to continue into 2023. Having a dedicated space for rest and recuperation is proving to be increasingly popular and there is nothing more indulgent than a plunge pool.
The homeowners wanted to transform this Woodside, California hillside backyard into a serene yet striking space to fit better with the natural setting. The design features an above-ground plunge pool by Modpools that is built into a small lounging deck, a firepit cove next to the pool featuring a built-in bench and low, modern chairs, as well as a fountain along the paver walkway.
The designer also prioritized soft and inviting landscape lighting and select uplights to help transition the space from day to night and ensure safety in the multi-level backyard. Such a heavenly space for entertaining!
8. Lawn reduction in Los Angeles
More and more of us are now seeking out sustainable design solutions for our yards and that includes kissing goodbye to resource-guzzling lawns. The LA Turf Replacement Program was recently updated, which aims to encourage homeowners to replace their grass lawns with a sustainable landscape that includes native plants, mulch, and rain capturing features like rain barrels.
'Alternative species for lawns like clover are also being considered, as well as rewilding with biodiverse pollinators, permeable hardscapes for flood-prone areas, and fire-smart planting in wildland-urban interfaces,' says Allison Messner. 'Even places outside of the drought-stricken West, like Minnesota, now have lawn replacement programs.'
This design nails the trend. It features warm, neutral tones for hardscaping, including pavers, stone and gravel that blend seamlessly with the natural environment. Soft, textural planting is a key feature for dry gardens, including pampas grass, blue fescue, Lindheimer's Muhly and pollinator-attracting flowering plants like Mexican bush sage, tall verbena and star jasmine, which combine to give the space an organic and inviting feel.
9. Abundant flowers in New York
Backyard planting with a 'Garden of Abundance' theme is a bold alternative to native plants and the wild and naturalistic look. Designers are squeezing in patches of colorful cottage garden style planting however small the yard. The trend is all about cramming in as many flowers as you can.
'When looking for flower garden designs, it's essential to consider the available space and any existing conditions such as light intensity, temperature and soil type,' says San Francisco based designer Jen Stark of happydiyhome.com. 'The best plants for urban flower gardens should thrive in the available conditions while withstanding harsh urban elements such as wind, pollutants and extreme temperatures.
When creating an urban flower garden, think of utilizing small spaces with vertical gardening or planters on patios, decks or rooftops. 'Plants like roses and lavender are a great choice,' says Jen. 'To make the most of a small space, try layering plants by height and color to create an attractive display that will stand out in the cityscape.'
10. Next level dining in Chicago
In urban courtyard style backyards it's important that every inch of space is put to good use. Designers are pulling together a look by blurring the lines that separate indoor and outdoor spaces with a few style tweaks. It means choosing alfresco-friendly dining options that align with your home's interior style to ensure flow.
This design for a low-rise factory conversion in Chicago is a million miles from the standard patio set-up, looking glamorous year-round and showing how you can segment your exterior space in the same way as you would your interior to make a sleek dining zone.
It's the backyard of our dreams, somewhere you can easily take your party outside to continue under the stars. Cement and natural woods commingle for those ah-ha moments and next-level dining with a separate space for lounging afterwards.
For style leaders and design lovers.
Lifestyle journalist Sarah Wilson has been writing about gardens since 2015. She's written for Gardeningetc.com, Livingetc, Homes & Gardens, Easy Gardens and Modern Gardens magazines. Her first job on glossy magazines was at Elle, during which time a visit to the legendary La Colombe d'Or in St-Paul-de-Vence led to an interest in all things gardening. Later as lifestyle editor at Country Homes & Interiors magazine the real pull was the run of captivating country gardens that were featured. Having studied introductory garden and landscape design as well as a course in floristry she is currently putting the skills learned to good use in her own garden where the dream is establishing a cutting garden.