Backyard architecture trends for 2023 - 10 design-forward looks to elevate your outdoor space
Our curated edit of the key backyard architecture trends to know about in 2023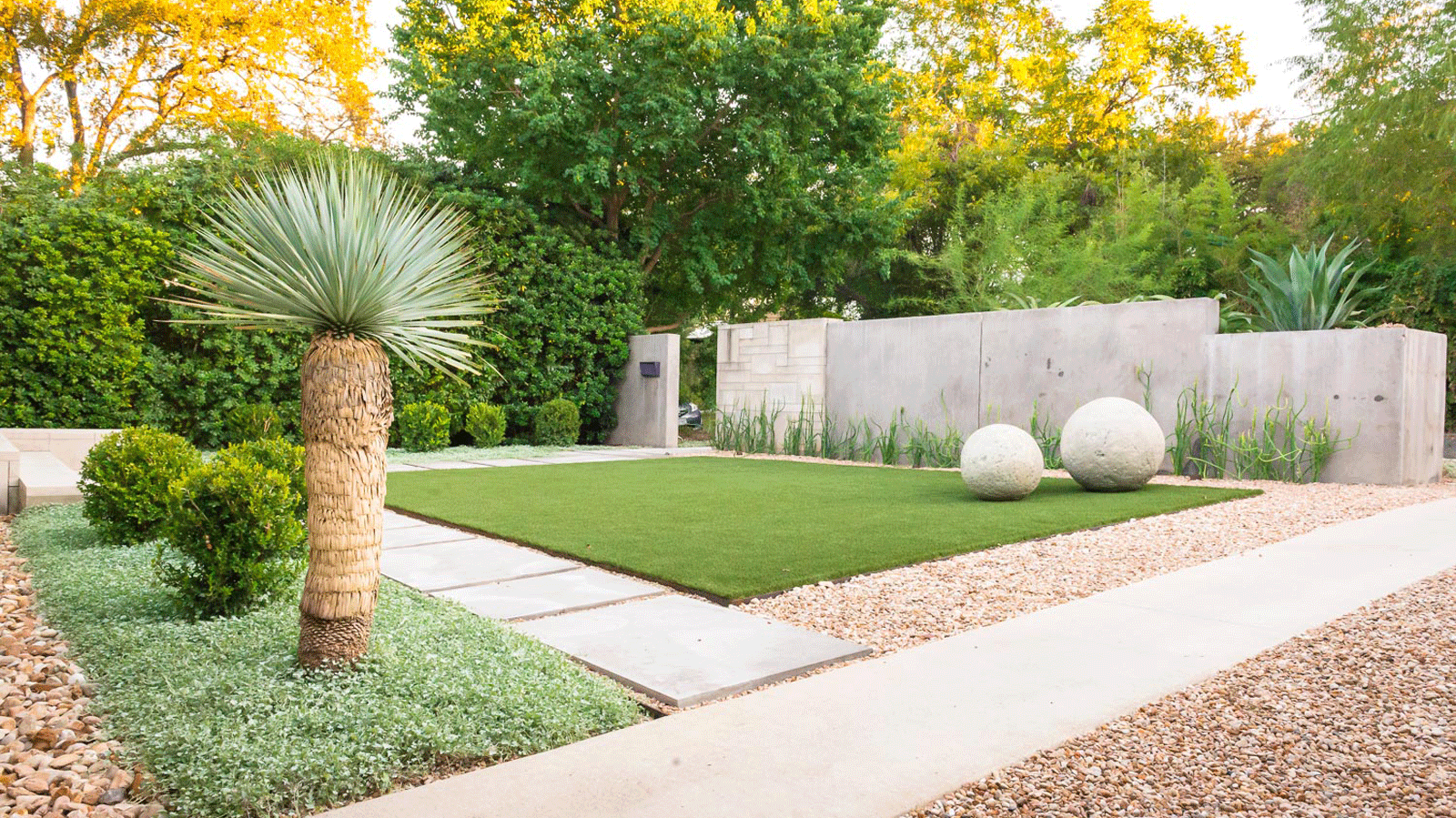 (Image credit: Greg Thomas Photography/Eden Garden Design)
This year backyard architecture trends are putting emphasis on honest materials such as natural stone and concrete, simple detailing, minimalist design and native planting, with sustainability now forefront. It's all about taking these ideas then looking at total available space to make everything work cohesively.
'The biggest shift we're seeing is an increased connection between the backyard to the rest of the home,' says Eugene Colberg of New York based Colberg Architecture. 'The indoor space and outdoor spaces are now more connected. We will also continue to see greater compartmentalization of the backyard and its features. In 2023, the backyard's parts have specific functions, from eating and dining to food preparation and sports features.'
So here's our curated edit of the top architectural trends that are going to be big for backyards. Whether you're considering a backyard reno or a refresh you're sure to find all the ideas and inspiration you need.
10 backyard architecture trends for 2023
1. Green walls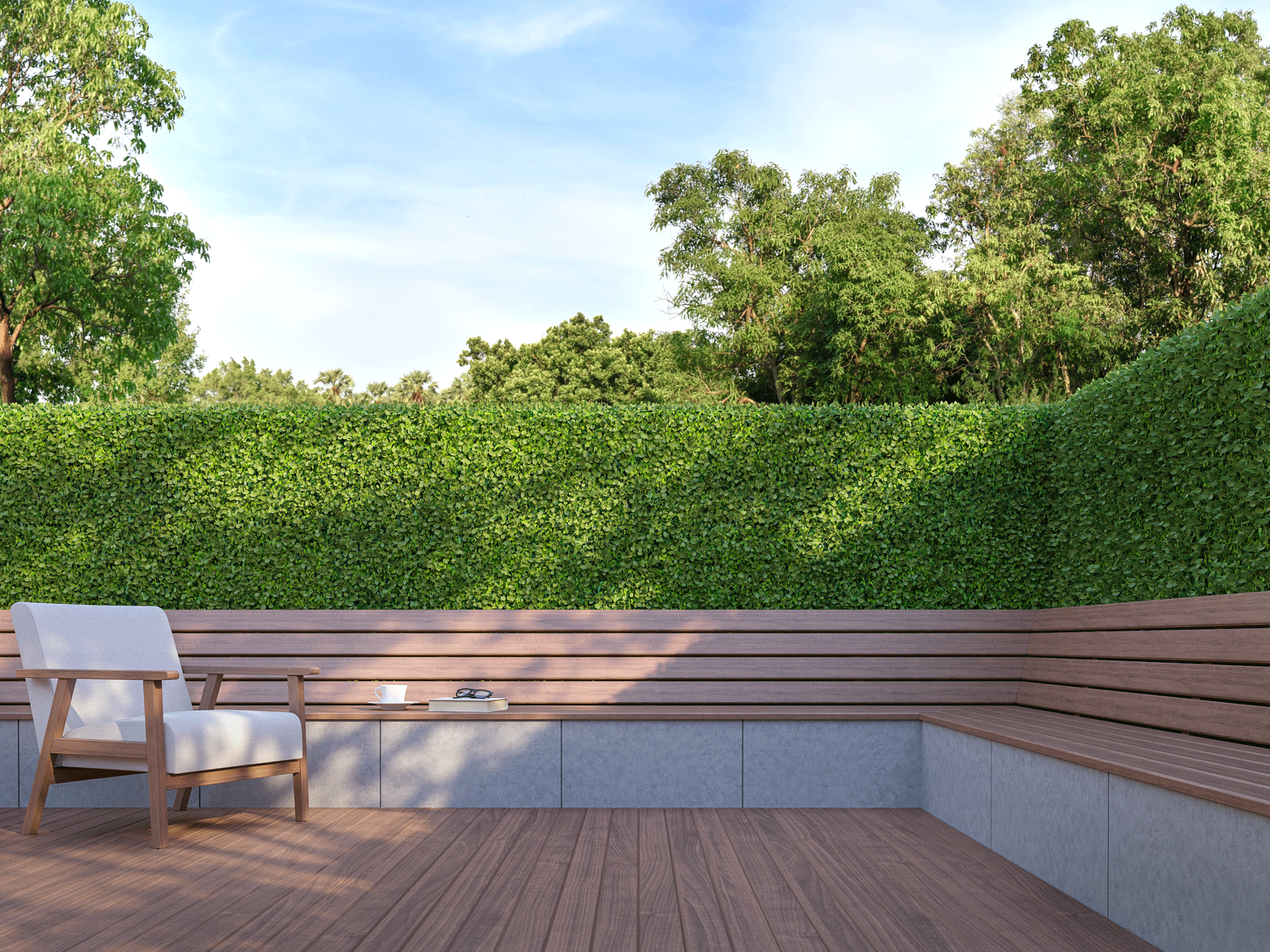 Walls can be living things too, not just simply made from bricks, concrete and other landscaping materials. Smart evergreen hedges can be used to create privacy, help to soundproof your yard and form a wind break in exposed areas. It's a great example of using a resourceful solution to get more green in an urban yard.
Hedges are a great way to green up your boundaries and can be shaped to resemble green walls that will add an architectural element to your landscaping.
Just make sure that you're not planting a hedge that will grow too large for the space you have. For a smart clipped evergreen look like this choose from the classics like laurel, boxwood, yew or privet.
2. Tiered living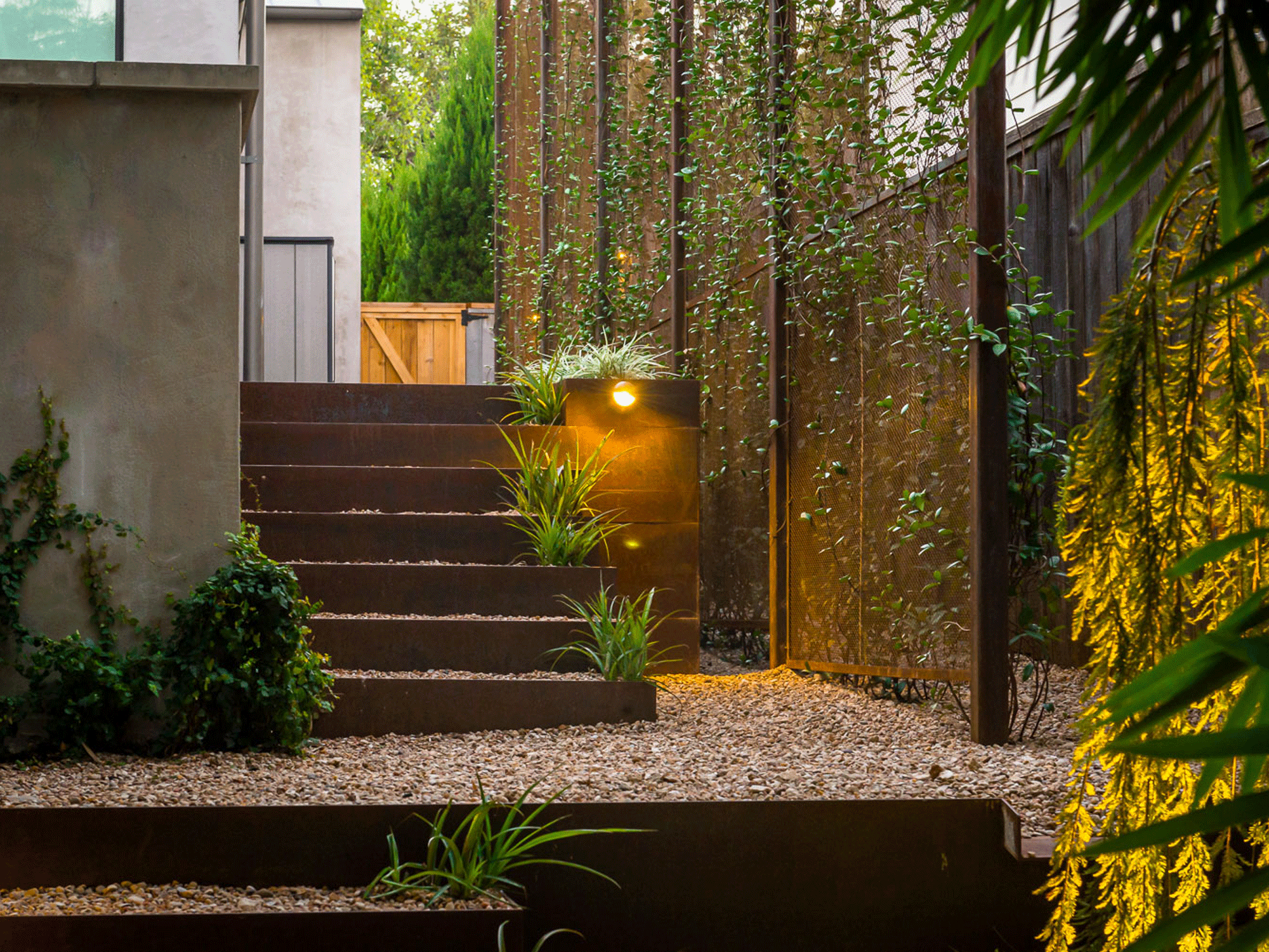 Small urban yards on different levels can be transformed by clever use of space to turn them into workable areas. This backyard project is located in the Tarrytown neighborhood of Austin, Texas. What was once a sloped, unusable space is now a private haven of tiered flat levels where the owners can entertain and hang out with their gas grill.
If your outdoor living space is stretched over different levels privacy will always be a consideration too. In this design a tall steel perforated screen wall was planted with vines that will grow up and enhance the privacy of the yard, blocking the neighbor's very tall home. For such an urban setting, this residence feels very private.
Designed by briandillardarchitecture.com, the style of the house was an overarching inspiration for the outdoor project in terms of materiality and style. 'We chose a minimalist materials palette of limestone custom-cut Leuders stone, steel (left to oxidize and rust), pea gravel, and concrete to complement the architecture of the home,' says Amy Hovis of landscape designers Eden Garden Design.
Amy has noticed a big trend in reclaiming your alfresco space as a private outdoor living room. 'One of the most common problems homeowners have is privacy and screening. Once addressed, they can really freely use their outdoor spaces, and daily activities are elevated from morning coffee and yoga to outdoor dining and evening wine.'
3. Architectural simplicity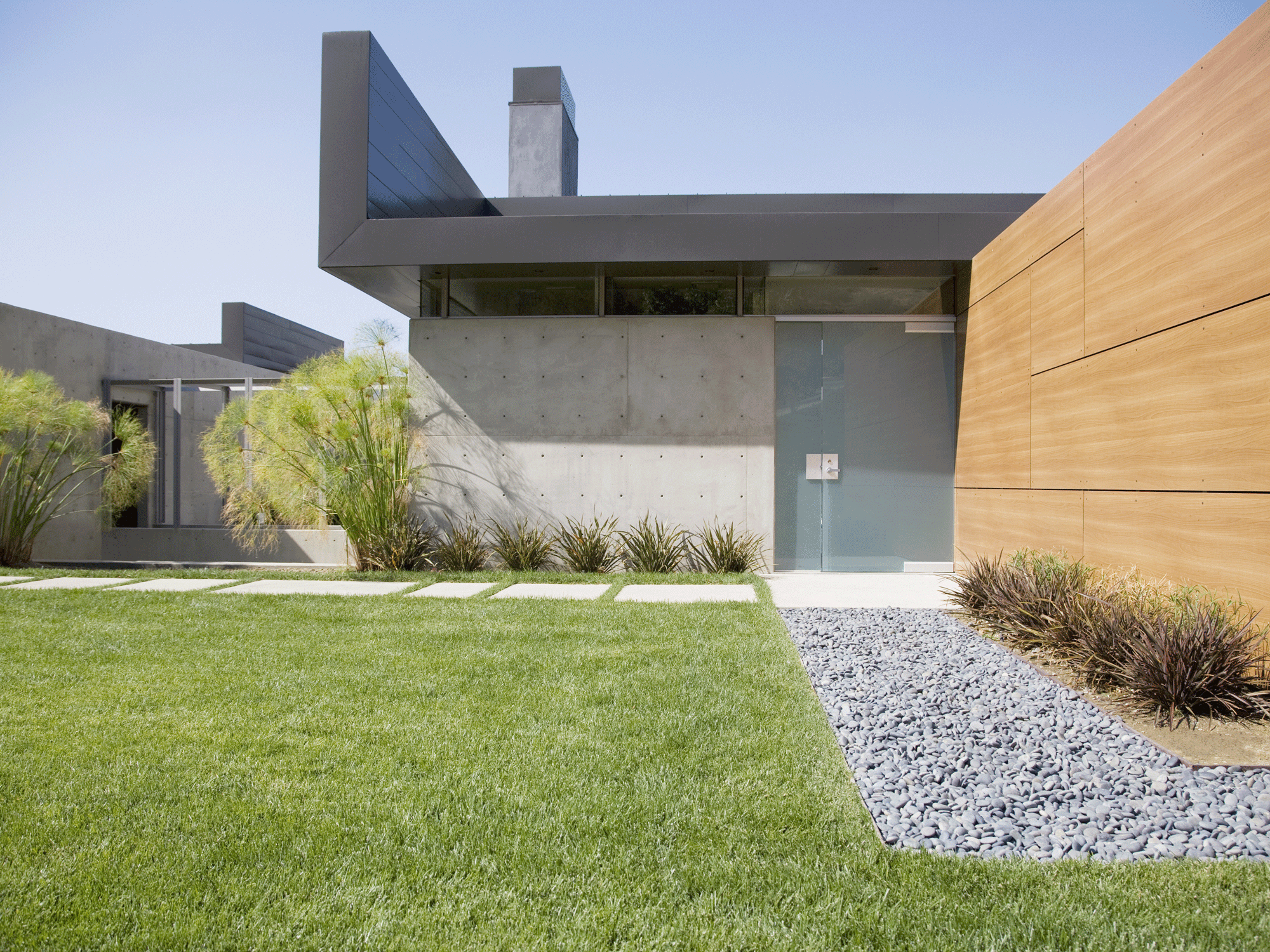 Currently there is a big trend in architectural landscaping for a general paring back of details in favour of letting one or two key design elements take center stage. This can be as simple as a well-chosen hardscaping material such as smooth natural stone used in combination with sculptural planting to add texture.
Get these basic design elements right and the rest will be easy as well as being a good long-term investment. 'A well-designed, highly-programmed backyard will include fencing, decks, and furniture, as well as landscaping elements, and will cost more than you think,' says Eugene Colberg of Colberg Architecture. 'However, a functional and beautiful backyard will serve as an extension of the home and add value and enjoyment for years to come.'
4. Deck rooms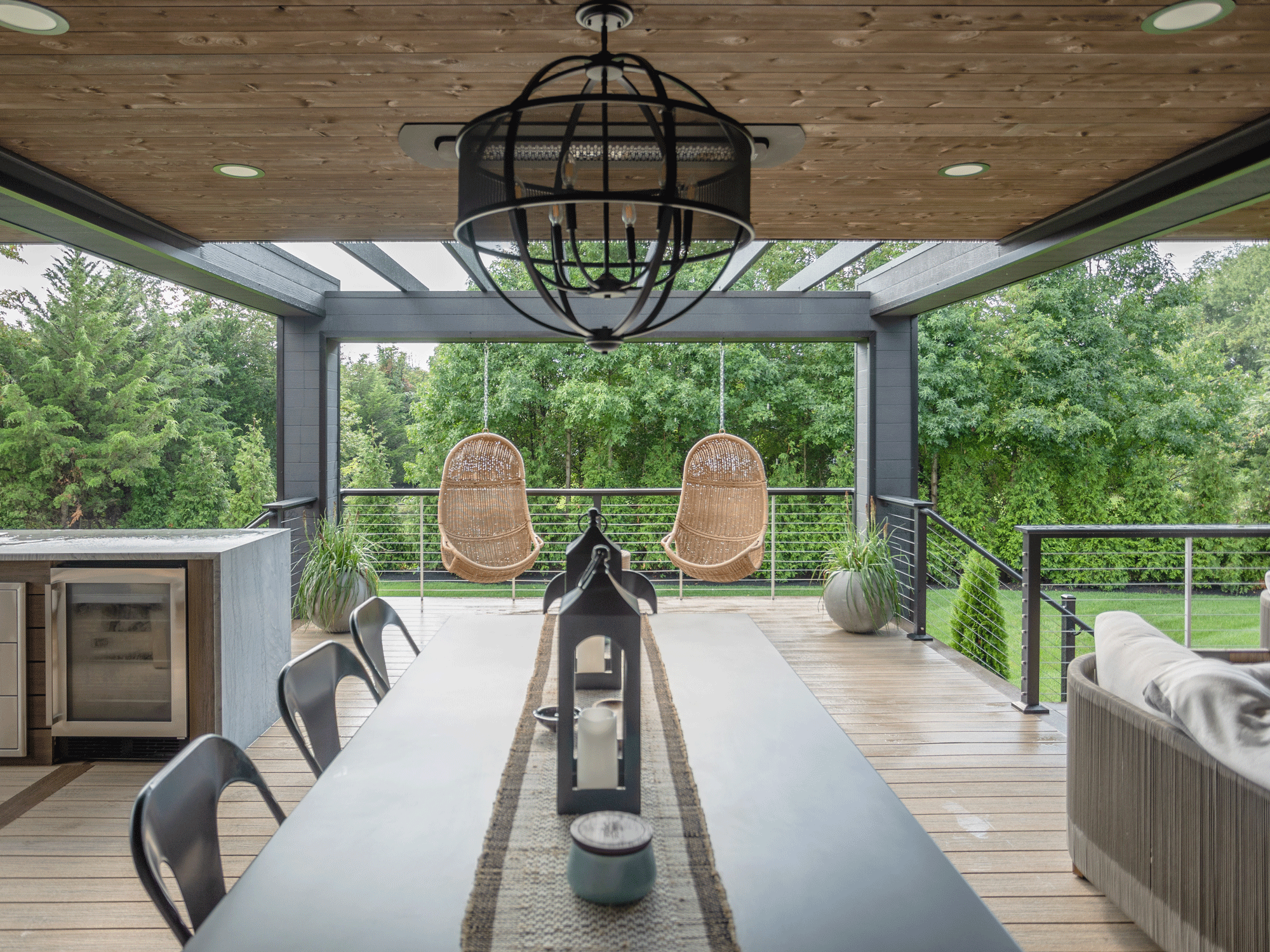 Builders and designers alike are helping homeowners maximize the liveability and flexibility of their outdoor spaces like never before, and this is most noticeable with the trend for covered deck rooms that provide year-round space.
'When considering the function of a deck space, quality materials are required that are going to live up to the demands of everyday outdoor living to create a seamless, holistic design that can still stand up to the elements,' says Michelle Hendricks of Deckorators.
This project in Marlton, New Jersey shows the trend of how homeowners want to invest in the liveability of their outdoor spaces. The main covered deck features a 32-foot open-span that includes an outdoor kitchen and living space complete with built-in ceiling heaters and sound system.
'With a covered deck there is a huge increase in the space's usability,' says Sean Collinsgru of Premier Outdoor Living. 'It offers shade and protection from the elements and, depending on the climate, a robust structure that increases the liveability of the space to 10 months of the year or more.'
5. Flex spaces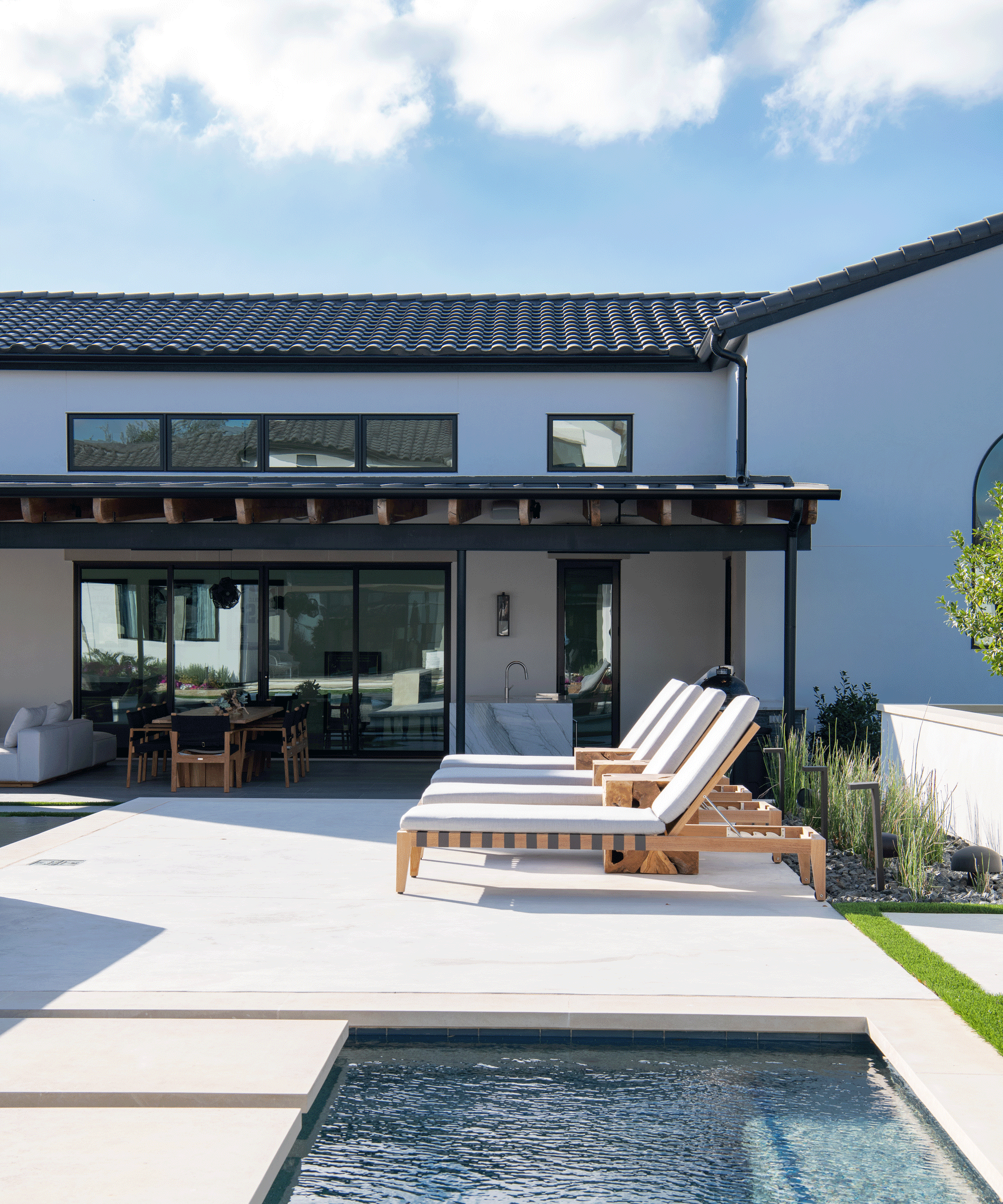 An urban yard may be small but with clever planning it can be switched around to become a multi-functional space. The ultimate goal for this modern Mediterranean style house, which is in Frisco, Texas, was creating areas that flowed into each other, minimizing boundaries for easy indoor-outdoor gatherings. The open area in the cabana serves as flex space for all and is used both day and night.
'The backyard resort is the focal point of this home design,' says designer Traci Connell. 'To cater to how this home was going to be used, we identified the benefit of having the kitchen and bar area seamlessly open to the backyard for easy indoor/outdoor entertaining. This was made possible by a wall of windows and large sliding doors at the back of the house.'
Maybe it's time to take a fresh look at your own yard to see if you're missing a trick. 'There's been a titanic shift in outdoor living design recently,' says Laurel Vernazza, home design expert for The Plan Collection. 'We're seeing better - not necessarily bigger - outdoor design improvements happening as higher inflation rates inspire homeowners to get the most out of their existing outdoor space, for less.'
6. Sunken rooms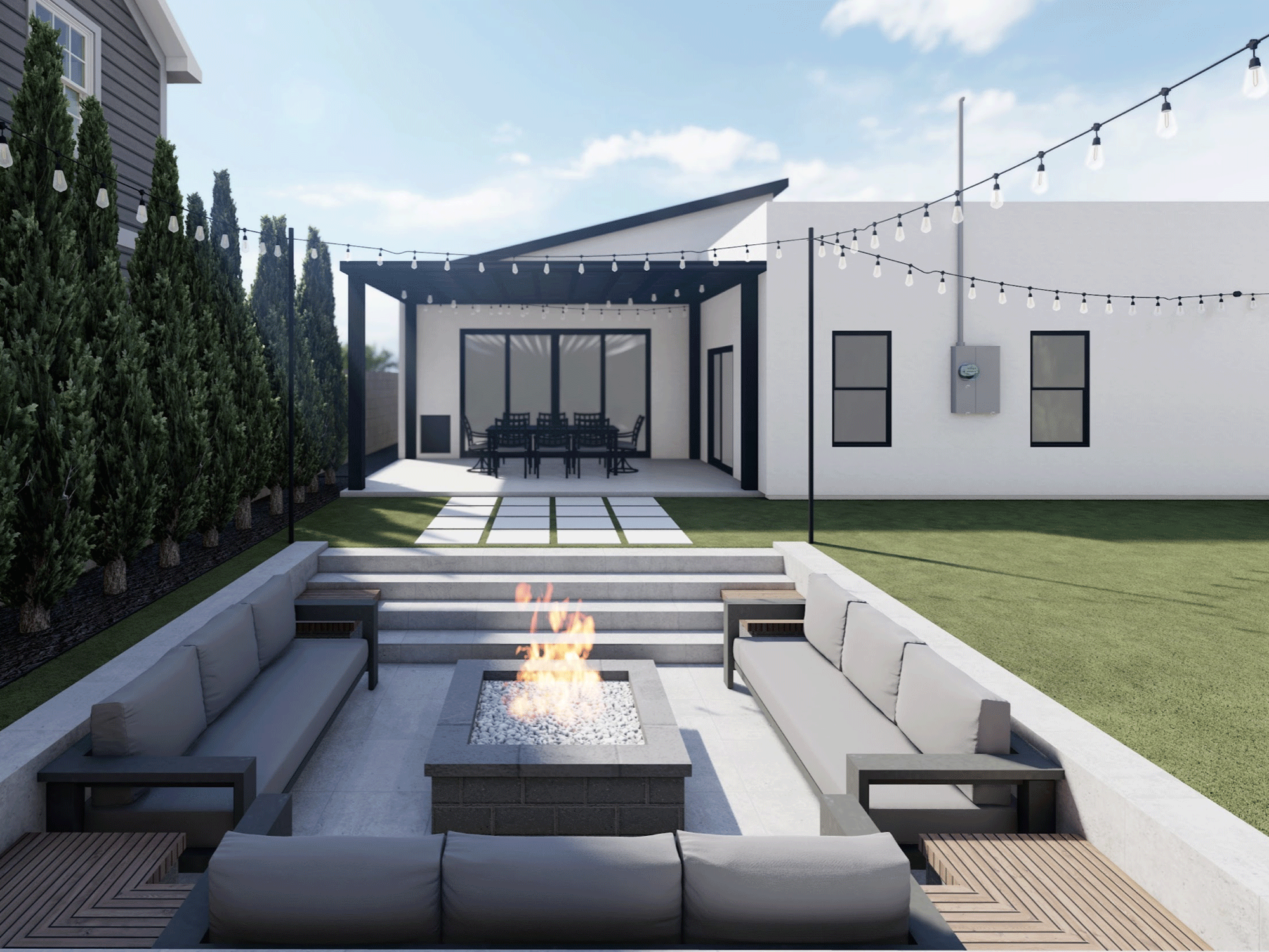 Sunken spaces are another way to create an outdoor room and can be designed in the ground or set into a deck. Adding a fire pit is essential for that gathering round the flames moment. We love the idea of making a space to nestle into.
This sunken conversation space in Phoenix, Arizona uses cool, neutral tones of black, white and gray in the design and materials. The top priority for the owners was a fire pit and entertainment area and this one works on so many levels, including being easily accessible from the house and separate outdoor dining space.
The owners were drawn to the idea of a sunken firepit space for the amount of room it afforded for seating and spacious built-in tables for drinks, as entertaining in their yard was a top priority. Summers are scorching in Phoenix, but the rest of the year is delightful for spending time outside and they wanted to make the most of this by adding a carefully planned space for gathering.
7. Landscaping with native plants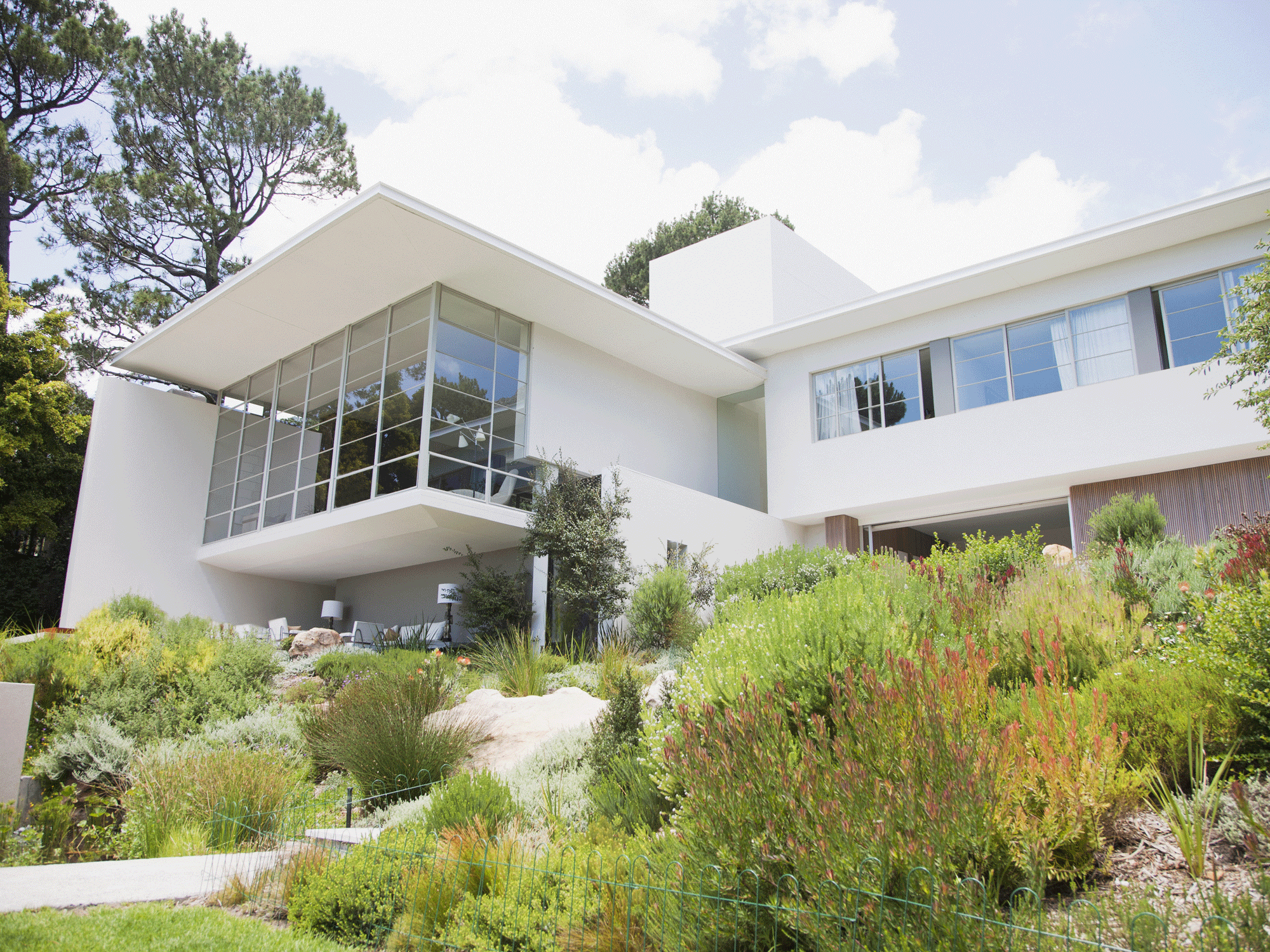 Xeriscaping is the buzzword among landscape designers and architects right now, with periods of drought now common in many states. It simply means choosing to dry garden with drought-tolerant native plants that are a natural fit as well as benefitting the environment because of the reduction in water usage.
'Xeriscaping is becoming more and more popular as homeowners look for ways to conserve water in their yards,' says Tom Monson of Monson Lawn and Landscape. 'It's a great way to reduce water use while still creating a beautiful outdoor space. With xeriscaping, you choose native plants that require less water and maintenance, and you can also include drought-tolerant grasses and ground cover.'
Sloping gardens like this one, where rain drains rapidly down, make especially good locations for xeriscaping. Choose to convert either your whole yard or select an area of water guzzling lawn or planting to replace with native plants to tap into one of the most popular backyard architecture trends in 2023.
8. Swim-up bars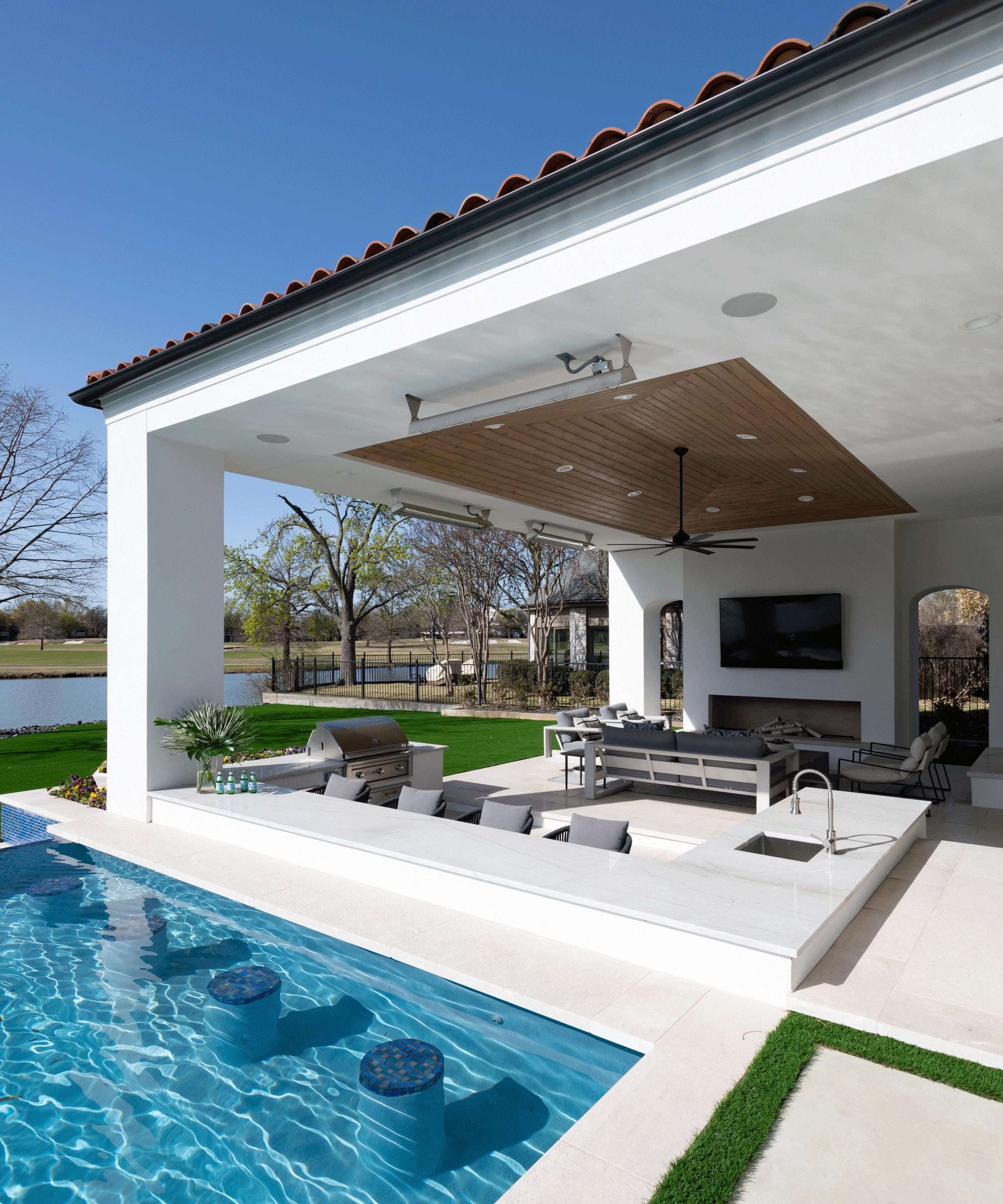 The pinnacle in backyard architectural design is one where all aspects of a luxury outdoor oasis and entertaining space are seamlessly incorporated, such as in this home in Dallas, Texas.
An infinity-edge spa pool and swim up bar leads to the fire pit terrace and patio seating area. The beautiful covered space can be enjoyed year-round, and also makes a great view out from the interior. 'One of the most important elements in the design was the view of the water from inside the house,' explains designer Traci Connell
Never underestimate the importance of comfortable places outside to dine and lounge as a key part of backyard architecture trends. 'Eating and entertaining are still top priorities for people with backyards,' says Eugene Colbert. 'You may see outdoor kitchens in the suburbs, where the yard is bigger. For an urban or brownstone home, you will see a grill area and seating area due to limited space, but still close to the home's kitchen.'
9. Vertical landscaping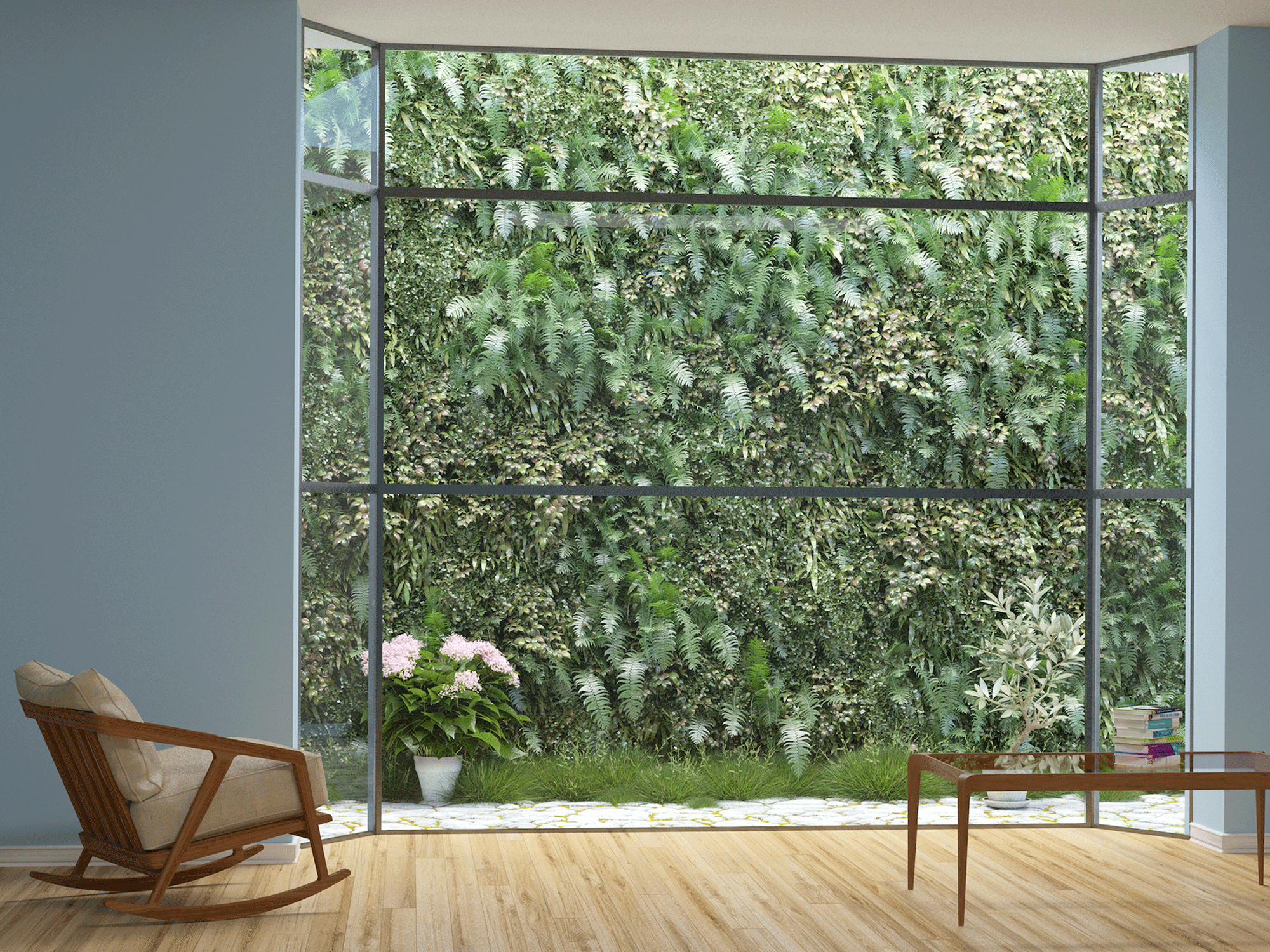 Vertical landscaping is an easy design solution where space is limited in urban developments. Lush living walls with no-hassle integral automatic irrigation systems beat looking out at neighboring walls and offer a form of vertical gardening that's both easily accessible and a design feature in itself.
'With house prices on the rise and limited inventory as well as space within houses, a lot of homeowners in 2023 are turning to vertical gardening or landscaping to maximize what they already have,' says interior designer and CEO of Renos Group Keith Melanson. 'Living walls are at the heart of this trend as people try to find the perfect way to maintain this type of garden.'
When it comes to choosing plants, you can count on a mix of Boston ferns, hostas, succulents like sedums, and grasses such as Carex oshimensis 'Evergold' (sedge). It's an easy way of landscaping with evergreens to add year-round interest and texture, and can be picked up in the interior too. Try an easy criss-crossing wire grid design on one wall, providing a support system for climbing plants to bring nature into the home while at the same time adding a visual link with your outdoor vertical garden.
10. Minimal natural stone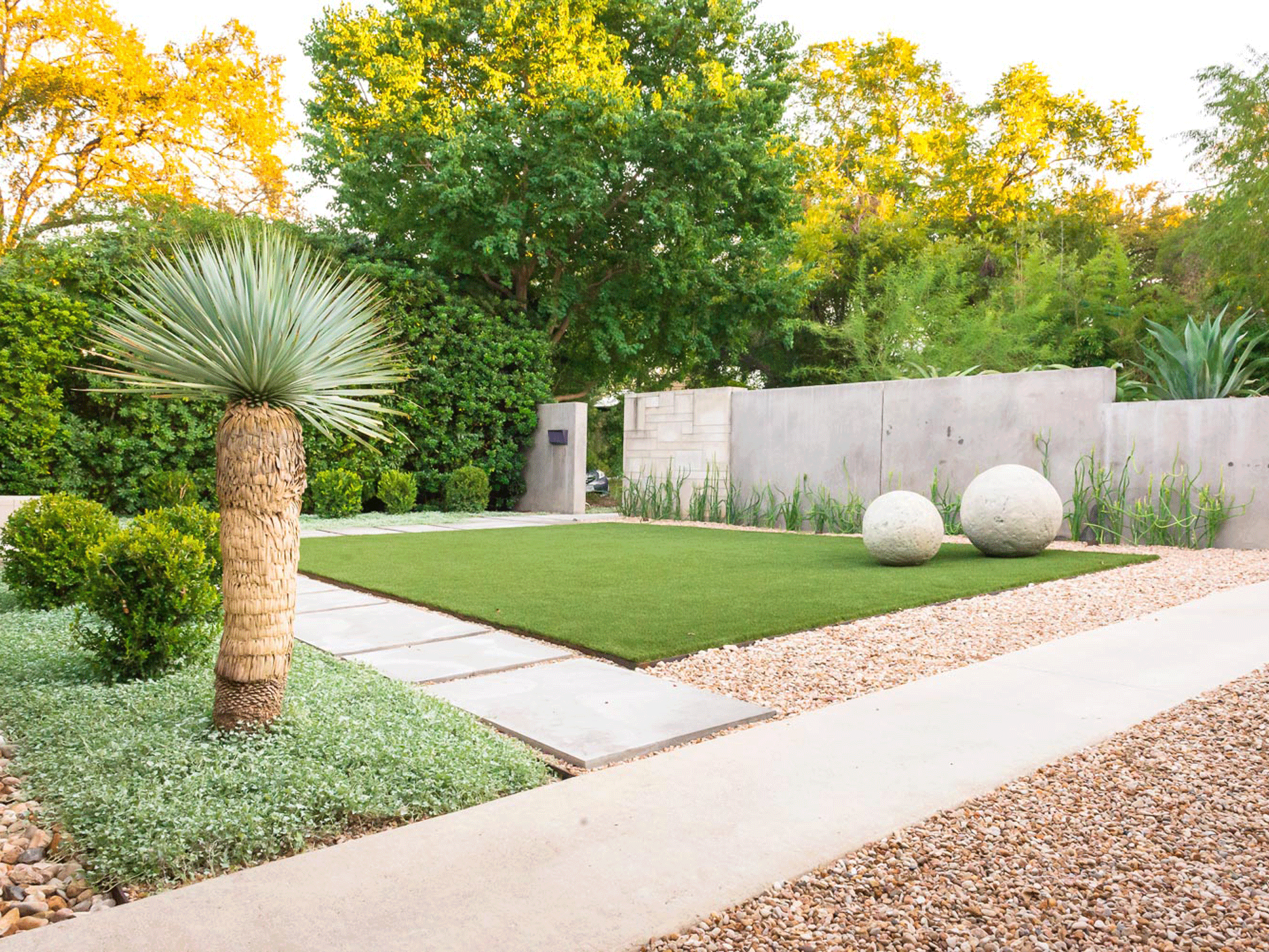 Natural stone is currently much in demand for its sleek good looks and we can certainly see the attraction. We're not the only ones. The owners of this property in Austin, Texas loved the walls so much they wanted to celebrate them rather than hide them and the landscape designers duly obliged.
'We wanted this landscape to be minimalist and modern in style so we practiced restraint with materials, placement and botanical palette,' say Amy Hovis of landscape designers Eden Garden Design. 'We used large spheres as stone sculptural elements to contrast with the dark green planting palette and also complement the wall.'
Although in an urban setting this residence in fact feels very private. The backyard showcases a mix of dense planting in lush hues and varied textures of green, silver, and white. Amy chose globed boxwoods to mirror the stone spheres surrounded by beds of Dichondra argentea (silver ponyfoot) to add a soft silver carpet. Pedilanthus macrocapus (lady slipper) makes a dramatic statement against the wall.
A specimen Yucca rostrata (Beaked Yucca) anchors the look, which is a perfect mix of the natural stone and evergreen planting style that is such a key feature of backyard architecture trends in 2023.
The Livingetc newsletter is your shortcut to the now and the next in home design. Subscribe today to receive a stunning free 200-page book of the best homes from around the world.
Lifestyle journalist Sarah Wilson has been writing about flowers, plants, and garden design and trends since 2015. Having already studied introductory garden and landscape design as well as a course in floristry she is currently adding to her list of qualifications with an RHS Level 2 course in the Principles of Plant Growth and Development. In addition to livingetc.com, she's also written for homesandgardens.com, gardeningetc.com, Modern Gardens and Country Homes & Interiors magazines.