A guide to sustainable materials – everything you need to know to be more sustainable in your design choices
Sustainable materials are the key to eco-friendly design, so use our guide to ensure you are making responsible choices when it comes to furniture, flooring, kitchens, and more...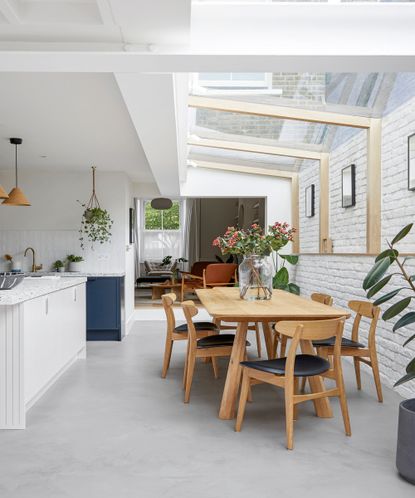 (Image credit: Anna Stathaki)
When it comes to choosing sustainable materials, there are plenty of options out there that are kinder to the planet but it's important to know the fact before you buy, know what to look out for and what materials to avoid. So we've asked the expert for their advice on how to pick out eco-friendly materials to furnish and decorate our homes responsibly.
'We have moved into a post-industrial era in which 'reduce, reuse, recycle' has become universally significant in the future of our planet and increased wellbeing at home,' says Simon Bodsworth, Managing Director at Daval Furniture.
'Using environmentally friendly materials in interior design has seen huge growth of late, and we are finding that the pure nature of 100% recycled furniture continues to lend itself to urban-inspired kitchens, which are sustainable and originally designed,' Simon says.
So which materials support sustainable living, how can you tell and how can we be making more eco-conscious decisions? Whether you are looking to add eco flooring or a sustainable kitchen, read our guide for our top tips.
A guide to sustainable materials
What are sustainable materials?
'Sustainably sourced materials are where nature replaces a raw material faster than (or in line with) the speed it is being extracted,' explains Anita Lo, founder of the second-hand online marketplace Clara's Box.
Therefore, natural materials like wood are often the most sustainable. However, recycled materials are also sustainable, as they do not rely on non-renewable resources, as are durable materials, as they have a much longer life and do not need replacing.
This means that materials like concrete, steel, and plastic are all sustainable if they are recycled rather than newly extracted.
What are the most sustainable materials to use in design projects?
'In order to be sustainable, it's essential that you check the materials used to make the piece,' says Anita. 'How the material is sourced and how it will decompose at the end of its life are important factors to consider.'
In terms of sustainable furniture: 'Look for natural fibers such as wood,' says Anita. 'Eco-friendly furnishings can also be made from easily renewable materials. Bamboo, for instance, grows quickly and can be easily replaced - making it an ideal renewable resource.'
'Using good design, there's lots of materials that are better for the planet,' says Tom Allen, co-founder of sustainable furniture company Grain. 'In terms of a list, cork, birch, oak (to an extent), steel and aluminum are all great materials for sustainability. However, if produced or sourced in a wasteful or harmful way could be very unsustainable. Do your research,' he recommends.
Common sustainable materials
'Materials like wood, natural stone and soft goods such as hemp, linen, and wool are all great solutions for a sustainable design,' says Kerrie Kelly, founder of Kerrie Kelly Design Lab. 'These materials also have organic, textural interest, providing a soothing aesthetic for interiors.'
She adds: 'When choosing materials for a sustainable design, focus on repurposing as many existing pieces as possible or using reclaimed materials such as wood. Doing this also makes for an interesting, historical story in your design.'
'Laminate solutions are helping to bridge the gap between style and substance,' says Matt Phillips, head of UK operations at Rotpunkt. 'Metal and timber effects are becoming the most versatile options for the modern, green-thinking homeowner.
'Laminate solutions are making the trend for hyper nature interior design a possibility, no longer needing an overweight concrete or marble slab to create impact and prestige,' Matt adds.
Innovative sustainable materials
From wool bricks to sustainable concrete to mycelium bricks made from fungus, new sustainable materials are being invented all the time.
'We are seeing increasingly the demand for sustainable materials which do not compromise on design quality and finish,' adds Andy Noble, spokesperson for CDUK, distributors of PaperStone, a new innovative material made from recycled paper but which is coated to look and behave like stone. 'Launching PaperStone is a pivotal moment for CDUK, by responding to our customer needs and diversifying our product offer we not only hope to provide beautiful solid surfaces but also ones which are sustainable and eco-friendly,' says Andy.
'Solar tiles instead of traditional solar panels, sustainable concrete made from slag, crushed glass and woodchips as well as paper insulation are great innovative building solutions,' adds Kerrie Kelly. Solar tiles are solar panels designed to look and function like regular roofing tiles, meaning your house can produce green energy and look good while doing it.
Recycled materials
'Why purchase recycled materials instead of new materials, or second-hand products?' asks Andrew Cussins, founder of bespoke furniture company Sofas & Stuff.
'Recycled materials in products can be a more sustainable choice than using new materials,' Andrew says. 'New materials require fresh raw materials to be sourced and created for the first time, rather than re-using materials ideally than can be recycled again at the end of their lives.'
As well as reducing pressure on our resources, recycled materials are a way to save energy that would otherwise be used to extract them.
'The latest furniture trends are embracing all of the new design possibilities being achieved when using recycled materials,' says Matt at Rotpunkt. 'Renewable wood alternatives will prove their worth next year as an eco-friendly option that does not sacrifice on style or quality.'
Recycled chipboard, for example, is also better for your health than virgin wood, as half the amount of the toxic formaldehyde is released into the indoor environment.
How can you ensure the materials you are buying are sustainable?
'Sourcing materials from responsible sources has never been as important as it is today,' says Paul McManus, from wood flooring provider Havwood's. 'Our top tip would be to always do your research before purchasing furniture or materials from any brand.
'Ask around and speak to others who have recently renovated their homes who may from experience be able to recommend certain suppliers,' Paul adds. 'Don't compromise. Make sure you're working with manufacturers or suppliers who share the same beliefs as you and can prove they are working with sustainably-sourced materials.
'When it comes to ensuring you are shopping sustainably for your kitchen we would also recommend considering the environmental and economic impact of your chosen materials, over its whole cycle from promotion to final disposal, recommends Nikhita Sejpal at AluSplash.
'Always do your research and think about using recycled materials and ensure that they are all using low to no VOC finishes,' says Nikhita.
'Always buy products with proof of accredited sustainability,' adds Andrew at Sofas & Stuff. For example, whether a product is locally sourced and contains natural components.
When shopping for wood, Kerry Kelly recommends: 'Look for the Forest Stewardship Council (FSC) certification that ensures that products come from responsibly managed forests that provide environmental, social and economic benefits.'
'Always look for credentials backing up so-say green and sustainable claims,' adds Daisy Brazil, co-founder of Planted. 'You want the cold hard facts here, which a truly eco company would have no problem openly giving you.'
Retailers who care about the environment will often have a dedicated page on their website explaining how they ensure sustainability throughout their production chain.
The most durable sustainable materials
'Durability is crucial,' says Anita Lo. 'Well-made furniture is made to last. There is less chance of it ending in the bin, which benefits the environment by not adding to landfill.'
'You need to be careful if you are going down the sustainable route that the furniture will fulfill your needs and is also built to last,' warns Matt at Rotpunkt. 'A kitchen made of conventional chipboard, for example, does not suit the sustainability zeitgeist, especially not a building that is built with sustainability in mind.'
Similarly, if you are designing an eco bathroom, for example, you should consider the durability of your chosen materials in a much-used, humid space.
However, if you do your research, you can find sustainable materials that are built to last. 'Rotpunkt's BioBoard Gen2 is the sustainable, green, and environmentally friendly alternative to traditional virgin chipboards – without sacrificing quality. It is made using chipboard that consists of up to 90% recycled wood,' says Matt.
The Livingetc newsletter is your shortcut to the now and the next in home design. Subscribe today to receive a stunning free 200-page book of the best homes from around the world.
Olivia Emily is one of the most exciting new talents in consumer lifestyle journalism. Currently finishing off a Masters in Journalism at the City University, London, she has quickly proved herself at being adept on reporting on new interiors trends. A regular contributor to Livingetc, she is brilliant at being able to decode information for our audience.