The new kitchen island lighting trend that changes what you thought you knew – designers explain how to get the look
Three is no longer the magic number and with this new kitchen island lighting trend the 'big light' is back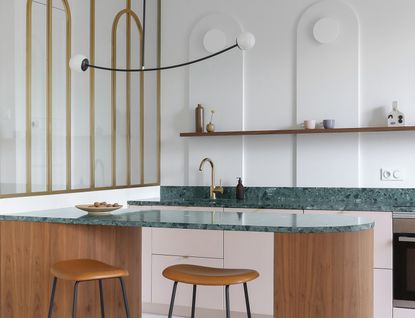 (Image credit: Heju)
The Livingetc Newsletter
For style leaders and design lovers.
Thank you for signing up to LivingEtc. You will receive a verification email shortly.
There was a problem. Please refresh the page and try again.
We've got a bit safe with our kitchen lighting, especially when it comes to kitchen island lighting. Sure, it's probably not the right space to get super experimental and decorative as you might in a living room or bedroom, but it does deserve a bit more... pizzazz than the go-to schemes and layouts we have all come accustomed to (trio of pendants we are looking at you).
So if you are planning a new kitchen, or just want to breathe some new life into your current one, consider being a tad more playful with your lighting. Modern kitchens are breaking from the norm of three pendant lights, giving kitchen island lighting more of a focus and making it a key element in the space rather than an afterthought.
An approach that's caught our eye is island lighting that does more than light a surface, it creates a focal point to the room, looking more like artwork than a light fixture. Essentially it's drawing the focus back to a single statement piece, or cluster of lights – it might not even be the main source, or used all that often (wall lights come into their own here) but just looks magnificent.
We've asked designers to share their thoughts on this emerging lighting trend, and offer expert advice on how to create a kitchen lighting scheme that gets that balance between aesthetics and practicality.
8 new ways to light your kitchen island
1. Make beautiful lighting the focus of the space
This gorgeous design by Nina Magon demonstrates the vibe we are after perfectly. Rather than just blending into the background, the lighting is the focus here, front and center. And for such big lights they give off such a warm glow rather than the harsh down light you so often get from traditional pendants.
'My favorite kitchen trend is the use of statement lighting pieces that can be used as both a functional and decorative element. By using these pieces, homeowners can create a unique and stylish atmosphere in their kitchen,' explains Nina.
'Additionally, statement lighting pieces can be used to draw attention to specific areas of the kitchen, such as a kitchen island or a breakfast nook. These pieces can also be used to add a touch of personality to the kitchen, making it a more inviting and enjoyable space. Therefore, statement lighting pieces are an excellent way to enhance the overall look and feel of any kitchen.'
'In this luxurious kitchen, we incorporated vertical slabs with striking veins of honey gold and smoky gray to complement the cream-colored cabinetry and brass elements. To add a touch of elegance, we included a chandelier and a trio of pendants comprised of pearl-like orbs. This dashing kitchen is further defined by its caramel-colored seating, chevron flooring, and cabinetry. We selected high-end designer furnishings and lighting to appeal to the client's elevated tastes, while still maintaining a sense of luxury without shouting labels,' adds Nina.
2. Mix a statement centerpiece with hidden downlighting
While we would love to get carried away with aesthetics, everything in a kitchen has to be functional too. So to balance out beautiful statement kitchen island lighting, you need another source (or two) working away in the background. Adding LED lights under kitchen cabinets, or even under the countertop of the island will ask the task lighting to compliment the accent lighting and won't draw any attention.
'For an Art Collector's Victorian home, we worked with London-based lighting designer Margit Wittig to create this jewel-like pendant above our client's kitchen island with a pyrolave worktop. The pendant light became another piece of art hung in front of the neutral kitchen cabinets,' explains Amelia Brooks of K&H Design.
'Good lighting will make or break an interior, so always consider the kitchen's orientation and natural light source before planning the lighting scheme,' says Amelia. 'It must work for all times of day and occasions. So as well as decorative lighting, we would always use recessed downlights and under-cabinet lighting for the practical daily running of a kitchen.'
3. Break from traditional formulas
For decades now, the go-to when it comes to kitchen island lighting is three pendants hung directly above the countertop, and feel it's a bit... done. Plus, more often than not it's not the most effective way to light your island as you get these very direct pools of light rather than a lovely overall glow.
'I think the number of pendants really depends on the size of your island. Sometimes one or two is more than enough,' explains designer Marie Flanigan. 'But kitchen lighting doesn't have to be incredibly formulaic as it's always possible to mix and match your lighting plan based on personal preference. If you're looking for alternatives to pendant lighting, I love incorporating a linear chandelier to consolidate and add interest to the space.'
'For this project, we loved the idea of a statement piece over the breakfast table. This David Weeks chandelier stays very close to the room's color palette, but the shape is unexpected and modern, which aligns with the home's design aesthetic.'
4. Create bold contrasts
Contrast is the key to creating a characterful space that has plenty of interest and depth, and in a kitchen, than can be tricky to achieve as there's often many spaces to add decor. However, lighting is one of the most straightforward ways to add this contrast, be it with colors, shapes, or materials. This dreamy marble kitchen designed by Heju Studio is the perfect example of how it's done.
'In this project, we wanted to make a nod to the arches and curves that we had multiplied throughout the apartments. The black lines of the pendant light also bring a graphic line and contrast while the rest of the kitchen is softer. It is always very important for us to have consistency even in the selection of lighting and decoration,' explains Hélène Pinaud of Heju Studio.
'It is really important to have a proper light above the countertop. We therefore prefer LEDs tubes hidden under the wall units in this area so it is really discreet or some wall lights if we don't have any wall units. On the other hand, above a kitchen island, we favor majestic and sculptural lighting in order to highlight it,' adds Hélène.
5. Balance bold and beautiful with practical
'We are always keeping our eyes open for vintage, unique pieces that we can bring into the kitchen. It adds a layer of interest while still providing useful lighting. We've really turned away from canned lighting or traditional hanging kitchen pendant lighting and leaned into a collection of semi-flush mounts, lamps, under cabinet lighting, and exceptional vintage pieces that can hang above an island.' explains designer Bradley Odom.
'In this kitchen, the materiality of the space was truly the star of the show. The oversized, waterfall island really highlighted the pattern of the stone. As such, we took a more modern, gridded approach with urban electric semi-flush mounts. It really centers the room and creates a beautiful moment.'
6. Use subtly sleek flush designs to open a space
'We typically always try to avoid hanging a classic pendant over an island. Overhead kitchen lighting is a great time to explore more creative options that are bespoke to the spaces needs and feel.' continues Bradley. ''For overhead, we try to keep it even but more decorative. A kitchen needs to be able to both be a workspace but also the center of a moody cocktail party. So for overhead, we try to find interesting, statement pieces with less directional lighting.'
'This space was flooded with natural light, so we really didn't need to provide an excess of overhead lighting. It was also right off the living room, so we wanted to keep the sight lines clear through the whole space which is why we opted for the sleek, polished look of flush mounts.'
'And layered lighting is crucial in the kitchen to keep its function as a workspace intact,' he adds. 'However, as most tasks are done on the outer countertops, we try to bring the light sources down to the level of the intricate work. This is why you always try to install under cabinet lighting. Incorporating a lamp is also an excellent way to add visual interest and intrigue while bringing that lighting source down to eye level.'
7. Consider subtle designs that still make a statement
Standout kitchen island lighting needn't always be something incredibly decorative or oversized, a sleek and minimalist design can often have just as much of an impact. If there's already a lot going on in your space, or if like with this open plan kitchen designed by Frampton Co it adjoins a more lived-in room, take a more architectural approach with your lighting designs. This slim linear design manages to both be barely there and draw the eye.
'The quality and aesthetic of lighting needs to be balanced throughout interior space. In this open-concept living area, we selected a highly decorative chandelier for the dining area, so it was important to create balance with the kitchen lighting. This slim, architectural design doesn't compete visually, and the controlled light source focuses light on the island surface,' explains Elena Frampton, principal of Frampton Co.
8. Combine a single pendant light with multiple sources for an all over glow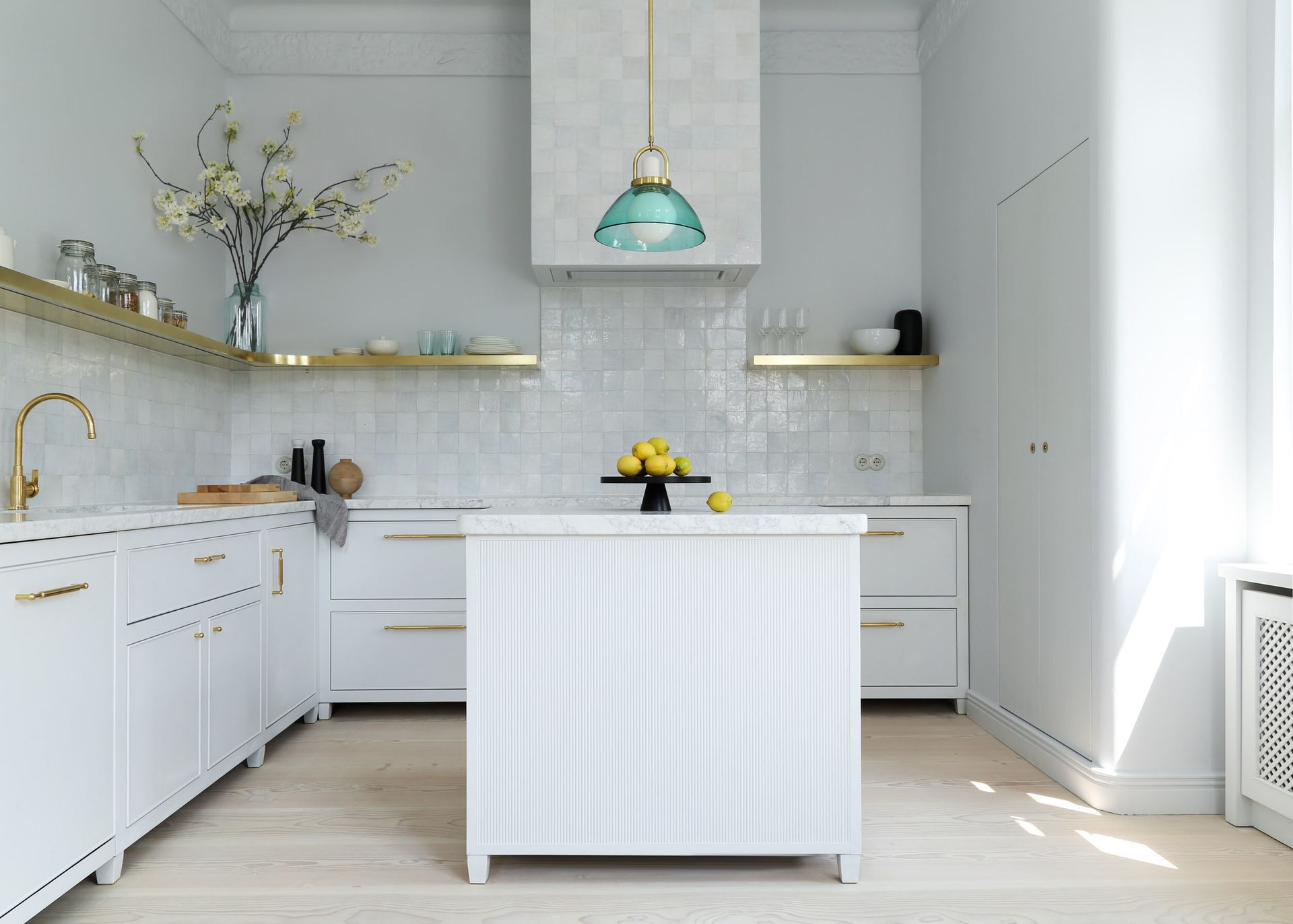 'For the most effective kitchen lighting, we like to use overhead lighting with LED lighting under shelves or wall-mounted cabinetry and lighting over an island. Sconces can be a nice addition stylistically, but we don't use them as task lighting. The goal is to illuminate your work surface and see what you're preparing. Some light sources can be paired back if the kitchen has great natural light.' explains Keren Ritcher founder of White Arrow.
'In this kitchen, we created a custom pale green pendant light with Allied Maker that defines the kitchen island. There is dimmable LED lighting routed into the custom brass cantilevered shelving. On the ceiling, we have several flush-mounted globes. We like the room to glow, be functional, and illuminate your work surface. Lighting should be proportional to the size of work surfaces and the scale of the room and ceiling heights,' she adds.
The best buys for this kitchen island lighting trend
For style leaders and design lovers.
Hebe is the Digital Editor of Livingetc; she has a background in lifestyle and interior journalism and a passion for renovating small spaces. You'll usually find her attempting DIY, whether it's spray painting her whole kitchen, don't try that at home, or ever changing the wallpaper in her hallway. Livingetc has been such a huge inspiration and has influenced Hebe's style since she moved into her first rental and finally had a small amount of control over the decor and now loves being able to help others make decisions when decorating their own homes. Last year she moved from renting to owning her first teeny tiny Edwardian flat in London with her whippet Willow (who yes she chose to match her interiors...) and is already on the lookout for her next project.