Home Gym ideas – 11 chic ideas that will make you look forward to your workout
11 stunning home gym ideas to help you transform your garage, basement, media room or even part of your bedroom into the home gym of your dreams.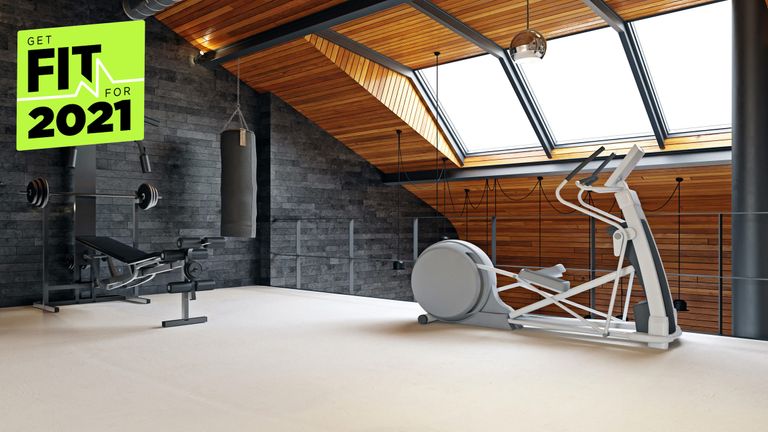 (Image credit: Future)
We've found the most stylish home gym ideas out there, to help you reach your fitness goals in style.
Even though the world may feel a little upside down, there really couldn't be a better time to invest in a home gym – especially with the uncertainly of when gyms will reopen, and how long they'll stay open for.
Aside from being the best option for your fitness – your home gym will never close, and it will be tailored entirely to you – it can also relieve stress, improve your mood, help promote restful sleep, and do wonders for your mental health. The perfect antidote to a stressful and chaotic day of juggling caring for your children, working full time and perhaps even home-schooling is treating yourself to a space in which you can shut off, unwind and work up a sweat.
Who knows, having a chic and well-designed gym at home could motivate you to reach those fitness goals once and for all.
Whether you've got a dedicated spare room to work with, a whole basement, or even just a corner of space in your media / TV room or bedroom, we've got you covered with these home gym ideas.
1. Coordinate colour and texture
Carly from NW3 Interiors designed this enviable home gym for her Hampstead home, paying close attention to colour scheme and texture. Soft, sanded parquet floors lay an elegant foundation, while stone and mole coloured walls create a warm and calming ambience. All of her gym equipment features natural materials; all dark brown woods and leathers. An exposed brick wall complements her choice in equipment, while giving the space a cool and funky edge.
Mirrors and lighting are also key to putting the finishing touches to any professional gym space. Mirrors can create the illusion of space, whilst ensuring you keep your form and perform your exercises correctly, by being able to see yourself. It is key to have the correct lighting too, so that you can create the right vibe and atmosphere.
Carly's gym was inspired by an inner-city style gym to make you want to work out, but be aesthetically pleasing to the eye too. See more of her home here Hampstead home here.
2. Add sporty stripes
For a super simple but effective home gym transformation, paint sporty stripes using masking tape, to create a retro, school gym inspired vibe.
3. Dedicate a corner and make it work
This striking master bedroom leads through to a home gym space, utilising a formerly unused area that connects with the balcony.
The home gym was given its own distinct personality with a calming grey colour scheme, soft accent light and leather details.
The bench – for doing exercises like sit ups – is leather-topped, and ties together with the boxing pillow. Built-in storage opens up to reveal accessories like dumbbells, skipping ropes and more.
4. Let it natural light
Gyms are sweaty spaces so you'll want to encourage plenty of ventilation as well as lots of fresh, natural light to put you in a lively and energetic mood. In the home gym below, a sky light lets in lots of light, while floor-to-ceiling Crittall-style doors allow this space to ventilate and link up to the rest of the home.
5. Consider creating a garden room or side extension
It can be hard to find a large enough space in the home to dedicate to creating the home gym you want. So why not build a garden room, or an extension into the garden? Aside from giving you the space you need and the privacy away from other family members, it also promises green views, better natural light and plenty of ventilation.
The below home gym sits in a sprawling country mansion in West Sussex. Aside from this stunning garden gym space, the home also features manicured gardens, tennis courts, 40 acres of woodland and a river flowing through the property, not to mention a heated indoor swimming pool, home bar, sauna, steam room, hot tub, treatment room, home gym, play spaces and even a zip wire. Explore it here.
6. Blessed with tall ceilings? Create a mezzanine gym
Perhaps you already have an indoor pool, or a games room, or a generously proportioned room which already serves a purpose. Maximise it by adding a mezzanine level – whether it's a balcony or an enclosed room – with views over the space down below to give the mezzanine natural light.
You can barely notice the glass balcony that wraps around the slim mezzanine gym below. It sits above a living area and shares views of the garden, while sky lights offer maximum natural light. While it's open and connected to the living area below, it feels private as it offers views down, but you can't be spied on from below.
This Georgian country mansion incorporates a light-filled home gym area on a mezzanine level overlooking the pool. Rather than keeping it as an open balcony, it was given a wall with windows instead, making it feel more like a room in its own right.
7. Decorate it as you would any other room in your home
Whatever your decorating style, and whatever the style of the rest of the home, take it into the home gym too. If you intend on spending time here – and inevitably spend it by staring at the four walls around you while doing exercise – then make it a space you'll enjoy being in. In this art-filled home, art adorns every wall – including the home gym.
Love bold colour? The below gym designed by Andi Yablonski of Tanner Hale Studio features a wallpaper by Elitis, which set the colour palette for the rest of the room.
Or how about Tommy Hilfiger's home gym, featuring his signature colour palette of red, white and blue? He commissioned designer Martyn Lawrence Bullard to fill Tommy's Miami home with pop art, bold colour and wild ideas – and Martyn delivered.
8. Create a sports room – for watching sports too
This TV den below was transformed into a sports room, dedicated to watching sports as well as playing them. There's an area for watching TV, and an area behind with exercise bikes, treadmills and dumbbells.
There are decorative touches too, like framed black & white prints of sports being played, and tennis rackets mounted on the wall.
Antiqued mirror glass and a classic wallpaper help create a more cultured setting for this grown-up den and work-out space.
9. You need less space than you think to install a swimming pool...
You might be surprised to know that you don't need a huge basement or empty space to install an indoor pool in your home. Just opt for a long, slim design that stretches from wall to window to accommodate your floor plan. If you can't make yours long enough for laps, install a jet that allows you to swim against the current in place.
In this stunning Hillgate home below, SHH Architects cleverly created a side extension into the garden to accommodate a slim, long swimming pool for doing laps in. After all, shouldn't a swimming pool count as a home gym, if it's a place in which to exercise?
The pool extension is directly accessible from the main house, while also opening completely to the south facing garden to make the best use of available sunlight, and create an indoor-outdoor feel during summer months. See more of this extension here.
Before you get started, you may want to read: How To Plan & Design A Home Swimming Pool: 7 Important Things To Consider
10. Add the finishing touch with a Home Spa
If space and budget allow, add the finishing touches with a home sauna, steam room and/or jacuzzi for some post-workout detoxing. In this Beverly Hills house, there's a stylish home gym and swimming pool with a home spa complete with sauna, steam room, shower and a marble jacuzzi – with fireplace and TV.
Meanwhile this former London hospital (now turned impressive family home) combines all three beautifully; a long, narrow pool for doing lengths, with a mezzanine gym that looks down onto it, and a home spa area just to the side, perfect for relaxing afterwards.
On a slightly tighter budget? Even just investing in a roomy rainy shower and a small sauna room can be enough to add a little luxury and de-stress after a long day, as this Surrey home proves.
11. Take it outdoors
Short on inside space? Take things outside, with a tennis court or basketball court to encourage outdoor exercise. This basketball court below was designed with teenagers in mind, and is lit up with neon lights.
For more basketball court inspiration just take a look at Michael Jordan's home and The Weeknd's home...
How much space do you need for a home gym?
For those with low ceilings and limited space, look at smaller/adaptable apparatus, as some strength training and cardio equipment can be tall 2.2m+.
Those looking for a fully functioning cardio and strength gym, you will ideally need space with at least 2.4m ceiling heights.
Not got much space at all? One piece of equipment we would suggest for those with limited space is a 'fitness wall'. This can incorporate hooks/bars to attach resistance bands, to attach a TRX or other suspension training apparatus, as well as varying 'built in' equipment like cable pulleys, battle rope pulleys or medicine ball rebounders amongst many others.
Another great option is to have a wall mounted folding squat rack for compound power exercises with an Olympic bar and weight plates for squats and other strength exercise patterns. A fitness wall can also support an angled sit up bench/beams that can also provide support for total body stretches utilising the varying bar heights. Some of the most elaborate requests we have had is for an indoor climbing wall and high end projects requesting disappearing equipment that retreats into a wall recess when out of use.
What flooring is best for a home gym?
Ideally you'll want a padded/rubber floor to absorb noise and keep equipment stable. One thing we have to take into account in built up areas, such as London, is that your neighbours are usually only a thin floor or wall away and so we must insulate and sound proof as much as we can. The typical rubber composite flooring option can be installed quite easily as long as your under floor is level.
What do you need for a home gym?
Before you invest in work-out equipment like a yoga mat, some dumbbells and maybe a treadmill or exercise bike, you'll want to make sure there's enough ventilation.
One of the most important factors is ensuring there is a steady flow of fresh air/air conditioned air, not only to keep you at an optimal temperature whilst working out, but to ventilate your space too ensuring a safe and effective workout environment. A lack of free flowing air can over time cause a musty 'gym' smell – not ideal! Keep the air circulating with either an air condition unit, or open windows and fans – and keep your space and equipment clean and well maintained too.
Lotte is the Digital Editor for Livingetc, and has been with the website since its launch. She has a background in online journalism and writing for SEO, with previous editor roles at Good Living, Good Housekeeping, Country & Townhouse, and BBC Good Food among others, as well as her own successful interiors blog. When she's not busy writing or tracking analytics, she's doing up houses, two of which have features in interior design magazines. She's just finished doing up her house in Wimbledon, and is eyeing up Bath for her next project.