Home decorating: Tricia Guild's guide to a confident scheme
Home decorating advice from legendary designer Tricia Guild OBE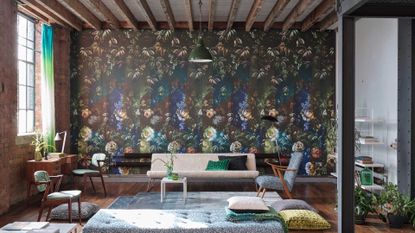 (Image credit: Designers Guild)
Stuck for home decorating ideas - or conversely, overwhelmed by the choice? Even if you love modern interior design and know your taste, it's good to get the insider take when it comes to decorating your home, or refining the details.
Tricia Guild OBE, Founder & Creative Director, Designers Guild, says "It's important to create rooms with a gentle spirit that puts us at ease". But how exactly do you achieve that, without making expensive mistakes along the way, or regretting a bold choice a few months in?
We've asked Tricia Guild, the doyenne of design, for further insight on how she does it. Read on for her advice on creating layered and confident schemes.
1. IDENTIFY YOUR PALETTE
When using colour, identify a palette of three or four shades and start to weave in patterns in this colour family.
2. CREATE A COUNTER BALANCE
Use confident tones, but always consider how they'll work with whites and naturals – a counterbalance to control the strength and provide a harmonious feel.
3. PLAN AT SCALE
Represent colours and patterns in the correct proportions on a mood board – we have a useful tool on our Designers Guild website that may help.
4. BE ABUNDANT
Don't be afraid of abundance. The mechanics of florals and how they engage with each other is what really makes a room perform.
5. USE COLOUR FOR IMPACT
Use intense colour in a small room and it becomes a jewel box; a beautiful surprise behind the door that brings an instant sense of joy. Intensify the tone of a palette to create a richer feeling – this is brilliant in bijou spaces where deeper tones work best.
6. GROUND THE SCHEME
Ground a room with rugs. Layer them to reveal certain elements of the designs, or overlap them to create a new shape.
7. BLEND TEXTURES
Blend textures. A home needs layers, so a deft mix of colour, pattern and texture will add personality and spirit.
8. SEASONAL SWITCHES
Swap linens for heavyweight velvets in colder seasons and vice versa. Add extra cushions and throws to create warmth, texture and depth.
9. TACTILE TEXTURES
Focus on the tactility of fabrics and consider small details, such as laying the table with linen napkins.
10. DON'T FOLLOW TRENDS
Don't follow trends – they're ephemeral, so always choose fabrics and colours that you really love and make you happiest.
See Tricia Guild's home or listen to our Home Truths podcast with Tricia Guild
Shining a spotlight on the now and the next in home design and decor, Livingetc is the UK's best selling high end and contemporary home design magazine. As a brand, Livingetc showcases the world's very best homes, breaks and makes the trends, and has access to leading international designers for insight and ideas. It was first published in 1998, and is currently edited by Pip Rich.