Inside a Victorian terrace house in northwest London that's decadent and dramatic
This show-stopping Victorian terrace house in northwest London is family-friendly and has an impressively stylish mix of sumptuous materials, luxe layers and edgy finishes
THE PROPERTY
A Victorian terraced house in northwest London. This modern home has a living room, kitchen, open-plan family room with a home office and dining room (with a bar area), plus a utility room on the ground floor. The main en suite and dressing room, plus another bedroom and bathroom are on the first floor. On the second floor is another bedroom and bathroom.
See more modern homes around the world
LIVING ROOM
Playful and dramatic. Decadent and moody. Sexy and a biteccentric. Elegant but a bit rock 'n' roll. This was the inspiration for the old-school English gentleman's club meets Seventies playboy chalet in Gstaad vibe that has been brought into this classic Victorian terrace house in northwest London.
In the living room, a huge disc chandelier injects a bit of Seventies rock 'n' roll to the mix of vintage and modern pieces, creating agentleman's club vibe.
The bookshelves heave with a carefully considered collection of antique leather and hand-painted clothbound books; tucked in between are pieces of vintage coral, framed butterflies and insects and old magnifying glasses. Two pieces of raw amethyst on the mantelpiece bring calm.
With its rich mix of tactile materials – velvets, silks, lacquered raffia and gold-flecked cork – juxtaposed with big sofas and cosy rugs, plus luxurious bathrooms and hints of warm metals, which help bounce light around each space, you can't help but get into the mood of the house. It's very seductive.
DINING ROOM
The house combines a clever mix of materials, with dark-stained oak parquet flooring, luxe brass and marble fittings and rich rugs that define separate spaces without sacrificing the open-plan feel.Here, different periods of furniture have been confidently contrasted with edgy twists with art, fabrics and finishes.
The playful yet polished look is down to the rich palette of luxurious fabrics, mirrored surfaces and brass finishes, with the oversized chandelier as a starting point.
See Also: Bright ideas - exploring colour in the dining room
KITCHEN
The kitchen was inspired by the look of Thirties Parisian pharmacies. The island was designed to look like a freestanding piece of furniture and the unlacquered brass brings warmth and depth to the space. The Forties circular light is the pièce de résistance.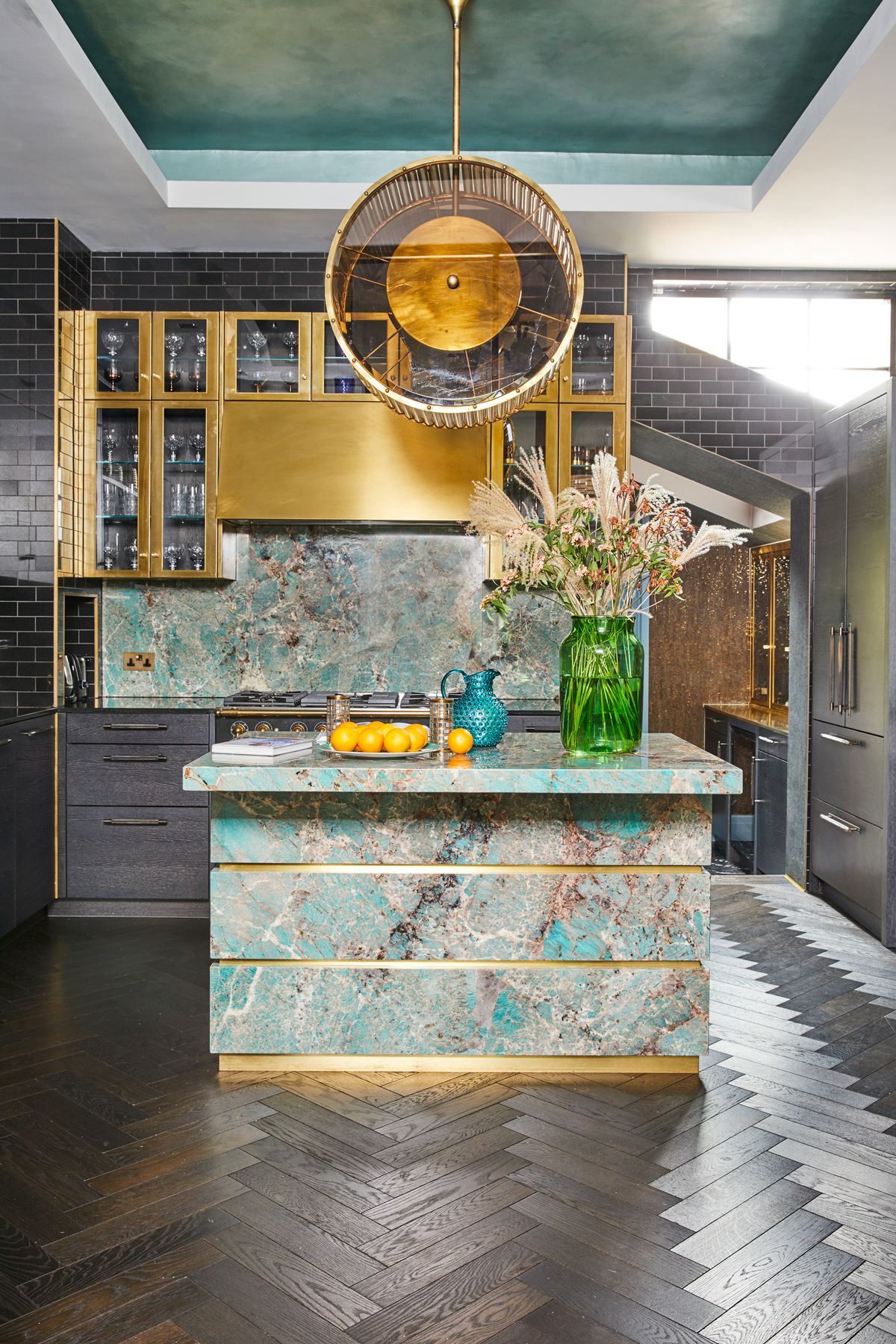 In the kitchen, with its glass and metal doors, the ceiling was raised just above the vintage circular light and a specialist painter was commissioned to create a moody sky scene – to tie with the colours of the adjoining living room and lend a feelingof space and infinity.
BAR
The home bar has purposefully been given an almost tongue-in-cheek Seventies look. Gold-flecked cork wallpaper on the walls and ceiling, mirror-backed bar units and shelves filled with vintage Seventies glasses inscribed with the owner's initials (found by chance on eBay) helped to create a small space with a big personality.
HALLWAY
The star-splattered stair runner contrasts brilliantly against the dark-stained oak parquet flooring and walls painted in a historic shadeof blue.
MAIN BEDROOM
The bedroom feels both masculine and calming.The luscious teal wallpaper with a bold border of white around the top keeps things light and airy.
MASTER BATHROOM
This bathroom is a place to totally disconnect, relax and indulge. There is a working fireplace, generous steam room and shower.
See Trilbey's work at trilbeygordoninteriors.com
Photography: Kate Martin
See Also: Master bathroom ideas - 19 stunning design ideas for a dreamy master bathroom

Shining a spotlight on the now and the next in home design and decor, Livingetc is the UK's best selling high end and contemporary home design magazine. As a brand, Livingetc showcases the world's very best homes, breaks and makes the trends, and has access to leading international designers for insight and ideas. It was first published in 1998, and is currently edited by Pip Rich.