Super cute - and easy for you to control - the best smart speakers for kids make parenting a little simpler
Enjoy music and stories with our edit of the best smart speakers for kids plus advice on what to look for when choosing an age-appropriate design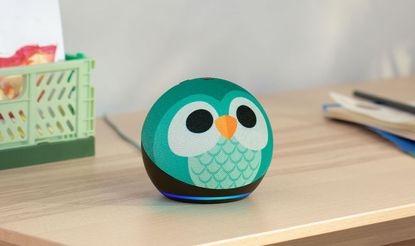 (Image credit: Amazon)
The Livingetc Newsletter
For style leaders and design lovers.
Thank you for signing up to LivingEtc. You will receive a verification email shortly.
There was a problem. Please refresh the page and try again.
All children love being able to request their own music or select a good audiobook, and that's what makes the best smart speakers for kids so attractive. Many of the latest designs come packed with child-friendly features and parental controls for peace of mind. More stylish and high-tech than you may think, the latest smart speakers for kids have been expertly crafted to deliver impressive audio quality. Some even rival the best smart speakers in terms of app control and functionality.
The best designs make it easy for kids to play their favorite music, listen to stories and podcasts and discover new content – all with useful parental controls so you can monitor the content remotely via an app on your smartphone or tablet. These not only allow you to check in on what your child is listening to but mean you can download and explore new content with them and remotely start and stop the speaker yourself.
Style is, of course, essential, and many of the latest speakers for kids are mindfully designed to blend into your child's room scheme but also look premium when they inevitably get left on your living room sideboard. The latest Amazon Echo Show (3rd Gen) Kids comes with a good-looking 'Galaxy' space design, for example.
But with so many choices, it can be tricky to know which smart speaker is right for your child's age group. That's why we've highlighted the best and most popular designs to buy online so you can pick a speaker to suit your home and house rules best.
The best smart speakers for kids in 2023
Best kids smart speaker with display
1. Amazon Echo Show (3rd Gen) Kids
Best kids smart speaker with display
Specifications
Assistant: Alexa
Dimensions: H3.2 x W5.8 x D3.6in
Weight: 16.1oz
Reasons to buy
+
Entertaining and educational
+
Good parental controls
+
Great all-rounder with a 5.5" touch screen
Reasons to avoid
-
You may not want your child using an internet-enabled device
-
Price
You'll either love or hate the thought of your child having internet access in their bedroom, but the Echo Show 5 (3rd Gen) Kids does come with useful parental controls. It's very similar to the standard Echo Show 5 smart speaker and comes with a 5" touchscreen display, but it comes with an eye-catching galaxy design and thoughtful parental controls.
The speaker provides a deep base and crisp vocals for excellent sound quality, and its compact design with the screen makes it great for kids to explore, learn and have fun in the process. They can use it to take control of their routines with Alexa and set up a morning wake-up alarm, turn off compatible smart lights and add reminders to their calendar.
It comes with a one-year subscription to Amazon Kids+ included in the price to give you access to kid-friendly videos, Audible books, and skills too. Kids can use Alexa voice control for instant access to music, audiobooks, and useful information when they're doing their homework. As it's an internet-enabled device, the downside is that you will need to keep a close eye on what your child is accessing, but the Amazon Parent Dashboard on your smartphone can be used effectively to set daily time limits, review activity, and filter content for up to four child profiles. Alexa is also designed to provide kid-friendly responses and can filter songs with explicit lyrics.
It comes with a camera and microphone – that can be turned off when not needed – but is also used to allow your child a little freedom to make video calls to parent-approved friends and family. You can also use this to 'drop in' with a call to your child's room to remind them it's time for dinner, which saves you from having to shout up the stairs.
Best portable smart speaker for kids
2. Yoto Mini
Best portable smart speaker for kids
Specifications
Voice assistant: N/A
Dimensions: 1.5 x 2.7 x 2.7in
Weight: 9.6oz
Reasons to buy
+
No screen or direct internet access
+
A wide range of audio cards available
+
Free daily podcast and family-friendly radio
Reasons to avoid
-
Price for the Yoto cards can add up
-
Content cards can bend if not treated carefully
Yoto Mini is a portable audio player that is ideal for traveling, as kids can simply insert cards to listen to content and enjoy up to 20 hours of wireless play. You can also buy Yoto headphones, a travel case, and an adventure jacket as extras to match the device too.
Much like the standard Yoto Player (3rd generation), the Yoto Mini has a simple pixel display to bring audio to life and is a great choice if you want to give your child access to stories and music without an LED screen or direct internet access. You will need Wi-Fi to set up the player and link to an app on your smartphone to control the device remotely, but once that's done, it's easy for kids to take control of the speaker to enjoy music and audiobooks themselves.
The Montesorri-inspired player comes with kid-friendly buttons to turn the device on and off, skip forward and back, change the volume, and play content. These features can also be controlled via the Yoto app on your smartphone, where you can make use of parental controls to set bedtime and wake-up routines and access the Yoto library to download stories and music too.
We love the free, family-friendly Yoto radio and daily podcast presented by Jake, who explores themes, shares jokes, and gives birthday shout-outs from around the world. What's more, the device can be used as a Bluetooth speaker when desired too.
You will need to pay extra for more content cards as you go or subscribe to Yoto Club for regular content, but there is a good mix of fact and fiction, music, and mindfulness audio to choose from too. The Yoto platform has original content and audio that has been licensed from partners such as Disney and Sony, Roald Dahl Story Company, and HarperCollins, for example. The fact book Everything Under the Sun has become a firm favorite in our household, as has Enid Blyton's The Magic Faraway Tree.
Best smart speaker for parental controls
3. Amazon Echo Dot (5th Gen) Kids
Best smart speaker for parental controls
Specifications
Assistant: Alexa
Dimensions: H1.7 x W3.9 x D3.9in
Weight: 10.7oz
Reasons to buy
+
Alexa control
+
Ideal for music streaming
+
Good parental controls
Reasons to avoid
-
No screen like the Echo Show
-
Design may be too gimmicky for older kids
The latest Amazon Echo Dot Kids is a great option if you like the idea of voice control but don't want to distract your child with a screen (like the one seen on the Echo Show 5 Kids).
The 5th generation Amazon Echo Dot Kids comes in a cute dragon or owl design and has a more vibrant sound and clearer vocals than its previous version. This means that both you and the kids can stream music and listen to audiobooks comfortably.
Included in the price is a one-year subscription to Amazon Kids+ that gives you instant access to a kid's audiobook library and interactive games. It's easy to set up over WiFi and pair with your Alexa app on your smartphone or tablet. Here you can make use of parental controls and set up skills for turning on alarms or playing some sleepy sounds for a bedtime routine. Alexa automatically gives kid-friendly responses and filters explicit songs, but you will need to check in regularly for peace of mind. There's also a microphone off button that electronically disconnects the microphone when it's not needed.
Kids can be fickle – especially older ones – so be warned that they may suddenly decide a cutesy owl or dragon design isn't for them. If you think there's a strong chance of that happening, you may want to consider something a little more sober in design – such as the Echo Dot (5th generation 2022 release), that has great sound quality and won't get hidden away in the cupboard when they decide the design is too childish. Also, consider the Echo Glow smart lamp that you can pair with the Alexa device so kids can control the color and brightness of the lamp using their voice.
Best smart speaker for younger kids
4. Toniebox
Best smart speaker for younger kids
Specifications
Assistant: N/A
Dimensions: 4.7 x 4.7 x 4.7in
Weight: 2.7lbs
Reasons to buy
+
Great for younger kids 3+
+
Easy listening and child-friendly control
+
Fun characters to collect
Reasons to avoid
-
Limited choice of stories
-
Cost of extra Tonie cards
-
Run time of Tonie story cards are shorter than your standard child's novel
The Toniebox is described by Tonies as a 'musical story box that brings magic to family life.' Great for younger kids, the design is fun and colorful and easy for children to use so they can listen to popular stories and music without access to the internet or a screen. Just squeeze an ear to change the volume, tap the side to switch chapters, or tilt to fast-forward or rewind.
You'll need to set up and create an account via the Mytonies app using Wi-Fi and make use of parental controls to stop and start the device. Then kids can simply pick up a Tonie character and place it on top of the box to enjoy listening to the story or song that relates to the character. This means it's great for on the go and comes with accessories you can buy as extras, such as a USB Toniebox charger, matching headphones, and a carry case.
Each box can be customized in a color of their choice, is bump-proof and therefore great for younger kids, and provides up to seven hours of continuous battery life on a full charge. And no cables means they can walk freely around the house with it. The stories and songs aren't as long as your standard audiobook novel, but all the favorites are there, such as The Gruffalo and Disney classics such as The Lion King.
We particularly love the 'Creative Tonie' included in the starter kit that lets you download existing content or record up to 90 minutes of personalized content – be it mum or dad telling jokes or singing a song. An adult will need to help set this up and download content, but once completed, all your child needs to do is place the Creative Tonie on the top of the Tonie box to listen. Tonie has also just launched a night light with an optional timer and soothing music that is perfect for those who need a little reassurance at bedtime.
Best smart speaker for teenagers
5. LG XBOOM XL5S
Best smart speaker for teenagers
Specifications
Assistant: N/A
Dimensions: 11 x 11.1 x 22.4in
Weight: 23.6lbs
Reasons to buy
+
Great for parties
+
Crisp and clear sound
+
Includes party lighting
Slightly different in its offering to the other smart speakers for kids we've featured in our round-up, the LG XBOOM XL5S Bluetooth speaker can be used by adults and enjoyed by teenagers and younger kids alike. It's ideal for children's parties, teenagers who want to let off some steam, or simply any time you want to fill the whole house or garden with music. Its rugged design has a comfortable handle, so it's easy to carry, while its water-resistant body can withstand water splashes.
With a powerful 200W output, there's nothing timid about its design as it blasts out sound and emits disco color. At the top of the speaker, there are also two 2.5-inch dome tweeters for clear and crisp sound, while its 6.5-inch Giant Woofer gives a satisfying bass that you can hear even at a low volume. The Dynamic Bass Optimizer gives you balanced sound without distortion, while 3.5 hours of charge will give you 12 hours of battery life – and that's perfect for an evening of entertainment.
Kids will love the built-in double strobe lighting and the multi-color ring lighting that helps to add to the party atmosphere and looks great when the lights are low. If you connect a mic to the back, you and the kids can enjoy singing your hearts out too.
How to make the most of the best smart speaker for kids
1. Make use of parental controls
Study the parental controls and find out if you can set daily time limits, review past activity and filter content for multiple children before you buy. 'The Amazon Alexa kids speakers have explicit lyric filtering, kid-friendly responses, and integrated bedtime stories,' says Anna Forbes, Smart Home Expert at Currys.
'Parents can pause and set a time limit for the speaker to control when it shuts down for the day. You can restrict certain content categories - such as specific apps or video content - whilst leaving unlimited time for reading-based activities. They also come with a Learn First feature where parents can block access to things like games and cartoons until after educational goals have been met. With Remote Activity Reporting, you can see what your child is spending their time on when using the speaker too.'
2. Security and privacy
When setting up your internet-enabled smart speaker, secure your account and network by choosing a strong password and two-factor authentication. Not all smart speakers come with microphones or a screen, but if they do, turn those features off when not needed. If possible, use app control to set daily time limits to shut the device down at a certain time. Each speaker brand will have its own security and privacy policy, so check before you buy. Find out about Alexa security and privacy here, for example, or read more here on how to stop Alexa from listening.
3. Set boundaries
Before your child starts using their smart speaker, it's important to set boundaries. If the speaker is internet-enabled and has a voice assistant involved, it is, of course, a good idea to chat with them about best practices and ensure they come to you should they come across any inappropriate content.
4. Think about durability
A great gift idea, the best smart speakers for kids come in a range of fun, child-friendly designs with fun color finishes and easy-to-navigate controls. If you think the speaker is likely to get accidentally knocked and bumped, choose a smart speaker with a durable and bump-proof finish that is more resistant to damage, knocks, and marks down the line. Water-resistant finishes are always a good idea too.
5. Choose a portable design
The majority of smart speakers we've included here (bar the LG XBOOM XL5S boombox, perhaps) are lightweight and designed to be easy to move around from room to room and plugged in or taken on travels. If portability is key, look for smart speakers with a rechargeable battery, such as the Yoto Mini that gives you 20 hours of play when fully charged and comes with insertable cards so kids can listen to audiobooks and other content without having to connect to the internet – ideal for long journeys in the car.
6. Useful accessories
Some smart speakers come with matching accessories you can buy, such as a travel case or adventure jacket. And don't forget to see if they have a headphone jack for a little quiet time when you need a break from the noise.
For style leaders and design lovers.
One of the UK's most respected tech and smart homes writers, Emily Peck also covers everything from interiors style to decorating trends. She is a contributor to Wired UK, and has also had a column in House Beautiful. She has written for publications such as Grand Designs, Stylist, Shortlist, Woman&Home, BBC, Ideal Home and House & Garden. She was once the Features Editor of Ideal Home.