How do I set up a smart home? These are the 10 steps to take to automate your house from top to bottom
Our tech expert outlines the 10 things you need to do to take your home from no-tech to full of the latest, most useful smart gadgets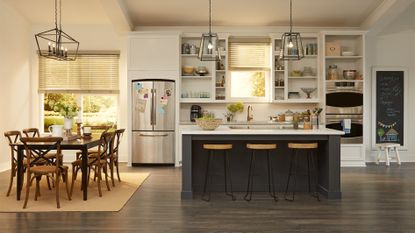 (Image credit: Signify)
The Livingetc Newsletter
For style leaders and design lovers.
Thank you for signing up to LivingEtc. You will receive a verification email shortly.
There was a problem. Please refresh the page and try again.
So, you want to set up a smart home, but don't know where to start – we've all been there, and you have to start somewhere. We're here to help, with some easy-to-follow steps to convert your house into a smart home.
Don't feel you need to do everything in this list, or that you need to do it all in one go. You might not want a smart thermostat or smart locks, and that's perfectly fine. The beauty of the smart home is that you can build it up at your own pace, and all but the foundational pieces of the smart home are entirely optional.
With that in mind, here are the ten steps to set up a smart home.
Alan is one of Livingetc's tech experts, with endless experience testing and writing about the latest smart tech. Here, he offers his best advice for setting up a smart home.
1. Fix WiFi notspots with mesh WiFi
It's a bit boring when you're itching to get your smart home off the ground, but the very first step is making sure your WiFi is up to scratch. Solid WiFi is the backbone of a smart home, and if you have WiFi not-spots in your home, you'll want to fix them so every product can sync in harmony.
Note that WiFi doesn't necessarily need to be super fast, but it does need to be reliable and reach every corner of your home. Consider investing in the best Wi-Fi extenders if that's not the case.
2. Get voice controls
The thing that really makes a smart home sing (figuratively or literally) is by adding in one of the best smart speakers, like the Nest Audio or Amazon Echo.
These brilliant devices not only function as radios and music players, but have built-in virtual assistants that can follow your voice commands, and control your smart home. Think "Alexa, turn off the living room lights" or "Okay Google, set the temperature to 68 degrees".
As for which virtual assistant you should get, that really depends on you. Google Assistant is widely seen as the smartest and good if you use Google Calendar, but Alexa has the widest support and Amazon Echo products are usually the cheapest smart speakers thanks to Amazon's big discounting power. If you're all in on Apple devices, meanwhile, then the Siri-powered HomePod also makes some sense, even if it has the least support overall.
Ultimately, it doesn't matter too much, but it's worth thinking about what you might connect next, because Ring is owned by Amazon, and Nest by Google. If you're dead set on one specific product, it's worth checking compatibility with the various assistants before you begin.
3. Add smart plugs everywhere!
It can be tempting to replace your old dumb tech with new smart versions, but that's not completely necessary. Smart plugs — plugs with built-in WiFi or Bluetooth — can make any device seem smart, by only supplying power when you ask via app or voice, or even when scheduled for certain times of day.
The possibilities are endless, but here are a few uses for smart plugs to get you started.
4. Sort your lighting
My favorite, most used smart home feature is my bedroom smart light. Being able to turn the light on or off from bed is not only neat in its own right, but has saved me from countless stubbed toes, given the light switch is all the way across the room.
The best smart light bulbs are not only controllable via Alexa/Google Assistant/Siri (it always pays to check), but can be set to millions of different colors too. Perfect for setting the mood for the kids' story time, or movie night.
5. Get a video doorbell and smart screen
Video doorbells are a big smart home favorite, letting you not only see who's at the door (or loitering nearby) at any time via an app, but speak to guests when you're not around. That's useful both for deterring thieves and telling the delivery guy where to leave a parcel.
The best wireless doorbells really come into their own if you have a smart screen, which will show a live feed of the door whenever anyone presses the doorbell.
(Note: This is one area where it pays to be brand loyal: if you've gone the Google Assistant route, you probably want a Nest Hello doorbell and a Nest Hub to monitor it. If you went with Alexa, you'll want a Ring doorbell and Echo Show.)
6. Up your security
Video doorbells only cover the front of your house, of course, but you don't have to stop there. There are various indoor and outdoor smart cameras that will keep an eye on your property when you're away, day or night thanks to built-in night vision.
The best wireless security cameras automatically respond to movement (and are smart enough to ignore pets) or sound, springing into life and uploading footage to the cloud, meaning intruders can't easily cover their tracks. Most have a two-way mic, so you can even give a would-be burglar a piece of your mind, if you like!
7. Control the temperature
A smart thermostat is a very handy addition to your smart home. Not only can you set the temperature from your phone from anywhere in the world (neatly letting you warm up the house just in time for your arrival), but the best smart thermostats learn your behavior and predict when you might like things a bit toastier.
While initially a pricey addition to your smart home (you'll want to get a professional to fit one, unless you're handy with home electrics), smart thermostats can prove to be money savers in the long run — especially with energy prices at an all-time high.
8. Lock it up