Best wireless doorbell: our pick of the best wire-free doorbell cameras and chimes for your home
The best wireless doorbells, from welcoming chimes to secure video recording systems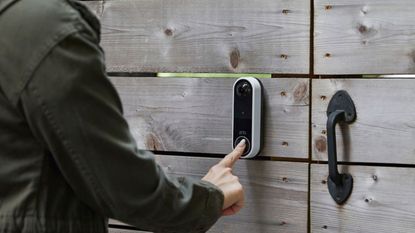 (Image credit: Arlo)
Whether you're interested in the live feed of your front porch, or you just want a more convenient way of screening couriers, the best wireless doorbells can bring a touch of convenience, personality, and security to your home.
These days a door knocker just won't do, but a wireless doorbell - often equipped with an in-built camera - offers your guests a proper welcome as they reach the front door. And, with smart doorbells like those on this list, you'll have that extra peace of mind that there is always an eye on the front porch even when you're not home.
The best wireless doorbells are a convenient, easy-to-use, and often very affordable DIY job, also seamlessly working in tandem with many other smart devices you have around the house.
For example, your new doorbell could potentially connect with one of the best wireless security cameras (opens in new tab) or an alarm, making it simple to incorporate it into a larger system.
Our top picks below include video and chime-only options, as well as something for homeowners and renters alike.
The best wireless doorbells in 2022
1. Ring Video Doorbell (2nd Gen)
Best wireless doorbell overall
Specifications
Type: Video
Resolution: 1080p
Works with: Alexa, Ring
Dimensions: 4.9 x 2.4 x 1.1in
Reasons to buy
+
Good video resolution
+
Can be wired if preferred
+
Good price
+
Works with Alexa and other Ring security products
Reasons to avoid
-
Older Ring model (but you will be able to access newer features of the Ring app)
-
Battery cannot be removed for recharging without taking whole device down
If you want a more affordable Ring doorbell, and one that doesn't scrimp on the connected features of the more enhanced models, the standard Ring Video Doorbell (here we're specifically speaking about the 2020 model) remains a great option. Like its stablemates, it can connect to smartphone apps for remote video coverage, while also integrating with Amazon Alexa for smart home control, and retains the rechargeable battery form factor that allows it to be wireless.
Features
It may be cheaper, but that doesn't mean the Ring Video Doorbell (2020) is any less accomplished. Like its pricier brethren, it offers 1080p video capture, Wi-Fi connectivity, and Android and iOS app support for observing your door and notifications when motion is detected or a doorbell is pushed, letting you view what's going on from afar.
Installation is easy, and the camera does a good job of distinguishing motion between approaching humans and, say, passing cars. Alexa routines can be programmed to work with the camera too, letting you make your connected lighting, for instance, work in tandem with the Ring's own security features, such as night vision.
While its Wi-Fi isn't as powerful as some models, and it doesn't offer the same pre-buffered video as the Ring Video Doorbell 3 Plus, for most people this will get the job done nicely.
Non-removable battery
The main drawback for this cheaper model sits with its battery, however. While it can optionally be wired into a wall to the mains, its wireless nature relies on its internal battery. Unlike other Ring products, it can't be removed and replaced with a backup battery, meaning that between every 6 to 12 months, you're going to have to remove the whole doorbell and bring it inside for a charge.
That's not a huge inconvenience but does undermine the point of an always-watching security-focused device. And yes, you guessed it, if you want to keep an online record of what the 2020 Ring Video Doorbell captures through its camera, you're going to have to sign up to the company's subscription service for online storage.
Livingetc rating: 4.5 out of 5 stars
Best wireless doorbell for video quality
Specifications
Type: Video
Resolution: 2K
Works with: SmartThings, Alexa, Google Assistant, Arlo
Dimensions: 6.5 x 1.3 x 1.8in
Weight: 0.25lbs
Reasons to buy
+
Built-in siren
+
180-degree diagonal viewing angle
+
Pre-record messages and take messages from visitors
+
Can be hardwired if preferred
+
Works with Alexa, Google Assistant, and other Arlo security devices
Reasons to avoid
-
Some features require Arlo Secure subscription (3 months included)
-
Chime not included
-
Expensive
The Arlo Essential Video Doorbell can either be hardwired or run on battery power, giving you more choice about how you use it. It also gives you extra insight into what (or who) is at your door, with a 180-degree diagonal view that lets you see more.
Recorded messages
Probably the best feature of the Arlo Essential is the ability to both leave and take messages. So useful for when you're not going to be home (or when you've got your heart set on a long weekend bath), you can leave a quick voice note for any visitors or delivery people to tell them where to leave a package.
And they can also leave their own messages for you to listen to at a convenient time - super handy!
More security
Arlo has built a siren into the doorbell, which is something it boasts over the ranges from Ring or Google, and you can either set this to activate automatically or manually through the app. Arlo Secure (free for 3 months, then about $3/m) also gets you cloud recording, advanced object detection, and custom activity zones.
Livingetc rating: 4 out of 5 stars | read our full review of the Arlo Essential Video Doorbell
3. EUFY Video Doorbell 2K
Best wireless doorbell for security
Specifications
Type: Video
Resolution: 2K
Works with: Alexa, Google Assistant
Reasons to buy
+
Brilliant 2K video
+
Video footage is stored locally, so no extra fees
+
Works with Alexa and Google Assistant
+
Can be wired if preferred
Reasons to avoid
-
You'll need to find space for the base unit/chime
-
Expensive
An option for those who want to look beyond Google and Ring, the eufy Wi-Fi Video Doorbell comes recommended for the security-conscious.
How it performs
Straight away, one big thing the eufy doorbell has going for it is local storage on a memory card, meaning you won't need to spend more on a cloud subscription as many other models require. There's also a chime included within the accompanying base station, so you won't have to rely on your phone notifications.
It's completely wireless, taking away a lot of the fuss involved with installing wired doorbells, and will work with both Alexa and Google Assistant if you want to hook it up to your smart home.
Anything else?
Video footage is shown in a 4:3 square aspect ratio, which allows you to see more of your porch area while looking slightly wrong on a phone screen.
Livingetc rating: 3.5 out of 5 stars
4. Google Nest Doorbell Battery
Best wireless doorbell from Google
Specifications
Type: Video
Resolution: 1080p
Works with: Google Assistant
Dimensions: 6.2 x 0.9 x 1.8in
Weight: 0.45lbs
Reasons to buy
+
Good video resolution
+
Can be wired if preferred
+
Works with Google Assistant and other Nest devices
Reasons to avoid
-
Doesn't work with Alexa
-
Optional subscription required for some features
For years Google's offering in the smart doorbell arena consisted of the wired Nest Hello, but now Nest users have the Google Nest Doorbell Battery - a sleek and cutting-edge video doorbell that doesn't require any hardwiring.
Slim-fitting
The most striking thing about the Nest Doorbell is how slim and high-end it looks. While many doorbells - including those on this list - still, unfortunately, stick out like a sore thumb on the average front porch, this will look inconspicuous to anyone except those actually coming to visit. The wire-free element also means you can mount it pretty much anywhere you want, from the garden gate to the back door.
Alexa users need not apply
Sadly, the rivalry between Google and Amazon's Ring means that the Nest Doorbell battery isn't compatible with Alexa, Echo smart speakers, and displays, or Ring security devices. Of course, there are plenty of great options that will work with the Google doorbell, but those who already use Alexa as their smart home hub will come up against some roadblocks.
5. Avantek Wireless Doorbell
Best chime-only wireless doorbell
Specifications
Type: Chime
Works with: N/A
Dimensions: 7.8 x 4.1 x 2.3in
Reasons to buy
+
Very affordable
+
Easy to set-up and use
+
Includes 52 different chime sounds and LED flash
Reasons to avoid
-
Does not include video feed, camera or microphone
Perhaps you've already got a security camera at your front door, or find the thought of surveillance all-around your home a bit 'Big Brother' like for your taste. The Avantek Wireless Doorbell is a simple but effective wireless doorbell that can be set up in minutes and offers melodious doorbell chimes around your home, without breaking the bank.
Features
There are three main components to the Avantek model – the outdoor, battery-powered bell itself, and then two powered receivers that ring when the doorbell is pushed. With the outside component powered by a removable watch battery, the trio can effectively cover a 400m range, giving your whole home coverage for when the doorbell is pressed.
That doorbell is protected from the elements by an IP55 waterproof casing and can run for three years off its battery, placed on your wall either by an adhesive pad or an included screw mounting system.
The ringing receivers themselves offer 52 different tunes that can play when the doorbell rings (and LED flashes for the hearing impaired), and have five volume levels – one reaching a ridiculous 115 decibels, which Avantek says is similar to a full-blown rock concert!
Not so smart
The main drawback of the Avantek model compared to the options above is that it lacks smart home functionality. There's no camera surveillance, and it can't be integrated with Alexa, the Google Assistant, or Apple's HomeKit for connected monitoring of your home from afar. It's superb in its simplicity, but might be a little too traditional for the tech fans in your home.
How to choose the best wireless doorbell for your home
Will my wireless doorbell work with Alexa/Google Home?
Compatibility with your smart home hub will depend on the wireless doorbell you buy, but, generally speaking, Ring doorbells will always work with Amazon Alexa smart speakers and displays. The same goes for Ring Alarms and other security products, as they all come under the same banner.
Similarly, Nest products come from Google and so will work well with a Google-branded doorbell. Anything else will vary, so it's important to check before buying.
Once set up, we absolutely love how some of the best wireless doorbells work with smart displays such as the Echo Show or Nest Hub, allowing you to see what's going on outside from the comfort of your kitchen or bedroom. For more on this, take a look at our guide to the best smart speakers (opens in new tab).
Are video doorbells safe?
Many are concerned - and for a good reason - about the security implications of essentially strapping a surveillance device to the front of your home, but there are many protections in place preventing things from getting dystopian.
We would recommend going for a well-known brand so as not to fall foul of a device that's more vulnerable to hackers, set a strong password when signing up, always download software updates when they are released, and make sure all settings are correct for your needs.
All this said smart doorbells could actually form an essential part of a home security system, adding an affordable camera that can detect motion and send alerts directly to your device when something untoward is going on.
Are wireless doorbells worth it?
Whether you opt for a chime-only doorbell or a smart video doorbell that doubles as a security device, you may be wondering whether investing in a wireless doorbell is actually worth it? After all, a traditional ringer has served you well up to this point.
Wireless doorbells offer convenience, first and foremost, allowing you to place your device pretty much anywhere (as long as it's within the vicinity of your Wi-Fi signal or indoor chime). This, combined with the smarts of modern releases from the likes of Google and Ring, makes the best wireless doorbells an affordable way to incorporate your front door into a wider smart home system.