Best smart doorbell: the best wireless video doorbells for your home
The best smart doorbells, from welcoming chimes to secure video recording systems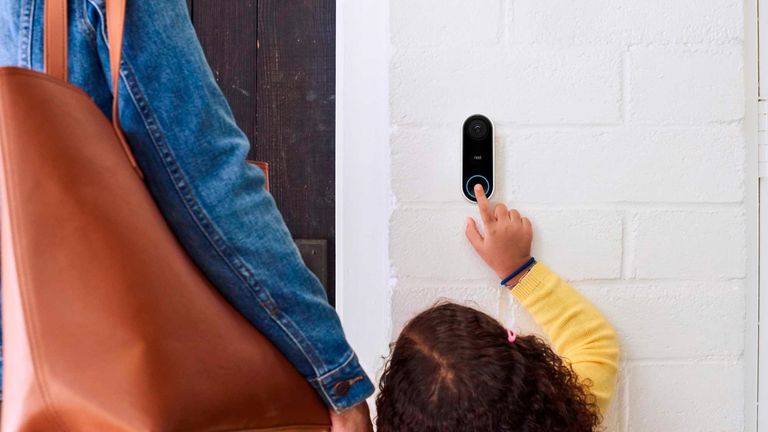 (Image credit: Google)
Whether you're most interested in a futuristic video feed or a more convenient way to field couriers, the best smart doorbells can bring a touch of personality – and security – to your home. 
When a knocker just won't do, a smart doorbell can offer your guests a welcoming chime as they reach your home, or a useful intercom for delivery workers in an age of social distancing. And, with camera-equipped doorbells, you've the peace of mind that there's always an eye on your door, whether you're there or not.
Smart doorbells are a convenient, simple-to-install and often affordable DIY job for your home, letting you improve how audible a guest at your door is from any corner of your castle.
Our top picks here are include both wired and wireless options, meaning there's something for renters and homeowners alike. And if you're looking to really boost the safety of your home, check out our guide to the best home security systems.
The best smart doorbells 2021
Best smart doorbell overall
Specifications
Connectivity: Wi-Fi
Smart assistant support: Alexa, IFTTT
Camera: 1080p, 160 degree FOV
Storage: Cloud
Reasons to buy
+Sharp video+Alexa smart home support
Reasons to avoid
-No Apple HomeKit or Google Assistant support-Subscription needed to view stored video
Installed in minutes, capturing sharp HD video and even offering motion detection, the Ring Video Doorbell 3 Plus is our top pick for the best smart doorbell you can buy today. It's not the cheapest on the list by a long shot, but its overflowing feature list makes it more than just a doorbell.
How it performs
With a full 1080p resolution camera, the Ring Video Doorbell 3 Plus connects over Wi-Fi, and can work alongside your Amazon Alexa voice assistant, letting you use devices like the Amazon Echo Show (as well as your phone, of course) to see who's at the door and speak to them, or trigger a hallway smart bulb to light up once the buzzer is pushed.
Night vision functionality lets you get a look at your guest even in low light, with pre-roll motion-triggered video letting you see who's coming to the door before they've even buzzed. There's even a separate solar charger accessory you can get to keep the battery charged – well, in places where the sun shines, at least!
Anything else?
Its biggest drawback however is that its recorded video (not the clips you see live as someone is at the door, but those it captures in the background that are useful for security purposes) require a separate subscription. It's an additional fee that you have to factor in, but adds extra peace of mind without the need for a separate security camera.
Livingetc rating: 5 out of 5 stars
2. Nest Hello
Best wired smart doorbell
Specifications
Connectivity: Wired
Smart assistant support: Alexa; Google Assistant
Camera: 1280 x 1080
Storage: Memory card
Reasons to buy
+Easy to use app+Google image quality+Extra features include facial recognition
Reasons to avoid
-Has to be wired in-Subscription required for some features
The top offering from a brand other than rival Ring, the Google Nest Hello is a fantastic option that's recommended for homeowners who don't plan on moving anytime soon. It has to be wired in, but this comes with its own benefits like never having to recharge the batteries.
How it performs
One of the best things about the Nest Hello is its cross-platform compatibility, meaning it will work with Google Assistant products as well as Alexa. This makes it more accessible for those who already have a smart home set-up that they want their new doorbell to integrate with.
The 2K video feed allows you to see pretty much your entire front porch, with visitors visible from head to toe. You can also send pre-recorded audio messages to the doorbell (such as instructions on where to leave a package) should you not want to answer the door at that moment.
Less good is the added cost of having to sign up for a subscription if you want advanced features like facial recognition, but they're well worth it if you want the full experience. It's also a bit spotty with bad Wi-Fi, so make sure you have a strong connection.
Livingetc rating: 4.5 out of 5 stars
3. Ring Video Doorbell (2020)
Best affordable smart doorbell
Specifications
Connectivity: Wi-Fi
Smart assistant support: Alexa, IFTTT
Camera: 1080p, 155 degree FOV
Storage: Cloud
Reasons to buy
+Affordable+Great feature set
Reasons to avoid
-Non-removable battery-Subscription required for online video storage
If you want a more affordable Ring doorbell, and one that doesn't scrimp on the connected features of the more enhanced models, the standard Ring Video Doorbell (here we're specifically speaking about the 2020 model) remains a great option. Like its stablemates it can connect to smart phone apps for remote video coverage, while also integrating with Amazon Alexa for smart home control, and retains the rechargeable battery form factor that allows it to be wireless.
How it performs
It may be cheaper, but that doesn't mean the Ring Video Doorbell (2020) is any less accomplished. Like its pricier brethren it offers 1080p video capture, Wi-Fi connectivity, and Android and iOS app support for observing your door and notifications when motion is detected or a doorbell is pushed, letting you view what's going on from afar.
Installation is easy, and the camera does a good job of distinguishing motion between approaching humans and, say, passing cars. Alexa routines can be programmed to work with the camera too, letting you make your connected lighting, for instance, work in tandem with the Ring's own security features, such as night vision.
While its Wi-Fi isn't as powerful as some models, and it doesn't offer the same pre-buffered video as the Ring Video Doorbell 3 Plus, for most people this will get the job done nicely.
Anything else?
The main drawback for this cheaper model sits with its battery, however. While it can optionally be wired into a wall to the mains, its wireless nature relies on its internal battery. Unlike other Ring products, it can't be removed and replaced with a backup battery, meaning that between every 6 to 12 months, you're going to have to remove the whole doorbell and bring it inside for a charge.
That's not a huge inconvenience, but does undermine the point of an always-watching security-focussed device. And yes, you guessed it, if you want to keep an online record of what the 2020 Ring Video Doorbell captures through its camera, you're going to have to sign up to the company's subscription service for online storage.
Livingetc rating: 4.5 out of 5 stars
4. Ring Door View Cam
Best alternative smart doorbell
Specifications
Connectivity: Wi-Fi
Smart assistant support: Alexa, IFTTT
Camera: 1080p, 155 degree FOV
Storage: Cloud
Reasons to buy
+Peephole lens+All video and connected smarts of regular Ring doorbell
Reasons to avoid
-Subscription required for video recordings-Tight angled lens causes distortion
Live in a smaller apartment block or a flat? Perhaps a video doorbell then seems a bit excessive – after all, you can get up and be at your doorway in seconds. But that's not to say you don't want to see what's happening outside without getting out there yourself. Ring's Peephole camera might fit the bill – a compact connected camera giving you a view beyond your doorway, both in terms of digital video and a physical spy hole.
How it performs
Installed in just minutes, the battery-powered Ring Peephole Camera measures just 4.4 x 2.2 x 1.1 inches, and yet packs in Wi-Fi connectivity, a night vision enabled 1080p video recording camera and the smarts to make it work with iOS and Android phones, as well as Alexa-powered voice activated devices.
Recognising motion and even knocks on the door it is placed on, it lets you see on your connected mobile devices who is at the door and answer them with a two way microphone, and even set it up as part of smart home gadget routines – perhaps turning on a radio while you're out if motion is recognized so as to give the impression to a burglar that you're home.
Anything else?
The nature of the peephole lens however has its inherent issues. Like a peephole, there's a slight fisheye effect which, while giving you a wider view of the outside world, still creates some distortion around the edges. And, like other Ring products, if you want to maintain a library of historic recordings from the camera, and view them at your leisure, you're going to have to sign up to one of Ring's cloud storage subscription plans.
How to choose the best smart doorbell
Your first move here is an easy one – is it actually a wireless doorbell kit? Some of the smartest video doorbells include wireless functionality that lets them stream video to your phone or other devices. But they still need to be connected to electrical wiring in order to work. Make sure you're going for a kit that has battery-powered functionality – and not just during its set-up stage, but throughout its entire operation.
Secondly, consider your precise needs. Do you already have a home security camera system set up? Then perhaps a video doorbell on top of that is overkill, and you could save some money by going for a simple chime device instead. Remember that many of the video doorbells out there include continued cloud-based video hosting costs, so that's an extra fee you have to factor in each month in many cases, and may be surplus to your needs.
Lastly, how big is your home? If it's a sprawling mansion, you might need to get a wireless kit that has several chime units, so that you can hear the bells all around the building. Note though that many of the video doorbell options have accompanying app options, so you'll get notifications to your phone when the buzzer is pressed, provided you keep your phone on your person to receive them in a timely manner!
What is the best smart doorbell?
Though there's lots to be said for the simplicity of an audio-only chime system, the video doorbells from Ring really are fantastic. The range of connected options, from video playback and recording to phone notifications is fantastic, and the fact it's all achieved from a battery powered supply is remarkable. They're not only great alert systems, but a first step towards securing your home with a video camera installation too.
Given the range of features they support, you'd be forgiven for expecting the Ring Video Doorbell systems to be twice the price they are. But the scale of the Amazon machine, the parent company behind Ring, means they stay relatively affordable. Any of the Ring options above get our recommendation.