Best security camera: the best wired and wireless options for the home
The best security cameras for added peace of mind and better safety at home, from brands including Ring, Netatmo, Blink and more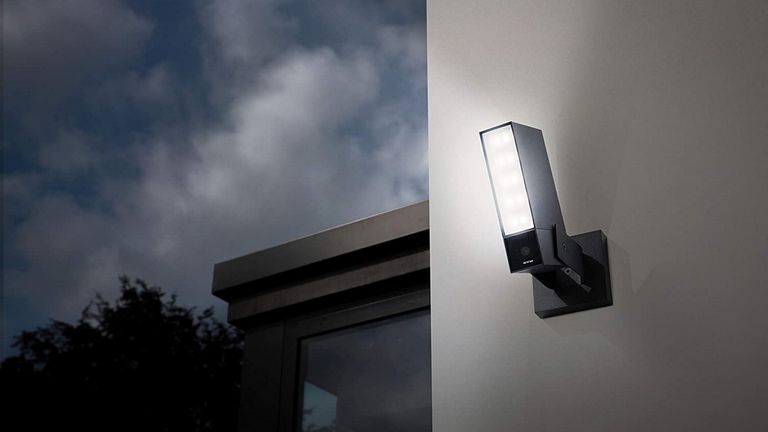 (Image credit: Netatmo)
When you care about your home, you care about keeping it safe. While most of us may never have gone so far as to install a security system to this end, smart security cameras are becoming more and more accessible, easy to use and with more features than ever before. In other words, there's never been a better time to invest in security.
Gone are the days of blurry footage and long delays between something happening and you being able to access the video. Now you can witness the action from anywhere via your smartphone, or even through a smart display from Alexa or Google.
And if you're interested in adding alarms, locks and more, then take a look at our roundup of the best home security systems, many of which also include cameras. 
Scroll down to see how we rated some of the best and most popular security cameras on offer right now, and for buying advice that will help you choose.
 The best security cameras in 2021
1. Netatmo Smart Outdoor Camera
Best security camera overall
Specifications
Video: Full HD
Field of View: 100-degrees
Power: Wired
Weather resistant: Yes (IPX7)
Night Vision: Yes
Reasons to buy
+1000 lumen floodlight and 105dB siren built in+Can differentiate between people, cars and animals+Compatible with Alexa, Google Assistant, Apple HomeKit and IFTTT+No subscription fees
Reasons to avoid
-Must be hardwired in-Bulky, modern design won't suit everyone-No two-way audio
While most outdoor security cameras are designed to blend into their surroundings so as best not to tip potential burglars off, the Netatmo Smart Outdoor Camera (otherwise known of the Netatmo Presence) goes in the complete opposite direction with its floodlight camera.
Installation
The device must be hardwired in, preferably replacing an existing outdoor light, but many users will need to call in a professional to help with installation. You'll also need to make sure that its location is close enough to your internet router so as to connect well to the Wi-Fi as there's no way to connect it via Ethernet.
Performance
Once installed, the Netatmo offering gives you a 100-degree field of view with 20m detection distance during daylight hours. At night, infrared allows it to pick up any activity, at which point it will begin filming. You can set the app to alert you when certain things occur - such as when the camera detects a person rather than a car or animal - or to ignore others.
Of course, this isn't just a security camera, but also a floodlight and siren. The light works as an added bonus, activating when motion is detected (though you can customise this behaviour in the app's settings), and the siren can be manually switched on if you're concerned about nefarious activity.
As with most cameras the detection isn't an exact science, but most had no problems with the accuracy of its differentiation between vehicles, pets and people. 
One of the best things about the camera is its lack of subscription, which instantly makes the higher price tag a better deal. Instead of charging customers for cloud storage, Netatmo has given them a microSD card up to 32GB on which to store their footage. Alternatively, you can upload video to Dropbox or another FTP server.
Design
As said, the design of the Netatmo Presence won't be for everyone, and may stick out like a sore thumb on older houses. That said, the sturdy exterior mean's it's weatherproof to IPX7 standard and will withstand temperatures between -4F and 122F, so your investment is unlikely to result in a broken camera a few months down the line.
The fact that the camera stands out so far from the wall might actually be a good thing, working with the floodlight and alarm to deter potential criminals from trying their luck.
2. Arlo Pro 3 Outdoor Floodlight Wireless Home Security Camera
Best security camera with floodlight (runner-up)
Specifications
Video: 2K
Field of view: 160-degrees
Power: Wireless
Weather resistant: Yes
Motion detection: Yes
Night vision: Yes
Dimensions: 7 x 6 x 2in
Weight: 3lbs
Reasons to buy
+Clear 2K image quality+Wireless with optional solar charging panel+Floodlight built-in
Reasons to avoid
-Design will stand out on older or more traditional properties-Pro features require additional subscription
An Arlo camera with floodlight included, this camera illuminates the area when motion is detected, allowing you to see more and capture evidence at night that other cameras may miss. The 2K video resolution and HDR also contribute to this, allowing to see every detail and zoom in on footage for a better look.
With a Arlo Smart subscription (which costs extra), you'll get the opportunity to set your camera to notify a friend or emergency services when something happens, and the camera's two-way audio means you can communicate directly with someone outside without needed to answer the door. 
Livingetc rating: 4.5 out of 5 stars
3. Ring Spotlight Cam
Best security camera from Ring
Specifications
Video: 1080p HD
Field of View: 140-degrees
Power: Wired
Weather resistant: Yes
Motion detection: Yes
Night Vision: Yes
Dimensions: 12.6 x 6.91 x 7.59cm
Reasons to buy
+Great video quality and night vision+Good field of vision+Works with other Ring security products+Includes LED light and siren
Reasons to avoid
-Plugs in rather than hard wired
Able to seamlessly integrate with other home security products from Ring such as its range of doorbells, standalone motion sensors and more, the Ring Spotlight Cam is also a brilliant one-stop shop for your security camera needs with its in-built LED lights and siren. The motion detection settings are similar to the Ring Doorbell, too, with customisable zones and alerts.
While it's not all that common for a security camera to plug into the mains rather than be hard-wired in or run on battery, it does mean that the Ring Spotlight is never in danger of running out of steam. That is if you're sure someone won't casually unplug it when they're up to no good. This feature also makes installation a breeze.
Livingetc rating: 5 out of 5 stars
4. Ezviz C3A Full HD Wi-Fi Camera
Best security camera for indoor and outdoor
Specifications
Video: 1080p HD
Field of View: 110-degrees
Power: Wired or battery
Weather resistant: Yes
Motion detection: Yes
Night Vision: Yes
Dimensions: 21.5 x 11.85 x 13cm
Reasons to buy
+Easy set-up+Set schedules+Works with Google Assistant and Amazon Alexa+2-way audio
Reasons to avoid
-Subscription required for cloud storage-Short battery life if using all features
Completely wireless with a magnetic mount (meaning you don't have to unscrew anything when it's time to recharge), the Ezviz is super easy to set up and use. It has two-way audio so you can speak with anyone you spot, and the IP65 dust and water protection rating means it will withstand all weathers should you want to place it outside.
Perhaps the best choice for nature lovers (or particularly nosy neighbors), the Ezviz C3A offers continuous filming that can be used for everything from watching for intruders, keeping an eye on pets or even filming inside bird boxes. Because it's completely wireless, it's easy to put it anywhere you like.
5. Blink Outdoor
Best wireless security camera
Specifications
Video: 1080p HD
Field of View: 110-degrees
Power: Battery
Weather resistant: Yes
Motion detection: Yes
Night Vision: Yes
Dimensions: 7.1 x 7.1 x 2.1cm
Reasons to buy
+Claims to run for 2-years without recharging+2-way audio +Privacy zones 
Reasons to avoid
-Subscription required to store and back up video clips 
Another security camera that can be used in conjunction with Amazon Alexa, the Blink Outdoor is the newest model of the popular product. More expensive than the Mini or Blink Indoor, it does work anywhere from your entryway to your porch, giving it much more versatility. It's weather resistant and offers night vision, too.
Like the Ring Doorbell, the Blink camera includes 2-way audio that allows you to speak with anyone in its vicinity from wherever you are. Unlike a doorbell, however, the Blink can theoretically be placed anywhere around your home (instead of just your front door), so you could monitor and interact with the yard from your smartphone.
How to choose the best security camera
Do security cameras need Wi-Fi?
The best modern security cameras require Wi-Fi to make the best of many of their most useful features, such as live view or 2-way audio. While it's always recommended to have a stable internet connection at home, it's also possible with many products to access these via 4G while you're out and about.
That said, if you don't want it eating up your data - or if you want to integrate your camera with one of the best smart speakers or displays - then for the most part you should be making use of your at-home connection. 
Do security cameras record all of the time?
This depends on both your choice of camera and the way you wish to use it. Most people use a security camera with the motion sensor switched on, which indicates to your device that it should record a snippet of video whenever someone approaches your home. Those with a live view feature allow you to continuously view your space, but if you have a battery-operated camera then this will run down its juice pretty fast.
Where to place security cameras
Indoor security cameras are best placed in your entryway or by the back door, so that you can immediately capture footage of anyone coming in or out of the home. Or maybe you want to keep an eye on your kids and/or pets while you're not in the room? In this case, you just need to make sure that the field of vision covers the area you need it to.
Outdoor security cameras, on the other hand, should be placed on the wall outside your home in a location that will capture enough space to notice any potential intruders, but that won't be set off by passers by throughout the day. Of course, if this distinction isn't quite possible, then may cameras allow you to set specific zones.
Caroline has been a part of the Livingetc team since 2021, offering expert advice on the best smart tech for your home. Passionate about interiors and how technology can be integrated into daily living without sacrificing aesthetics, in her spare time she can be found shopping for the latest accent pieces for her own space.