Shopping Edit: 15 fun toy storage buys for a tidy nursery
These toy storage finds will ensure their bedroom looks neat and tidy. Whether for holding toy cars, soft toys, LEGO or crafting supplies, it's all here...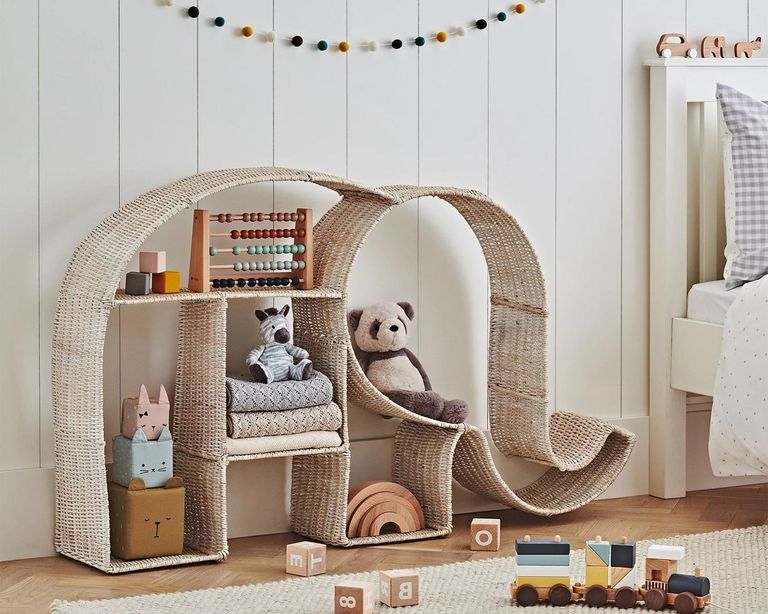 (Image credit: The White Company)
Keeping a kids bedroom (or nursery!) tidy can be a gargantuan task, but it is doable. How? Toy storage! And we're not talking about those plastic translucent boxes that stick out like a sore thumb, either. In fact, we've discovered a range of masterful toy storage buys, from boxes to shelves and entire units, for hiding all of the little things away. Wave goodbye to weaving around LEGO or toy cars sprawled on the floor first thing in the morning or during the night – and hello to a tidy nursery or kids bedroom (for once!).
These toy storage finds are all as much stylish as they are practical. You can use them for carrying clutter from dinosaurs to dolls and even books and pens and pencils. In short: they're ideal for hiding anything you otherwise don't want on show because it's a little bit of an eyesore. Peruse our top picks below...
Once you've done your shopping, head to our toy storage ideas page for inspiration when it comes to styling your new storage.
The best toy storage for kids bedrooms and nurseries
1.
The White Company Rattan Elephant Bookshelf
This bookshelf from The White Company is a statement piece of open shelving for displaying books, toys and soft toys. The elephant is beautifully woven from white-washed rattan and looks gorgeous in a kids bedroom or nursery. It's great for jungle or animal-themed rooms and is the ideal height for little ones to pick out their favourite books and cuddly toys, once fixed to the wall.
The elephant shaped bookcase is large, beautiful, and feels very sturdy and solid despite the light, rattan look. It can be a bit wobbly standing on its own, which is why it comes with hooks on the back and is meant to be floor standing but wall-mounted for support. The shelves are sturdy enough for books and heavy wooden toys, but due to the irregular shaped shelves and varying heights, we found that it's more ideal for soft toy storage as you can pack a lot in. Whatever you end up using it for, it makes a gorgeous and stylish feature out of treasured toys and objects.
2.
Aykasa Folding Mini Crate in Warm Taupe
These pastel-coloured crates are so on-trend right now, especially since they are subtle yet undeniably effective as they offer plenty of apace. They can also be stacked in a corner or you can slide them under a bed for hidden storage. They come in a range of sizes and a myriad of colours, including yellow, green, pink, beige and blue. The best part? They are eco-friendly and made from 100% recyclable materials. Plus, they fold down for when they're not in use. What's not to love?
3.
Noa & Nani Sigrid Toy Storage Box
An essential for messy bedrooms or teeny nurseries, this clever toy storage box doubles as a seat, all while boasting tonnes of space for toys, bedding and more. Sitting at 60cm high – AKA the perfect height to encourage them to reach for their own toys – this storage box is finished in white and it sits on pine legs. Fit for any modern or Scandi-style nursery, or it would even look the part in your living room. Its cloud shaped backrest brings the fun, just add a cushion or two atop the lid and they'll have themselves a reading area.
4.
Cam Cam Copenhagen Harlequin Kids Storage Bench
This clever design is a multi-purpose and stylish piece of furniture that acts as both a stylish bedroom bench for sitting, and a generous storage box for storing away toys and clutter. It's a beautiful miniature bench that's perfect for a kids bedroom. Aside from just being stylish and pretty to look at, it's practical too, and it can squeeze in a good amount of storage. It's ideal for storing away toys quickly and easily, and will keep those toys in a place that's easy to access. Use it in bedrooms for toys, or in the hallway as handy kids shoe storage. We love the blue colour, but it's available in pink, white and grey, too.
£175 at Cuckooland
£175 at Scandibørn
5.
Jo Jo Maman Bébé Rainbow Pull-Along Storage Caddy
How adorable is this multi coloured toy storage caddy? They can even pull it along with them from room to room to easily transport their favourite toys and books so you needn't follow along behind them and do so. It'll also inject some colour into their space, all whilst looking super cute. It's also teeny enough so as not to take over a nursery or living room.
6.
KARTELL Componibili Recycled Storage Unit
Toy storage, but make it fashionable – and unnoticeable. This unit features two elements, with sliding doors to hide your clutter away. The top can double as a side table (or bedside table) and here you can pop a reading light, books or leave it empty for them to play atop. It sits low down so that little ones can reach it, plus it's rounded for their safety. A unique design by Anna Castelli Ferrieri, this versatile storage unit can be used anywhere, and for holding toys, books, stationary and more. Somehow, it manages to be both retro and contemporary, although we're certainly not complaining as either way it's gorgeous.
7.
Great Little Trading Company's Bi-Plane Shelf
The Bi-Plane Shelf from The Great Little Trading Company is, in our eyes, pretty iconic. It's one of those eye-catching designs that adds such a playful and colourful accent to a kids bedroom and is particularly popular in boy's bedrooms. The quality of the wood makes it a gorgeous buy, while we also love the pop of bright red – this makes it work really well in blue bedrooms and in neutral bedroom schemes as the red is a lovely accent colour. Great for displaying a handful of treasured trinkets or keepsakes, although it's more of a wall decoration than a wall shelf as you can't store very much on them. Wall fixings are not provided.
£60 at Great Little Trading Company
8.
OYOY MINI Sporta Wall Storage Basket
Perfect for storing smaller toys that easily get lost underneath furniture, these wall storage baskets are great for saving floorspace – all the while carrying clutter. Hang them on wall hooks, behind a door or over chest of drawer handles, and use them for toys, lego, doll clothes, pens and pencils – you get the idea. They're made of bamboo with a leather strap to make them super durable and fit for years of use.
9.
Great Little Trading Company Greenaway Bookcase
This large wall-mounted bookcase can house a sizeable book collection. It tidies books off the floor but also keeps them easy to view, so it's easy for children to find their favourites. The shelves are deep enough for several books and the lowest shelf is just the right size for younger children's picture books. Be aware that it arrives as flat-pack furniture, so self assembly is required here. Wall fixings are not provided.
10.
Bloomingville Giraffe Bookcase
The rather sizeable and impressive Bloomingville Giraffe Bookcase from Cuckooland is definitely one of our top favourites for storing a myriad of items in your kids' bedroom. It will be sure to make a statement thanks to its grand size, while a total of 10 holes makes it as practical as it is pretty. It's made using a combination of bankuan grass, rattan and iron to ensure it's sturdy, and you might want to wall-mount it to prevent it from tipping over. The best part? It even has a tail and ears. So cute!
11.
Vox Tuli Bookcase & Toy Storage
This storage system organises kids toys into different boxes / categories, grouping them together and keeping them off the floor. There are three smaller compartments plus a large one at the bottom, so you can separate toys, games and books, keeping all toy cars, toy trains, Lego pieces etc grouped together. Designed at a lower height, your little one can easily reach and access the contents, and with labels included, draw pictograms to help with packing away. It's also very solid – great for having a rummage and taking the toys out. It's also the right size for pre-walkers to grab onto and pull themselves up to reach toys.
12.
Pottery Barn Kids Moon Shaped Shelf
This moon shaped wall shelf might not store much, but it makes a very pretty wall decoration for a nursery room. Use it to display a framed ink footprint / handprint or framed photograph, a pile of mini Beatrix Potter books or some cute soft toys. We love the whimsical, adorable shape, too.
13.
Amsterdam Stair Gable Wardrobe in Pastel Colours
The Amsterdam houses wardrobes from This Is Dutch are beautifully made, feature an eye-catching shape like an oversized Dutch dolls house, and come in a wide range of different colours. The wardrobes would make a stunning design feature in any kids bedroom, but would work well in a playroom too as the wardrobe also works well for dressing up clothes and accessories. The clothes rail comes as optional, and the wardrobe comes with four shelves, meaning that the design can also be used for books or toys instead (when you don't install the clothes rail). Just look at them! What's not to love? We've never seen a wardrobe quite so beautiful. Beauty comes at a cost. Priced at £1,195 per single wardrobe, they are extremely expensive.
14.
Great Little Trading Company Tomorrow's Clothes Rail with Hooks
This clever little rail with two handy pegs is the perfect product for encouraging little ones to become more independent. They can sort out their clothes and bags the night before and hang them up to save rummaging time in the morning; it's a nice way to develop a habit of preparation and planning ahead. Use the shelf area for displaying framed photos, favourite books, or useful items for on the go.
£49 at Great Little Trading Company
15. Garbo & Friends Cream Royal Cress Bed Pocket
Garbo & Friends Cream Royal Cress Bed Pocket
You might not have considered bed storage, but having this little bed pocket attached to your little one's cot bed is actually very helpful and practical. Whether for holding anything from dummies to a thermometer or even smaller toys. We also love that this storage comes in various prints and patterns. This bed pockets are easy to tie on to a cot bed with string. Just remember: it's great for small items, but not for larger ones.
Lotte is the Digital Editor for Livingetc, and has been with the website since its launch. She has a background in online journalism and writing for SEO, with previous editor roles at Good Living, Good Housekeeping, Country & Townhouse, and BBC Good Food among others, as well as her own successful interiors blog. When she's not busy writing or tracking analytics, she's doing up houses, two of which have features in interior design magazines. She's just finished doing up her house in Wimbledon, and is eyeing up Bath for her next project.