9 stylish toy storage buys for a tidy and creative environment
These toy storage picks can help to smarten up any playroom or bedroom — and keep those toys neatly organized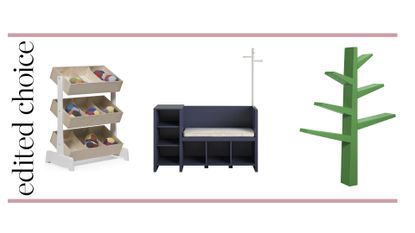 (Image credit: Future)
Keeping toy storage in order, and blending it in with your carefully crafted is a task that can feel momentous at times, but with these stylish boxes, systems and shelves, you'll be one step closer to a coordinated playroom setup. The art of storing toys will be easier than ever, thanks to these units that can host LEGO, toy cars, dolls and more with total ease.
Of course, as with any of the toy storage ideas you might have for your home, you'll want the new home for these toys to feel like a natural addition to your space, rather than something that disrupts the vibe of your room. Once they're in your home, you'll have to way to shuttle toys from room to room too and make clean-up a little easier, meaning you can return your living room to its original glory. Peruse our top picks below and solve your toy storage problem for good.
---
The best toy storage buys to refresh kids bedrooms and playrooms
1. This wonderful toy storage with a bookshelf is a space to play in itself
2. A toy storage organizer with bins can keep things in their rightful place
3. Purchasing toy storage with bins makes use of wall space too
4. This toy storage bin is also very stylish
5. A toy storage bench can blend into a toyroom nicely
6. With a toy storage basket, packing up is simple and efficient
7. A toy storage shelf is perfect for books and magazines
8. This toy storage cubby is stackable, so that you can add more as the toy collection grows
9. This toy storage bookshelf adds an element of fun to the playroom
---
Browse more toy storage...
Finding toy storage that suits the mood and playfulness of your child's bedroom is a task that might take a little time. If you're still on the lookout for the perfect unit for your playroom, these are the retailers we would recommend above any other:
After investing in some toy storage, you might wonder how to organize a kid's room. To make this space enjoyable for you and easy to navigate for them, we've got plenty of advice. But first: why not start with a little decluttering?