4 secrets to perfecting the mirror in a small bathroom which makes it feel bigger, better and more beautiful
It might not seem like a big decision in your bathroom remodel, but designers all agree the position of your bathroom mirror can make all the difference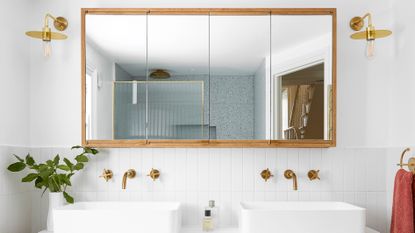 (Image credit: Anna Stathaki)
The Livingetc Newsletter
For style leaders and design lovers.
Thank you for signing up to LivingEtc. You will receive a verification email shortly.
There was a problem. Please refresh the page and try again.
While deciding on the design and location of your bathroom mirror might not be high on your list when it comes to redecorating your space, we would like to make a case for how important, how potentially space changing a mirror can be – especially when space is tight. We need not remind you of the expanding effects of a mirror, how they can make a room feel lighter, and brighter, and bigger. So, while you are getting into color schemes and tile choices, spend a bit of your time on the mirror too – what design is going to work best and equally important, where should it be positioned? Because actually, this could dictate where some of your fixtures go too.
We asked designers to weigh in on the best place to hang a mirror in a small bathroom in order for it to be usable, of course, but also so you can maximize all those benefits a mirror can have in a small space.
1. Always position a mirror above the sink
This goes for any bathroom of any size, you should always position a bathroom mirror above the sink. You may choose to add a second mirror (more on that to come) but something feels very off when you look up from the sink into a solid wall.
'Ideally, a mirror should hang over the sink, as this is the station most people use to get ready in the mornings or evenings. Choose a mirror that echoes the aesthetic of the room, for example, a sleek metallic frame works well in a more modern home while a light wood frame would suit a Scandi scheme, or a rustic style for a more traditional home,' suggests Jen and Marr, founders of Interior Fox.
'And when hanging the mirror, remember proportions are key. Allow enough distance between the ceiling and furniture and if grouping, there should be equal space between each mirror.'
'I find that having a mirror that extends over the entire sink space or vanity is really helpful for making a space feel larger – it's also more functional for everyday use,' agrees designer Kendra Nash. 'You can then place lighting above the mirror, or sconces within the mirror, or even a hanging light placed to the side of the mirror.'
2. Get the height and size right
You want to get the positioning and scale right too. Practicality a mirror needs to be hung so it works for everyone that will use the space, but aesthetically it also needs to be in scale with the sink and the rest of the space.
Always plan the size you are after before you invest. As designer Kathy Kuo suggests, 'Determine the ideal size mirror by measuring your space and by using painter's tape to map out the dimensions of a mirror you have your eye on. The tape outline will give you a sense of whether the mirror size is too big or too small.'
'The ideal placement for a bathroom mirror depends on factors such as the size of the mirror, the size of the bathroom, and the height of the people using it. However, there are some general guidelines to consider,' adds Kati Curtis.
'The height at which you hang the mirror should be based on the average height of the people using the bathroom. The center of the mirror should typically be placed at eye level (about 5 feet from the floor) for most adults. Since, in most bathrooms, the mirror is hung above the sink or bathroom vanity it's essential to center the mirror horizontally above the sink and leave enough space between the sink's edge and the bottom of the mirror.'
'And make sure the mirror is not obstructed by towel racks, wall cabinets, or other bathroom fixtures. It should have a clear view and be easily accessible for use'
3. Add in a second mirror
This may sound like a fussy addition to a small bathroom, but just look how chic it can be if done right. In fact, we are seeing this kind of setup increasingly in mirror trends. Go large with your main mirror and then add a built-in small magnified mirror for when you need a close-up.
'This bathroom was always going to be pretty, but at the same time needed to be functional for guests,' explains Marta Chrapka, founder of Colombe. 'Hence the idea of an additional mirror, which is very convenient due to the backlight and magnification options.'
You could also double up on the mirrors you hang above the sink. Almost to create an allusion of a double vanity. Two, relatively simple, rectangular mirrors sat side by side will instantly add a luxe feeling to the space. Do just make sure you have enough wall space to handle it – there should be enough of a gap between the two mirrors that it looks purposeful rather than crowded.
'Remember to use the right scale with a mirror if hung above a vanity or a credenza. And if you can't find the right single mirror, you may consider adding two or more side-by-side with small gaps between them; this is a better option than hanging only one mirror that doesn't scale right,' suggests Ginger Curtis, founder of Urbanology Designs.
4. Consider how to use a mirror to maximize light
In a small bathroom you want to be maximizing any light there is. Obviously, if you have natural light, that's great, but if you are dealing with a powder room where you don't have the luxury of a window, mirrors can help bounce artificial light around too.
You want to position a mirror so it captures and reflects as much light as possible. So placing the mirror opposite (or as opposite as possible in your small bathroom layout) to your main light source, whether that's a window or a light fixture, will help maximize the light.
'In a small bathroom try not to conceal the mirror in something akin to a nook or position it with something between it and the source of natural light. A mirror will always have a positive effect on maximizing light so ideally should be positioned in good proximity to the light source,' suggests Nicholas Gurney.
'When incorporating a mirror in a small bathroom, position it at eye level and where you can, opposite a light source or with mirror lighting on either side as this allows for enhanced visibility and creates a well-lit space. Regardless of size, the mirror's placement should be functional while also enhancing the overall design of your bathroom.' recommends Katie Lion, Senior Interior Designer at Kitesgrove.
Waverley mirror
Price: $53.40
The curves of this mirror frame add such a softeness to even the smallest, boxiest of rooms.
How big should a mirror be in a small bathroom?
This very much depends on the size of your space and your style too. In a smaller space, it makes sense to go as big as possible with the mirror as it can create the allusion of more space and light. However, mirrors are also an opportunity to add some decor to a small space, so adding something smaller but with more character might be the better option for your style.
We'd take the advice of planning out the size with Frogtape and playing around with some different shapes so you can work out what's going to be a better fit for your bathroom.
What shape mirror works best in a small bathroom?
Again, totally a personal decision. We've seen plenty of examples of both working, so it just depends on the look you are after and where you intend to position your mirror. If you want to create some height in the room and make it feel loftier, a tall rectangular mirror can do this, but a circular mirror can add more interest to a room and add more of a focal point.
For style leaders and design lovers.
Hebe is the Digital Editor of Livingetc; she has a background in lifestyle and interior journalism and a passion for renovating small spaces. You'll usually find her attempting DIY, whether it's spray painting her whole kitchen, don't try that at home, or ever changing the wallpaper in her hallway. Livingetc has been such a huge inspiration and has influenced Hebe's style since she moved into her first rental and finally had a small amount of control over the decor and now loves being able to help others make decisions when decorating their own homes. Last year she moved from renting to owning her first teeny tiny Edwardian flat in London with her whippet Willow (who yes she chose to match her interiors...) and is already on the lookout for her next project.