6 things you can easily get rid of in a bathroom for a more minimalist haven that's free from clutter
If you want to be one step closer to the minimalist bathroom of your dreams, start by decluttering these items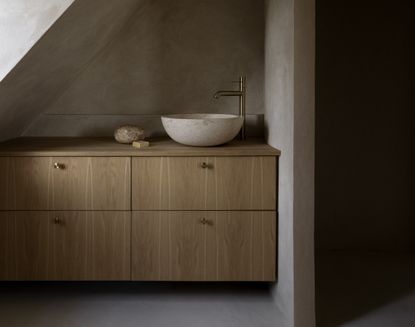 (Image credit: Norm Architects)
There's something about a sleek, minimalist bathroom that instantly makes you feel more at ease. While primarily a functional space, we're all learning to recognize the importance of bathrooms as wellness sanctuaries that also promote self-care and relaxation - and clean, streamlined designs are key to that. In our busy modern world, however, it's easy for clutter to accumulate.
Sharing a house with two other young women, I can speak from experience. Cosmetic products, washcloths, and cleaning products quickly litter every bathroom surface, from floor to ceiling. Decluttering these items is essential if you want to achieve a more minimalist space, but there are also some less obvious contenders you can afford to let go of if you want to be one step closer to the pared-back bath or shower room of your dreams.
'The bathroom is in many ways the most intimate space in the house,' says Emma Jo Ejskjær of Norm Architects, a studio renowned for their minimalist designs. 'Besides being a space for personal hygiene, it is also a space for reflection, restitution, and tranquility. It's important to consider not only function, materiality, and how your senses perceive the space, but also what kind of atmosphere the different elements create collectively.'
To help you embrace this idea of living well with less, we take a look at the six things you can afford to get rid of in your bathroom right now so you can finally have the modern bathroom you've always longed for.
Di Ter Avest is a professional home and lifestyle organizer and the owner of Di is Organized. Her in-person services, virtual projects, workshops, and digital book, Organize Yourself Healthy, help women create sustainable organizational systems for their homes and lives. Her expertise has been featured on Forbes, Today, ApartmentTherapy, Real Homes, and Kitchn; she has also given workshops at IKEA, West Elm, and Williams-Sonoma.
1. Old bath towels
Let's get this out of the way first: storing your towels in the bathroom probably isn't the best idea. Not only do they become dirty sooner by sapping up steamy moisture, but they contribute to a much more cluttered aesthetic, too.
It's understandable to want to replicate a hotel feel by rolling up fluffy white towels, but let's face it, that fabric will be tumbling down your shelves in a straggly mess within a matter of days. Keep things to a minimum by throwing away surplus old towels and storing just one daily towel in your bathroom. (When it comes to the best ways to hang towels in the bathroom, we prefer a single sleek rail.)
'I don't need five sets of bath towels per family member; two is more than enough,' explains Di Ter Avest, owner of Di is Organized. 'With that same approach, as a professional organizer, I encourage clients to identify what is essential in their lives and let go of what is not.' Owning enough towels to keep an army clean just isn't necessary. Keep two per-person (and maybe a few spares for guests) and store them in a linen cupboard or utility room instead.
2. Open shelving
Open shelving may be convenient, but they're not the way forward if you want a clean aesthetic. No matter how hard you try to keep your carefully curated selection of decorative cosmetic bottles, ceramic vases, and potted plants in place, your shelves will easily become cluttered with more unsightly bits and bobs à la toothpaste tubes, hair ties, and empty toilet rolls.
That's not to say that storage doesn't have its place in a minimalist bathroom, however. Rather than open shelves or display cabinets, opt for understated built-in solutions or wide bathroom vanities that keep everything contained. Don't slip into the habit of adopting an 'out of sight, out of mind' mentality either, though. Keep drawers and cupboards organized and free of clutter to save belongings soon spilling over into other parts of the room.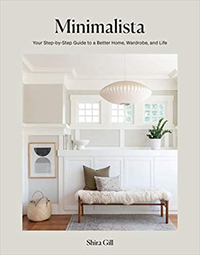 3. Duplicate cosmetics
We're all guilty of having more shampoos, conditioners, and shower gels than a single person needs. They have a habit of piling up to the point where they're doing nothing more than contributing to a more cluttered space. For a more minimalist aesthetic, work through your shower caddy or bath nook and get rid of any duplicate cosmetics that you don't need.
The same goes for any makeup stored in your bathroom, too. 'First, check expiration dates,' urges Julie Peak, professional declutterer at The Precise Place. 'Old or expired makeup is harmful and should be disposed of. You should also donate or discard makeup that you never use or products that didn't agree with your skin. Finally, pare down your makeup to only the products you use and love.'
Another bathroom storage idea is to decant your soaps, shampoos, and conditioners into more stylish bottles that can then be mounted to fixtures on the all to maximize space on surfaces. Opting for uniform containers not only helps you avoid visual clutter from garishly bright packaging, but it also helps to create a spa bathroom feel so you feel like a guest in your own home.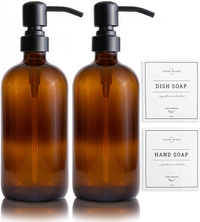 2-pack amber glass soap dispenser, Amazon
The amber glass soap dispensers from Amazon are super cheap but have an expensive feel. Their stylish design comes with stick-on labels so you know what product you're using, and they're sure to leave you feeling super organized.
4. Non-harmonious colors
Okay, we admit it, getting rid of a 'color' isn't quite as simple as tossing out an old shampoo bottle, but if your bathroom or shower room is drenched in bright clashing colors, a lick of paint in a more neutral color scheme might just be all that's needed to turn your space from maximal to minimal.
'A medium as direct and intuitive as color—with its physiological effects, cultural and identity signifiers, and alluring beauty—is a powerful design tool to be wielded carefully,' explains Emma Jo of Norm Architects. 'By working with neutral colors, you can create timeless work that lets the user overlay the color of everyday life. The human mind has evolved to feel calm and content at the sight of natural colors, and this palette has the added benefit of transcending design trends.'
5. Medicine cabinets
In the same way that open shelving is likely to clutter your walls and make your space feel more honed in, as will wall-mounted medicine cabinets. There are practical considerations to bear in mind, too. Many are led to believe the bathroom is the most convenient and common-sensical place to store medication, but as it turns out, that might not be the case.
'Medication should never be stored in the bathroom due to fluctuations in temperatures,' explains Julie. 'Start by pulling out and disposing of all expired or no longer used medications, then find an alternative location, like the kitchen cabinet, to safely store your medicine instead.'
6. Cleaning supplies
In a similar vein - although primarily from an aesthetic standpoint - there's no need to be storing cleaning products in your bathroom either. At the very least, you should avoid having them on display.
Cleaning cloths, shower squeegees, and bottles of bleach can easily make a space look visually cluttered and it's certainly not a pretty sight to greet your guests. While storing them in the corner of the room might be convenient when it comes to a quick wipe down after your shower, your space will instantly have a cleaner, more put-together aesthetic if you keep them behind closed doors instead.
Factor this into those built-in storage solutions we discussed earlier. Use a bathroom organizer within your vanity to keep all your cleaning products contained, and consider a woven basket for your toilet rolls rather than piling them up on the cistern. Rather than big commitments to redesigning, it's these simple changes that yield the most power when it comes to achieving a more minimalist look in your bathroom.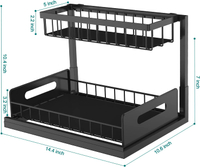 Pull-out cabinet organizer, Amazon
Organize the space under your cabinets with this 2-tier under-sink storage. The slide-out system makes it super easy to access what you need, be it cleaning products or toiletries. It's also fully adjustable - the top rack can be installed on the left or right, giving you the flexibility to work around plumbing and organize more efficiently.
Lilith Hudson is the Junior Writer on Livingetc, and an expert at decoding trends and reporting on them as they happen. Writing news articles for our digital platform, she's the go-to person for all the latest micro-trends, interior hacks, and color inspiration that you need in your home. She discovered a love for lifestyle journalism during her BA in English and Philosophy at the University of Nottingham where she spent more time writing for her student magazine than she did studying. Lilith now holds an MA in Magazine Journalism from City, University of London (a degree where she could combine both) and has previously worked at the Saturday Times Magazine, ES Magazine, DJ Mag and The Simple Things Magazine.