Japanese garden ideas: 8 of the best ways to add some calming zen to your outdoor space
Experts like Monty Don explain how Japanese garden ideas can help you take a mindful moment outside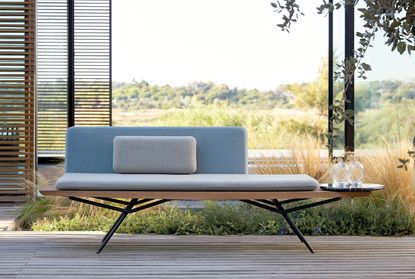 (Image credit: Go Modern)
The Livingetc Newsletter
For style leaders and design lovers.
Thank you for signing up to LivingEtc. You will receive a verification email shortly.
There was a problem. Please refresh the page and try again.
Your starting point with Japanese garden ideas is to think of all things calming, serene and ordered. They're used as a place for contemplation, so it's the perfect opportunity to keep the style simple. It's all about attention to detail. For inspiration, think Japanese tea gardens or take a look at the temple gardens of Kyoto.
'Japanese gardens are based around a love and reverence for nature and especially trees of all kinds,' explains Monty Don, who's a big fan and has written a book called Japanese Gardens. 'But no tree in a Japanese garden of any style is ever left to grow unpruned or untrained in order to try to capture the perfect essence of nature.' With Japanese garden design the range of styles and ideas is controlled but that doesn't mean there aren't many ways of expressing your personality within this framework.
When it comes to modern garden ideas that create a soothing oasis that rocks a peaceful Zen aesthetic the key is to keep planting minimal too. It's very much a case of less is more. Stick to just a few types of plants such as bamboos and grasses with a dash of colour here and there from blossom, flowers or foliage. Think cherry blossom in spring, vibrant blooms from a camellia or azalea, or the fiery leaves of maple trees in autumn.
As Japanese gardens tend to be sparsely planted, the spaces around the plants are as important as the plants themselves. This can also help to manipulate the perspective to create the illusion of a bigger garden. Space is organised and connected, whether that's with a carefully positioned vertical like a tree or the placement of a series of smooth stones. Hard landscaping materials include gravel, rocks and stepping stones. The balance of space between things (known as 'ma') is just as vital as the objects themselves in the overall scheme.
Keep reading for more Japanese garden ideas to help create your very own sanctuary.
1. Plant an elegant acer
Maples have always been revered when considering Japanese garden ideas and in particular Acer palmatum varieties. Grown for their finely etched leaves, elegant shape and gaudy brilliance of their autumn colours, they're an easy low maintenance choice too.
They come in burnished shades of crimson, bronze and gold, as well as vivid sherbet lemon and fuchsia pink. In addition to the larger ornamental trees there are also many small and compact varieties that suit container planting and are the answer if you like the look of acers but don't think you have enough space.
Wondering how to choose plants for your modern garden? With an elegant shape that requires little pruning, acers will flourish and grow into an eye-catching shape if you let them develop naturally. As autumn comes to an end all you may need to do is give it a quick tidy up by snipping off any dead stems.
2. Add colour with a camellia
The dramatic and exotic camellia is much admired for the beauty of its flowers and dark glossy leaves. There is a huge variety of cultivars to choose from but purists of Japanese style opt for C. japonica and C. sasanqua. Camellia sinensis has non-descript small, white flowers but the leaves are important in Japan culture as they're used to make tea.
The fat buds of camellias burst into bloom at the bleakest time of year, making them one of the most welcome Japanese garden ideas. The flamboyant flowers come in mostly red, pink and white. Their exquisite gently ruffled blooms add a vivid splash of colour in late winter and early spring and bring joy as there's little else around.
Snip a single bloom and bring it indoors to try your hand at Ikebana, the Japanese art of flower arranging. Use simple materials like living branches, leaves, grasses and blossoms to create an asymmetrical display of natural shapes and graceful lines.
3. Choose bamboo for simplicity
Ubiquitous in Japanese garden ideas, bamboo adds an exotic note to planting and looks striking grown in blocks to add an ornamental note to minimal contemporary designs and Japanese-inspired gardens. It adds a modern design touch, the canes forming an airy green screen that shifts and ripples in the breeze to add movement to your planting.
It's practical in addition to looking good, as it can be used to enhance boundaries and add privacy – most will grow to around 4 metres but some varieties grow as tall as 6 metres. The rustle of foliage can also help to screen traffic noises to enhance the tranquillity in your garden sanctuary.
One the most popular varieties, the black bamboo Phyllostachys nigra is grown for its distinctive stems, which start off green then turn glossy black, contrasting well with the bright green leaves. It has a tall, upright habit that adds impact, especially if the lower leaves are stripped off to expose more of the canes.
4. Enhance serenity with water
Water is another central element in Japanese gardens, especially if it's of the flowing or tumbling kind. This can be achieved with a small pool (perfect for koi carp), waterfall or rill with water rippling over moss-covered stones. Large pebbles can be used to mirror the movement of flowing water and to create shimmering reflections.
An easy way to introduce tumbling water is with a water feature such as series of interlocking smooth ceramic bowls. As well as adding a sculptural detail, you can enjoy the sensory experience of the sound of trickling water. This will bring a feeling of peace and calmness to your outdoor oasis.
Many Japanese gardens contain stone water basins, which were traditionally used for ritual cleansing before tea ceremonies and usually have a bamboo dipper for scooping up water. Now they are more often used as a purely decorative feature that's incorporated into the harmonious aesthetic.
5. Use Japanese pruning techniques
In Japanese gardens the dominant shade is green with a burst of colour here and there. As well as bamboos, the bright green grass Hakonechloa and Siebold's wood fern, planting features neat evergreen hedges and trees that are pruned into softly domed shapes that look like undulating clouds. This technique is known as 'niwaki'.
Influenced by his time in Japan, expert pruner Jake Hobson founded Niwaki Ltd. He is interested in combining Japanese cloud pruning with a more European style which he calls organic topiary. 'To me this implies natural shapes. I'm fascinated by the way pruning can add structure to the garden, the way volume and mass can unite the garden as a whole, combining the softer planting and the hard landscaping.'
Japanese garden ideas favour an asymmetrical approach, with rounded low-level topiary seeming to flow and create movement to link with the view beyond.
6. Create a sense of seclusion
Work with the clean simple lines that are already there in the structure of your garden. Screen the perimeter and shield your garden boundaries with planting to provide a sense of privacy. Bamboo is perfect for this job, and the dappled light that filters through the leaves will contribute to the magic.
Japanese garden ideas are often about creating sanctuaries and this is in part a reflection of the importance of enclosure. Your space will already be framed with buildings and fences, so all you need to do is dress them in the right way. For an instant makeover rolled bamboo screens also deliver the right feel.
Within your garden create a pavilion for enjoying moments of stillness. One easy way is to style up a raised deck area or pergola with traditional natural tatami floor mats for an oriental feel that's perfect for rest and relaxation.
7. Make a stepping stone path
Stones are another fundamental element in Japanese garden ideas. They're rarely used alone. Instead they are usually found in repeat patterns, with each stone placed in a particular position. It's all about placement.
A stepping stone path invites you on a journey of discovery when the ultimate destination can't be seen at the start, and this ties in with another signature style of Japanese garden design namely the slow reveal of a hidden viewpoint.
Japanese 'strolling' gardens feature circular paths constructed of stepping stones, interspersed with pockets of raked gravel that looks like rippling waves, and moss spreading in nooks and crannies for a green carpet groundcover effect. Hard and soft landscaping combines for a sensory experience that leads you to a particular spot such as a tranquil pool.
8. Select the right accessories
In terms of furniture, Japanese design is based on clean lines and an uncluttered aesthetic, and this applies to the garden too. Choose the best garden furniture like elegant seats that are low level, modern in design and made of natural wood. Colours are best taken from a simple tonal palette that's chosen from nature.
When it comes to lighting, lanterns are a constant in Japanese garden design. They are usually made of stone and placed in a carefully selected location, providing both light and a pleasing aesthetic. Lanterns are often deliberately weathered, with moss encouraged to cover them for a naturally aged effect.
Follow these simple Japanese garden ideas and you can create a truly serene space for meditating, sitting and relaxing – your very own Zen hideaway.
For style leaders and design lovers.
Lifestyle journalist Sarah Wilson has been writing about gardens since 2015. She's written for Gardeningetc.com, Livingetc, Homes & Gardens, Easy Gardens and Modern Gardens magazines. Her first job on glossy magazines was at Elle, during which time a visit to the legendary La Colombe d'Or in St-Paul-de-Vence led to an interest in all things gardening. Later as lifestyle editor at Country Homes & Interiors magazine the real pull was the run of captivating country gardens that were featured. Having studied introductory garden and landscape design as well as a course in floristry she is currently putting the skills learned to good use in her own garden where the dream is establishing a cutting garden.