Is a light or dark sofa better for a small room? How to pick a couch that flatters tiny spaces, according to designers
Which is best for enhancing a small space: a dark sofa or a light one? We asked interior designers to settle the debate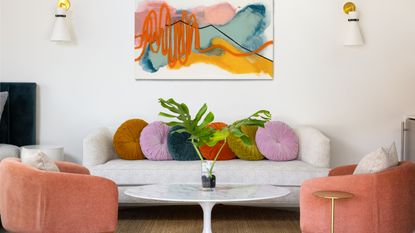 (Image credit: Jenifer McNeil Baker. Design by Maestri Studio)
Choosing a couch comes with a whole host of extra considerations when you're working with a small space. How much room should it take up? Does one shape work better than another? And is a light or dark sofa better for a small room?
It's a conundrum for anyone with a small living room – so to help you out, we asked a whole host of interior designers for their opinions. Read on to discover whether a dark or light sofa is right for you – and get some tips on choosing the perfect piece to help you along the way.
Is a light or dark sofa better for a small room?
It's true that interior design rules exist to be broken, so we weren't surprised that there's no straight answer to this question. 'In the end, the optimal couch color for a compact room is contingent on the desired overall aesthetic,' says Artem Kropovinsky, interior designer and founder of New York studio Arsight. 'If you're aiming for a bright and spacious feel, a pale couch may be your best bet. Conversely, if you're seeking a snug and private ambiance, a darker couch may be the top choice.'
However, most of the designers we spoke to admitted their preference for a lighter colored couch when choosing small living room furniture. 'Using light colored furniture in a smaller room can help the space feel less crowded and more light and airy,' says Deana Della Cioppa, senior designer at New York architecture firm Workshop/APD.
'Every room and home is unique, but typically in a small room it is my preference to use a light colored sofa,' agrees Kirsten Blazek, interior designer at Los Angeles' A1000XBetter. 'One of the more important aspects to think about is what impact do you want your sofa to have from a design perspective: do you want it to be a centerpiece in the room, or is it more of a grounding neutral? Sofas are typically one of the largest pieces of furniture in a space and can feel overwhelming if they are too dark, especially in a smaller scaled space.'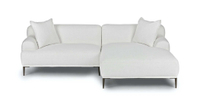 Still, there are arguments to be made for a darker sofa, as Kirsten explains. 'There are exceptions to every rule and in a circumstance where you have a taller ceiling in a small room then a darker sofa can be very effective to help ground the space,' she says. 'Take into consideration also how much natural light your room gets and what your overall home aesthetic is. If the rest of your home is light and bright then stick with a color for your sofa that matches that palette, but if you want a moody darker space, don't be afraid to also go dark with your sofa choice!'
How your sofa interacts with the surrounding space is also really important. 'How spacious a room feels is greatly influenced by how much contrast there is, especially when it comes to the biggest items in the room,' says San Francisco-based interior designer Emily Finch. 'If you use a light sofa in a room with dark walls, or vice versa, the sofa will appear larger because the contrast between it and the walls will command your attention, making the space overall feel smaller and more cramped.'
When should you choose a light sofa for a small room?
'Pale-toned couches can be effective in compact spaces as they contribute to a more expansive and luminous atmosphere,' says Artem Kropovinsky. 'Pale hues bounce light off surfaces, which assists in enlarging confined areas, and these kinds of couches foster a sense of openness and airiness.'
In particular, if you're planning a lighter shade for your living room color scheme – or another room – you should definitely choose a light sofa to complement it, says Santa Monica-based interior designer Sarah Rosenhaus. 'It gives a soft feel that can help to open a room and make it feel more spacious,' she explains. However, it's important to make sure you're still creating contrast, even in a small way: 'A possible drawback to a light sofa is that it can lack definition and definition is what creates dimension and interest in a room.'
Are there ways to make a dark sofa work better in a small room?
Most of the designers we spoke to warned that a dark sofa can feel heavy, especially if all other elements in the room are light, and can even make the space feel smaller – but if you really want one, committing to going cozy with a dark living room scheme can help make it work. 'There are some drawbacks to using a dark couch in a small space – it can cause a confined space to appear even smaller and more restrictive,' says Artem Kropovinsky. 'Nevertheless, dark hues absorb light, creating a cozier ambiance in compact areas. Dark couches can lend a room a more dramatic and elegant appearance.'
'Dark colors can make a space feel more intimate and relaxed, benefiting a small room,' says Karen Rohr of Mackenzie Collier Interiors. 'They will also help in providing contrast against light-colored walls or other elements in the room, adding more visual interest. Dark-colored fabrics are also less likely to show stains and dirt, making them a practical choice for high-traffic small rooms.'
Darker couches can also have a more functional role in a space. 'A dark sofa can help differentiate space in a small room by visually defining the purpose and function of the area,' says Sarah Rosenhaus. 'This is especially effective when combined with the right rug.'
How to choose a sofa color for a small room
Everything starts with what kind of feeling you want to evoke from the room – as well as what you'll be using it for. 'Start the decision process by assigning a function to the room,' advises Deana Della Cioppa. 'If you want a cozy or moody study where you will watch movies, a darker sofa will help create this feeling, but if your goal is to make the space feel more open, choose a lighter fabric.'
One way to approach it is to use your sofa as the cue for the rest of your scheme. 'The best way to help the space feel larger is to aim for a sofa that is tonally similar to your wall color, so the small room doesn't become all about the sofa,' adds Emily Finch. 'They don't have to perfectly match; a sandy beige linen sofa looks great in a white room, and a deep emerald green sofa would look dreamy in a dark navy room. This lower contrast between sofa and walls also lets the other elements of the space really sing, like the view through the windows or a beautiful light fixture.'
Additionally, consider the scale and shape of your sofa – both of which can impact how heavy or light it feels as much as the color. 'In a smaller room, it's better to go slightly bigger with your furniture and have less furniture than it is to have a lot of smaller pieces of furniture that will end up cluttering the space,' says Los Angeles, CA interior designer Victoria Holly. 'It's easier on the eye and more efficient when it comes to space planning. Often people make the mistake of going too small in a smaller space!'
'I would suggest that in either case, the arms should be lower and the back shorter to not overwhelm the space,' adds New York designer Vicente Wolf. 'If it's not a sofa bed, I would say no deeper than a 36" seat. Consider going with solid colors since prints make a room feel denser and busier.'
If you're still unsure, Hood River, Oregon-based designer Samantha Struck of StruckSured Interiors has some simple rules to live by. 'If your walls are dark, go dark; if your walls are light, go light,' she says. 'Bring harmony with the colors to make the space feel bigger and cohesive. And above all, aim for comfort. If you like a more overstuffed look, go for it. Don't be afraid to fill the room and really create a nook-like feeling.'
The Livingetc newsletter is your shortcut to the now and the next in home design. Subscribe today to receive a stunning free 200-page book of the best homes from around the world.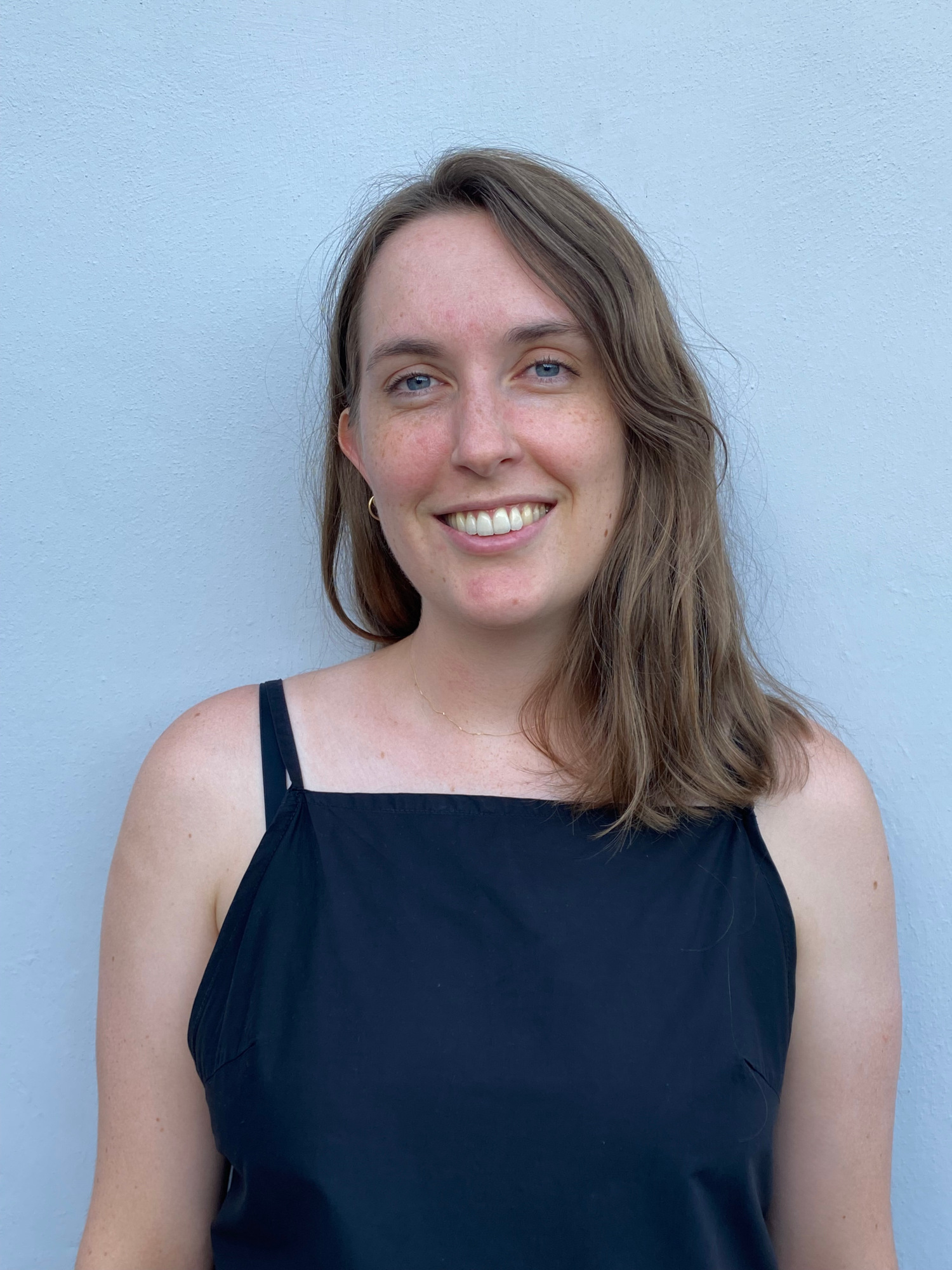 Ellen is deputy editor of Livingetc magazine. She cut her teeth working for sister publication Real Homes, starting as features editor before becoming deputy editor. There, she enjoyed taking a peek inside beautiful homes and discovered a love for design and architecture that eventually led her here. She has also written for other titles including Homes & Gardens and Gardeningetc. While she gets ready to buy a house of her own, she takes inspiration from the works of some of her favourite architects and tastemakers. She has a particular passion for green design and enjoys shopping small, local and second-hand where she can.