How to overhaul your kitchen - the Easter DIY project you can easily do this weekend
Two interiors experts offer advice for the kitchen DIY you can get done this weekend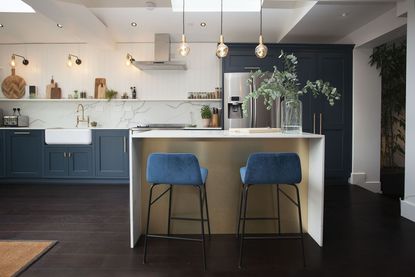 (Image credit: Interior Fox)
Not all modern kitchen ideas need involve ripping out the cabinets and cupboards. Jenna Choate and Mariana Ugarte, interior Designers and co-founders of Interior Fox, shed some light on their top design and decorating tricks, to revamp a kitchen in time for Spring, and all within a weekend.
The kitchen is often the heart of the home. Whether it's in constant use, or maybe more of an occasional space (well, not everyone cooks, right?) but what are the easiest and quickest ways to make a big difference to your kitchen design?
Update your cabinet handles and hardware
'Outdated cabinets? Upgrade the aesthetic of a kitchen swiftly by swapping out the hardware and hinges!' say Jenna and Mariana. 'You can smarten the appearance of akitchen by opting for on-trend matt black handles and hardware. We find this gives an instant contemporary and sleek, modern feel to an otherwise lacklustre or tired kitchen.'
Brassware isn't the only quick update you can do. 'As the sink tends to take center stage in most kitchens, take advantage of this and turn it into a real style statement by replacing the tap with one that complements the hardware - voilà! You've instantly, and with little-fuss, taken the first step to improving your kitchen!'
Our guide to the best kitchen taps will help you with this.
Declutter surfaces and add sleek open-shelving for an improved design aesthetic
'Another task which can be achieved easily in a weekend, is to get rid of countertop-clutter,' say Mariana and Jenna. This is one of those small kitchen ideas which sounds almost too obvious to say, but makes a massive difference. 'Simply reorganising the items on the worktop may not sound terribly taxing, but it can make a big difference to the look and feel of a kitchen, and really improve the design aesthetic. Stow away used chopping boards, tired looking utensils and cookbook clutter - nobody needs to see them! Additionally, make the most of any spare wall space or nooks by fitting contemporary open shelving. This allows you to edit your favourite kitchen accessories and display them in a chic way.'
Switch up kitchen lighting
'Lighting can be another straightforward, big impact design feature to change the look and feel of a kitchen', explain Jenna and Mariana. Lighting can be particualry impactful when used as a small kitchen island idea. 'With this project in Finsbury Park, we chose straight forward pendant fittings but in sleek black and brass, and then specified extra large globe light bulbs that add wow-factor! The pendants are actually a standard and straightforward fitting, and the sculptural design of the bulb is easy to fit and gives a modern and industrial finish to a space'.
Elevate the look and feel of a kitchen, with a splash of jewel-toned velvet or luxury fabric
Looking to elevate the feel of your kitchen? Well, Jenna and Mariana have a top tip. 'Work in luxurious feeling dark blue or green velvet onto any available upholstery or chairs in the kitchen. For this project in Finsbury [pictured above] we opted for stylish Indigo Blue velvet fabric - it really up-scales the kitchen aesthetic and works beautifully with the matt black kitchen cabinet hardware and handles.' say Jenna and Mariana.
Rory Alastair Robertson has a long-standing history working across the interiors industry. Raised in Morningside, Edinburgh, Rory grew up surrounded by classically grand Scottish Georgian and Victorian architecture.
His first appreciation for interior decoration sparked when his mother hired scaffolding and decorated their three-storey Victorian staircase in Farrow & Ball Picture Gallery Red, by herself. She then painstakingly gold leafed the drawing room - by hand - over a base coat of Sudbury Yellow. This was the era of Jocasta Innes and Kenneth Turner, when paint techniques and maximalist style were the decorating raison d'être.
With this inherited gene of creativity, Rory went on to study Interior Architecture at the University of Edinburgh, and later, Theatre Set Design and Architectural Illustration at The Rhode Island School of Design on America's East Coast.
Rory's foray with the editorial world started a decade ago at Livingetc magazine, a title which he regularly contributes to today. Specialising with a deep-seated appreciation for historical homes and interiors, Rory often travels far and wide to be inspired by unique properties with a fascinating history.
If he's not uncovering an unusual National Trust property in the UK, then he's seeking out a Neo-Classical clifftop villa in Capri or a Palazzo in Florence.
Based in London's Shoreditch, working as a Senior Interiors Editor and Consultant, Rory's portfolio of work is a creative melting pot of residential and commercial interior design projects and a plethora of editorial writing work. Rory is also Guest Interiors Lecturer at the prestigious KLC School of Interior Design in Chelsea, London. His most cosseted possession is a ramshackle Citroen Deux Chevaux, which he has reupholstered in Pierre Frey yellow and turquoise silk fabric.
Discover more at roryrobertson.co.uk and @rory_stylist.