How to quickly organize, declutter and store kitchen appliances - 6 swift steps to a tidy cooking space
Expert tips for a fast and easy kitchen clear up- and how to keep it that way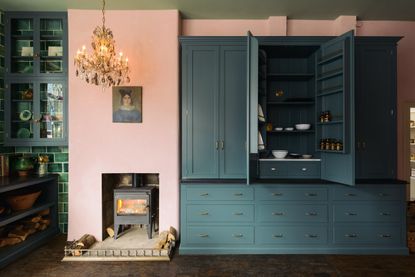 (Image credit: deVOL)
The kitchen is arguably where we spend most of our time, whether it's cooking, socializing or even working. So learning top tips on how to quickly organize, declutter and store your kitchen appliances will be time well invested.
A cluttered cooking space can have a direct effect on how you feel. But if you're too busy or too tired (or both) to do a full clean, a quick tidy up of appliances can sometimes be all you need to breathe easy.
'Bulky kitchen appliances take up lots of precious space in our cupboards and on our worktops,' says Laura Price, of The Home Organisation. 'If you want an organized kitchen it's vital to think carefully about what you buy and what you need.
'We work with a lot of clients who have unused waffle makers or slow cookers, but yet no space for the things they use every day.'
How to quickly organize, declutter and store kitchen appliances
Follow these top expert tips for an easy - and fast - way to clear up your cooking zone without exerting yourself too much.
1. Edit your appliances collection
Ok, it's time to get strict with that ever-growing appliance collection and banish what you don't actually use (we're looking at you, spiralizer) from the kitchen.
Laura Price, of The Home Organisation, says: 'Editing is the first step to an organized space, and getting rid of unused appliances can create a massive amount of space in petite cooking zone and is great way to create more storage in a small kitchen.
'Think about what you use daily/weekly/monthly, versus what gets put at the back of the cupboard and is rarely used. Why is that? Was the item too complicated or heavy to use? Do you never actually make the thing it was intended for? Do you find yourself using different methods to get the same result? Let go of anything you know you don't regularly use, and create some space instead.
'And this goes for all of the little attachments for appliances too. If you never make juice or bread, or if you never spiralize your vegetables, you don't need to keep those attachments either.
'Don't worry about keeping things just because they came as part of a set. Think about what you use in your daily life and let that dictate what stays in your home.'
Laura adds: 'You need to think about the space you have available for storage, and how you want your kitchen to look and feel. If you hate having things out on your worktop you'll need to be more ruthless about editing what you have.'
For a quick cull, co-founder of NEAT Method, Marissa Hagmeyer, says: 'Gather your small appliances together by type. From there, set aside any duplicates or those that haven't been used in the past year, for donation.
'If you have any that are very rarely used, it might be time to consider getting rid of it rather than letting it take up room on your shelves.'
2. Invest in multi-use appliances
Why let a whole host of appliances clog up your kitchen cupboards when one can do five jobs?
For example, a you can buy different attachments for one KitchenAid stand mixer, including a food processor and sifter and scale attachement. Or try a multi-purpose hand stick blender that can whip up a smoothie or soup, as well as offering other options, like a milk frother, food processor/chopper, and a whisk.
'For the sake of space saving, commit to buying appliances that are multi-use instead of single-use, whenever possible,' says Marissa. 'You might also consider the one-in one-out rule - making sure to remove one small appliance for donation, anytime you bring a new one into the house.'
'Ultimately, you can have the thing or the space, so it could be worth investing in one appliance that serves several purposes,' says Laura Price.
3. Keep regularly used items front and center
Your kitchen should feel easy to use and to keep tidy, which means you need to be able to easily access the things you use regularly.
'If an item is used daily it should be front and center so you can get it out and put it away with no fuss,' advises Laura Price. 'Less frequently used items can go towards the back of cupboards, or on higher shelves, but be mindful of the weight of an appliance. Don't put anything heavy up high and risk dropping it or hurting yourself when you take it out.'
Things that are used multiple times every day can be left out, but there are ways to keep them looking neat.
'We suggest only placing appliances that are used frequently on the kitchen countertop,' says Marissa Hagmeyer. 'For example, a coffee maker can live on your counter if it is used each morning, but a crock pot is better suited in a cabinet.'
And Laura Price suggests using trays as a quick and easy way to make these regularly used items look tidier.
She says: 'If you keep appliances out on your worktop, like your coffee maker, with its coffee pods and other accessories, try putting them on a tray to stop them from straying.
'In the case of toasters, using a tray is also a really useful way to catch crumbs and make cleaning easier.'
4. Use cable tidies to hide messy-looking cords
'Tangled cords or missing attachments are annoying to deal with,' says Laura Price. 'Try attaching a removable cord tidy - an quick and easy way to tidy cables - to your appliance to keep the cords neat.'
And if you want to quickly declutter and tidy up but don't have any cable tidies to hand, simply hiding them will do the trick.
Marissa Hagmeyer says: 'Keep any appliances that are used on a daily basis neatly stored on your counter against a wall with a plug so that the electric cord can remain close and, ideally, hidden.'
5. Store small appliances in bins or baskets
It's a good idea to keep your small appliances and their attachments all together, for a well-organized space.
Michelle Urban, of The Organized House, says: 'If you have small kitchen appliances with different parts and accessories, like an immersion blender, store all the items together in a bin or basket.
'This way, when you want to use it, you never have to search for the parts and pieces. Instead, everything is together in a proper home base - making for easy access.'
Sue Spencer, a KonMari Master trained by Marie Kondo and founder of A Life More Organised, agrees this is an effective storage solution. She says: 'I tend to store appliances that have multiple parts (like mixers or blenders) in containers that hold all the bits as well as the appliance. It helps to keep everything together and, if the appliance isn't used very often, it can be put further back in the cupboard and will slide out easily when it's going to be used.'
And NEAT Method's Marissa Hagmeyer also suggests keeping cords neatly tied up to create less mess within baskets, bins, or drawers. She says: 'Corral small appliances and their accessories in bins or baskets labeled by item.
'Wrap appliance cords properly using velcro or rubber bands before storage to keep things neat. Avoid high shelves for small appliances as they tend to be heavy.'
6. Add shelf risers to taller cupboards
If 'shelf riser' are not currently two words in your vocabulary, they soon will be. These nifty products are must-haves for organizing kitchen cupboards and instantly create more storage space in deep or tall cabinets.
'A quick win in most kitchens is to move the cupboard shelves around and use shelf risers to divide taller spaces,' says Sue Spencer. 'If you didn't do this when you moved in to your home, take five minutes to see if this makes a difference – you'll be surprised how much more you'll fit in with 'bespoke' shelf positioning that fits your stuff.'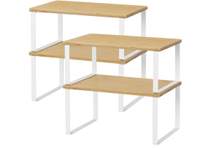 Who knew such a nifty little device could make all the difference? Slot this dual height riser into a cupboard and you now have double the storage space.
The Livingetc newsletter is your shortcut to the now and the next in home design. Subscribe today to receive a stunning free 200-page book of the best homes from around the world.
Ruth Doherty is a lifestyle journalist based in London. An experienced freelance digital writer and editor, she is known for covering everything from travel and interiors to fashion and beauty. She regularly contributes to Livingetc, Ideal Home and Homes & Gardens, as well as titles like Prima and Red. Outside of work, her biggest loves are endless cups of tea, almond croissants, shopping for clothes she doesn't need, and booking holidays she does.