How can I make my outdoor dining area more welcoming? These ideas will make your backyard a beacon for entertaining
Create the most inviting outdoor dining area with these easy-to-implement, expert-recommended suggestions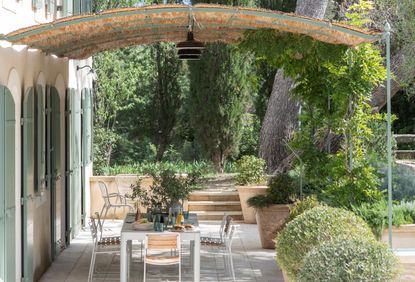 (Image credit: Herve Hote. Studio credit Bosc Architectes)
The Livingetc Newsletter
For style leaders and design lovers.
Thank you for signing up to LivingEtc. You will receive a verification email shortly.
There was a problem. Please refresh the page and try again.
The best kinds of outdoor dining spaces are the ones that people voluntarily gravitate toward it. While you may already have a fully set up porch dining or even kitchen, a few tweaks can help you make it the most dreamy area, with just a few design additions.
We spoke to interior designers to ask for their top backyard ideas to make your dining area a real draw for guests.
1. Landscape around with tall plants
Landscape your modern garden with tall trees and plants that will create a cocooning, almost enveloping environment for you to dine in. The outdoor dining surrounded by nature will always give the space a refreshing feel.
'This residence is located in Sonoma, which tends to receive harsh sunlight,' says Andrew Mann, founder of Andrew Mann Architecture. 'To help minimize, we designed a solid wood and concrete structure, which keeps the rear and inside of the house comfortable and cool. The wood and concrete also blend into the garden steps and walls, along with the tall plants, to become one integrated design.'
There are several plants you can add to your outdoor space, next to the dining.
'Elephant Ear is a tropical plant that can add a dramatic touch to your outdoor dining area,' says Richa Kedia, gardening expert, publisher, and founder of Simplify Plants. 'It prefers well-drained soil and partial shade. This plant requires regular watering to keep the soil moist. Another great choice is Cordyline; a tropical plant that can add a pop of color to your outdoor dining area.'
'Bird of Paradise is a nice, sculptural-looking plant,' says Richa. 'It prefers well-drained soil and full sun to partial shade. And, Areca Palm is a popular indoor plant that can also thrive outdoors in a shaded area. Plus, you can combine plants like Bamboo and Areca Palm, Ficus and Philodendron, Yucca and Cordyline, and Bird of Paradise and Canna Lily to create a cozy and inviting dining area.'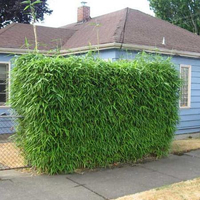 Sunset Glow Bamboo, Fast Growing Trees
This bamboo tree is rapidly gaining popularity in the landscaping world because of its incredibly unique form. A fully mature tree will grow up to 6-8 ft tall.
2. Add a swing next to the dining spot
Hanging or swinging chairs are great modern outdoor furniture pieces. Not only does it offer added seating, but it also injects whimsy and fun into the space. This is a great piece to add next to your dining, so it breaks the formality of the space and gives it a refreshing vibe.
There are several designs one can choose from, depending on the size and installation possibilities in the outdoors. From a simple bench swing, and a hanging daybed, to a hammock, and more, pick the one that best suits you and your home.
3. Install a roof above
There's something inherently cozy about a covered outdoor space. Be it a wood patio cover, fabric canopy, polycarbonate cover, woven bamboo, or straws, these give an earthy feel to the exteriors, and make the outdoor dining feel one with nature yet wonderfully protected from the elements. Consider installing one if your seating is open. This will not only ensure that your furniture lasts long but also keeps all the outdoor fabrics (carpet, pillows, table runners) protected.
'This frame structure is made of metal and the roof is made of bamboo canisse, ideal for the climate and to give a cozy vibe,' says Jean Bosc, co-owner and architect associate at Bosc Architectes.
4. Bring in colorful furniture
Choose modern outdoor furniture pieces drenched in eye-catching hues to make your garden or backyard the heart of the home. Instead of buying dining pieces that are available in sets, consider mixing and matching them.
'We love to mix and match pieces to make a space all your own,' says Dan Mazzarini, Principal and Creative Director of BHDM Design and ARCHIVE by Dan Mazzarini. 'To keep your space from looking too mix-matched, start by honing your style. Generally, you shouldn't feel confined to buying a whole set when shopping for outdoor dining furniture. Instead, reference the visual weight of individual pieces to highlight and complement your favorites. Pair your showstopping teak table with wicker chairs to balance it out.'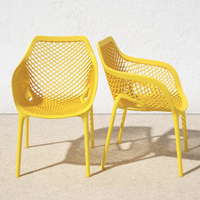 Patio dining armchair, Wayfair
Add a big boost of color to your outdoor dining with these yellow chairs, that are as comfortable as they are decorative.
5. Install patterned floor tiles and throw in pillows
Choose patterned and colorful backyard or patio flooring to up the ante of your outdoors. Consider tiles that are in interesting and new textures and patterns. These will not only elevate the outdoors but also make your dining feel like a more decorated and welcoming space.
Consider geometric, herringbone, or chevron patterns for the tiles. Colored tiles can inject a wonderful dose into the outdoors, creating an eye-catching clash with the greenery outside. In terms of the ideal tile materials, clay, natural stone, encaustic, ceramic, and porcelain work best.
Another great way to cozy up the outdoors is with pillows and throws. Consider fabrics such as Sunbrella, Perennials Fabrics, or polypropylene and polyester as these hold up well to the sun and rain.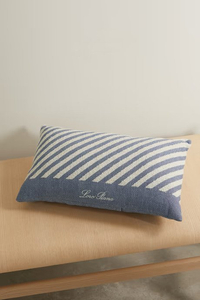 Add a soft, soothing touch to your outdoors with this beach pillow, made from a soft cotton blend and bouclé stitching.
For style leaders and design lovers.
Aditi Sharma Maheshwari is an architecture and design journalist with over 10 years of experience. She's worked at some of the leading media houses in India such as Elle Decor, Houzz and Architectural Digest (Condé Nast). Till recently, she was a freelance writer for publications such as Architectural Digest US, House Beautiful, Stir World, Beautiful Homes India among others. In her spare time, she volunteers at animal shelters and other rescue organizations.