Don't buy a bathroom sink without reading this first - the expert guide to picking the perfect one
Experts share their top tips on how to buy the right bathroom sink, from materials to mounts and making sure the choice is right for you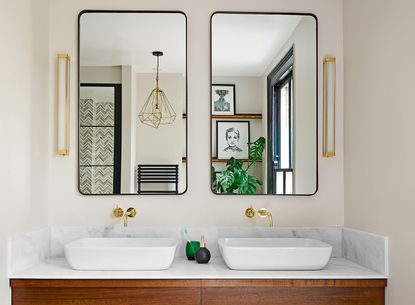 (Image credit: Future)
The Livingetc Newsletter
For style leaders and design lovers.
Thank you for signing up to LivingEtc. You will receive a verification email shortly.
There was a problem. Please refresh the page and try again.
There are a number of factors to take on board when it comes to choosing the right bathroom sink.
Not only do you need to consider the style and aesthetic you're trying to achieve, but also the space, material, mount type, and budget.
The sink is a big part of your bathroom, and should be in keeping with the style of the rest of the space, as well as durable and good quality (that doesn't have to mean ultra expensive).
There's a handful of different sink mount types to choose from, and the one you choose will ultimately come down to personal preference, but can also be dictated by the space and budget you have. We asked Alice Arterberry, Principal at Arterberry Cooke Architecture, to give us the lowdown.
How to buy the right bathroom sink for the space you want
1. Choose what mount type you want
'Wall mount sinks are ideal for rooms with limited space,' says Alice. 'This sink, above, is a singular monolithic unit that is free floating without a base, mounted to the wall. Typically seen in cast iron and porcelain, but recently you can find them in stone. Cast iron wall mount sinks are quintessential to modern farmhouse bathrooms and vintage-inspired spaces.'
An undermount sink is when the sink is installed underneath the countertop, with the plumbing concealed in a vanity unit - they're big in bathroom trends right now. Alice says: 'Undermount sinks are the most common type of sink right now because they're easy to clean and offer a seamless appearance.' Undermount sinks are often used in larger bathrooms but can also work well in smaller spaces.
A pedestal sink is probably the most traditional style option, though it'll still work in a modern bathroom. 'A pedestal sink is a classic, monolithic unit made of a slim column anchored to the floor and a small basin top that is mounted to the wall,' says Alice. 'These are ideal for small bathrooms and, because of minimal seams, are easy to clean.'
If you don't want to opt for the traditional porcelain pedestal sink, you can always choose a more modern option in a dark hue, as seen above.
Vessel sinks are increasingly popular. The vessel can be a design statement in itself, and can even be the focal point of the space. 'A vessel is when the entire sink sits freely on top of the countertop, paired with a wall mounted faucet,' says Alice. 'Great options for both rustic farmhouse or chic modern.'
And Dan Mazzarini, Principal & Creative Director of BHDM Design says: 'A vessel sink acts as a sculptural piece but has a splash zone to worry about. It really depends on how sensitive you are as a user to the cleanability factor.'
'Drop-in/Surface mounted sinks are a very traditional style that has a rim that sits on top of the countertop,' Alice says. A surface-mounted sink is 'dropped in' to a hole in the vanity unit countertop and, although it looks stylish, has fallen out of favor slightly as undermounted sinks are easier to clean as they have no outer seams to collect a buildup of dirt.
Lastly, a farmhouse or apron sink is a large sink often seen in the kitchen. It is 'deep and wide with an exposed front that is meant to protrude slightly beyond lower cabinetry', says Alice. A very traditional style, it's now become a statement piece in today's home thanks to the soaring popularity of the modern farmhouse trend.
2. Factor in the space you have
Before you start looking for your new bathroom sink, look at the space it's going to be used in.
Is it for an adult suite, a kids' room, or a guest bedroom? 'It helps to think about how often the sink will be used and by whom,' says BHDM Design's Dan Mazzarini. 'An undermount is a safe option for kids' bathrooms but a vessel sink really makes a statement in a guest suite.'
Also think about the size of the room and whether you need to save space for bathroom storage. If you were dreaming of a large trough-shaped sink but you're working with a small powder room, you may need to swap for a small round undermount (as seen above), a vessel, pedestal, or a wall-hung option.
3. Consider the material
'Design forward spaces are employing natural organic sink finishes that provide dramatic accents to a space,' says Naomi Neilson, CEO and Founder of Native Trails. 'Natural materials in sinks are in high demand. We are seeing this with our hand-worked metals like copper, nickel, silver, and even gold and platinum - and materials such as smooth concrete, whose organic modern appeal offers a great deal of versatility.'
Dan Mazzarini, of BHDM Design says: 'Porcelain is the standard go-to but has a big impact. When we talk about porcelain it doesn't necessarily mean white. This could mean bisque or black, and Kohler is even revisiting its historic colors.;
He adds: 'For a stone sink, granite is our first choice, particularly polished marble. It's a softer material so there can be durability concerns but you'll get a lot of love when you go in that direction.
'Glass, cement, and stainless steel are other interesting options that bring a particular architectural austere look to the room.'
See more about sink material options below:
Porcelain sinks: Undoubtedly the most popular sink material. 'The base material is either cast iron or steel which is then coated in porcelain,' explains Arterberry Cooke's Alice Arterberry. 'Very durable, but if the porcelain coating chips the steel / iron underneath will be exposed, and it will need repairing.'
Ceramic sinks: 'Another very popular choice, ceramic sinks are made from clay and baked at high temperature,' says Alice, adding: 'Very durable and versatile.'
Fireclay sinks: Alice says: 'A type of ceramic that is fired at a higher temperature, making it more durable and easy to maintain than ceramic, but also heavier and pricier.'
Stone sinks: Made from various natural stone these sinks offer a great deal of beauty and character, but they do typically require more maintenance.' says Alice.
Wood sinks: 'Another, unique, charismatic sink material that offers a lot of warmth and beauty but does require a bit more attention and maintenance,' comments Alice. 'Typically found as a vessel style.'
Glass sinks: 'Found as both vessel style and drop-in, glass sinks are extremely versatile offering various shapes, colors, textures and opacities for a luxurious option,' states Alice. 'As you can imagine, you will need to careful with glass and always make sure its tempered.'
Cast Iron sinks: 'One of the heavier and more expensive options,' says Alice. 'Cast iron is very versatile and durable with the option of many finishing colors for its external enamel finish.'
Micro cement/concrete sinks: 'Increasing in popularity, concrete sinks are very attractive in modern aesthetics but do require skilled installers,' comments Alice.
Stainless steel/brass/copper sinks: More expensive than porcelain but cheaper than stone, metal sinks are durable and versatile allowing you to play with sheen and texture (ie. hammered brass),' says Alice. 'Brass and copper sinks do require a lot of maintenance and can scratch easily, leaving permeant damage.'
4. Go for a sink that matches your style
'Style equates to shape, so you need to first consider what you are going for,' says Dan Mazzarini. 'Organic shapes feel more traditional while squares and sharper lines lean contemporary. Once you have a feel for the mood of the space, lean into that.'
And Native Trails' Naomi Neilson says you can't go wrong with a vessel sink for extra style points.
She says: 'Unique and interesting vessels are enjoying increased popularity. The artistic vessel sink will never go out of style, as it's a great way to really personalize a space with a memorable piece in a highly visible bathroom.'
Natalie adds: 'Trough-shaped sinks are in high demand for that larger, super-functional basin and intriguing look.'
5. Look at the cost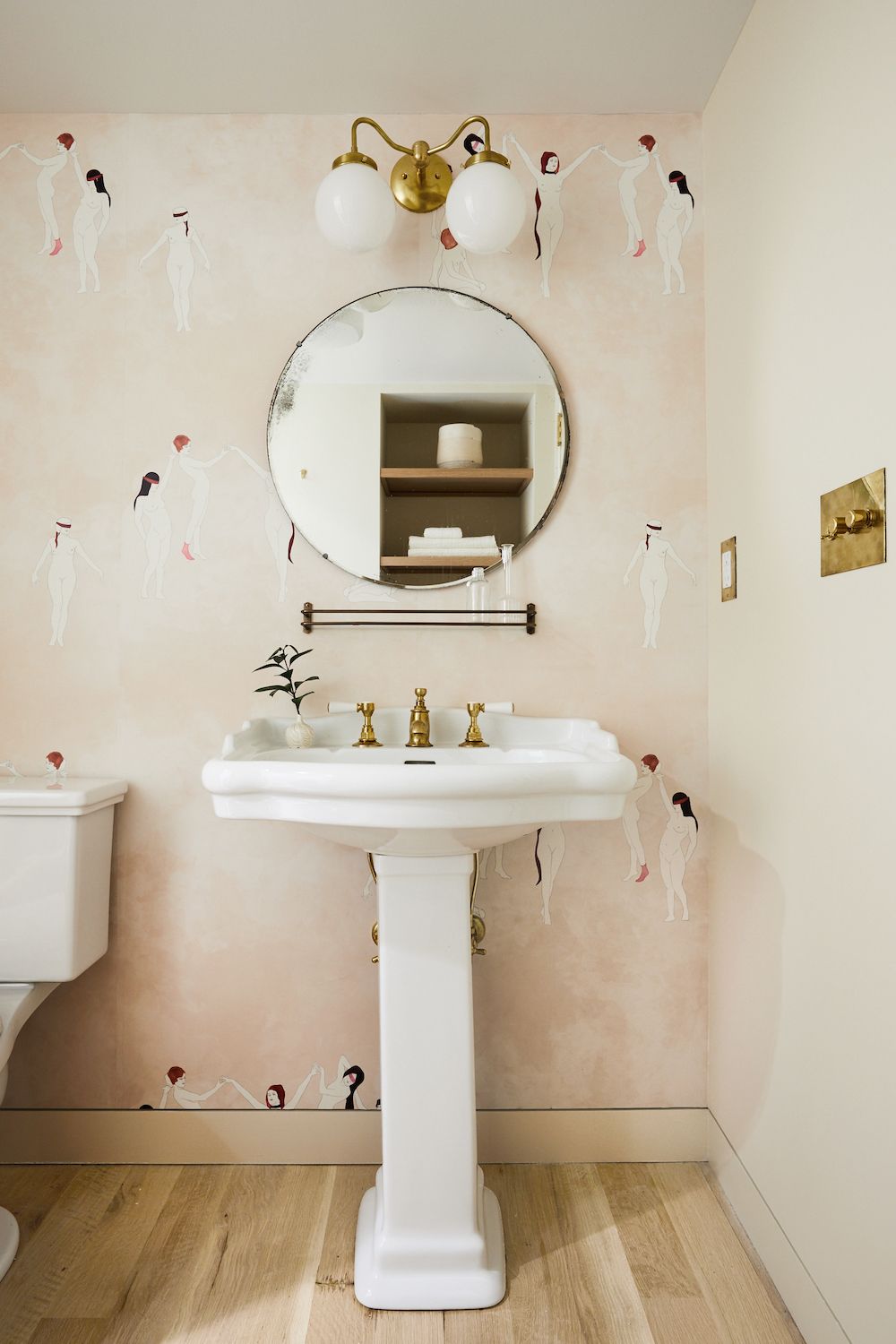 The cost of a bathroom sink all depends on the size, material and manufacturer.
'You can get a 17" drop-in porcelain sink for around $100 or a wall mounted marble sink for $10k+,' says Alice Arterberry.
And Dan Mazzarini adds: 'You can find a nice under-mount sink for around $200 on Wayfair. One thing to consider is what faucet mount can be used with them. Reasonably, a good-looking sink can cost around $400-$600. What really matters for an undermount though, is what surrounds it. Focus on that to tell the story and elevate the look.'
We found this undermount sink for $88 on Wayfair.
What bathroom sink is better for a small space?
'Wall mount or pedestal sinks are great space-saving options for small bathrooms as they don't lend to bulky storage below like typical vanities (which use drop-in or undermounts),' says Alice Arterberry.
Dan Mazzarini says you don't need to compromise on style just because the bathroom is bijou.
He comments: 'Stone sinks are very Roman in design, which adds a lot to the look; they can be small but still really impactful. Pedestal sinks with metal or glass legs are also really effective.'
And what sink would he choose for a larger bathroom? 'When you do have a bit more space, you can have a trough sink with multiple faucets. Think of your favorite hotel and steal the look.'
The image above designed by Lindye Galloway Studio + Shop shows how a small stone vessel sink works really well in small space.
For style leaders and design lovers.
Ruth Doherty is a lifestyle journalist based in London. An experienced freelance digital writer and editor, she is known for covering everything from travel and interiors to fashion and beauty. She regularly contributes to Livingetc, Ideal Home and Homes & Gardens, as well as titles like Prima and Red. Outside of work, her biggest loves are endless cups of tea, almond croissants, shopping for clothes she doesn't need, and booking holidays she does.