10 fall-blooming flowers gardeners always choose for a perennial garden – 'they're at their peak now'
These prolific bloomers are not bothered by shorter days and cooler nights, attract bees and butterflies, and come back year after year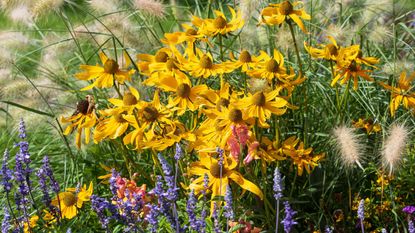 (Image credit: Natalia Greeske/Alamy Stock Photo)
Perennial plants add splashes of color to fall flowerbeds that prolong the season and bring the garden to life. If you have a small yard it's often a good idea to focus on plants that flower prolifically in late summer and fall for the best show.
Plenty of late summer perennials continue to flower well into fall. Most of them will thrive in either full sun or dappled shade in a modern garden. They are also happy in containers if your growing space is limited to a balcony or roof garden. Once they eventually finish flowering another plus is that they can easily be divided into clumps to refresh your stock and fill any gaps in the flowerbed.
Here's our selection of the best fall blooming flowers for a perennial garden. The joy of our chosen varieties is that you can choose just one or two or all of them if you prefer, and they will all segue harmoniously together as part of your planting design.
1. Chrysanthemum
USDA zones: 5-9 (hardy varieties)
Height: 2-3 feet
We start with an absolute classic of fall flower beds that is always popular. Wonderful chrysanthemum plants bloom as the days get shorter and the nights lengthen. On sunny days they are great late season pollinating plants and will be covered with butterflies and bees.
We are talking here about the varieties often referred to as garden mums and hardy mums, which keep giving season after season, rather than the annual varieties which are bought in fall to add color to flower beds and containers.
'Hardy chrysanthemums are the last perennials to come into bloom in the garden,' says horticulturalist Jenny Rose Carey, author of The Ultimate Flower Gardener's Guide, available from Amazon. 'Some varieties are so late that you feel they cannot possibly open before winter arrives. When they do bloom, their rich colors and spidery, daisy or button shapes are worth waiting for.'
You will rarely find these cultivars in garden centers, and will need to start them from seed or order them from a nursery or specialist grower.
2. Asters
USDA zone: 4-8
Height: 1-3 feet
If you're looking at what to grow in containers in fall, asters are iconic fall plants that add a real late season show and are one of the all-time best fall blooming flowers for a perennial garden. There is a huge range of plants to choose from of different heights and flower sizes, including the favorite Michaelmas daisy variety which has definite claims to garden worthiness when you're choosing.
Add these purple, blue and occasionally pink daisy-like flowers to your yard and they will soon become a permanent feature year after year. Plants are widely available and can be picked up easily in nurseries or online. Once established in your garden it's simple to propagate them by division in late fall, and they will put on their first display the following year.
Try the prolific yet undemanding Thompson's aster 'Nana'. It gets full marks for all the things that really matter: it's long lived, flowers continuously from June to November, has an upright habit and gorgeous color, plus looks elegant too.
3. Mexican bush sage
USDA zone: 7-10
Height: 4-5 feet
Billows of velvety light purple Mexican sage bush (Salvia leucatha), which you can buy on Etsy, will add a lovely softness to fall flowerbeds. The spikes of flowers are prolific and long-lasting late into the growing season, making it a great choice for one of the best fall blooming flowers for a perennial garden.
The fact it's drought-tolerant, resistant to pests, one of the best flowers for hummingbirds and bees, and can be kept from year to year means it's well worth growing. It's perennial in southern climates, where the same plant will thrive for many years, but you can overwinter it in a cold region too.
'Mexican sage bush may overwinter if you site it in a warm microclimate and mulch heavily with dry leaves or salt hay over winter,' says Jenny Rose Carey. 'It requires a long growing season and some heat during summer to flower well but in good conditions you will be rewarded with arching stems resplendent with flowers in later summer and fall.' You can also grow it as an annual if you live in a cooler climate.
This low-maintenance choice needs a well-drained location that receives full sun, and is a great choice for xeriscape gardens too.
4. Coreopsis (tickseed)
USDA zone: 4-9
Height: up to 8 feet
Producing masses of yellow daisy-like flowers, coreopsis are a native flower that blooms from summer through fall. They are easy-care plants for a low maintenance garden that look great planted with other yellow and orange flowers as a filler for a hot flowerbed scheme, for seasonal containers, or planted in large swathes as a low-maintenance landscaping idea.
There are both perennial and annual varieties of coreopsis. Try this perennial pale yellow 'Moonbeam' from Amazon if you're looking for prolific daisy-like blooms over a long period and compact growth. Meanwhile this 'Early Sunrise', from Lowe's, has ruffled double flowers in a striking deep yellow-orange color and fine textured foliage.
Tough and durable coreopsis grow in any soil, sun or partial shade, and are hardy in low temperatures. They attract nectar-seeking butterflies too and make great cut flowers.
5. Coneflower (echinacea)
USDA zone: 3-8
Height: 2-3 feet
Originating from the prairies of North America, these large pink and purple daisy-like flowers are one of the best fall blooming flowers for a perennial garden. The blooms are shuttlecock shaped, with narrow reflexed petals falling away from a central cone.
They are best planted in fall, and need time to put down roots before their first winter. Choose a sunny position and well-drained soil, and they will soon settle, send down deep roots, and bloom again every summer to become a magnet for butterflies, while birds love the seed heads in fall. A wildlife gardening all-rounder.
Perfect for naturalistic looking planting schemes, coneflowers look best woven in loose drifts through ornamental grasses. Choose a variety like Echinacea angustifolia, with down-turned pink petals surrounding an orange cone, or 'Flame Thrower' with rich, burnt red-orange cones surrounded by slender orange petals tipped with yellow.
There are also compact cultivars such as pink 'Kim's Knee High', which at 15-24 inches tall is suitable for smaller spaces and containers.
6. Butterfly weed
USDA zones: 3-9
Height: 1-2 feet
Despite the somewhat off-putting name this vibrant plant is anything but a weed. These easy-to-nurture drought-tolerant perennials can be found growing as a native wildflower in meadows and prairies, and will make a striking addition to a sunny flowerbed in your yard.
It's a must-have if you want to attract hordes of pollinators as the long-flowering flat-topped clusters of small, neon-orange blooms are packed with nectar and pollen.
A type of milkweed, butterfly weed, which you can find at The Home Depot, likes a sunny position in well-drained soil and will initially take a little while to get established in your yard before it flowers. Then the seedpods will burst open and release hundreds of seeds that will disperse on the wind and shoot up the following year. You will gradually acquire a mass of blooms so snap off the seedpods if you want to limit the spread.
7. Helenium (sneezeweed)
USDA zones: 3-8
Height: 3-5 feet
Easy to grow helenium (also known as sneezeweed) are indispensable when choosing the best fall blooming flowers for a perennial garden. Native to North America, they produce some of the richest colors of all in the autumn garden.
This late summer through fall favorite comes in shades of sunny yellow, burnt orange and bronzy red flowers. The petals drape gracefully away from a distinctive central disk, where bees and butterflies love to hover and gather pollen.
These beauties will take you right into fall as long as you give them the full sun and moist soil they desire. They work best in a naturalistic planting scheme that reflects their natural habitat.
The plants often become so tall they need support to prevent them from flopping over. Instead choose sturdy self-supporting varieties that grow to around 4 feet such as rich yellow 'Butterpat' and mahogany red 'Bruno'. You can also get dwarf varieties such as 'Crimson Beauty' that work well in containers.
8. Goldenrod (Solidago)
USDA zones: 3-9
Height: 2-4 feet
If you're looking for ideas how to introduce a warm autumnal color palette to your flower beds make rich yellow goldenrod your go-to. The arching plumes are laden with masses of tiny flowers that produce an eye-catching display in late summer through fall, and this variety is another one that can easily be divided to get more plants.
Also known as 'prairie goldenrod', 'tall goldenrod', and 'field goldenrod', there are so many types to choose from it's a good idea to decide if you want one that will add height or a more compact one. 'Look for varieties such as 'Fireworks', whose flowers live up to its name, and the compact cultivar 'Golden Fleece', with fluffy flowers held on a shorter plant,' suggests Jenny Rose Carey.
The blooms of this easy to grow perennial are rich in nectar and of special value to native bees and honey bees. Goldenrod will thrive in either full sun or part shade, tolerates dry conditions, and even poor soil. It's ideal for planting in dry gardens too.
9. Gaillardia (blanket flower)
USDA zones: 3-9
Height: 1-2 feet
Soft-petalled gaillardia is one of the best fall blooming flowers for a perennial garden as it flowers prolifically from summer through fall. A lovely showy perennial, it's generally seen with large red yellow-tipped daisy-like blooms with petals that can be up to two inches long, but is also available in pure orange, red and yellow colorways.
It's a major wildflower in prairies and a US native plant that is also known as Indian blanket. This flower is very easy to grow and a good pollinator plant if you want to attract bees to your garden. It's not picky and all it needs to thrive is good drainage.
When it comes to when to deadhead perennials, the blooming season can be prolonged by deadheading and this lovely flower reseeds readily too. You can also get a head start for next year by sowing seeds in late summer and protecting any young plants that pop up over the winter.
Once established it's best to divide the plants every two to three years in the spring or fall to keep them going. The roots are capable of producing new shoots too, so there are plenty of easy options for getting more gaillardia in your yard.
10. Dahlias
USDA zones: 4-7 as annuals (winter hardy in zones 8-11)
Height: 1-6 feet
Beginning their display in midsummer, dahlias will flower until the first frosts if deadheaded regularly, and are one of the superstars of the fall garden. Generally, dahlias are perennial in Zones 8 and above.
'These treasures are one of the most well-loved and widely grown flowers because they come in a dazzling rainbow of colors, they produce an abundance of flowers from midsummer into autumn, and the range of shapes and sizes available is staggering,' says dahlia expert Erin Benzakein, founder of Floret Flower Farm and author of Discovering Dahlias, available from Amazon.
'As the nights grow cooler and the end of the flower season is on the horizon, I find that dahlias are at their peak, and I take every opportunity to soak up their magic before they are gone for the year. The cooler temperatures and decreasing daylight trigger the plants in the garden to start changing color, and before I know it, the whole landscape is a riot of brilliant fall tones.'
The dinner-plate sized blooms of 'Sierra Glow' are one of Erin's favorite sunset-toned dahlias for fall flower displays. She likes to cut them to take indoors and arrange them with Amur maple foliage, miniature rose hips from Rosa 'Dupontii' and golden currant foliage.
The Livingetc newsletter is your shortcut to the now and the next in home design. Subscribe today to receive a stunning free 200-page book of the best homes from around the world.
Lifestyle journalist Sarah Wilson has been writing about flowers, plants, and garden design and trends since 2015. Having already studied introductory garden and landscape design as well as a course in floristry she is currently adding to her list of qualifications with an RHS Level 2 course in the Principles of Plant Growth and Development. In addition to livingetc.com, she's also written for homesandgardens.com, gardeningetc.com, Modern Gardens and Country Homes & Interiors magazines.