5 of the easiest indoor palm trees to look after - create a lush interior garden with no effort at all
Design and garden experts share their favorite easy-care palm trees that are perfect to have indoors and take barely any maintenance at all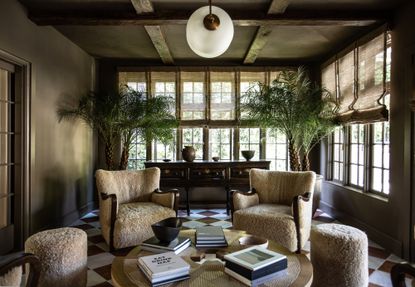 (Image credit: Jake Arnold/Michael Clifford)
The Livingetc Newsletter
For style leaders and design lovers.
Thank you for signing up to LivingEtc. You will receive a verification email shortly.
There was a problem. Please refresh the page and try again.
The easiest indoor palms to care for will add a relaxed yet elevated holiday feel to your space without the worry of killing them off too easily (we've all been there).
Indoor trees have become a staple of the well-curated indoor garden. They elevate your interior design scheme and add vertical drama and height to any space. A palm tree, particularly, creates a peaceful ambiance with its whimsical fronds and bold green hues, evoking a sense of tropical luxe within the space.
Palms are one of the best indoor trees - they make a style statement and are used by top designers, including the likes of Martyn Lawrence Bullard and Jake Arnold, to lift the visual interest in a room with a sculptural element.
The easiest indoor palms to care for
Whether you're after the best houseplants for beginners or simply time-poor, these easy-to-care-for indoor palm trees won't be too taxing to maintain while also bringing a sophisticated vacation vibe to your home.
1. Parlor palm
What plants are best for a lush indoor garden? The elegant Parlor Palm, or Neantha Bella Palm, (Chamaedorea elegans) is a bushy, tough option.
Sprout Home's Tara Heibel says: 'It's a shorter, but dense, palm normally growing to about 4' tall, and is a great houseplant for beginners. Part shade is fine for this palm, and let it dry down about 5% of its soil volume.'
Paris Lalicata, The Sill's Plant Education + Community Engagement Associate, says: 'The Parlor Palm has been cultivated since the Victorian Era and is the most sold palm in the world.
'It is one of the easy-to-care for palms that is prized for its resilience to indoor conditions and reliable habit. They are versatile and can tolerate lower light conditions, but will thrive well in bright, indirect light to some morning direct sun.'
She continues: 'Parlor Palms aren't finicky about frequent waterings and you can allow the soil to dry out between each watering, just make sure not to leave them dry for too long.
'Another great thing about the Parlor Palm is that they can tolerate normal room humidity, unlike most palms that need higher humidity in the home in order to live happily. It can certainly benefit from higher humidity, but if humidity is only 20-30% RH in the home the palm will do just fine.
'You also don't have to repot a Parlor Palm as frequently as other tropical plants since they don't like their roots disturbed, so you may only see yourself repotting this plant every two to three years into a larger container.'
What's more, the Parlor Palm plant is also a pet-friendly houseplant, and has air-purifying qualities, which makes the Parlor Palm a great plant for first-time plant owners and pet lovers.
Price: $13.01
Size on arrival: 14 - 16 inches tall
2. Kentia palm
The Kentia Palm, or the Thatch Palm (Howea forsteriana), is a palm in the family Arecaceae, and is a sophisticated indoor plant that makes a room look more expensive.
'A favorite of Queen Victoria, these dramatic palms make stunning ornamental centerpieces in the home and can really elevate a space,' says Andrew Gaumond, editorial director at Petal Republic. 'They need plenty of bright, indirect light and thrive best in a warm location.'
And Tara Heibel, founder of Sprout Home, is a fan of the Kentia too. She says: 'The Kentia Palm is a slow grower, but could get tall with its large green palm shaped leaves reaching to approximately 10' tall at maturity.
'It likes part sun to part shade. Let it dry down about five to 10% of its soil volume. It's majestic and tolerant.'

3. Ponytail palm
'The Ponytail Palm is great for beginners, people who travel, and anyone who's looking for a very low-maintenance but interesting houseplant,' says The Sill's Paris Lalicata.
'As long as it's not over-watered, it should thrive in most conditions. Though the 'ponytail' part of its name is spot-on, this plant isn't a true palm - it's actually a succulent, but is collected frequently by palm lovers.'
And how do you make it thrive? Paris explains: 'Another versatile 'palm', while it will do well in bright light to direct sun conditions, we've seen this plant perform well in lower light areas like in unobstructed north-facing living rooms as long as you don't overwater. You also don't have to water it as frequently since it has a preference for dry soil, so be sure to allow the soil to dry out completely between waterings. ' In fact, this is one of the best low maintenance plants for indoor gardening, thanks to how it's better left alone.
She adds: 'This 'palm' will also thrive well in drier conditions in the home so boosting humidity levels is not necessary to keep it happy and healthy.'
4. Areca palm
Areca palms are known as one of the easiest indoor palms to care for, and boast arching, elegant fronds. They are often seen in indoor zen gardens as they just have an air of peace around them.
Although it does best in bright, indirect light, it also has a tolerance for low light and a bit of shade. It prefers moderately moist soil, but not soggy; watering once a week should suffice, but you should water if the top few centimeters of compost have become dry.
'Also called the Butterfly Palm, this beautiful plant has multiple upright leaves that begin to curl resembling a butterfly look,' explains Tara Heibel.
'Multiple stems that come from the base makes for a thick visual coverage but also elegant. Inside, they can reach up to about 7' which makes for an ideal height to frame a space.'
5. Cat palm
The Chamaedorea cataractarum is a bushy, trunkless palm also known as the Cat Palm.
'This is a dark green and tropical palm whose leaves arch over versus upright,' explains Tara Heibel of Sprout Home.
'It will max out at about 3' tall but can be used on a stand planter to gain some height.'
She adds: 'It likes to have even moisture to slightly dry to the touch, and likes part sun to part shade. A pretty tough cat and not all that cranky.'
For style leaders and design lovers.
Ruth Doherty is a lifestyle journalist based in London. An experienced freelance digital writer and editor, she is known for covering everything from travel and interiors to fashion and beauty. She regularly contributes to Livingetc, Ideal Home and Homes & Gardens, as well as titles like Prima and Red. Outside of work, her biggest loves are endless cups of tea, almond croissants, shopping for clothes she doesn't need, and booking holidays she does.