How to create an indoor zen garden - designer advice that will instantly make your home so much more peaceful
Dreamy Japanese-inspired indoor zen gardens are perfect for creating an escape from everyday life – here's how to bring one into your home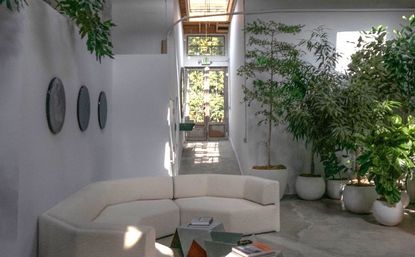 (Image credit: Jamie Stuart)
Simplistic, stylish, tranquil, and low maintenance - if you know how to create an indoor zen garden then you're on the path to plant-filled enlightenment.
This Japanese-inspired take on indoor gardens lean into that less is more approach we associate with sophisticated minimalist interiors. The plants are sleek, architectural, and always well groomed, the variation of plants is kept to a minimum too – often Japanese gardens just feature two or three different species and the focus is on foliage rather than flowers.
And there are the beautiful rock, stone, and gravel areas that you will find in traditional Zen gardens – designed originally as a place to reflect and encourage feelings of peace. These spaces are as much part of the design as the plants, and add a beautiful texture and shape with the contrast of the raked lines and smooth stone. Add a subtle water feature for the soothing background sounds and you have the dreamiest, most calming space.
There's so much beautiful detail within this style of garden. However, if you don't have the space (or the climate) for these Japanese-inspired spaces to flourish there are ways to replicate them indoors.
How to create an indoor zen garden
With the right plants, the right configuration, and right additions you can create a calming, Japanese-inspired garden in your home – we asked the experts how.
1. Use planters to create the contrast between plant and stone
As we've also seen in recent trending pots for indoor gardens, stones, in both their larger and finer form, feature heavily in Zen spaces. In fact as Jake Hobson explains, 'one of the largest features of a Zen garden is empty space, raked gravel, and islands of rock. Plant life is actually a very small part of most Zen gardens.' But when creating a zen-like garden indoors, how can you create this all-important contrast between soft greenery and stone? The simple answer is the container.
Bring the two key aspects of a zen garden together in miniature by planting your indoor plants in a stone container as seen in this calming, natural living room designed by Brigette Romanek. You could also add the raked gravel aspect of a zen garden by covering the soil with fine pebbles and raking it into those beautiful flowing shapes.
2. Make a tree the centre of your home
Indoor trees are a huge trend right now. There's something so unexpected about seeing a tree growing up through a room, surrounded by everyday furniture. And they're also some of the best plants for an indoor Zen garden – the bringing of the outdoors in and adding those natural shapes and textures to rooms we spend much of our lives in.
This home in Kyoto was designed by Japan and Vietnam-based studio 07Beach. There was no room for a garden so the team created the same effect of a courtyard garden growing within the centre of the house. 'After placing car parking at the front and laying out the required inner rooms, there was not enough space for a garden. Therefore, we considered an indoor courtyard which would bring in more light too. So, the indoor tree idea was thought up,' explains the architect Joe Chikamori.
Planting a tree indoors is not the simplest of tasks – although doable if you have the budget – so you can recreate a similar look using containers - check our list of the best trees to grow in pots. Plant up your tree in a larger container (07Beach recommended the Ficus Benjamina as a good indoor tree for a Zen garden) and then create that border of greenery surrounding using smaller potted plants. You could also add in some stones amongst the pots to incorporate more aspects of the Zen garden. And rather than place it in the corner of a room like a piece of decor, give it a central position, somewhere you will notice and appreciate it each time you enter space.
3. Recreate a zen garden in container form
When creating any style of indoor garden you are mostly going to have to rely on pots, but that's not to say container gardens can't create the same impact and a planted-up border. You can still create luscious, jungle-like, Zen indoor gardens, just in a more indoor-appropriate form.
'A Zen garden indoors can be achieved by using limited materials for your house plants. Maybe using the same colored containers or if planted in large containers using gravel as an infill,' suggests Lee Burkhill of Garden Ninja Garden Design. 'Grouping plants together to create a mass effect can give the illusion of being outside. Choosing carefully where to create your zen garden indoors is key. Always choose somewhere quiet and away from distractions to get that feeling of zen.'
'Zen has more focus on form than fuss so foliage plants that don't flower work better than highly showy colorful blooms. Remembering Zen is about calm and simplicity. Mimicking nature with a few key materials to create stillness. Ferns, Calathea, and Bonsai all work well to create that zen garden feel,' he adds. These are also a few of what plants are best for a lush indoor garden.
Again, note the use of stone pots as a nod towards the use of stone in a Zen garden. The varying sizes almost mimic the piles of smooth pale pebbles you often find in a zen garden too.
4. Soften a room with the delicate shapes of an acer
Acer trees are synonymous with Japanese gardens are they do actually thrive in pots and indoors (so long as the temperature isn't too toasty) so ideal for creating that zen-like space inside. We love how this tree adds a calming touch to an already very calming bedroom. It also happens to be one of those indoor plants that makes a room look more expensive - it just adds refinement instantly.
'We wanted this space to feel a bit modern Parisian. Something calm seeing it's a bedroom but we still wanted modern pops - like the bed shape and lamp.' explains the designer Crystal Sinclair. 'I would always recommend going for a large planter for a tree - something larger than you think you'd need to go. Greenery always adds a bit of zen to a space! It brings an organic element to a room which softens it a bit. And we added moss too as a nice covering on top to finish off the look!' Plus moss will be found in most Japanese gardens so another easy way to bring in that element indoors.
5. Keep the palette simple and serene
The key aspect of a Zen garden is they are very minimal - it's why we think they work when you're apartment gardening for beginners, as you don't need to go overboard. You don't often find too much color or even a huge variation of foliage, so use that simplistic approach when creating a Zen garden indoors. Stick with quite architectural indoor plants for minimalists like ferns, grasses, maples, and bamboo and only bring together a few different kind of plants.
Take inspiration from this calming living room and just use one type of plant throughout to create that simplicity that's integral to a Zen garden. And you can use the furniture to reflect the concept too – keep it minimalist in style and color and look for shapes and patterns that can represent the soft-raked lines of the stones.
'Zen gardens are focused on peace and contemplation, so they should avoid too much visual noise and fussiness. A limited palette of grasses, a sturdy pine tree, or graceful maple are all that is needed. A zen garden offers an opportunity to be calm, to experience a visual stillness, and to let go of cares and worries. A zen garden can be a small bit of the natural world brought close to home,' advises Matt Wittman, founder of Wittman Estes.
6. Bring the relaxing feel of a zen garden into a bathroom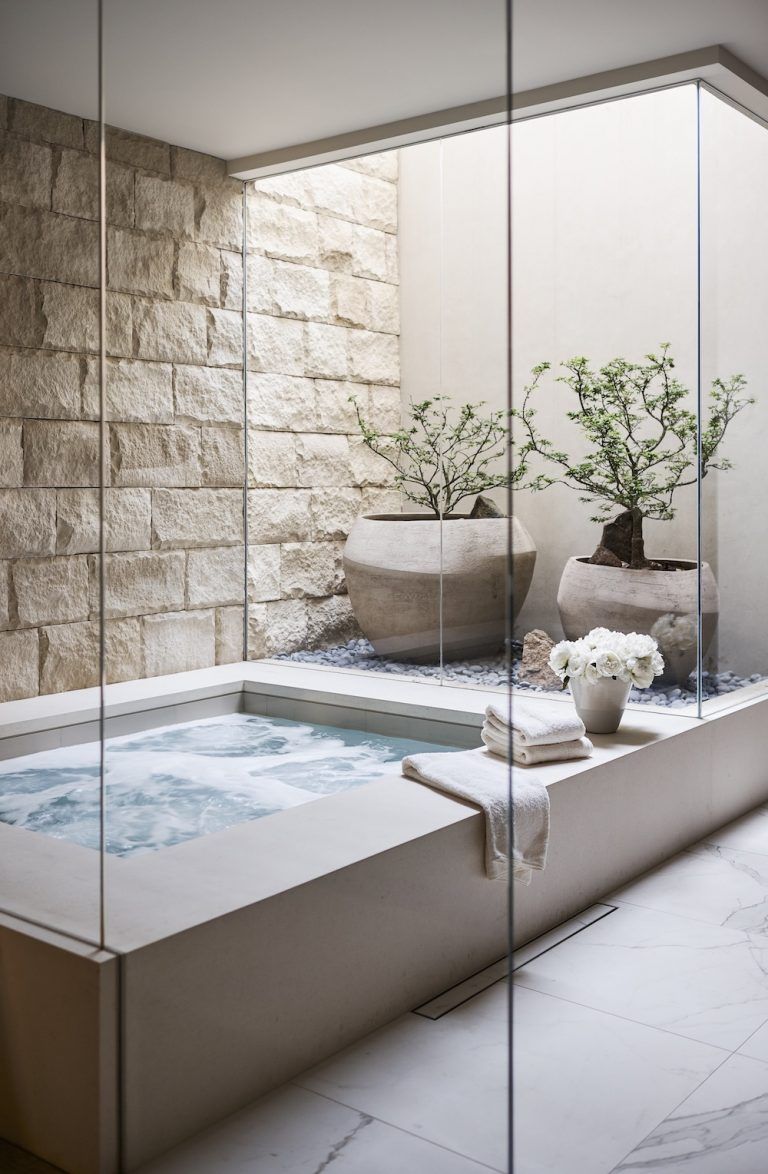 There's something about a modern bathroom that can work pretty well as the backdrop of an indoor Zen garden. They are often sleek, clean, minimalist spaces that you of course want to be as serene and spa-like as possible. It would be simple to recreate something like this setup designed by Pacific Peninsula Group. The large sculptural very organic-looking pots would look right at home in a Zen garden and of course, the maple trees are key to creating that Japanese style. And instead of having the stones surrounding the plants, you could add use them to cover the soil.
'The trees in the pots are Japanese maples and the pots are from a company called Atelier Vierkant. Since this is a spa bathroom, we wanted to create a serene space for the client, the lightwell brings light and an earthly component to typically closed-off lower-level interior space,' explains Michelle Lemos Senior Interior Designer.
7. Hang plants at eye level for an enveloping effect
This is a fabulous project by New York and Taiwan based studio, JC Architecture that brings the outdoors in to create a very calming, tranquil home that feels very in touch with nature. The outdoor Zen garden seeps inside, creating that seamless flow between indoors and out.
One tip that's a really simple takeaway from this space is to hang plants above eye level. Something that can be hard to replicate indoors is that feeling of being enveloped, surrounded by greenery as you would be in a Zen garden – hanging plants can create a similar effect. Choose types that are going to cascade and disguised whatever vessel they are hung in to create a really natural look.
Zen garden essentials to buy now
What is a zen garden?
When we think of a Zen garden, we go to calm, serene scenes of bamboo blowing gently in the wind, acer trees with their delicate leaves, beautiful stones creating satisfying shapes, and the sound of far-off water. And while all these elements can make up a Zen garden, there's more to them than aesthetics, they have their roots in Buddhism and were first and foremost designed to be places of meditation.
'The term Zen garden generally implies a minimalist design with gravel representing water, often raked, and perhaps a few artifacts such as basins, and lanterns. Most people know the meaning of a Zen garden but the gardens originally came from Zen Buddhism. Maintaining the garden and raking the gravel are part of the meditation process. The name we tend to use more often is Karesansui (dry mountain water in Japanese).' explains Andy Bolton of the Japanese Garden Society.
'At its simplest, a Zen garden is a codified arrangement of symbolic landscaping elements, designed to aid meditation. The garden aspect is one part of a larger set of Zen-related activities that includes calligraphy, tea ceremonies, martial arts, and ikebana flower arranging. Interestingly, they're not called Zen gardens in Japan, although everyone will know what you mean. The traditional name is "karesansui" which means "dry garden".' adds Jake Hobson, founder of Japanese garden tool specialist, Niwaki.
The Livingetc newsletter is your shortcut to the now and the next in home design. Subscribe today to receive a stunning free 200-page book of the best homes from around the world.
Hebe is the Digital Editor of Livingetc; she has a background in lifestyle and interior journalism and a passion for renovating small spaces. You'll usually find her attempting DIY, whether it's spray painting her whole kitchen, don't try that at home, or ever changing the wallpaper in her hallway. Livingetc has been such a huge inspiration and has influenced Hebe's style since she moved into her first rental and finally had a small amount of control over the decor and now loves being able to help others make decisions when decorating their own homes. Last year she moved from renting to owning her first teeny tiny Edwardian flat in London with her whippet Willow (who yes she chose to match her interiors...) and is already on the lookout for her next project.